POCATELLO — The U.S. government has agreed to pay a local family $38,500 and admit it was negligent three years after a 14-year-old member of the family watched his dog die when an M-44 "cyanide bomb" exploded on the hillside behind their home east of Pocatello.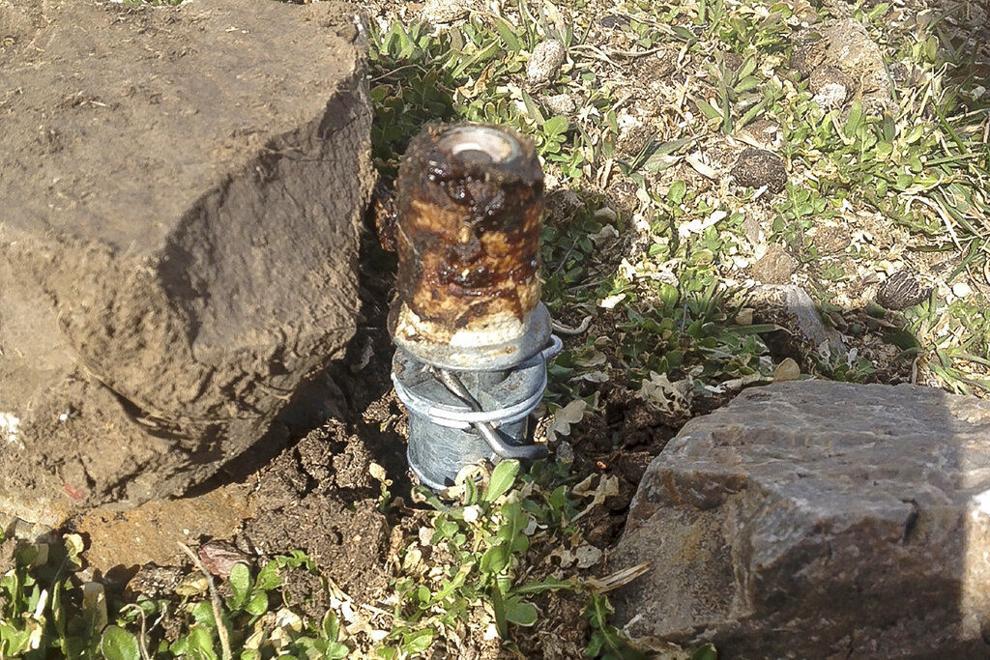 Reed Larsen, the Pocatello attorney who represented the family — Mark and Theresa Mansfield and their son Canyon, who watched his Labrador named Kasey die after the boy accidentally tripped the government-installed M-44 device in March 2017 — described the settlement as a definite victory.
"This is what a win looks like," Larsen told the Idaho State Journal during a Friday phone interview. "The biggest thing that we wanted to accomplish was to make the government accept responsibility. It took a substantial amount of work, but finally the government admitted this was their fault — that their employee was negligent and that's a very significant and permanent finding."
While Canyon was out playing with Kasey along the hillside located on Bureau of Land Management property less than a quarter-mile from the Mansfield family's Buckskin Road home, the boy accidentally triggered the M-44 predator control device — a spring-loaded metal cylinder baited with scent that indiscriminately sprays poisonous sodium cyanide powder when detonated.
Canyon not only watched his canine companion suffocate in front of him, but also experienced symptoms of cyanide poisoning for weeks following treatment at Portneuf Medical Center after he tripped the M-44 device, which Wildlife Services, an obscure division of the U.S. Department of Agriculture's Animal and Plant Health Inspection Service, had illegally installed in February 2017.
The late July settlement of the lawsuit the Mansfields filed against the U.S. government in June 2018 came about seven months after U.S. District Judge B. Lynn Winmill dismissed all of the Mansfield family's personal injury claims related to cyanide exposure.
Theresa Mansfield told the Journal during a Friday phone interview that the settlement, which she described as a process that "really just sucks the life out of you," included $30,000 for Canyon's pain and suffering and $8,500 for the monetary value of Kasey.
Theresa added the government wouldn't pay any more for Canyon's pain and suffering because the family couldn't prove the ordeal completely altered his life to the extent the Mansfield family had argued during the mediation process.
"Attorneys for the government came back and said that Canyon has not been emotionally affected by this," Theresa said. "They said that he is more than an accomplished kid and they don't feel that they should owe him any more because he is first in his class and he got second in state at wrestling and that this hasn't affected him at all. It was like we we're damned if we do and damned if we don't. Basically, Canyon is being penalized because we decided to be good parents and Canyon still turned out to be a good kid in spite of all this."
Larsen believes this settlement comes as a victory because of the precedent this case sets moving forward — that a record has been created if and when another M-44 device detonates and injures or perhaps kills someone.
"God-willing nobody else goes through this," Larsen said. "However if they did, the government would have a whole lot of explaining to do after killing a dog in a near-miss with a child how they could ever justify using these M-44 bombs in any other setting. But they are the government."
Part of the Mansfields' decision to settle the suit is associated with the ongoing COVID-19 pandemic, said Theresa Mansfield, adding that presenting their case via video conference was much less impactful than doing so in person.
"With all this coronavirus stuff it really sucks," she said. "When you see someone in person it's different than what you get on Zoom or using a computer screen."
Additionally, Theresa didn't want to extend this process any longer and subject Canyon to the oftentimes traumatic experience of testifying in front of a jury, something that she feared would have pulled him away from enjoying his senior year of high school this coming school year, which is likely the earliest a jury trial could have been scheduled.
Larsen said the U.S. government intends to admit it was negligent when an employee of Wildlife Services illegally placed the M-44 device on public land near the Mansfield home — a violation of a 2016 environmental assessment Wildlife Services conducted that found the agency was only to place the devices on private land in Idaho, not on public lands. But the U.S. government will not issue a formal apology to the Mansfield family, Larsen said.
Opting against the public apology was a "callous, unsympathetic decision" by the government, Theresa said.
"We wanted a written apology and the government was all weird about the wording so it didn't happen," Theresa said. "In some ways I don't feel like we won and I really don't know what a win would look like. I guess I wanted the government to be more empathetic, to see through my eyes and see the pain that I felt. I don't even know if the attorneys for the U.S. government have dogs, let alone kids, but I wanted them to say they were wrong and we were right and to just apologize. "
Theresa continued, "I think they should have looked us in the eye and said thank you. Thank you because maybe you saved another kid's life in the future."
As a result of the widespread attention the Mansfield family received following the M-44 incident that injured Canyon and killed Kasey, several wildlife and environmental advocacy groups sued the U.S. government to ban "cyanide bombs" from being used in Idaho.
An agreement struck with the government in March has made the groups believe they have succeeded.
According to that agreement, M-44s cannot be placed in Idaho until Wildlife Services completes a detailed analysis of the device's environmental impacts, something Brooks Fahy, the founder of the Oregon-based animal conservation group Predator Defense, is doubtful will ever happen.
"A majority of the cases involving (pets) killed by or people injured from M-44s never make it to the point the Mansfields took this case," Fahy said. "Many of these families were not willing to go through what (the Mansfields) went through. This was a marathon and an extraordinary experience working with an extraordinary family."