Sheets of smooth drywall now cover the studs that were exposed when Michelle and Coleman Dieger last visited their future Pocatello home, and the floors have been finished in luxury vinyl tile.
Looking through the master bedroom window, Coleman joked that the large mound of dirt in the back yard would be a great amenity for their cat to climb.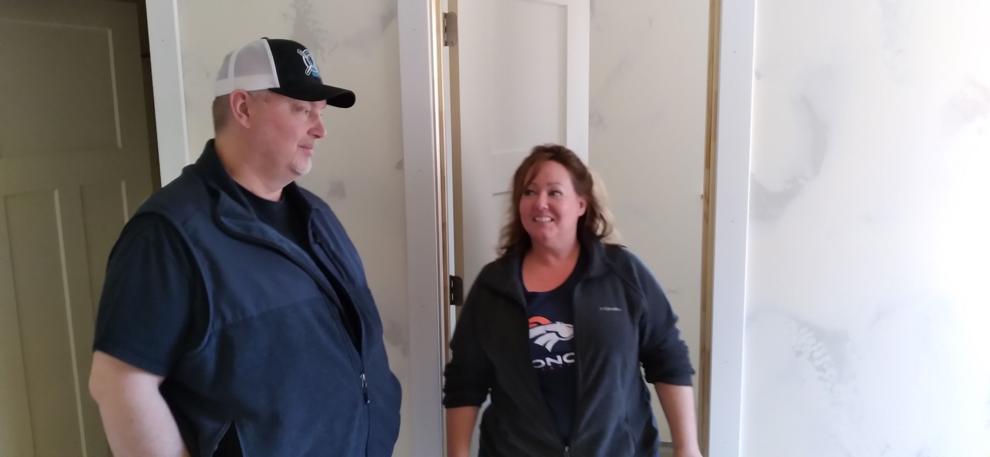 The Diegers hadn't planned on buying a newly constructed home when they first decided to move from Boise to Southeast Idaho. But they quickly gave up on trying to land the right existing home in the region's tight and highly competitive housing market.
Bulldozers are excavating lots and wooden frames are popping up throughout the Pocatello and Chubbuck area, but new properties are seldom listed. New construction has been selling as soon as builders break ground — and sometimes even earlier.
"We came here a month ago to look for places, and all of the places were sold before we got here to look at them," Coleman said, explaining his choice to build a 1,350-square-foot twin home on Wright Avenue.
The Diegers grew to like Pocatello's small-town flavor when they lived here in 2013 and 2014, on the same street where their future home is under construction. Back then, Coleman commuted to Idaho Falls, where he worked for the U.S. Department of Energy. Michelle worked for the Transportation Security Administration at Pocatello Regional Airport.
Coleman's job then took them to Washington, D.C., until two years ago, when they moved again to Boise, where they've been renting. As much as things have changed with Pocatello's real estate market since they first left in 2014, they've found the local housing market remains a good deal relative to Boise.
"Pocatello is growing, but Boise is like 20 times that," Coleman said.
They'll pay $260,000 for their twin home. Coleman estimates the same property in Boise would have cost $350,000.
"One of the real draws of Pocatello is being able to feel like you're getting in sort of at the bottom as the growth is coming and move with it as opposed to when we moved back to Boise we were going, 'Oh my God, five years ago this stuff wasn't even there,'" Michelle said.
They can't build them fast enough
Satterfield Realty has been working on its Harvest Springs subdivision in Chubbuck for the past three years and is finally ready to market 47 lots for single-family homes.
Ryan Satterfield, a real estate broker and developer with the business, said local builders can't seem to construct new homes fast enough to satisfy the market. He said it can take years to get new home lots approved for construction by local municipalities and developers are reluctant to over-commit, given that markets can change quickly.
"Nobody wants to be sitting on that much if things turn down," Satterfield said. "It's always easier to be on the other end and trying to catch up than trying to figure out how to financially make it through sitting on a ton of inventory."
That said, Satterfield sees no indicators of the local real estate market cooling off any time soon.
The local construction industry has kept busy but building hasn't met the frenetic pace necessary to put a dent in the current housing shortage in the Pocatello and Chubbuck area.
Thus far in 2021, Pocatello has issued more than 60 residential building permits, covering new construction, home expansions and solar panels, according to city officials.
Throughout all of 2020, 222 residential building permits were issued in Pocatello and 381 permits were issued in 2019.
Pocatello officials say that when builders come in to pull their permits, the homes they're planning to construct have already been sold.
Satterfield has 30 single-family homes currently under construction on Pocatello's east bench, near the site of the future Church of Jesus Christ of Latter-day Saints temple. About 90% of those homes were sold before construction began, Satterfield said.
"We are opening up another 22 lots as we speak that we'll be ready to start houses on this summer and we've been working on lot inventory from last year," Satterfield said. "But we're definitely going through lot inventory much faster than we anticipated."
Local new home construction experienced a hiccup last spring when the COVID-19 pandemic hit. Most builders anticipated a prolonged slowdown and put plans on hold. By June, however, it became clear that the local housing market was regaining steam. The pandemic actually fueled the demand in many ways, as buyers who were previously tied down to another community by jobs became free to work remotely from anywhere in the country.
"(The pandemic) was going on over last fall and last winter and they just kept coming," Satterfield said. "We had a number of people moving here from the West Coast states. ... On the building side we just weren't prepared for that."
The availability of construction workers has been another mounting challenge for local builders. While it used to take Satterfield six months to finish a house, the job now requires nine months to a year.
"Our crews are stretched so thin," he said. "I would not mind seeing a slowdown. Our crews are having a hard time keeping up with everything."
Rapidly rising building material costs represent perhaps the greatest challenge facing local builders. There's an abundance of buyers who are now willing to pay in advance and wait for up to a year for their home to take shape. Yet local builders are wary of agreeing upon a price only to have escalating material costs eat up their profit margins.
Satterfield's company has been doing its best to buy lumber and supplies for a home in advance of construction to lock in prices but he acknowledges, "We do like the flexibility of building one and being able to price it when we know the actual costs."
"What is hard for buyers to understand when they come in and see we just finished a house and we want to rebuild the same house but all of a sudden it's $50,000 or $60,000 more," Satterfield said.
Local Realtor Greg Johnston represents Rockwell Homes of Ammon, which specializes in affordable, entry-level properties. A Rockwell house will typically have formica countertops rather than granite, but the company has managed to keep its new single-family homes within the $300,000 range.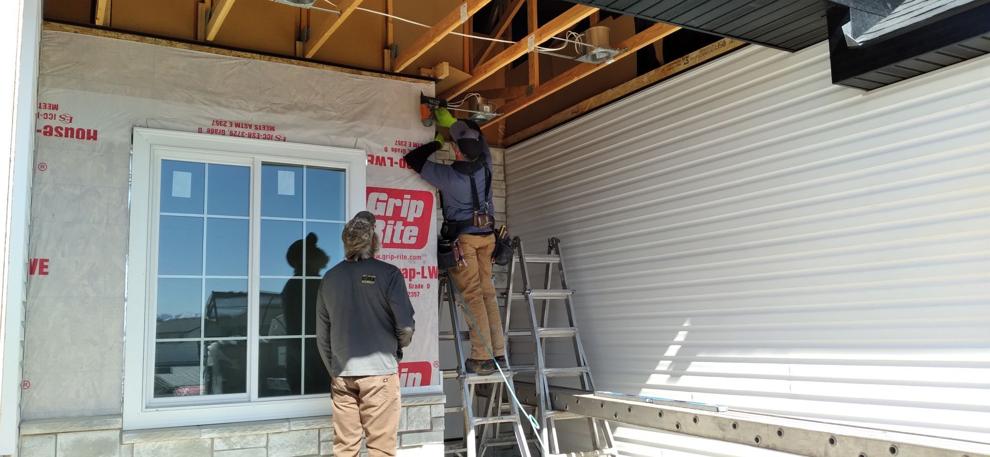 Rockwell has about 20 homes under construction in the Petersburg subdivision in Chubbuck.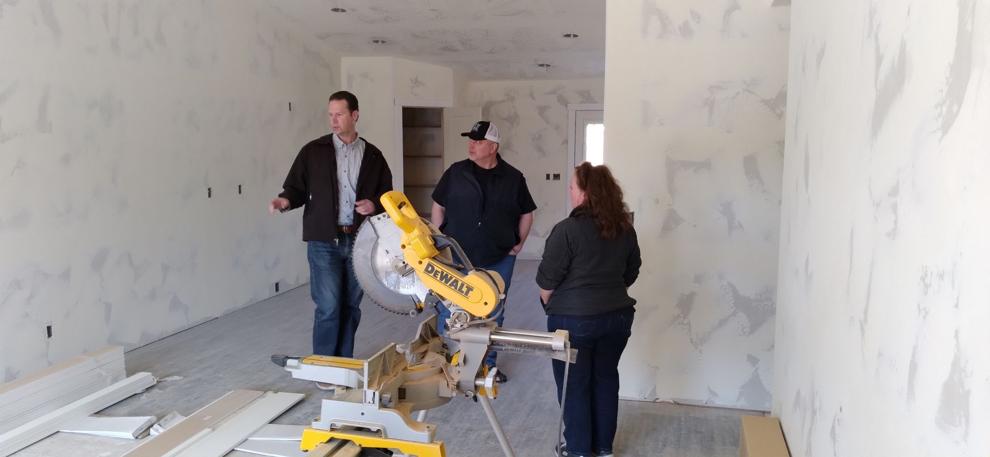 "They sell immediately when they're available," Johnston said. "They're all sold except for those that are just foundations."
Oriented strand board, used in home construction as an alternative to plywood, sold for about $10 for a 4- by- 8-foot sheet as recently as a year and a half ago. Prices are now hovering around $39 per sheet, said Donovan Meng, Eastern Idaho market manager with BMC Building Materials and Construction Solutions.
"OSB is kind of the new toilet paper," Meng said, referring to the hoarding of paper products early during the COVID-19 pandemic. "I see people trying to buy it and get it before it hits the $50 mark."
Meng said studs, lumber in general, insulation and shingles have also been in short supply, as has the resin used in wood-composite siding and floor joists. It's been taking him up to three months to resupply on some of the most hotly demanded materials.
Meng noticed material shortages were beginning to surface midway through 2020. He attributes the problem to several factors including shipping delays caused by COVID-19 shutdowns, wildfires in Oregon and California that restricted access to certain mills, transportation shortages and labor shortages.
"This is not better for us. This is worse," Meng said. "Our supply is really in jeopardy and at higher pricing it's harder to make money on this stuff."
A shift toward higher density
Rising prices of building materials have also driven up local lot prices.
Ken Pape, who is selling lots within the Northgate District, which is a large master-planned community under construction in northeast Pocatello, estimates that fire hydrants, conduit and piping have all risen in cost by a third from last year. He's spending far more on the roads he's building, as well.
"My lot prices go off of the price of road construction. You don't just throw a number out there," Pape said.
Within the past six months, Pape has sold all but 13 of his 95 single-family home lots within Northgate. However, Pape is convinced the future of local housing will entail getting the most out of each lot by maximizing housing density.
He's also sold lots for 404 apartment and townhouse units within Northgate.
"The $200,000 homes are gone," Pape said. "I'll guarantee you that you'll see more condos and townhouses than single-family homes 20 years from now. It costs too much to develop ground."
Kartchner Homes of Idaho Falls is developing the high-density housing within Northgate and intends to offer them as rentals. Tyson Allen, construction manager for Katchner, has 384 apartment units and 20 townhouse units in the works in the Northgate district.
The project includes a mixture of one-, two- and three-bedroom units. The townhouses will all have individual garages. Renters will also have access to a clubhouse, an outdoor pool and a hot tub.
The first renters will move into the new units in October.
"There is a big demand," Allen said. "The owner, he's really careful about doing market studies and understanding an area before we move in and build things like this. All of the market research has shown they should fill."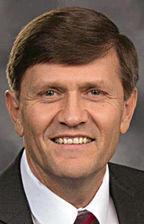 Chubbuck Mayor Kevin England recently called a staff meeting to brainstorm for ways to entice builders to add new housing to the market.
From that discussion, the Chubbuck City Council voted March 17 to approve a bold new plan, offering financial relief to local builders. Specifically, the city has temporarily reduced its water and wastewater capacity fees by 30%. The policy takes effect on April 1 and will remain in place for at least a year on a trial basis.
"This is a first step and we hope we can find some other things we can do," England said.
In 2019, Chubbuck approved a new creative community zoning designation, which grants builders the flexibility to plan neighborhoods at a higher density than previously allowed. England believes the new zoning designation also positions the city well for the type of growth that will be needed in the future.
Chubbuck has its own multi-use community in the works, called New Day, in the vicinity of the Northgate district in Pocatello. New Day has taken advantage of creative community zoning. England said home construction is underway in New Day.
"We have folks who have a tendency to fight density," England said. "You're going to kill your city if you're not willing to have that kind of growth."
England believes an expansion of the local FBI center would have happened faster had the community been ready with an adequate housing supply. Looking ahead, he's spoken with officials from the Idaho National Laboratory who've told him thousands of people will likely be coming to Eastern Idaho within the next year as part of the site's plan to manufacture small modular reactors.
In England's estimation, the community's challenge will be to grow without sacrificing the local quality of life.
"We have got to be very careful that we keep and maintain this quality of life that is attractive to folks, and that is not going to be an easy thing to do," England said. "We may end up saying no to some things."