Editor's note: This is the first part of an Idaho State Journal series titled Housing Crunch about the shortage of housing in the local market. Today's article explores the causes of the housing shortage and how it affects the community. Part II, focusing on new construction, will run in the March 24 print edition and Part III, delving into the rental market, will run in the March 28 newspaper.
Nancy Wilcox knew she'd have to temper her expectations and pad her offer to stand a chance of closing on a single-family home in Eastern Idaho's ultra-competitive housing market.
The house in Pocatello that she had in her crosshairs was smaller than she wanted at just 756 square feet. She wasn't thrilled with its location between busy Pole Line and Alameda roads either, and the $135,000 asking price seemed steep.
Yet she rushed to schedule a visit with her Realtor, Greg Johnston, the same day the listing hit realtor.com, and she was prepared to pull the trigger on the full asking price on the spur of the moment.
"There are certain things I'm bummed about, but let's make an offer," she reluctantly told Johnston.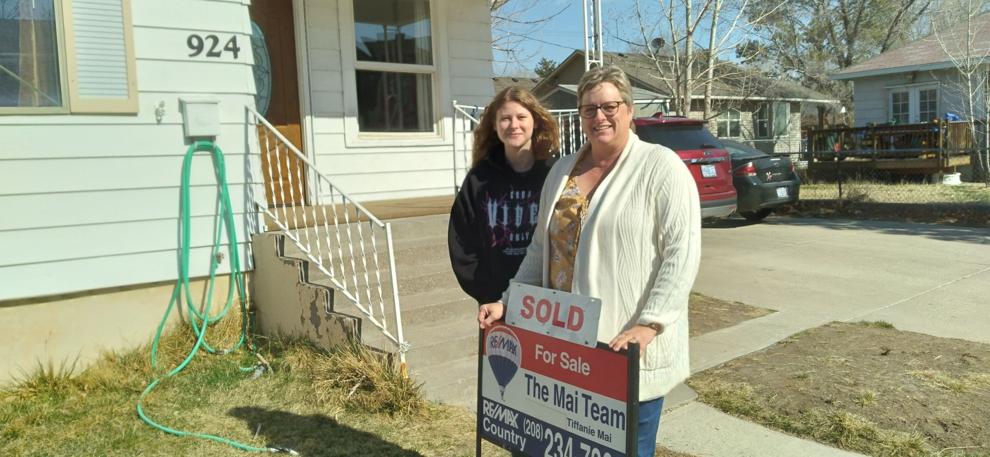 She was the third person to look at the home that day. The very first buyer had already offered $145,000. Wilcox, who recently sold her home in John Day, Oregon, and moved to Pocatello with her 18-year-old daughter, Clara Carr, chose to walk away, unprepared to up the ante to $150,000.
Never before has there been such a dearth of housing inventory in the local market. As of March 16, there were 29 single-family homes for sale in the Pocatello and Chubbuck area. Only four of those homes were listed for under $200,000 and Johnston described them as "fixer-uppers with sloping floors."
On the same date, another 114 local homes were under contract to be sold, 27 of which were listed for under $200,000.
"It shows we don't have enough supply to meet demand because more homes are under contract than for sale," Johnston said. "That's why they're going up in value so much because people are bidding them up because there's nothing for sale."
People frequently ask Johnston if he believes the area is experiencing a housing bubble. He's convinced the local market won't cool down for at least two more years for a simple reason: For a bubble to exist, there has to be excess inventory.
Wilcox did her local market research last summer when there were several affordable homes that met her specifications. She's been working as a Portneuf Medical Center secretary, and she and her daughter have been living temporarily with her son, Josh.
"In the amount of time it took me to wrap my mind around, 'Yeah, I'm going to make the move,' the prices jumped from between $130,000 and $140,000, where I could easily find a house, to $160,000 to $170,000 for the same size of house," Wilcox said in reference to the local housing market.
Wilcox next looked at a 1965 double-wide trailer home on a large lot off of Cottage Avenue in Chubbuck. Though it had paneling and flooring that needed to be replaced, she offered the full $135,000 cash price, plus closing costs. Wilcox explained banks wouldn't give her a loan on such an old mobile home, so she offered to pay the owners $50,000 in cash and cover the remainder by making payments directly to them.
"Greg and I thought, 'We've got this one,'" Wilcox said.
Then someone came forward with a competing offer to pay the full price in cash. It was back to square one for Wilcox.
Wilcox's persistence appears to have finally paid off, however. She was quick with an offer of $167,500 — $5,500 over the asking price — on a 1,200-square-foot home built in 1925 on North Grant Street, across from Irving Middle School in Pocatello. By the second day it was on the market, the property had nine offers, but the sellers went with Wilcox, reasoning she was not a first-time home buyer and was most likely to close.
"I had to pay more than I wanted and bite the bullet," Wilcox said. "It's a beautiful house."
Home value gains surpass wage growth
According to the Zillow Home Value Index, the median Pocatello home value rose by more than 65% from 2015 through 2020, jumping from $126,691 to $209,294.
Area wages, however, haven't kept pace with the skyrocketing growth in housing values. According to the Idaho Department of Labor, Pocatello's median household income rose by less than 16% from $40,269 in 2015 to $46,617 in 2019. More recent local income data was not available.
In short, local residents — especially first-time home buyers — can't compete for housing in their own community, housing experts warn.
"I think probably one of the biggest challenges that can come from (the housing shortage) from a lending standpoint and probably from a consumer standpoint is it's almost pricing your median income out of the market," said Ryan Ward, executive vice president and senior real estate manager with Citizens Community Bank in Pocatello. "It's not just Pocatello. It's all the way through Eastern Idaho."
Struggling to find the right advice
There are more than 300 real estate agents in the Pocatello and Chubbuck area. It used to be that the market had 300 to 400 home listings at any given time, and values grew at a steady annual rate of around 4%.
Nowadays, Johnston expects to find a stack of real estate agents' business cards on the kitchen counter when he and a client enter a home. In fact, other buyers are sometimes present during the home tours.
"It's been about 18 months ago we had 100 homes on the market, and I was telling everybody, 'I can't believe we only have 100 homes on the market,'" Johnston said.
Just a few years ago, local Realtor Greg McCune routinely worked all afternoon and into the evening showing homes to clients. Lately, there hasn't been much inventory to show.
"I have one pair of clients who put in four offers on homes and got beat on every one," McCune said.
He's struggled to find the right advice for his clients — how to balance the need to make a competitive offer with the risk of committing a mistake in haste.
"You've got to be aggressive when the right one comes up, but that doesn't mean go out and overpay for every problematic house that comes up," he said.
McCune has a 25-year-old daughter who recently earned her master's degree and would now like to live near her family in Southeast Idaho.
"You feel bad for those kids starting their careers and would like to buy a home," McCune said.
Though Pocatello's home values have become inflated by locals' standards, area houses remain a bargain from the perspective of buyers in larger, pricier markets.
Realtors such as Johnston have worked with an increasing number of buyers from California, Texas, Oregon, Washington state and even Boise who are looking to add local investment properties to their portfolios. Many retirees are also selling homes in bigger markets and moving to Idaho, where they can buy their dream home and still have a nest egg remaining.
Pocatello's home values are up relative to where they were five years ago but are still about $60,000 below the national median value of $269,039, according to the current Zillow Home Value Index. The index shows Chubbuck's median home value, at $262,892, is a bit higher than Pocatello's but is still below the national figure.
By comparison, the index value for homes in Idaho as a whole is $348,483, and Boise's median home value has reached $419,836.
A recent United Van Lines survey ranks Idaho as the fastest-growing state in the nation. The numbers show Idaho's population grew by 40% in 2020, with a group equal to 70% of its population moving in and 30% of existing residents moving out. Retirees comprised a third of the people moving in.
"It's kind of a sorting that is happening," said Esther Eke, regional economist with the Idaho Department of Labor. "In the end, the wages are going to have to go up."
The migration trend of new people moving into Idaho and current residents moving out is especially concerning to some Idaho Republicans, who worry the state may be in the process of turning "purple." Idaho GOP Executive Director Amos Rothstein recently emailed a warning to Idaho Republicans urging them to help fund a statewide voter identification system to reach the new residents.
"Arizona went from a solid red state to a battleground state due to high population growth — just like what's happening in Idaho today. But we've learned lessons from Arizona, and we're not sitting back and letting our state lose our values," Rothstein wrote.
Amid the coronavirus pandemic, more Americans have also been able to work remotely, enabling them to move to places such as Idaho, where they can enjoy recreational opportunities and a cheaper cost of living without having to find new employment.
Teresa McKnight, the CEO of Regional Economic Development for Eastern Idaho, presented data to the Pocatello City Council on March 11 showing Pocatello's cost of living index is particularly attractive, at 12% below the national average.
"Our region is going to see dramatic growth over the next decade," McKnight said. "We're not going to become Silicon Valley by any means, but I think what is exciting for this area is it's going to bring more business into the community, which is going to help the tax base of an area like Pocatello."
Growth brings its own challenges, however. Workers at new businesses need a place to live, after all.
Thus far, new construction has provided the region little relief from the housing crunch. Pocatello officials say new homes are consistently under contract before the builders even pull the permits. Labor and building materials have also spiked in cost, preventing home builders from adding new inventory that would be deemed affordable by the community's historic standards.
The tight housing inventory has also affected the rental market, leaving rental homes and even apartments in exceedingly short supply.
The staff at the Bannock County Assessor's Office is just starting to conduct the market analysis for its annual countywide reassessment of property valuations, used for taxing purposes.
Assessor Sheri Davies doesn't have any precise numbers yet, but she's already devised her strategy to prepare the public for the sticker shock that's bound to occur.
"We know the market is still going crazy," Davies said. "It's not just in Bannock County or Idaho — it's countrywide."
In 2019, a group of local residents waged an unsuccessful effort to force recall elections of Davies and members of the Bannock County Commission after new assessments were mailed reflecting massive gains in home valuations.
In the face of the criticism, Davies was empathetic about the dramatic home value gains but reiterated that she had no choice under state law but to keep valuations current with the market. Otherwise, she explained, the county would risk having the state equalize its properties using local sales tax revenue to cover staff time.
New assessments must be in the mail by the first Monday of June; Davies aims to have them all out by late May this year to give the public the "opportunity to call our office with questions and concerns."
Davies plans to host a few town hall meetings in early April to educate the public on how property taxes are calculated in Idaho, and why growth in valuation doesn't necessarily translate to an equivalent increase in a property owner's tax burden.
Idaho taxing entities aren't allowed to increase their budgets by more than 3% from the prior year. When the value of growth in a county exceeds growth in taxing entities' budgets, that pushes down the county's mill levy, which is the tax rate applied to the assessed value of a property to determine the tax burden.
As a case in point, voters recently re-approved a supplemental levy for Pocatello-Chubbuck School District 25 that has generated a fixed annual revenue stream of $9.25 million for each of the past six years. In fiscal year 2017, the district's property owners each paid $255.40 per year for every $100,000 of taxable value on the levy. Market growth in the ensuing years drove down the mill levy rate, and for fiscal year 2021, the burden dropped to $192.20.
"I really want to get a jump on things," Davies said. "I really want (the town hall meetings) to be positive, educational and at least provide some peace of mind that don't panic over your value."
Property owners living on a fixed income may qualify for the Property Tax Reduction program, which uses state funding to forgive a certain percentage of their property taxes. Applications are due by April 15. Davies received just over 1,200 applications for the program last year. She plans to install a pair of drop boxes near her office at 130 N. 6th Ave. in Pocatello to make it easier for people to submit their paperwork.
Davies emphasized that county and city leaders are committed to holding the line on spending. But Davies, a former Realtor, has also never seen such a tight local housing supply, and she doesn't see the market cooling off any time soon.
"I don't see a turn coming for maybe years. The Pocatello and Chubbuck area, Bannock County, we are positioned for growth," Davies said. "As our levies keep going down that makes our area more attractive. We are seeing some good businesses come in, and we need those jobs to come and keep up with our expanding population."