POCATELLO — There are very few people on the Idaho State football team better to wrap up a season-long Q&A series with than senior cornerback Caleb Brown. As the Bengals prepare to take on Weber State in their season finale Saturday, the talkative defensive back sat down with the Idaho State Journal to discuss the end of his career, his next steps, and his Twitter habit.
On ISU's 2019 season: Obviously it's a little frustrating. I feel like we have a lot more talent and potential than what we've showed. You want to make a lot of those plays that were left out there. You want to win a lot of those games that you feel like we could have won. But now we're in the situation, it's just about playing together and enjoying this last game with each other.
On his emotions going into Weber: Just trying to block out the fact that this is my last game. But also understanding that it's my last game, so putting everything into it. I feel like I put everything into it every single game that I've played, but obviously this is the last one that I know of, the last one guaranteed, so you have to go out and you have to play like it's a normal game, but also play like it is your last game.
On the Weber State rivalry: I haven't won against Weber, since I've been here. (Sixth-year cornerback Anthony) Ricks has won against them, but that was the last time. So obviously, you know, you want a rivalry to be more back and forth, or you want to just win all of them. But, I don't like Weber. The culture here, we don't like Weber. Obviously, we're going to respect those guys, they're a great team, but anytime we go against them, we're going to do what we can to win that game, and for my last year, I would love to beat them. I feel like I'll remember that for a long time if I do.
On the matchup this year: They have a lot of guys back. (Wide receivers) Rashid Shaheed (and Devin) Cooley, their quarterback, (Jake) Constantine. Josh Davis, the running back. I heard that some of those guys might have gotten hurt, but I expect them to play. I want to play against them. I'm definitely familiar with how they play, and I'm excited. It's a fun matchup. I love going against those receivers, because they're good receivers, and it makes it a fun matchup. ... We're going to play hard. We feel like we understand them. They probably feel like they understand us too, but I feel like they don't have that full understanding. Like I said, we have a lot of talent on this team, a lot of potential on this team. Big-play potential on offense, big-play potential on defense. So I feel like, yeah, maybe our record doesn't show it, but we can still hang with these guys, and we can make this a good game, and we can go ahead and potentially spoil their end of the season before they go into the playoffs.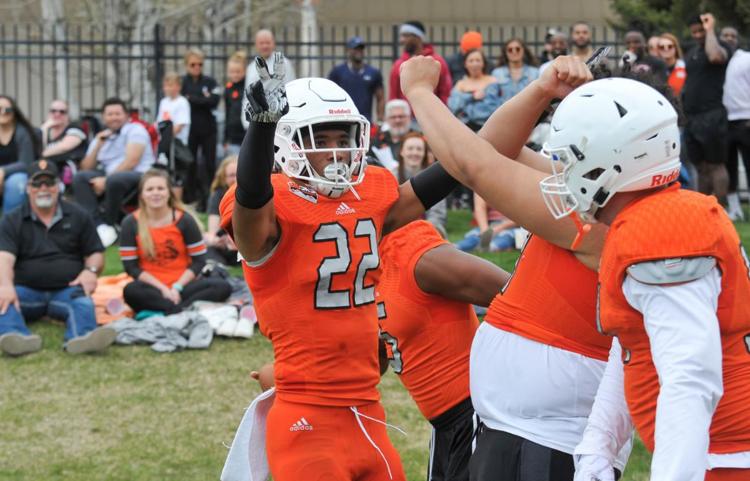 On his one-handed interception against Northern Colorado: Actually, shoutout (linebacker) Luke Holloway. He told me right before the play started that they were going to try me. I'm up in press, I'm lined up against (the WR), and I just hear out of the side of my ear, Luke saying, he's like, 'They're going to try you.' So automatically, I'm thinking that he must have seen the quarterback make a hand signal and is looking that way, and looking at film, he did. So I kind of played it like it was a fade all the way, and then as he was running, I got my head around and I saw the ball, and I just kind of reached back. I didn't necessarily expect that I was going to pick that, but it just ended up being a good play for me.
On other plays he'll remember from this year: There are a few (pass breakups) that I got, like that one in the back of the end zone against Northern Iowa (Brown knocked away a third-down pass to force UNI to kick a field goal, keeping it a one-score game late). That one was big for me. One against North Dakota, on that fourth down, when they tried to get that. It's always fun, in the fourth quarter, to get a big stop to get off the field. I'll also remember one against BYU last week, early, when they tried to run a fade on me, just because of the environment. It was fun to get a PBU there. It was a really fun place to play. Those were plays that I'm going to remember for a long time, and definitely that pick (against Northern Colorado). I feel like that pick was one of the better plays of my career, just because everything I did on that play was a testament to technique, a testament to, you know, this is how I'm supposed to do it. So, to be able to feel everything go right, it's a great feeling.
On what his next steps are: I'm not 100% sure. I'm going to do a pro day. I would love to play. I want to play. So probably my next step is just going to be, hang around the team, continue to train, train for a pro day. Just continue to prepare my body, in case I do get an opportunity to play, so that I'm ready. Because that's ultimately what I want to do. Obviously, you have to have your fallback plans, but if I can play at the next level, then I want to play at the next level, whether that's NFL, whether that's CFL, XFL, anything like that. ... It's just making sure that I understand that it's not over until it's over. The offseason is literally the same thing. You're going to go into the offseason and it's training and training and training until spring ball comes. Well, now I'm going into the offseason, training and training and training until pro day comes. I feel like that motivation is always there, because football is my life. It's my identity. I don't really know what else I could be yet without it. Obviously, like I said, you want to have those backup plans. But, as a student-athlete, athletics is pretty much your life, especially once you get to this level, because it took a lot of dedication, a lot of hard work. I'm the type of person that, this is what I've dreamed of doing.
On the plays he'd like to have back: There's a few of those. Obviously the Eastern (Washington) game, I had two dropped interceptions. One was a really bad one, where the ball got popped up in the air. It's like a punt. I go back there in practice and catch punts every day, and I try to pride myself on not dropping any of those. The fact that pass was a lot like a punt, and then I just went and dropped it, that one's definitely frustrating. I also dropped a comeback earlier in that game. So those are a couple picks that I feel like I could have had. There was that play last week against BYU where I fell. The play got called back, but I fell and he caught it on the sideline. I felt like I was in good position to make a good play on that ball, but I stepped on his foot and I just ended up falling and he was able to catch that pass. So there's little plays like that. Those are recent plays that come to mind. (Against) Montana, Samori Toure caught a fade on me in that game, and I feel like I didn't put enough effort into that. I felt like I rode him out of bounds at the time, and I didn't fully try to punch through his hands, and he made a great catch on the sidelines. It's plays like that that I wish I could have back. It's mostly plays where I was in position, and I wasn't able to make the play. So there's a few of those, definitely, this year.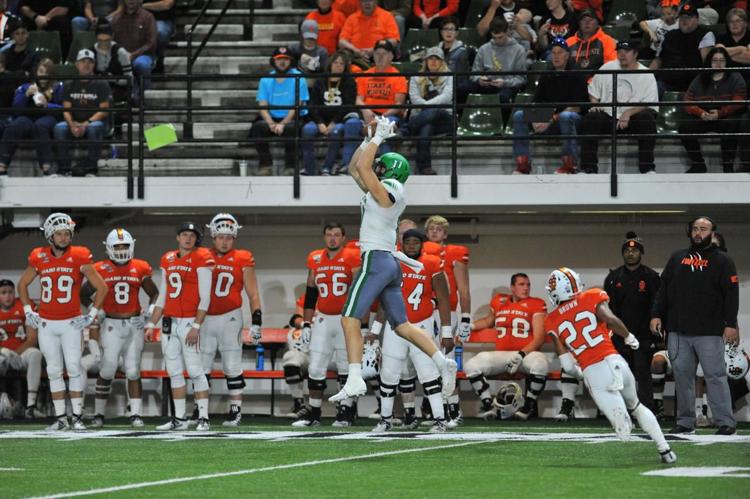 On going against receivers like Montana's Toure: For a competitor, it's a great feeling. Obviously, some people aren't necessarily competitive in nature, so it might be a different kind of feeling, it might be almost a feeling of fear. But I love it. I knew Samori, I went against him in a lot of camps our senior year of high school. So I already knew coming in that he was a good receiver. He had a great day against us. That catch that he had was definitely...after the game I went and congratulated him. I was just like, that was a great catch. I've been kind of keeping track, because I know some of the Montana guys, so I see what happens with them, and I know that he's been having a great year. Like I said, I wish I could have some of those plays back, like that one with Samori. The BYU guys, (Talon) Shumway, he is a physical dude. Big, tall, physical. He was able to box me out when he scored that touchdown (a 26-yard grab in the second quarter). That's the challenge that I want. I want those experiences. Obviously, I don't want to give those catches up, but the experience of going against him and understanding, OK, this is how a bigger receiver will try to box me out. Now, how am I going to figure out how to defend that the next time I go against a bigger receiver? Eastern (Washington), I actually know a lot of those guys on that team, grew up with a lot of them, so that's just a fun thing to do. Like, Andrew Boston, going against him. I've known him for a long time. Seeing him, it's fun to be competitive against your friends. The fact that he's a good receiver makes it even more fun.
On his (very active) social media: I love Twitter. I'm very active on Twitter. It's just like, a lot of people, when it comes to social media, they feel like it's kind of a hindrance. I use it as a way to laugh, for the most part. Also a way to connect socially, because like I said, a lot of those guys like Eastern's receivers, like Montana's receivers, I follow a lot of them on social media and I'll talk to them every once in a while. So I feel like, yeah, it probably dominates my life a little bit, but if I see something that I want to retweet, I'm going to retweet it. If I have something I gotta say...I'm a Cowboys fan, I'm sure you've seen, so whenever I'm watching a football game, I'm watching the Cowboys play, then I'm constantly talking about it. But I don't really have anyone to talk to next to me, so I just put it on Twitter. Obviously, you want to keep everything clean, and I try to do that to the best of my ability. My mom follows me, so you know I have to be careful. Definitely for me especially, Twitter is like a way to laugh, but also a way to stay socially connected, just because I have a lot of friends around the country, in the conference, so it's always cool to see what's up with them.
On his anime fandom: Really it started when I got out here. I didn't really have much to do. I was put on Naruto by one of the players who was here, (former ISU cornerback) Brandon Monroe. He was one of my good friends, so he kind of put me on. I was like, alright, I'll check it out. And then I got into that and then I started watching other animes and stuff. Obviously, you know, before you watch it, everyone's like, oh, it looks like it's for kids and everything. And yeah, some of them might be, but there's also other shows that aren't necessarily for kids. Just because it's animated doesn't necessarily make it childish. I feel like, if you want something that's animated, Into the Spiderverse was an amazing movie, amazingly-written movie. And also my sister, my older sister, she's got an author background. She's constantly telling me things about how writers write and what's good for writing, what's bad for writing, stuff like that, so I kind of pay attention to stuff like that too. Anime is really good, there are a lot of great shows that have really intricate writing and all of that, that don't stick to scripts all the time. That's kind of how I feel when I watch a lot of those shows, and what keeps me watching more of them.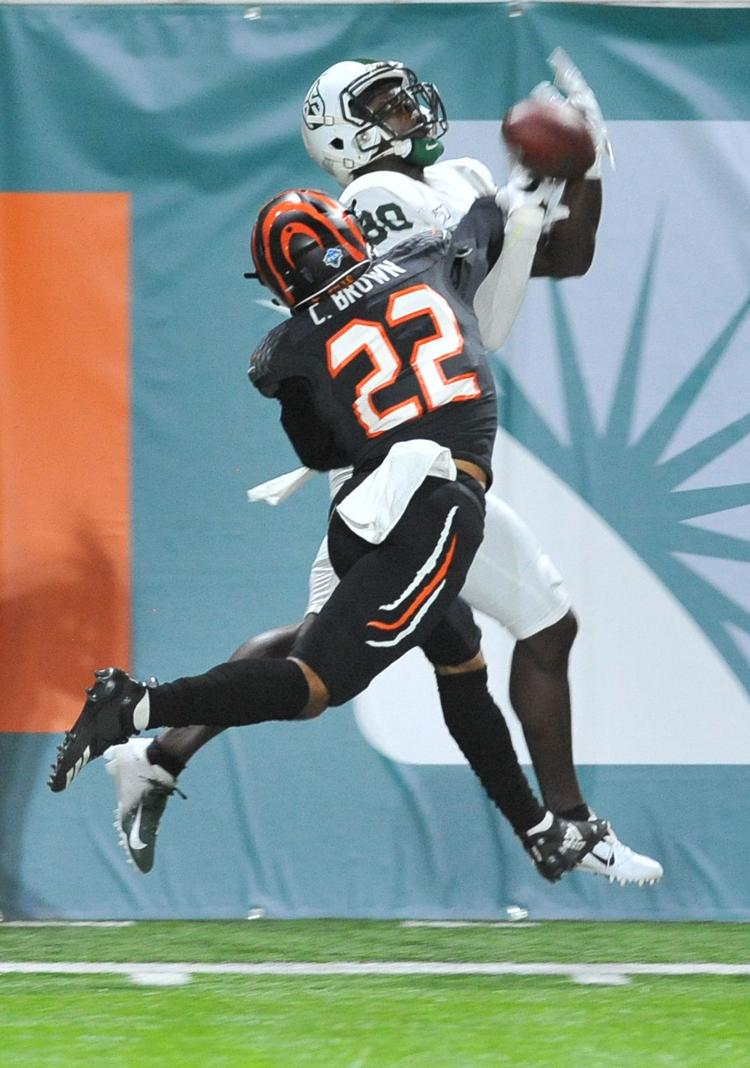 On his path to Idaho State: I wasn't very highly-recruited at all. I had some Division III attention coming into my senior year, but I had to go to camps. I did really well at a lot of camps, and I started getting attention from, like, Eastern (Washington). I got some attention from (Washington State), just by going to camps and actually playing well, but none of them ever pulled the trigger. I thought that maybe I would end up going D-II and going to Central Washington University, but then, basically, there was a man, his name is Reggie Jones. He runs something called Heir Football. Back then it was called Rise. He liked what he saw and endorsed me and helped me out and put my name with his connections. Through that, I was able to get to Idaho State, because he knew coach (Stanley) Franks, who was ISU's cornerbacks coach at the time. If it weren't for him, I definitely wouldn't have been here. I probably would have either gone to Central Washington, or if I wanted to try it, I might have gone the (junior college) route, who knows.
On being overlooked: There's a lot of guys throughout the country that feel they're overlooked, and I was definitely one of those people. I was blessed to be granted an opportunity that a lot of guys aren't blessed with. So, yeah, I had that chip on my shoulder. It was always about, whenever I get an opportunity, just make the most of it, and show them why they should have picked you up. Portland State, they said I was too short to play corner. If you look at their team, they always have taller corners, but that's one thing that kind of put a chip on my shoulder. It's just about going out and proving to them that, oh yeah, I do deserve to be here. As much as the world made me feel like I might not have deserved to be there, I do deserve to be there. That's why I was able to play here and I was able to have a fairly successful career.
On his final thoughts: I'm blessed. God blessed me with the ability to play this game, with the opportunities. I wasn't sure if I was going to be here. I got this offer very late, December after my senior year. So, just the fact that I'm in this position, the people that helped me get to this position, I'm extremely thankful for, because I wasn't 100% sure if I was going to be playing football after high school, as much as I loved it. So just the fact that I've been able to make it this far, I'm extremely blessed. Hopefully I get a chance to keep going.