An Idaho woman who is a descendant of Sacajawea led a yearslong effort to get an offensive statue of her ancestor removed from a Charlottesville, Virginia, street corner. After a decade of activism, the statue was finally removed last month.
When Rose Ann Abrahamson, a lifelong Salmon resident and member of the Shoshone-Bannock Tribes, visited Charlottesville in 2009 at the urging of Virginia natives, she saw in person for the first time the statue of her great-great-great aunt.
"I was very shocked," Abrahamson said. "My ancestor Sacajawea has many, many images made of her throughout this country, and my family and I were able to see many of them first hand. This statue in Charlottesville was the worst we have ever seen."
The statue, installed in 1919, shows 19th century explorers Meriwether Lewis and William Clark with Sacajawea, who is kneeling beside the two white men. Historians say Sacajawea is depicted tracking, but those against the statue have said she appears to be cowering and crouching timidly.
Abrahamson has called the depiction of Sacajawea "inaccurate" and "outwardly offensive" because it cast her ancestor — whose accomplishments as a guide and explorer bring pride to her descendents — as weak and subservient to Lewis and Clark.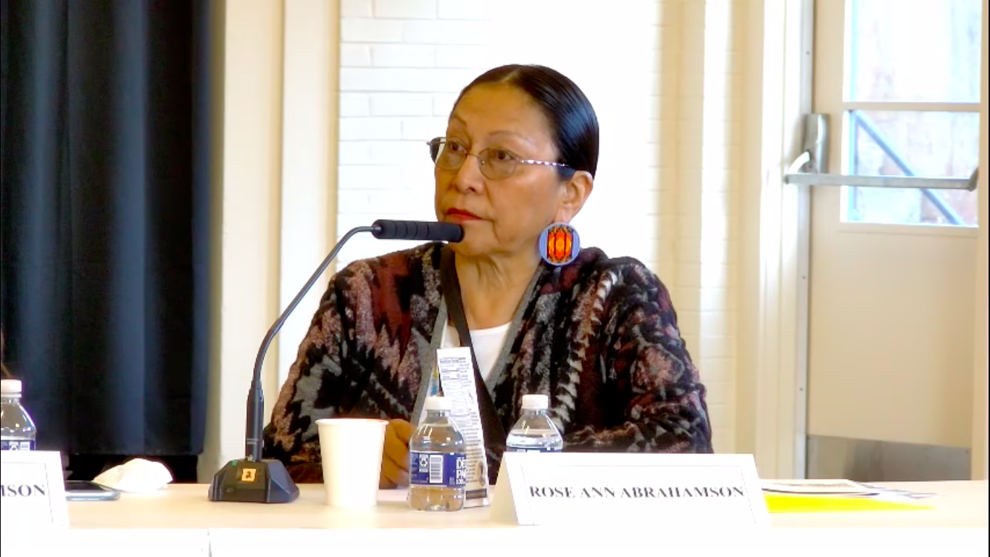 To offset the demeaning image, she thought first to place a plaque next to the statue that would provide historical context of Sacajawea's contributions and strength. But she soon decided that would not suffice and launched an effort to remove it entirely.
"We felt it was demeaning. We felt it was offensive, and we felt like it downplayed her actual role, so we decided enough is enough. We need it removed," Abrahamson said.
From 2009 to 2019, Abrahamson, her sister Emma George and eventually her daughters Dustina and Willow Abrahamson stayed in talks with native Virginians and Charlottesville elected officials about the statue and what they believed should be done with it.
Their activism culminated in a 2019 visit to the city, where the four women paneled a discussion on the statue before the Charlottesville City Council, asking for the statue's removal and replacement, and explaining why it was offensive to Indigenous people.
Dustina, sitting between her mother and sister Willow, told city leaders the statue was a "wrong depiction of Sacajawea and of who she was," but also a "wrong depiction of Indigenous women." Her ancestor, she said, made possible the famed expedition of Lewis and Clark with her diplomacy and knowledge of the land, and her contribution should not be diminished.
"The first time I got to see the statue, it did bring shame," Dustina told the councilors. "It was disturbing to me. It made me feel sadness and worthlessness, and that's not how I was brought up."
Rose Ann said while no one knows the "artist's history and intent," and the statue was made at a time of intolerance for and discrimination against Native Americans and people of color, they believed it was "time to put this statue where it belongs … in a place where we can inscribe that this depiction of a woman, and of Sacajawea, does not hold truth today."
"We believe that no statue today should cause a citizen to hang their head in shame or cause a child to question their worth," she said. "Let us for the sake of our children, our upcoming generation, show images of integrity, equity and tolerance in our public forums."
After a decade of work seeking the statue's removal, and nearly two years following Rose Ann's public meeting with Charlottesville officials, the Charlottesville City Council voted unanimously during a special meeting on July 10 to take down the statue. The memorial was evicted from its century-long post by afternoon the same day.
Rose Ann's daughter Willow said of the statue's removal in a written statement that she's "grateful to have the likeness removed."
"This is not revisionist history; this is truth telling," Willow said. "This will hopefully create more restorative justice and return our humanity back to common decency and respect for one another as beings on this earth. This is a catalyst."
Rose Ann said she's proud of the work she and her family did to rid Charlottesville of what they considered an inaccurate and degrading portrayal of their ancestor and an historic female figure.
"We here in Idaho have great pride that (Sacajawea) is from our area," she said. "We have great pride in the fact of her role in history, and her role as a woman and her recognition throughout the world, so we felt like we were protecting Idaho's heroine."
The statue is being stored at the Lewis and Clark Exploratory Center in Charlottesville. Its fate remains undecided, but Rose Ann said city officials have indicated they would consult her and her family in making future decisions about the statue.
A replacement statue is also under consideration, which Rose Ann said she would be happy to see, so long as the statue is an historically accurate depiction of Sacajawea, standing beside Lewis and Clark — "not crouching, not kneeling and not hiding."
"There's a time and a place. The right moment will come," she said.