Pocatello native Spencer Case earlier this month narrowly escaped from Wuhan, China — the epicenter of the deadly coronavirus outbreak.
But after his getaway, the 34-year-old international research fellow at the Wuhan University School of Philosophy spent two weeks in quarantine at Travis Air Force Base near San Francisco before making his way back to Southeast Idaho. Now, Case is itching to return to his 17th-floor apartment in Wuhan and get back to his normal life as a research philosopher.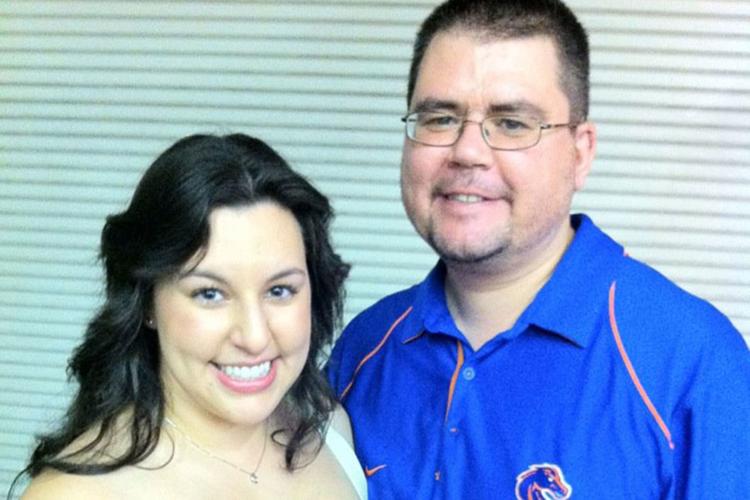 Meanwhile, another Pocatello native, Kent Frasure, can't wait to return to America after being stuck in a coronavirus-infested cruise ship currently under quarantine at a port in Japan. Though the U.S. flew 328 mostly non-infected Americans aboard the Diamond Princess from Japan back to America last weekend, Frasure has elected to stay in Japan while his wife, Rebecca, remains in a hospital there after testing positive for coronavirus.
Princess Cruises recently moved Frasure off of the ship and into a hotel in Japan.
Though one is in America and wants to return to the continent under siege from the virus and the other is there but wants to be back here, Case and Frasure share a mirrored first-hand experience with the coronavirus, which as of Friday had infected more than 76,000 people and resulted in 2,200 deaths — most of them in China.
Since Feb. 5, when the Diamond Princess cruise ship was first quarantined at the port of Yokohama, Japan, more than 600 of the 3,700 passengers and crew members aboard have now tested positive for the virus and two passengers have died from it, according to the Washington Post.
Moreover, the decision to fly the 328 American passengers home from Japan ended up doubling the number of known coronavirus cases in the U.S. As those 300-plus Americans were on buses in Japan awaiting transport to the airport, test results came back showing that 14 of them were infected with the virus, the Washington Post reported Thursday. The U.S. State Department had promised that none of the American passengers with the infection would be allowed to board the planes for the flight home, which resulted in a fierce debate.
The State Department and a top Trump administration health official wanted to fly the American passengers back to the U.S. regardless, the Washington Post reported, but officials at the U.S. Centers for Disease Control and Prevention disagreed, contending the infected passengers could still spread the virus even though they were not showing symptoms at the time.
Ultimately, the State Department won the argument and the 14 coronavirus infected American passengers from the Diamond Princess were flown home with the other 300-plus virus-free Americans from the ship. The CDC demanded it be left out of the news release that explained that the 14 infected cruise ship passengers were being flown back to the United States, the Washington Post reported.
In terms of the Frasures' predicament, Rebecca was one of the first people on the ship to test positive after the vessel was quarantined when it was discovered a former passenger had contracted the virus.
Rebecca and Kent reside in Forest Grove, Oregon, and were taking the cruise as part of a vacation. Kent works in research and development for Intel in Oregon.
Rebecca, a Washington state native, is doing incredibly well and is definitely going to survive, according to Kent's father, former Idaho lawmaker Evan Frasure, a longtime Pocatello resident who recently moved to Wildewood, Florida.
But it's completely unknown when Japanese health officials are going to remove her quarantine status so that she can leave the Japanese hospital where she's being treated and return to the U.S.
Evan said his fears have subsided regarding Kent's ability to find a place to stay if Japanese authorities remove everyone from the cruise ship. If Kent, who has been repeatedly tested for coronavirus with negative results, is forced to leave the ship both Intel as well as the Diamond Princess' owners will pay for a new place for him to stay while Rebecca remains at the hospital, Evan said.
Until his son and daughter-in-law return home, Evan asks that everyone back in the Pocatello area keep his family in their thoughts and prayers.
The Frasures and Case share a familiar date of Feb. 5. It's the date that Case landed at Travis Air Force Base and the day the Diamond Princess was first placed under quarantine at Yokohama.
Upon stepping out of the large cargo plane at Travis Air Force Base along with over 130 other Americans who had fled China's Hubei Province — where Wuhan is located — Case couldn't help but think about his wild, almost illogical journey, he told the Idaho State Journal during a Thursday interview. By the time he had left Wuhan, a city of 11 million people, it had essentially turned into a ghost town, Case said. The Chinese military had locked down the city because of the spread of the virus, forbidding anyone from entering or leaving without special permission, and most of Wuhan's residents were afraid to even step outside their homes.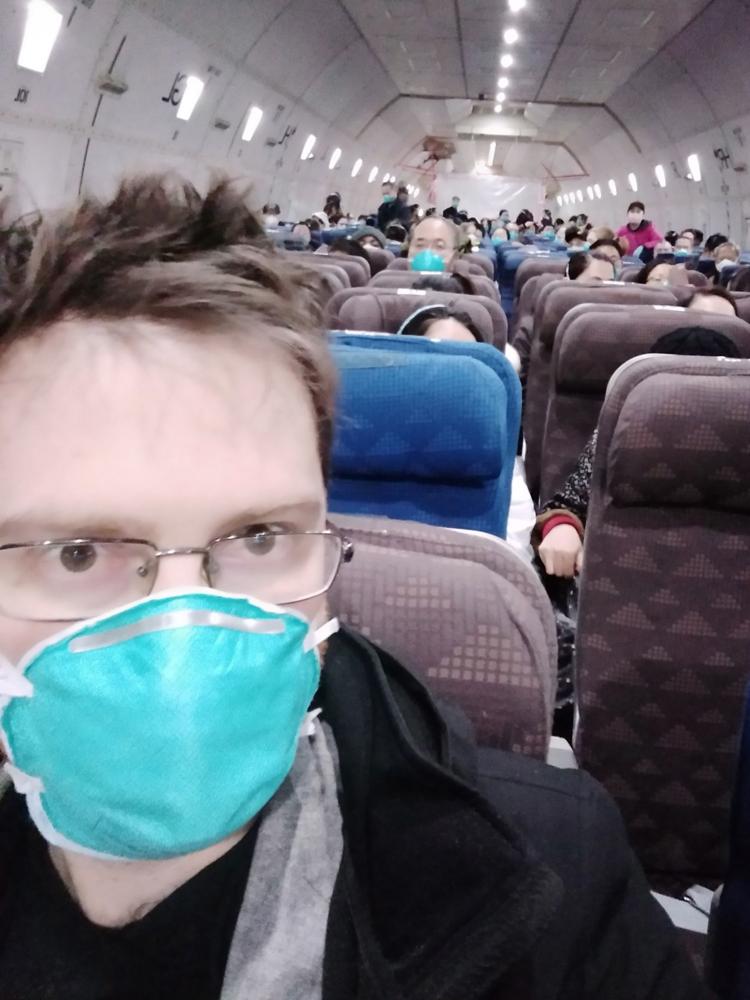 "One of the counterintuitive things about crossing the dateline is after having this long, long night and 17-hour flight, I arrived at Travis Air Force Base earlier than when I had left the same day in Wuhan, China," Case said, while pinching the skin of his nose where his eyeglasses usually rest. "I was in a daze when I arrived (at Travis Air Force Base). I was barely holding it together."
While Case said his fear of contracting the coronavirus was never significant, he said he personally witnessed the spectacle created by the virus go from bad to worse.
"Right when we got to (Travis Air Force Base) one woman had a breakdown as they were getting us off the plane," Case said. "She started screaming and freaking out and even looked like she began convulsing. A medic came in and calmed her down and made sure she was OK. Otherwise our landing happened without incident, albeit very slowly."
Case walked from the plane and into a gymnasium with various individuals distributing paperwork and quarantine orders. While the Wuhan health officials wore full quarantine garb, making it easy to mistake them for members of a nuclear disaster cleanup crew, the personnel at Travis Air Force Base wore military uniforms or plain clothes, Case said.
During his two weeks under quarantine on the base a four-story hotel surrounded by a chain-link fence and flood lights became his home.
"Once you receive that paperwork it's the law that you can't leave the area," Case said. "There was grass outside, but I could not go past the chain-link fence. We had our own hotel rooms and were allowed to mill about and do what we wanted. While we were not required to wear a face mask, most people did."
Case's daily life at the base's hotel was not controlled in any way, he said, other than meal times and the twice-daily scheduled temperature readings to make sure he had not contracted the virus.
Although the coronavirus outbreak removed Case from his everyday life and his girlfriend, who remained in her native China, he said the quarantine was actually good for his work as a philosopher in that he was able to finish a draft of a new philosophy paper and appear as a guest on several podcasts.
He was provided free counseling and mental health services at the base, which he described as mostly unnecessary. However, his interactions with the medical staff there were consoling, he added.
"It was clear that the people involved with managing the quarantine felt as if they were doing something patriotic and helping Americans," Case said. "They had a tremendous amount of sympathy for the people who were in the situation and tried to be as kind as possible about it."
Though he somewhat felt as if the quarantine at Travis Air Force Base was overkill and even once thought about leaving the hotel early, despite the fact that breaking a federal quarantine order is punishable by fines and imprisonment, Case said he did not want to risk spreading the virus to other Americans.
"I had mostly been quarantined in Wuhan over the last couple weeks so it just seemed very unlikely that I was sick," Case added.
On Feb. 18, two weeks after Case had arrived at the Wuhan airport — an adventure that required an incredibly trusting taxi driver and navigating multiple military roadblocks and was followed by 17 continuous hours aboard the cargo plane — Case was discharged from Travis Air Force Base 100 percent coronavirus free.
He flew out of San Francisco on Tuesday at 4:15 p.m, landed at the Salt Lake City airport around 7 p.m., and eventually made it to McCammon, where his family currently lives, around 10 p.m. He sat down with the Idaho Sate Journal in Pocatello on Thursday before visiting other philosophy colleagues at his alma mater, Idaho State University.
What was most surprising for Case was the fact it took about two weeks for the United States and Chinese governments to work out the details of his evacuation from Wuhan, during which several other countries — such as France, India and Sri Lanka — more immediately flew home their respective citizens from China.
Now that he's been medically cleared, Case looks forward to returning to his work in China. Emails from top-officials at the Wuhan University School of Philosophy say Case shouldn't expect the campus to open before March 10. Case said he is hopeful to return to Wuhan in early April.
Additionally, Case said he has spent some time analyzing the post-outbreak stigmatization of the Chinese from a philosophical viewpoint. Much of the stigma has been observed in the form of racially insensitive and xenophobic jokes and comments regarding the Chinese, particularly their diet.
Videos of Chinese citizens eating bat soup have recently gone viral online. The food has been linked to allegedly causing the coronavirus outbreak in Wuhan.
"I think that the stigma against Chinese people in general associated with this virus will fade as soon as this crisis passes — I don't think it will be deeply embedded in our consciousness," Case said. "The stigma with Wuhan in particular, however, will linger for a decade or more. Wuhan will be forever associated with this coronavirus, which is deeply unfair to the people living there, most of whom are not eating bat soup."