If you were to strike up a conversation with Inkom native and current California-based actor Christian Calloway, it would probably be easier to ask what type of work he hasn't done.
His acting resume spans decades and includes roles alongside Jack Black, Beverly D'Angelo and Michael Clarke Duncan, as well as films and shows directed by Steven Spielberg and David Lynch.
Calloway, who currently lives in Van Nuys, California, contracted with NASA for over 25 years as a natural isotope X-ray radiographer, emceed child beauty pageants, spent about 20 years performing as a stuntman in cowboy movies and became so adept at tying inflatable animals he was once featured on David Letterman for an "E.T. the Extra-Terrestrial" balloon.
But it's the work Calloway has been doing for others that is the most fulfilling for him, he said.
"I am basically a walking charity because at least 80 percent of my income goes back into the community," Calloway told the Idaho State Journal during a recent phone interview. "All I put out in the world is goodness and kindness so that's all I get back is goodness and kindness. Whether you believe in light, a stick on the ground or God in heaven, everybody on this Earth knows that if you put out goodness you'll get goodness in return."
Calloway grew up on a ranch just south of Inkom that many may remember boasted a big red barn with the word Charolais across the side. The ranch would later become the Diamond H Ranch. At age 15, Calloway moved to Pocatello where he sought work as a janitor at the KKLB AM radio station.
"My gig in radio was sort of a fluke really. I came in with the idea to sweep and mop the floors and they just liked the way I talked so much they offered me a spot on the radio," Calloway said. "They told me to head over to the (Holt Arena) to cover the farm and market show and I ended up parlaying that into a morning talk show."
According to his biography on IMDb.com, when Calloway took on the KKLB host position at 16, he became the country's youngest morning talk show host and news director at the time. The year was 1980 and he was also a Professional Rodeo Cowboys Association trained bull-fighter.
Two years later Calloway had a desire to move close to the ocean. He ended up in Bakersfield, California.
"I thought, 'Yeah, Bakersfield,' and then quickly realized there was no ocean in Bakersfield," Calloway said. "I was miserable in the desert there but that's where I did children's beauty pageants, stock car races and I worked at a place called Circus Ice Cream Restaurants where I learned how to make balloon animals so well that I had an E.T. balloon make it on David Letterman's Stupid Human Tricks segment."
Soon after his stint in Bakersfield, Calloway would go on and learn how to become a radiographer with General Electric, and a successful one at that, as evidenced by a career that was roughly five times longer than the average, he said. He worked with iridium-192 and cobalt-60, two of the more common industrial gamma-ray sources for industrial radiography, for much longer than a typical radiographer would care to handle the isotopes over fears of radiation poisoning, Calloway said. He could produce approximately 40 X-rays in eight hours compared to the average of eight X-rays in the same amount of time.
"You get too close to either one of those isotopes and they will curl your fingernails; they're potent radiation," Calloway said. "Most of the technicians will only work around the stuff for about five years, but I didn't care about the radiation so I was doing it for 25 years, which gave me an incredibly (vaster) amount of education than pretty much anyone in the country."
Calloway said he did so much contract work with NASA that he was able to engrave a message onto the side of a cylinder that's part of the International Space Station, a multinational collaborative station located in low Earth orbit.
"The message says, 'This is for you Michelle; forever people will be able to see you are a star,'" Calloway said about a paraplegic woman he befriended online who he said was an inspiration to him who endured abuse and hardships.
Calloway would take on a few acting roles for the first five years he was also doing radiography, and then that aspect of his life sat on the shelf for the next two decades. Most of his acting began picking up again in 2007.
In addition to film and television, Calloway would land roles in music videos, theatre, commercials, and even improvisational comedy, with his early career in rodeo bullfighting molding his face into one capable of portraying the toughest bad guy to the funniest-faced homeless actor.
Calloway has his sights set on starring as the main character in a feature film about a homeless man. Until this day comes he spends a lot of his time studying and helping the homeless in shelters and on the street. Charity organizations benefit from his appearances as he arrives with cardboard signs at special events proclaiming the needs of the charity upon his handwritten signs.
This led him to the creation of what he described as his walking charity mission, titled, "Will Work for Change." Just earlier this month, Calloway was in Pocatello in front of Costco flying a cardboard sign that read, "Wanna Talk, I'll Listen." He said he wants to make Pocatello his next base of operations for his organization. The goal of the mission is simple: to be an example in the community of goodness and kindness by taking the time to stop and listen to the issues and problems that others carry around with them.
"I've done a lot of odd things to get people's attention, but the cool thing is people aren't looking at me and saying he just wants attention," Calloway said. "They are looking at me and going, he's so good and so kind, I want to be just like him."
Also a volunteer nurse, Calloway said he uses the publicity of Will Work for Change to support endeavors to provide medical care for those who cannot afford to do so themselves, primarily among terminally ill patients who need nursing services that could ultimately extend their life.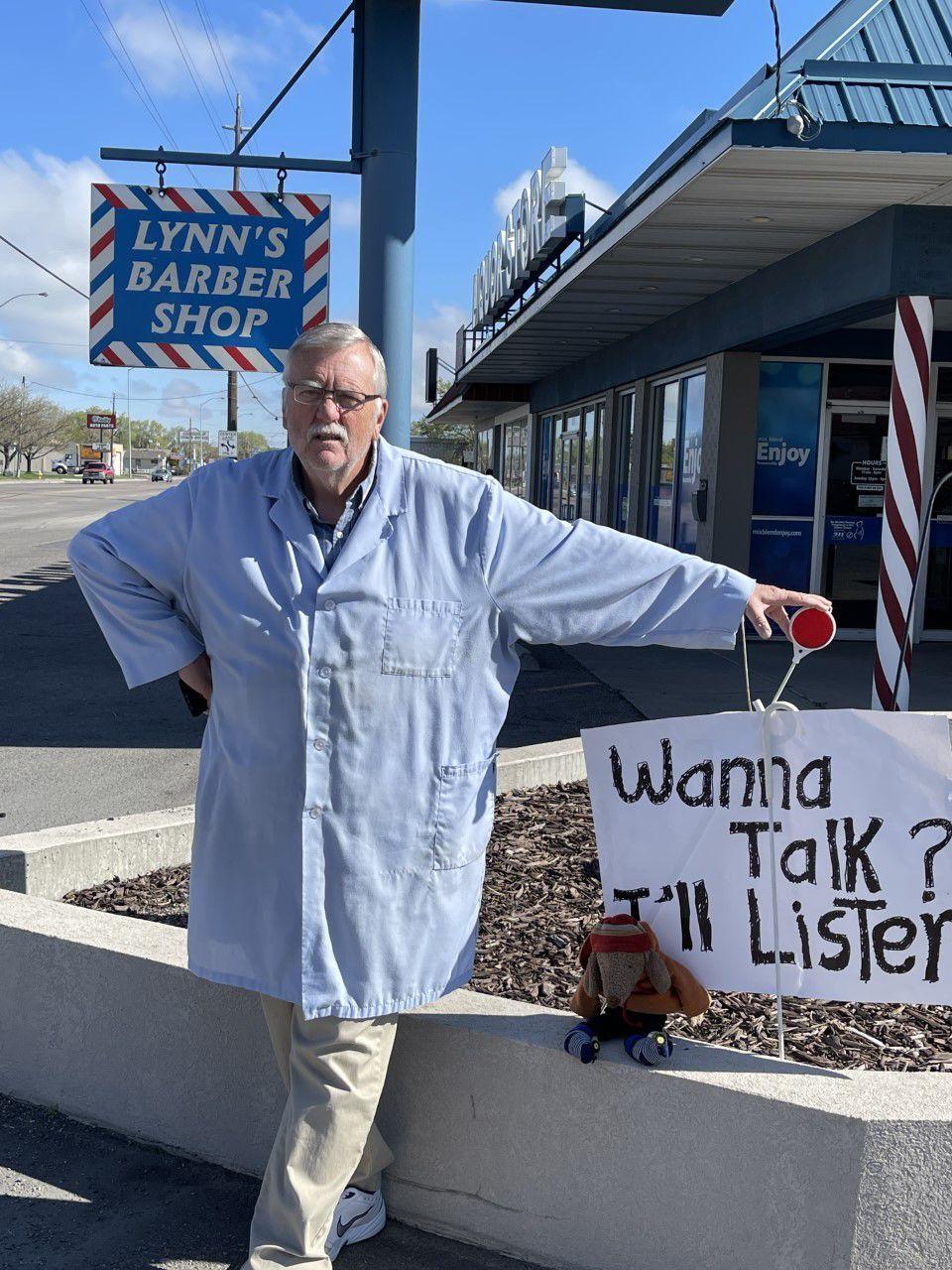 Calloway said the last time he was here he met up with an old-time friend he lost contact with at age 18 named Lynn, who owns a barbershop on Yellowstone Avenue in Chubbuck. Lynn keeps his haircuts at an affordable $12 because that's "fair measure," Calloway said, something he was excited about because he uses the same phrase.
"Lynn told me he just likes to be good and kind to people, which I thought was amazing because that's what I'm all about," Calloway said. "I asked him if he likes to listen to people and he told me that's why he was a barber. So my plan is to go back to his shop and put up a sign that says, 'Wanna Talk, I'll Listen,' and want to basically make that street corner to become a listening spot so you can either go in and get a fair $12 haircut with Lynn or maybe sit out front with a volunteer who is just sitting there waiting to listen to people."
Calloway said the ways in which others can assist his organization are simple. Firstly, the primary method of donation, Calloway asks, is that others heed his message and reciprocate his kindness within the community, taking time to listen to others when they need it most.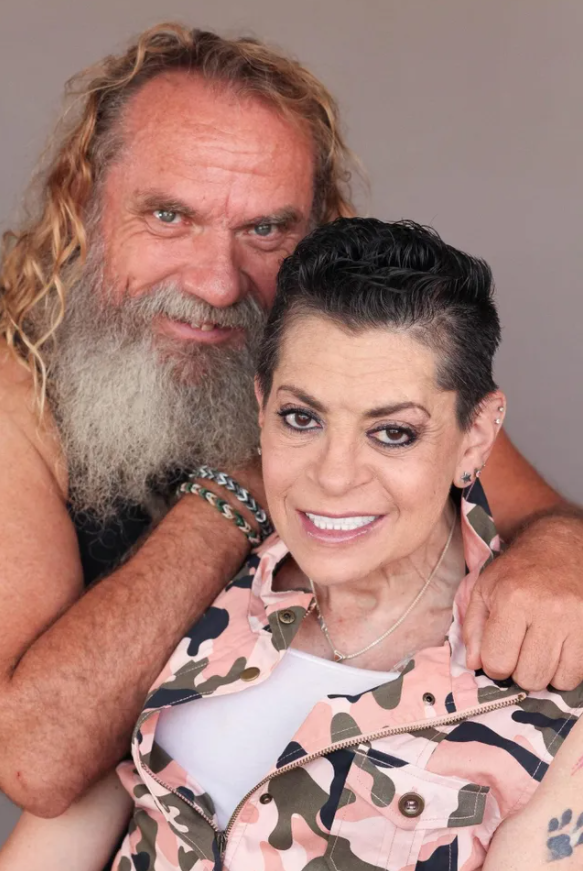 Also, those interested and contributing to his cause financially, can do so by purchasing items from his online store and auction house, OMG Shops, which is accessible by visiting omgshops.com. The shop was set up in honor of Calloway's late wife Becca, who died of cancer at the onset of the COVID-19 pandemic.
"I truly believe God has given me this career," Calloway said. "I am staying humble, I'm giving back, I'm making myself accessible, I'm being good, I'm being kind, I'm being grateful and I keep my ego down."
Calloway continued, "My entire life is just this huge heartfelt project that shows goodness and kindness as the example we all should follow. It's not just about my sign, it's about some of my music videos, and just me being able to relay the message that we have all been through something really bad in one way or another and that the best way we can heal is to talk about it."