POCATELLO — Work is currently underway to prevent a local hotel from becoming blighted while also providing much-needed housing, adult supervision and workforce training services for elderly veterans in the region.
A Chicago-based real estate investment and development company, Lockwood Development Partners LLC, after obtaining a contract-based conditional use permit from the Pocatello City Council last month, is forging ahead with plans to turn the Clarion Inn on Bench Road into a 125-unit apartment complex for veterans over age 55, complete with an on-site adult daycare and a workforce training and education center.
"We are very excited," Dan McNulty, an architect and principal investor with Lockwood Development Partners, told the Pocatello City Council during a Nov. 19 meeting. "Everybody is struggling in this pandemic, but really, we are doing two things with this project — we're helping out vets and we're saving a lot of aspects of the hospitality industry."
Charles Everhardt, president of Lockwood Development Partners of Chicago, says the multimillion-dollar investment to turn the Clarion Inn into a state-of-the-art housing facility with on-site services and resources for veterans, albeit on the smaller side of Lockwood Development projects, is part of a larger blueprint to erect such facilities in every state in the country.
The ongoing coronavirus pandemic has further exasperated an already struggling hotel and hospitality industry, allowing Lockwood Development Partners and other real estate developers to scoop up properties, like the Clarion Inn in Pocatello, for a fraction of their original asking prices — sometimes at half the cost, Everhardt added.
McNulty provided the Pocatello City Council with at least six examples of similar Lockwood Development projects, including a 120-bed facility in Trenton, New Jersey, and larger undertakings in Pawtucket, Rhode Island, and New Castle, Pennsylvania.
The contract-based conditional use permit Lockwood Development requested from the city says the Department of Veterans Affairs projects that there are over 18.2 million veterans in the U.S. and that approximately 200,000 transition out of military service every year. Inadequate housing and educational services has resulted in approximately 45,000 homeless veterans nationwide.
Everhardt suggests that number is even larger than estimated.
"We recognize there are a million-plus senior veterans in the country that really don't have a lot of options when they start aging," Everhardt told the Idaho State Journal during a Wednesday phone interview. "One of their options is to go to a private-pay assisted living facility or skilled nursing facility, but the problem is they are very expensive."
Everhardt continued, "So what we've done is we've set up a program where we have been able to work with the U.S. Department of Housing and Urban Development's Federal Housing Administration to establish a certain type of affordable housing component, which essentially means you can't charge more rent than a certain percentage of the average median income."
Based on data from the Idaho Department of Veterans Affairs, Pocatello and surrounding communities within 200 miles have a veteran population of about 45,000 people, of which approximately 3,000 are low-income or homeless, Lockwood Development said in its application for the conditional use permit. This number, coupled with the fact the only long-term veteran home in the Pocatello area has but just 66 beds, shows the needs for affordable housing and educational opportunities is immense in the region, Lockwood Development said in its application.
While the primary demographic is senior veterans, Everhardt said they will also accept any person who isn't a veteran, so long as they meet eligibility requirements.
Lockwood Development Partners is still in the process of purchasing the approximate 8-acre Clarion Inn property from the current owner, HSB Hotels, a limited-liability company the Idaho Secretary of State's Office says is registered to Jeff Spry of Tracy, California.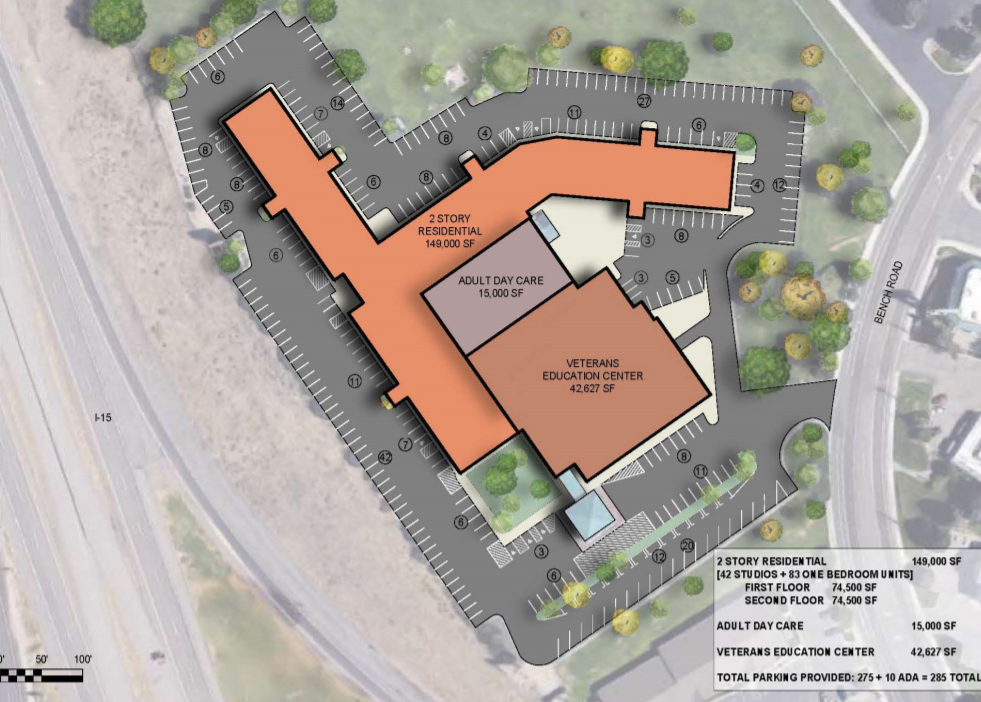 With many moving parts, Everhardt says a tentative timeline for completion of the project is approximately eight to 14 months. The project includes building 83 one-bedroom apartments and 42 studio units using the existing hotel rooms, renovating the center area of the hotel where the pool is currently located into a 15,000-square-foot area for an adult daycare, and converting the banquet room areas into a 42,000-square-foot veterans education and job placement center.
Everhardt said a nonprofit organization, Veteran Services USA, is currently in the process of being created, which will oversee the education and workforce development aspect of the new facility.
The Clarion Inn will continue to operate as normal until Lockwood Development Partners and HSB Hotels have reached a purchase agreement and the transaction has been completed, McNulty told the Pocatello City Council last month.
"That hotel will look very different when we are done with it," McNulty told the city council last month. "We've got a lot of steps done. Already we have architects and engineers doing work, we know the demographics and we know what the referral market is for local veterans. We don't like to make mistakes and we're looking (to open) the third or fourth quarter of 2021."