A lot has changed for Tristen Hoge and Kyler Manu since they celebrated Highland's 5A state championship together in 2014.
For one, Hoge has switched schools. And Manu has changed his appearance.
In one way, last Saturday offered a return to normalcy. The former star teammates and longtime friends shared a football field again, as Manu's Washington Huskies beat Hoge's BYU Cougars 45-19 in Provo, Utah.
It was the first time Hoge and Manu faced off as college starters. Washington and BYU played last season, but Manu was a backup and didn't log a tackle until the fourth quarter, when UW was ahead 35-0.
Manu had three tackles in the rematch — all by the midway point of the third quarter.
"It was fun getting to play against him," Manu told the Journal on Tuesday. "It was like old times."
In his fifth year at Washington, Manu has finally earned a starting job at linebacker. He committed to Boise State when he was a junior at Highland, but flipped to UW once coach Chris Petersen left BSU for Seattle.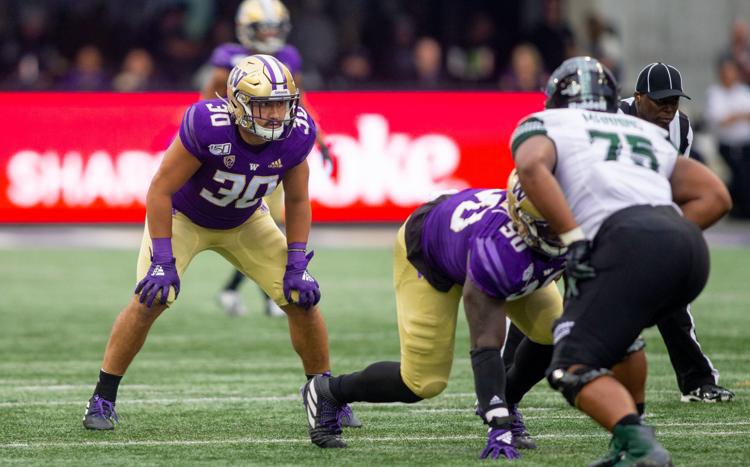 Manu redshirted his freshman year at UW and played sparingly over the next three seasons — though he saw action in all 14 games last year. He was named a starter before UW's 2019 season opener and has started every game since, ranking second on the team with 20 tackles this season.
His Week 1 start against Eastern Washington was his first start in a football game since the 2014 state championship.
"That's a big moment of pride, seeing one of my former teammates having success and being an impact player on that team," Hoge told the Journal on Tuesday. "I was really happy for him. ... It was really fun to play against him again, kinda like the high school days."
As for Manu's appearance, it's been altered in multiple ways.
He was recruited at 6-foot-2, 195 pounds. Today, he's listed at 246 pounds.
The normally clean-shaven Manu also grew a mustache that is being heralded as the best in the Pac-12 Conference.
"I asked him about his mustache (during the game)," Hoge said. "'Is that a mustache? Was that a whole beard? You gotta be honest with me, it looks kinda dirty.'"
There weren't many opportunities for Hoge and Manu to trade friendly jabs, as they only made contact a few times during the game.
But game planning for Washington's defense and BYU's offense gave each player a chance to give their firsthand scouting report of the other.
"He's always been such a productive player," Manu said of Hoge, BYU's starting right guard. "Going into the game, we knew he was going to be a very physical player. He's always been a big, physical player. That definitely hasn't changed."
Hoge, a four-star recruit and the No. 1-ranked high school center by ESPN, Rivals and 247Sports, graduated high school early to enroll at Notre Dame. He was named the Fighting Irish's offensive scout team player of the year while he redshirted in 2015 and played six games the next season.
Hoge transferred to BYU for the 2017 season and, after sitting out a year per NCAA transfer rules, has started 17 consecutive games.
He'll have another chance to play fellow Highland alumni when the Cougars host Idaho State on Nov. 16.
"I haven't had the opportunity to play against many of my old teammates," Hoge said. "Idaho State, that'll be really the only (other) time that I get to play my old teammates."