POCATELLO — The city's chief financial officer resigned on the last day of budget meetings Thursday following a tense exchange between the mayor and some members of the City Council.
Pocatello CFO Jim Krueger told the Idaho State Journal Thursday evening that he decided to resign because of the way in which current Pocatello City Council members Christine Stevens, Claudia Ortega and Roger Bray have treated him since he started working for the city in January and their general disregard for the work he has done.
"When I was told, from my perspective, that most of what Christine Stevens, Claudia Ortega and Roger Bray had received from me didn't mean anything to them, that impugned me personally," Krueger said. "That made me feel like all of the time and effort that I and all of the department heads have spent to put this budget together to present to the City Council meant nothing to those three."
Though Krueger announced his resignation on Thursday, he said he will remain on staff in a limited capacity to oversee an audit he has already started. Pocatello Mayor Brian Blad said he expects Krueger will assist in developing the city's budget but will no longer participate in any budget development discussions with the Pocatello City Council. Blad described Krueger's impending departure as a "big loss for the city right in the middle of the budget process."
"This is the second year in a row that we have had a CFO leave right in the middle of budget development. Jim (Krueger) was very clear to me that he is not going to have his professional integrity challenged by three council members any longer," Blad said Thursday, referring to Stevens, Ortega and Bray. "He did not resign today because his integrity was questioned today alone. He resigned because it's been questioned for the last six months and I absolutely agree with him."
When contacted Thursday evening about Krueger's resignation, Ortega declined to comment and Stevens did not return the Journal's requests for comment.
When contacted Thursday evening, Bray said Krueger's rationale including Bray in his decision to resign came as a shock to him.
"That catches me by surprise because I had a lot of confidence in Jim (Krueger)," Bray said. "I think he is a quality person and he had a very difficult job in front of him. It really surprises me that he has characterized his departure like this."
Krueger told Blad he was resigning after the mayor and City Council recessed from their budget development meeting at City Hall following an approximately 45-minute discussion among members of the council that ended with Stevens and Blad arguing and interrupting one another. The argument would result in Blad recessing the meeting before reconvening for an executive session and then canceling the budget development meeting altogether.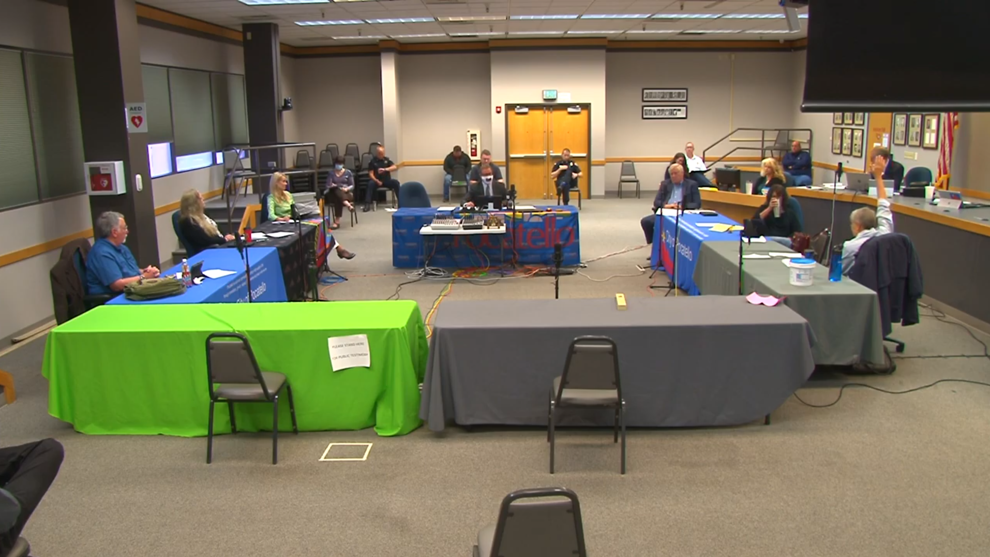 The crux of the argument involved Bray and Ortega supporting a request from Stevens for city staff to prepare an all-encompassing list of the needs for each city department. At one point the discussion centered around the council in previous budget development years not allocating a particular request to a department and that item falling into what Ortega described as "a black hole" where it's forgotten about until such need or request is critically important.
Stevens articulated that she wanted the list of department needs in order to develop a sort of strategic plan for the city's capital improvement expenditures and to formulate a budget development process that details the city's needs over the next few years as opposed to just annually.
Council members Linda Leeuwrik, Rick Cheatum and Heidi Adamson each explained during Thursday's meeting that the annual budgetary process already encompasses asking departments to explain what needs they have to be successful.
Blad also noted during the meeting that there was a strong focus this year on maintaining a flat budget across the board in order to maximize property tax relief for local residents, which involved his office instructing city department leaders to present critical needs only as opposed to a massive list of wants and needs.
Blad told the Journal after the meeting Thursday that the request for department leaders to submit concise list of requests happened about four months ago, and if the intention of Ortega, Bray or Stevens was to amalgamate all of the city's needs or requests into one document to review for consideration, the request for a large list could have occurred well before Thursday's meeting. Additionally, Blad noted that such a request for a large, all-inclusive list would involve increasing city department budgets, not scaling them back.
"Everybody on the council including myself is not interested in taking on more taxes than we need to," Blad said. "But we are interested in taking on enough taxes to adequately care for our employees and to preserve and protect the assets of this city that our citizens own."
Ortega did note during the meeting that their request for a comprehensive list of department needs did not mean council members were no longer looking at cutting the budget.
Cheatum after Thursday's meeting told the Journal that Stevens' request for a large list of department needs was exactly how the City Council developed budgets in the past, but the council opted to go a different route this year, particularly at the behest of Stevens, Bray and Ortega.
"I know we lost a damn good man in the city today," Cheatum said about Krueger's departure.
Krueger's impending split from the city follows the resignation of former CFO Ashley Linton-Welsh, who had worked for the city for over six years, one as CFO, before she resigned on Oct. 2, 2020. The city's CFO earns an annual salary of about $109,000. Krueger, who described Thursday as "a very difficult day for me," has not said when his official last day with the city will be.
"I have about 45 years of experience in the municipal finance profession," Krueger said. "I have worked for a number of governmental agencies. I've prepared budgets, made presentations, assembled information, worked with departments and this was what I was considering to be my final gig. I wanted it to be something that would be my best professional effort. That is what I gave. That is what I wanted to give to the city of Pocatello and the way I felt today was that it meant nothing to those three council members."
Blad said the process moving forward regarding the city's budget will remain relatively the same, minus Krueger's involvement. Blad will present the budget to the City Council during a meeting at City Hall on June 29, the council will meet again on July 8 to consider changes and the official public hearing where local residents can provide comments or feedback is set for Aug. 5. The official fiscal year 2022 budget is expected to be finalized by the City Council on Aug. 19.
"I am always looking for a silver lining in a cloud and my hope would be this will serve as a message that treating people with respect and dignity is probably the better way to go," Blad said. "I've got to say that Jim (Krueger) has been a great CFO. He has helped the city out of a rough time after losing the last CFO. Jim picked up the ball and ran with it and has been very good for the city. It's just sad to see someone of his caliber resign from the city in this fashion. But I appreciate everything he has done and wish him well for his future as he moves on."