Tommy Togiai may as well be Paul Bunyan or Robin Hood. He does not keep a blue ox by his side or steal from the rich but, in these parts, he is a fable, a central figure in Pocatello's football stories. And, like many fables, Togiai has layers.
His outside layer shimmers like a diamond on the beach, football talent that will make Togiai the first Southeastern Idaho product in years to hear their name called at the NFL Draft, likely in the second or third round on Friday. The Gate City may be on earthquake watch when Togiai's name is belted out from the draft stage in Cleveland. Almost 1,800 miles away, the congregation of Togiai supporters will carry their hollering and joy well into the night, keenly aware of the pressure cooker that spawned the diamond everyone now recognizes.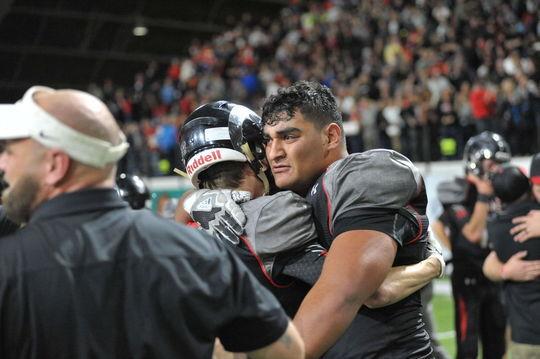 At the moment Togiai shifts from Ohio State junior to rookie defensive tackle for some NFL team, a new fan base and a new section of the country will be exposed to the fable of Tommy Togiai. They will learn how he was 12 pounds at birth, the largest of Jodi and Tala Togiai's four children. They will learn about his curious present request ahead of his twelfth birthday: a membership to Gold's Gym. And they will learn about Pocatello, Idaho, about how Togiai went to the same high school as Taysom Hill and Merrill Hoge – who was the last player from a Pocatello city school to be drafted, going in the 10th round of the 1987 draft. 
"I think I'm more excited than anything, just to get into the NFL and achieve this long goal I've had since I was a little kid," Togiai said. "I don't think (my life) will change too much. I'm still going to be who I am now. I'm always going to be there for my family and friends. I'm going to be really excited when whoever drafts me and give my all to that organization."
The circus around Tommy Togiai may have peaked on December 12, 2017. Former Ohio State coach Urban Meyer and his defensive line coach, Larry Johnson, were on Highland's campus to recruit Togiai, a four-star prospect who many regarded as a top-60 player in the nation.
Hours before Togiai committed to the Buckeyes in the living room of his Blackfoot home – an announcement that sparked a childlike fervor from Meyer and Johnson – Highland was buzzing about the celebrities roaming around campus.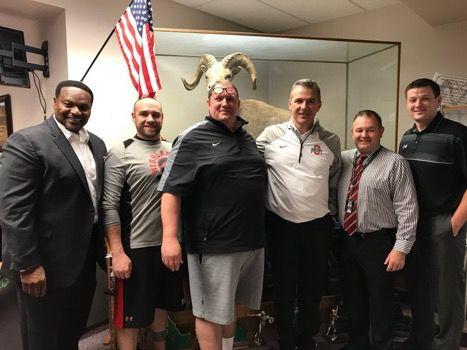 "As I was walking through the halls, you could see the kids talking with one another and they'd walk by the office back and forth," Highland defensive coordinator Nick Sorrell said. "Then they'd try and sneak in and say, 'Hey Tommy,' just to try and be a part of it. Then you'd have teachers who were sports fans walk in and try to get their little piece of the action, too. It was cool."
During Togiai's senior season, more national figures found their way to Pocatello than any time since Robert F. Kennedy gave a presidential campaign speech at Reed Gym a few months before his 1968 assassination.
Togiai's mother Jodi remembered a USC assistant showing up in the Gate City unannounced and arriving at Highland only to learn school had been cancelled because of a storm. She and her husband dropped their snow shovels and went to meet the Trojans assistant. Such encounters became normal for the Togiais, a stratosphere of celebrity that is foreign in Southeastern Idaho. Jodi felt bad for the family's mail lady, a poor soul who had to drop off college letters at their home every day, flyers and posters and handwritten letters from some of the nation's top coaches. At the onset, Jodi was enamored with the letters, creating a scrapbook to showcase all of them. Then the envelopes didn't stop arriving. Today, they're housed in four boxes sitting in a storage unit.
That's the trajectory of Tommy Togiai. His talent and promise were evident early. After a few high school games, after a few months watching him work in the weight room, those around Togiai saw something more than promise. Expectations for impressive collegiate interest transformed to NFL hope.
"Back then, it felt like a dream. When I started getting offers from colleges, I was like, 'I can try and do something with football. Maybe I can make that dream that I had as a kid come true,'" Togiai said. "As a kid, it was always just a dream. Then it started to set in more when I started getting college offers."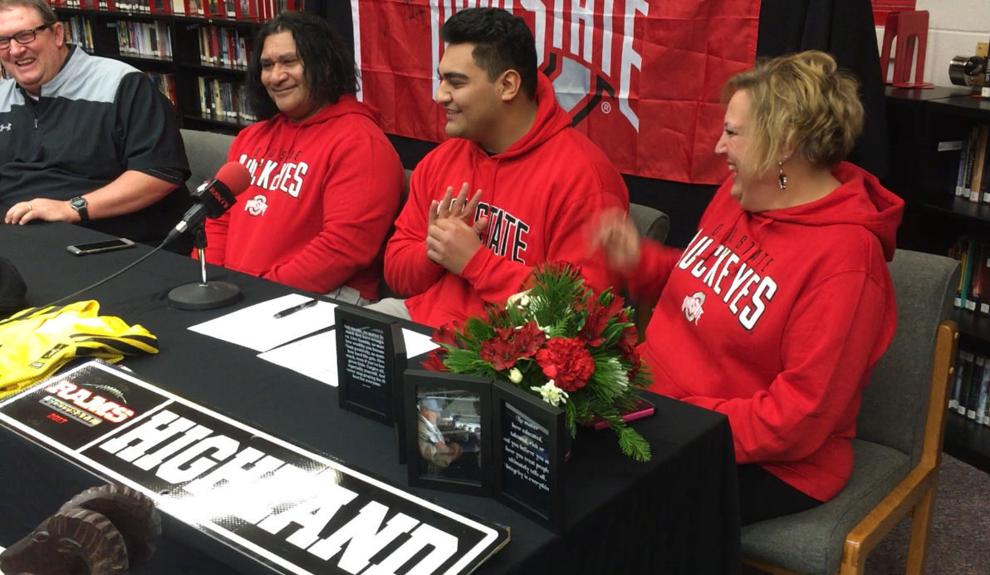 That dream really came into focus during his junior season at Ohio State. He was a run-stuffing force his first two seasons in Columbus, a big-bodied, powerful nose tackle who racked up 26 tackles and a quartet of tackles for loss in his first 26 games. His third season showcased the Togiai that Highland's coaches were more used to. The Buckeyes thrust him into more one-on-one situations, more opportunities where Togiai could flash his speed chasing quarterbacks instead of taking on double teams. Playing just seven games in a COVID-shortened year, Togiai compiled 23 tackles, 4 1/2 TFLs, a trio of sacks and forced a fumble against Clemson quarterback Trevor Lawrence in the Buckeyes' College Football Playoff Semifinal win. He was electric. He was a legit NFL prospect.
Togiai admitted it wasn't a clear-cut choice to declare for the draft. It didn't help that his college career ended unceremoniously, when he contracted COVID and was forced to quarantine during the Buckeyes' national championship game loss to Alabama. But Togiai had already accomplished so much. He graduated in three years. He helped the Buckeyes reach great heights. He fulfilled all the potential Ohio State's coaches expected when they ventured to Southeastern Idaho to see him.
"Coach Johnson was like, 'I know a lot of Polynesians go to USC because of Junior Seau, because of Troy Polamalu. But we want you to be our Junior Seau here … You can set the precedent so other Polynesians can follow,'" Jodi Togiai said.
In the process, he may have helped set a precedent for Idaho. Togiai always noticed the baffled looks when his Ohio State teammates asked where he was from. Some hadn't heard of Idaho. Those who had usually often followed up with some quip about potatoes. Perhaps that's to be expected at a powerhouse like Ohio State. Heck, on game days there are almost twice as many fans in Ohio Stadium as there are in all of Pocatello. Maybe Togiai, the NFL player, can shift that perception in the same way Taysom Hill has chipped away at it.
"I think what it might do is create a buzz about Idaho, that, you know what, there are kids there. Don't overlook Idaho because there are a lot of kids from that state," Sorrell said. "It might not even be Pocatello in general, but once people start to say, 'OK, he's from Highland High School. He's from Highland High School. He's from Highland High School.' They may be like, 'Oh, that program up there is doing something,' and it takes us to that national level."
In all the tales of Tommy Togiai, argument only seems to swell over what the most impressive thing the 6-foot-2, 300 pound lineman ever did.
Togiai himself thought his best play as a Ram was a fourth-down tackle that sealed Highland's state title win over Coeur d'Alene in 2017. Sorrell still hasn't seen anything as crazy as Togiai picking off a screen pass against Century, hurdling a kid, scoring and then getting the touchdown taken away because it's illegal to hurdle in high school. Highland coach Gino Mariani thought of that play, then thought of an interception against Rocky Mountain in the 2015 state semis.
"We were struggling offensively and (Tommy) took the ball out of the running back's hands and ran 65 yards for a touchdown," Mariani said. "The running back was in the middle of the pile, Tommy went in and, in the midst of a tackle, pulled the ball out, grabbed it and ran 65 yards for a touchdown. No one could touch him … That was the only score we had."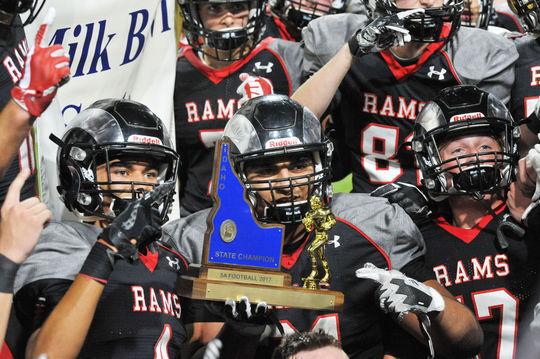 For four seasons, Highland played every single game knowing it had the best player on the field. In one game, Sorrell, the Rams' defensive coordinator, called a stunt up front, then another and another. Togiai never ran it. "Tommy, why aren't you running the play," Sorrell asked on the sideline. "Oh, they ran this, so I checked us out of (the stunt)," Togiai responded.
That stuff happened all the time ... which made facing Highland with Togiai like swimming with cinder blocks.
"You couldn't cut him, he was too smart and had too quick of hands," former Century coach Travis Hobson said. "You couldn't double team him, he was powerful enough to take a two-on-one. We couldn't triple team him or we were out-leveraged by the other defenders. You couldn't run away from him because he was too fast, and understood pursuit angles too well."
"Tommy changed the game in a way that you just shouldn't be able to at that position," Pocatello coach Dave Spillett added. "He was a nightmare to prep for but impossible to root against."
Over the summer, he and a number of local athletes helped organize a protest against police brutality, injustice and racism. A few weeks back, Togiai partnered with a local Columbus charity to raise money for every rep he completed on the bench press at his pro day. And last Saturday, Togiai held a football camp for local kids, an opportunity for him to coach and interact with the region's youth before he's in the NFL.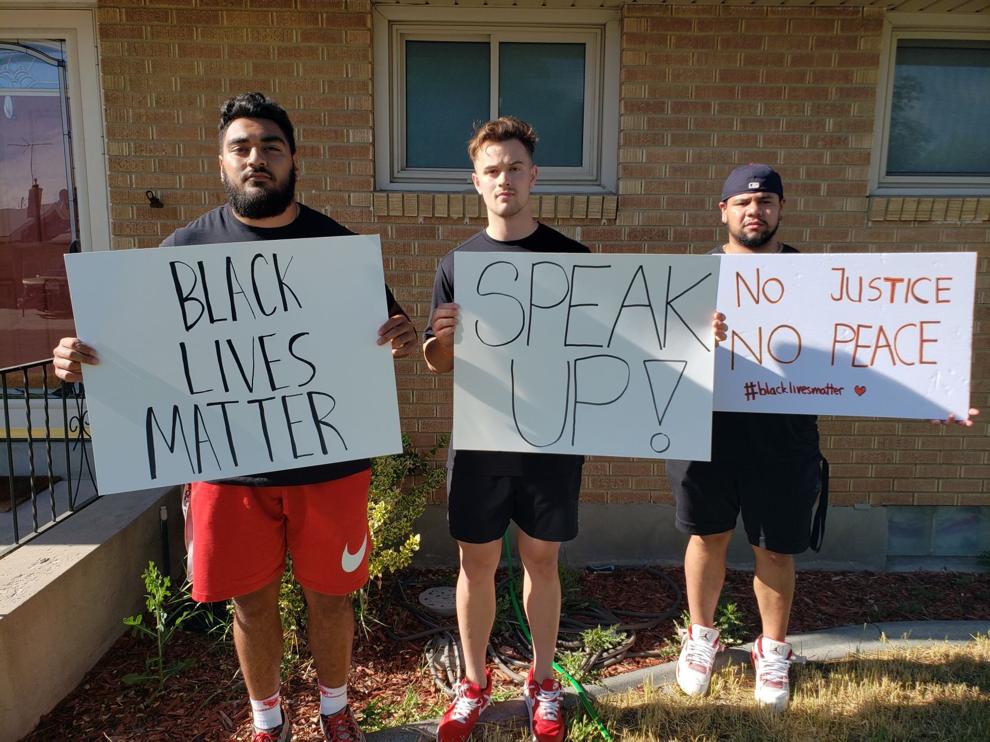 "If people tell you they know Tommy Togiai but they just start spouting off about what a great football player he is, that's wrong," said Stephanie Huerta, a family friend whose son, Jace, always hung out with Togiai. "If you truly know Tommy Togiai, the first thing you're going to say is, 'What an amazing, genuine, kind and humble human being.'
"There's no other person who I'd want my kids to be looking up to as a role model."
Sorrell agreed. He took his young son to the morning session of Togiai's camp so the kindergartener could envision what's possible through hard work. Perhaps that notion is a little cliché. Tons of people with Togiai's work ethic aren't going to the NFL because they're not 6-foot-2, 300 pounds and don't move more gracefully than a Jaguar. Some people thought it was only the genetics that vaulted Togiai to grand heights. Those around him made sure to buck that notion at every opportunity.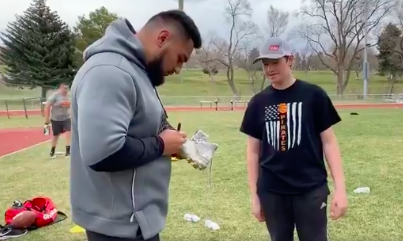 Ohio State lost in the Fiesta Bowl to Clemson in Togiai's sophomore season. That game was on a Saturday. On Monday morning, Highland defensive line coach Cade Ackley posted a picture of Togiai lifting weights in his gym.
"Kids, OK, you want to be a champion. This kid just lost in the Fiesta Bowl and, today, look where he's at," Jodi remembered. "I think that was part of the camp, too, like, if you have the work ethic and desire, it doesn't matter where you're from. You can do it, you just have to put in the time."
There is a saying that college athletics are the front porch of a university, the first impression a school can make to the outside world and prospective students. The same can be said for the sporting escapades of a small pocket of America. For a little while this weekend, Pocatello will be the most talked about place in Idaho – all because of Togiai.
"Everyone has just watched him and we're really supportive knowing this was his goal and dream," Jodi Togiai said.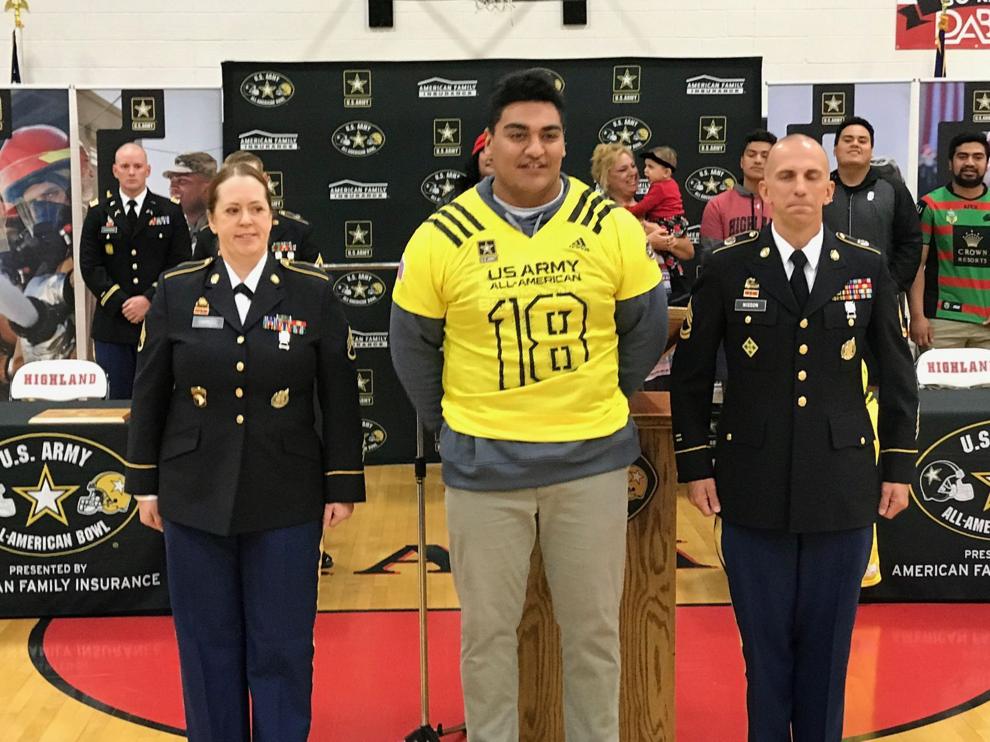 To gauge how locals view Togiai, it's best to go back to Gold's Gym, the place that used to be his Disneyland. Togiai's trips to the 24-hour complex just off Yellowstone Avenue have lessened in the past few weeks as workouts dragged on and on. He tried venturing into his long-time gym at various odd times but, inevitably, people approached him.
Some want pictures. Some are eager for the chance to relive their awe of his days playing defensive tackle at Highland. Some question Togiai on his three-year career at Ohio State. Some simply want to wish him well before the draft.
"To have people say they're proud of me, it means a lot," Togiai said. "Even if it's from a random person, it's awesome to have people say that about you."
Even after giving up his full-time Pocatello residency three years ago, Togiai's impact is still widespread around the Gate City. He is Poky's statue, a constant reminder of what's possible in a small town in a lightly-populated state. He serves as a reminder for what hard work can accomplish, of the heights immense talent and a burning inner drive can take someone -- even someone from Pocatello.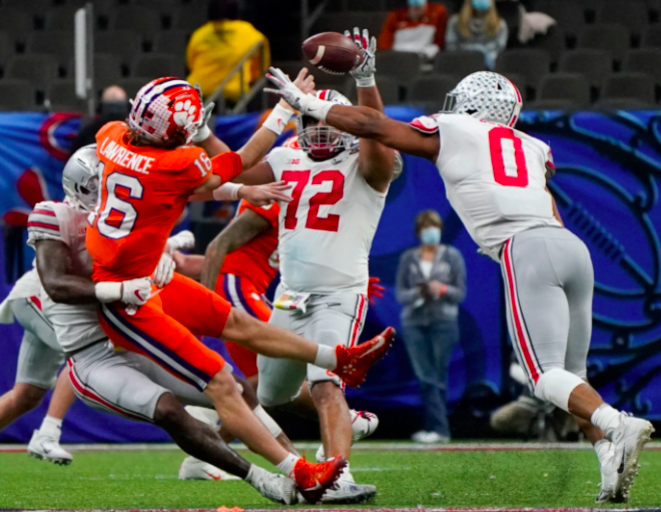 Coaches still shake their head at some of the plays he made at Highland, the dominating interior force who helped the Rams to a state title in 2017. Local parents who came in contact with Togiai still marvel at how humble the 6-foot-2, 300-pound tackle stayed through all his success. And young players in the Snake River Valley see Togiai as the precedent for what they may be able to accomplish.
"That fact that Power 5 (programs) are looking, one, at Idaho itself (is awesome)," said Mariani. "Taysom (Hill) and Tristen Hoge and Tommy, those guys have actually put Idaho on the map when it comes to that stuff."