Night had fallen over Eugene, Ore. and the calm inside Hayward Field was almost too unassuming. For 10 days in mid-June, the U.S. Olympic Track and Field Trials transfixed the sparkling new Northwest coliseum into a no-fun zone. Coronavirus precautions were strict to the point that walking in a certain direction in the open-air stadium was forbidden.
Then as daylight vanished, so too did any rules.
"It was like someone just left the keys to the outside," said Valarie Allman, the U.S. Trials' women's discus champion who earned her first Olympic berth. "We could walk wherever we wanted."
After setting an Olympic-Trials record throw of over 70 meters (229-feet, 8 inches) in qualifying, Allman secured her spot on Team USA the next day, spinning the 2.2-pound discus 69.92 meters, more than seven meters further than the second-best American.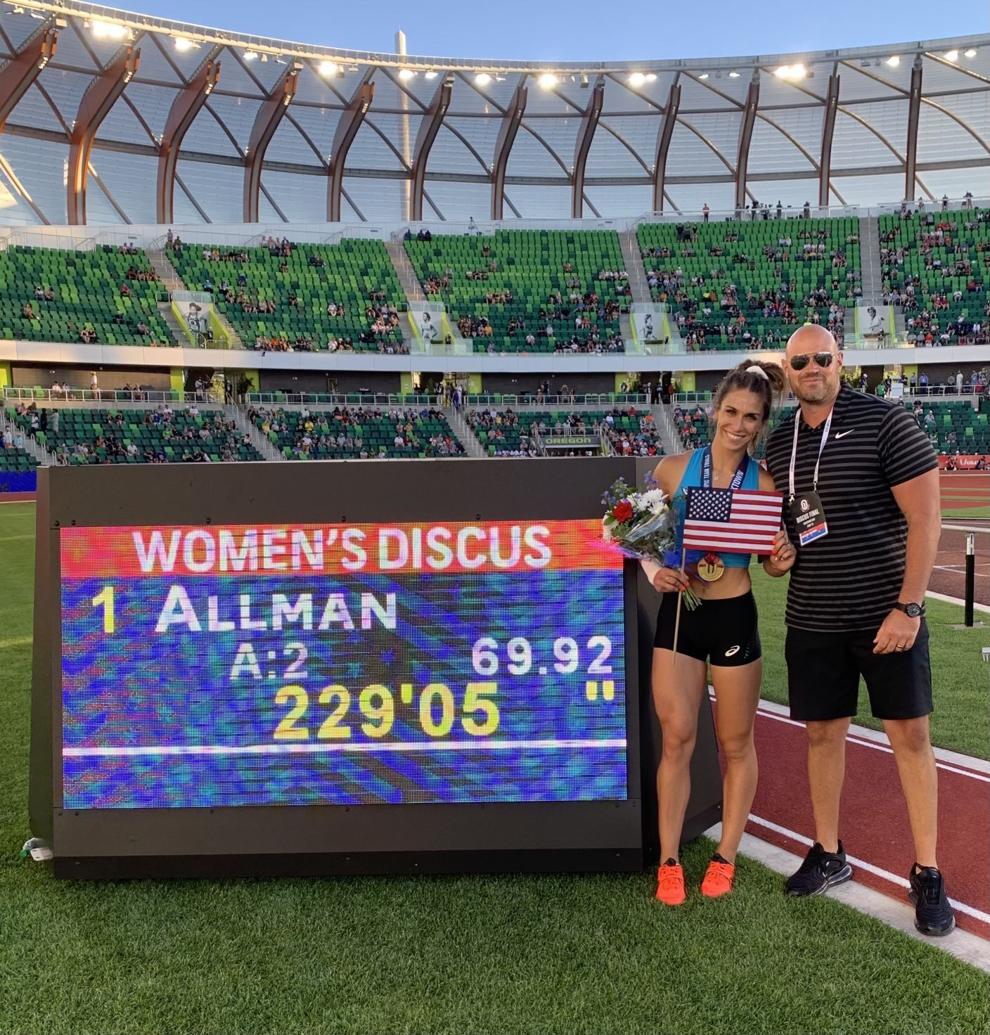 With a trip to Tokyo secured, Allman and her coach Zeb Sion – a Pocatello native and 2001 graduate of Highland – endured a long Saturday night as the new Olympian was drug tested. It was nearly 9:30 p.m. by the time Allman and Sion emerged from the bowels of Hayward Field.
"Literally, aside from like five cleaning crew people, we were like the only people in the entire new, amazing Hayward Field," Sion said. "She was like, 'We should do it right now," and I was like, 'Oh my gosh, you're so right.'"
Before Allman made the trials look like her personal practice session, Sion had told the American record holder about his fun idea if things went to plan in Oregon, to recreate the video Tom Brady and Rob Gronkowski have made almost customary after title games: walking to the opening instrumental to P. Diddy's "Bad Boy For Life" with these eyebrow raises and shrugs that needs no speech to say, "You're surprised?"
Allman and Sion's result was perfect and, in an empty stadium, so was the setting. Wearing aviator sunglasses and a white Asics pullover, Allman waltzes down the track with a mouth-closed grin that looks like a levy about to burst. She looks like a poker player who cashed in on their bluff. So confident. So jubilant. So aware how good she is. She tilts her head down, pushes her sunglasses to the bottom of her nose and looks into the center of the camera with all her facial muscles pushed upward. Then Sion comes into frame. He's strutting in a striped polo, leans back and pounds his chest three times – each slap validation that their process and training and mindset was on point.
"Coach Sion has seen the potential in me long before I saw it in myself. Going into the (trials), he was just really clear that if we execute, we'll be good," Allman said. "As an athlete, gosh, the Olympics is the pinnacle of sports. It's always played up. To have someone who can make it seem achievable, can make it seem real, to make it seem like the next thing you're going to accomplish is so healthy when there's a frenzy around this."
There's another video that, whenever brought up, elicits a laugh and good memories for Sion. It's much grainer than the 10-second clip shot on a smartphone at Hayward Field and shot through a chain-link fence with bystanders constantly getting in the way of the action.
A crowd gathered as the tape measure was extended. Eventually, the slack was released and Sion's 2001 state championship shot put throw was announced at 64-feet, 3 inches – a Gem State record that held until 2014. In his red undershirt and black Highland tank top, Sion let out a Tiger-esque fist pump and his big frame hugged teammates who looked like they could be a decade younger than him.
It was the success many envisioned for him as a Ram. Sion's father, Russ, was a longtime Highland teacher and coach who oversaw the Rams' throwers for years and got his sons – Zeb and Jed (the youngest child by two years) – into the niche events.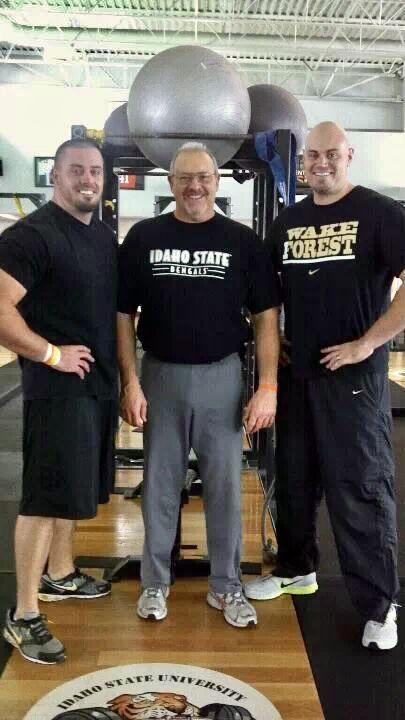 They began in their Pocatello backyard, tossing discuses and shot puts at ages when most kids were just trying out soccer or basketball. When Zeb was about eight and Jed just six, their father began annual trips to the First Security Games, which were basically Junior Olympics held at Idaho State, and let his sons get a feel for throwing competitions.
"I taught them how to throw and went to those summer games when they were kids and just kept doing that when they were in high school," Russ said. Jed wasn't as big as Zeb but he had a lot of talent. He started younger so he learned it sooner."
With their dad coaching them at Highland, the pair both took home the 5A discus and shot put state titles their senior seasons and went on to excel in college – Zeb at Georgia Tech and Idaho State and Jed at ISU, where he is currently an assistant throwers coach for the Bengals' track team.
"I have to credit a lot of that to my dad," Zeb said, "and he coached a lot of people who weren't us that won state titles."
The Sion/Allman partnership has been going strong for five years now, but that number would be up to seven if it were up to Sion. He sent Allman – then the best high school discus thrower in the country – her first piece of recruiting mail, trying to get the Colorado star to attend Wake Forest, where Sion was the throwers coach.
She opted for Stanford instead. Two years later, Sion was hired in Palo Alto – able to reunite with the prized recruit he couldn't convince to become a Demon Deacon. They've been an inseparable team ever since – now training together in Austin after Sion was hired as the throws coach at Texas in 2018.
Those five years have been like an elevator, just a constant ascension into new heights.
First All-American honors. Then school records. Then a spot on the U.S. World Championship team, the first Stanford athlete in a dozen years to make the team with eligibility remaining. Then a pro career. Another trip to the World Championships, this time earning a top-12 spot. Then the American record throw of 70.15 meters last August. And now a spot on the Olympic team.
"He has a certainty about himself that he's not only provided for me, but all of his athletes," Allman said of Sion.
"I think he understands that and how to motivate kids and people to get better," Russ Sion added. "I think he has empathy for other people so he understands that."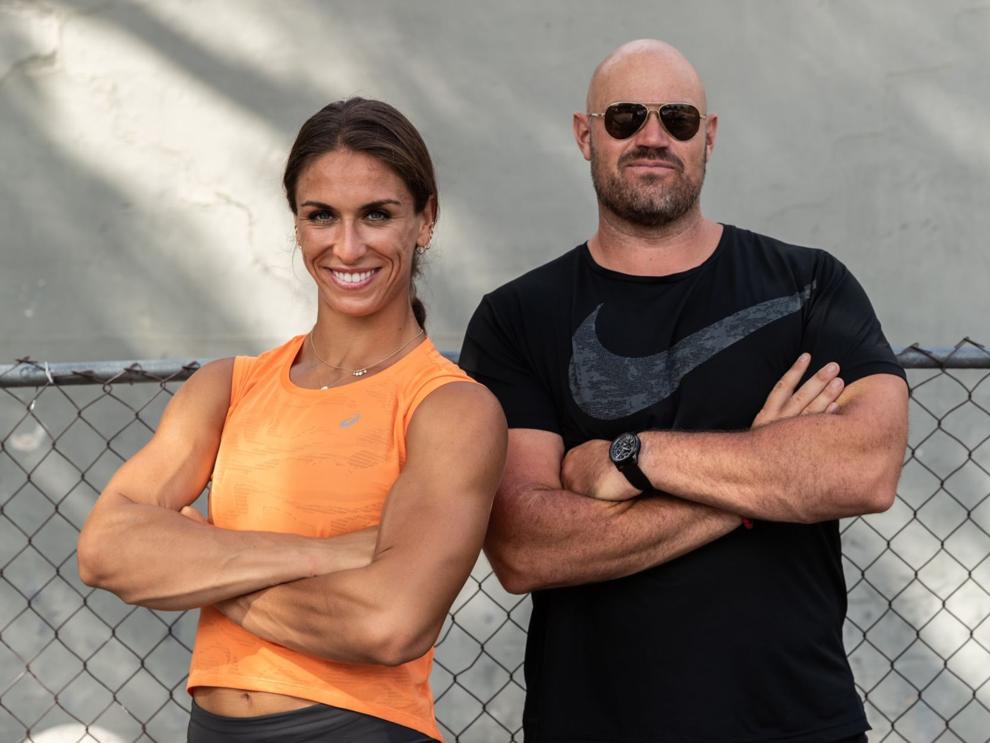 Empathy and an understanding that an athlete's performance doesn't all come down to analytics. Sure, in the days leading up to his and Allman's flight to Tokyo the pair were still spending hours tweaking some of the most minute details about timing and body movements. But Sion can balance that through mechanisms geared toward enhancing the performance of each of his athletes. He doesn't leave their strength and conditioning programs to an outsider and is keenly aware how simple phrasing can change someone's psyche.
For example, Sion and Allman didn't call the Olympic Trials the Olympic Trials. They referred to the biggest competition of Allman's life as simply "USA's." Sion tried to give the trials the same credence as the U.S. Championships. It's still a giant event, still one where the top-three qualify, but a meet that offered Allman a history of success.
"We didn't give it more weight, we didn't put it on a pedestal," Sion said. "We were just like, 'OK, we're going to go to USAs and you you're going to defend your title and you're going to win.'"
She did – and many believe Allman is a favorite to win a medal for the Red, White and Blue this week. She has seven of the furthest 10 throws in 2021 and is one of just three people in the last five years to fire a throw of over 70 meters. The defending Olympic champion, Croatia's Sandra Perković, has fired a number of such throws, but none in the last two years – which puts some optimism in Allman's gold-medal chances.
Sion is always adamant that the focus always be kept to executing the plan and technique – and the Olympics shall be no different. The pair arrived in Tokyo a few days ago and Sion noted Allman has been training well, positively adjusting to the time zone, climate and culture while taking the proper COVID precautions.
Allman will begin qualifying on Friday night and likely make the finals, which are set to begin on Monday at 5 a.m (Idaho time).
The Olympics don't exactly have the Olympic feel this year. There's no fans, little local support, fear over a global pandemic and discouragement for people who want to explore Tokyo. But there's still medals to be given out – which means there's still a goal to achieve.
"It's pretty easy to spin it into a positive for us. It's like, OK, this is a business trip," Sion said. "We're literally going to fly in, adjust, train for five days and we're going to go for it."