POCATELLO — As Idaho State University Track and Field coach Hillary Merkley said Thursday during the ribbon cutting for the recently renovated Davis Field, the days of "Lake Davis" are officially over.
A widened soccer field that now meets NCAA requirements for competitions and tournaments that will also drain properly after recent rain or snow — eliminating the infamous puddles that would transform Davis Field into "Lake Davis" — is but just one element of the now complete $7.1 million renovation project that began in March.
"We've seen the bleachers on the far side crumble, we've seen 'Lake Davis' as we called it forming because of the drainage system and a lot of other different problems," said Merkley, who was also an ISU track and field athlete about 20 years ago.
"But for the last seven years I have been able to witness efforts by many groups, organizations and individuals across campus trying to make this day happen. … We ran into a few snags along the way, but here we are today."
In addition to Merkley, ISU President Kevin Satterlee and Athletic Director Pauline Thiros were among a group of several Bengals who participated in the virtual dedication and ribbon cutting celebration of Davis Field Thursday afternoon. The virtual dedication is available for viewing by visiting youtube.com/idahostateu.
"When we dedicate a new athletics facility, the word dedication takes on an additional meeting because facilities like Davis Field only fulfill their mission when a group of student athletes show their dedication in that facility," Satterlee said. "And by their doing so, by our students showing their dedication, they turn this facility into a showcase."
Located at the bottom of the iconic Red Hill on the south end of ISU's Pocatello campus, the historic Davis Field, originally named the Spud Bowl and constructed in 1936, was renamed Davis Field after former school president William E. "Bud" Davis, who helmed ISU from 1965-75.
The ways in which ISU has used Davis Field over the years has scaled the gamut, but its future as the permanent home for soccer as well as track and field practices, competitions and tournaments is as bright as the school's signature "Roarange" segments of the freshly installed rubber track.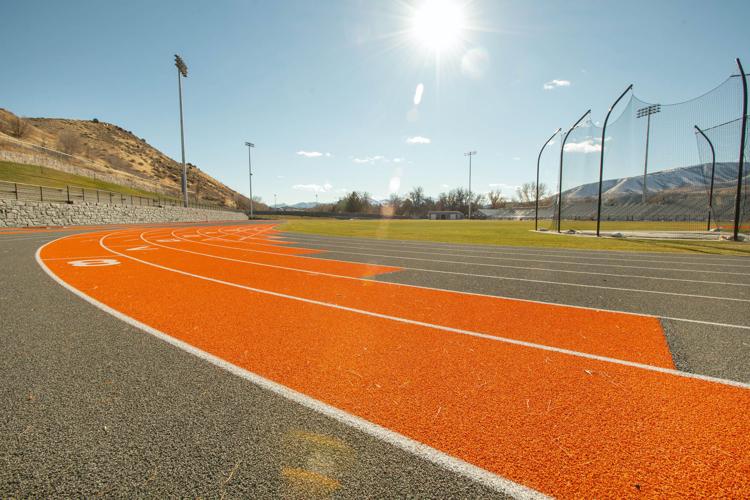 "For nearly 90 years, this venue was home to football games, track meets, soccer tournaments, graduations, concerts, speeches and community fundraisers," Satterlee said in a news release about Davis Field sent earlier this week. "It has always been an integral gathering place for our Bengal community. This project was about honoring our past and leaving a legacy for future generations of Bengals. This is a critical improvement to our athletic program for our student-athletes and fans alike. The newly renovated Davis Field showcases to our entire campus community our ROAR."
In addition to the widened field and proper drainage system, improvements to Davis Field include a new set of aluminum bleachers on the west side of the field that provide ADA accessibility, and the east side bleachers were replaced with a terraced grass hillside for informal seating.
The track geometry was modified to increase the speed of the track and it was also leveled to eliminate an 18-inch height differential between the east and west sides. Several energy-saving light-emitting diode light poles have been added to extend practice and competition times into the evening, complete with an entertainment package that will flash for player introductions and gameday special effects. A new video scoreboard was also installed.
The construction manager and general contractor for the project was McAlvain Companies Inc. from Boise and the project engineer was Keller Associates with offices in Meridian and Pocatello
"This project means a great deal, much more than a renovation," Thiros said in the news release earlier this week. "It is a symbol of a new day at Idaho State University. A clear sign that we are guided by our values — by our mission. Today, we celebrate coming together as one University, one team, having found a way to do what we know was the right thing for our student athletes."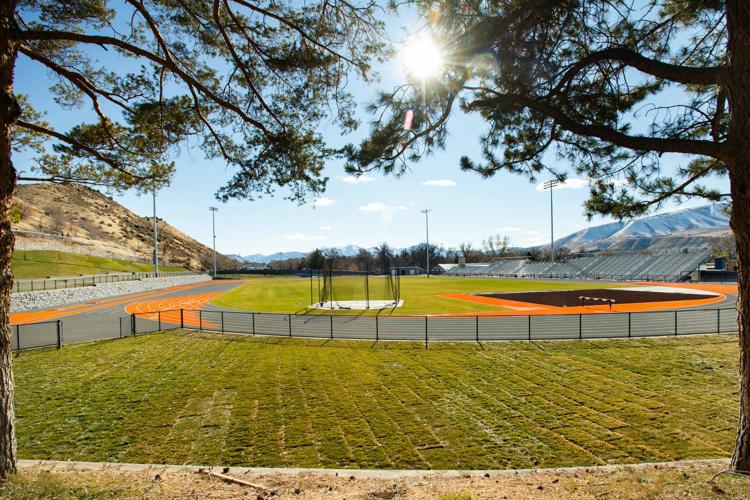 During the ribbon cutting Thursday, Thiros said the renovation to Davis Field was much more than a successful capital project, but also serves as a symbol of the testament ISU administrators have for fulfilling their mission of delivering the best education for the school's students.
"In making this happen we have demonstrated our commitment to do the right things, no matter how difficult, to provide the experience that our student athletes and our university deserves and needs to be successful," Thiros said. "I am so proud of our university and our leadership team, our admin council and all of the people who made this happen. For seeing this through. For working together through years of 'No," and for navigating obstacles and barriers but finding a way to 'Yes.'"