RB Eli Parrish, Sr. (Highland)
Highland's offense hadn't come alive in the first two weeks of the season, but it was explosive on Friday. Parrish was a big reason why. The senior tailback ran for 216 yards, had another 24 through the air and scored three total touchdowns.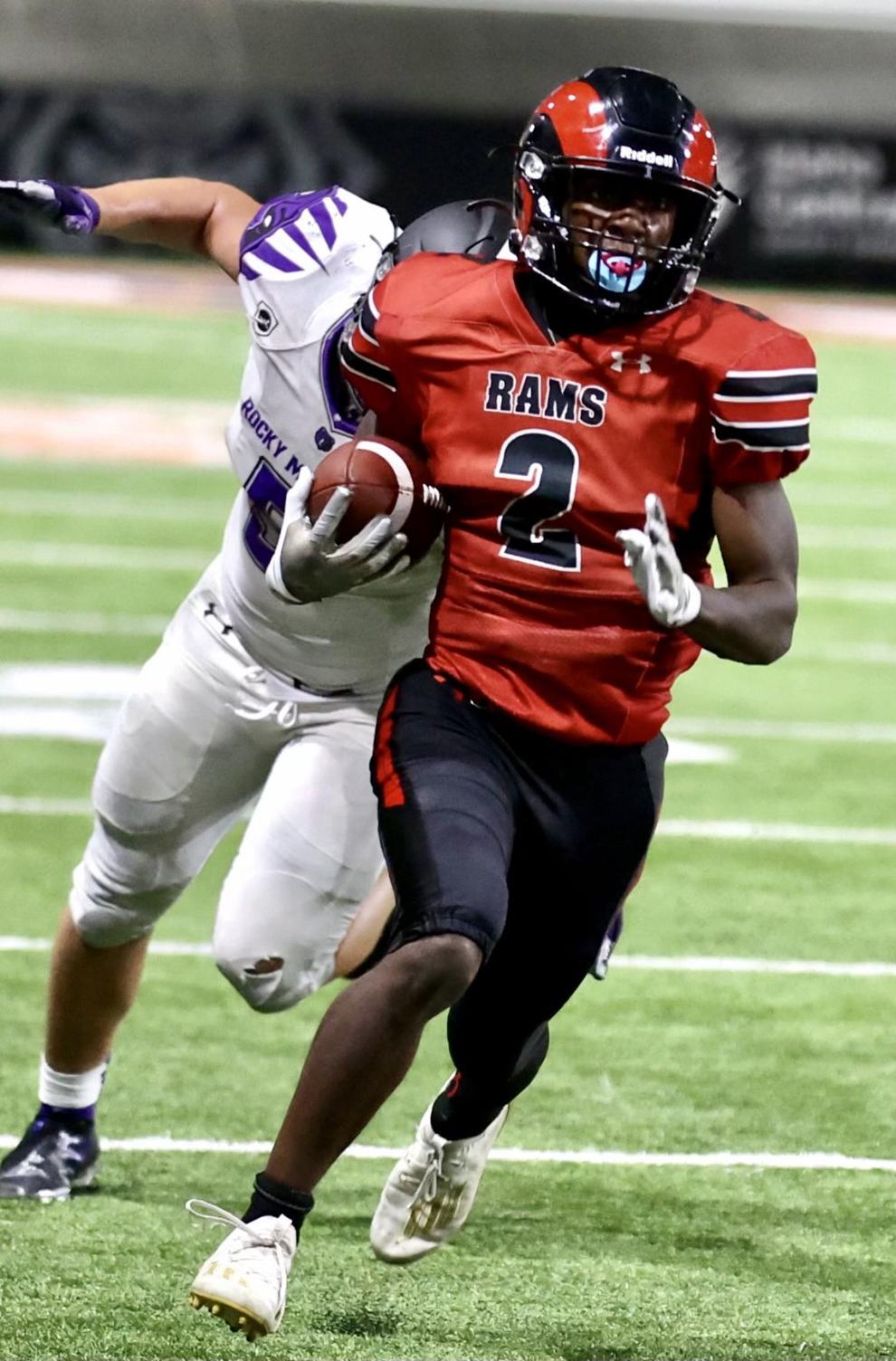 "Eli has played with poise and confidence the first three games," Highland coach Gino Mariani said. "Love his attitude and demeanor right now."
K Ian Hershey, Sr. (Highland)
Last year's all-area kicker of the year, Hershey is showing why Division I schools are recruiting him. The senior nailed his four field goals, booting in scores from 49, 43, 43 and 25 yards. More so, he knocked through all five of his extra points and went 9 for 10 on touchbacks.
"Ian is showing some real confidence in his abilities as a kicker and a punter," Mariani said. "I love his game!"
LB Bruin Fleischmann, Sr. (Century)
Committed to Air Force as a wide receiver, Fleischmann helped Century win its first game of the season with his play on defense. The 6-foot-4, 220-pound linebacker had a half-dozen tackles, a sack, a forced fumble, an interception, scooped up a blocked punt and took it into the end zone.
"Bruin's play on defense changed the game for us," said Century coach Logan Horrocks. "He came up with crucial takeaways to end two possible scoring drives."
WR Jake Rawlings, So. (Century)
Touted as one of the Diamondbacks' hardest workers in the offseason, the sophomore has already proved his value. Against Bonneville on Friday, Rawlings caught five passes for 97 yards and had Century's only offensive score.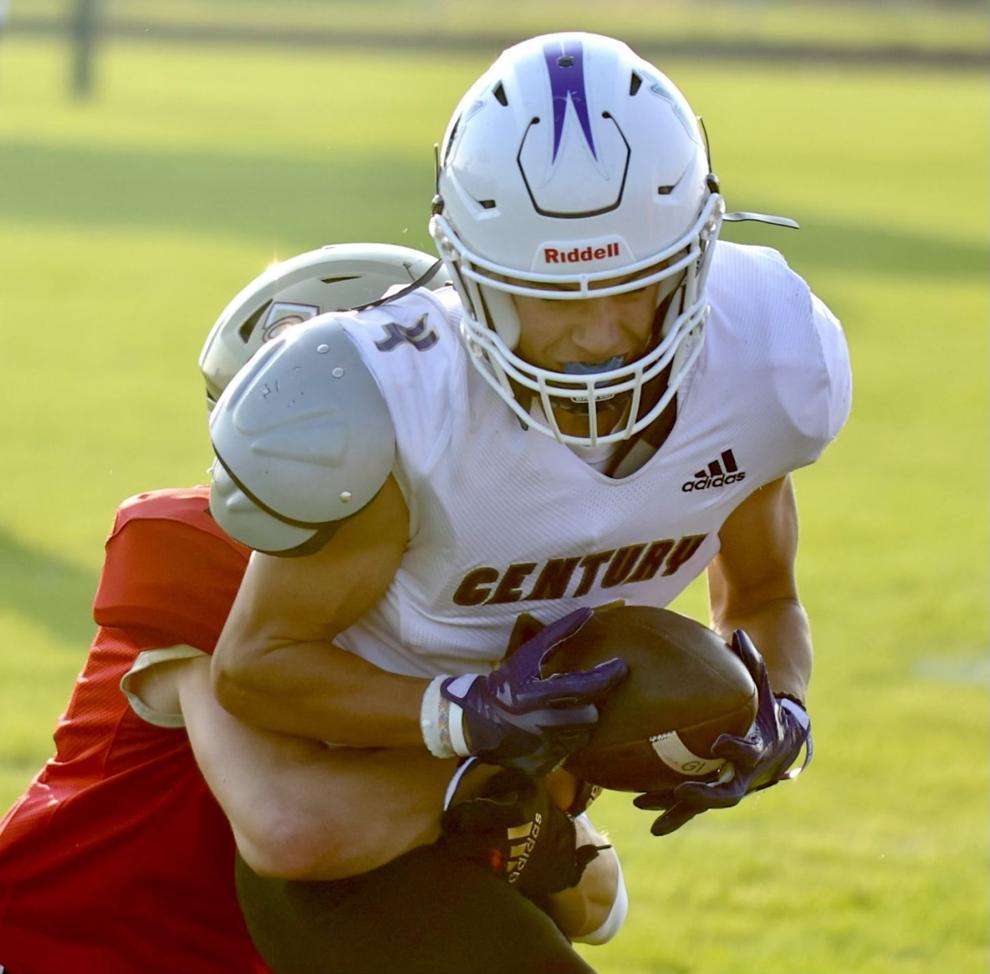 "He also only played about 2.5 quarters due to getting injured in the 3rd quarter, otherwise that could have been a truly special game for him," Horrocks said. "He's only a sophomore but he definitely didn't play like it. He made some big plays, including a 48 yard td catch and run."
WR/DB Matt Christensen, Sr. (Pocatello)
In its first game, Pocatello's offense was carried by Ryken Echo Hawk. Game two belonged to Matt Christensen. The 6-foot senior hauled in eight passes for 90 yards and a score. Then on defense, Christensen tallied 10 tackles and picked off the Twin Falls quarterback.
"Matt had a great impact on all three phases of the game as a standout receiver, safety, and kicker and punter," Pocatello coach Dave Spillett said. "Matt has the ability to change the game in an instant with his explosiveness."
LB/TE Hunter Killian, Sr. (Pocatello)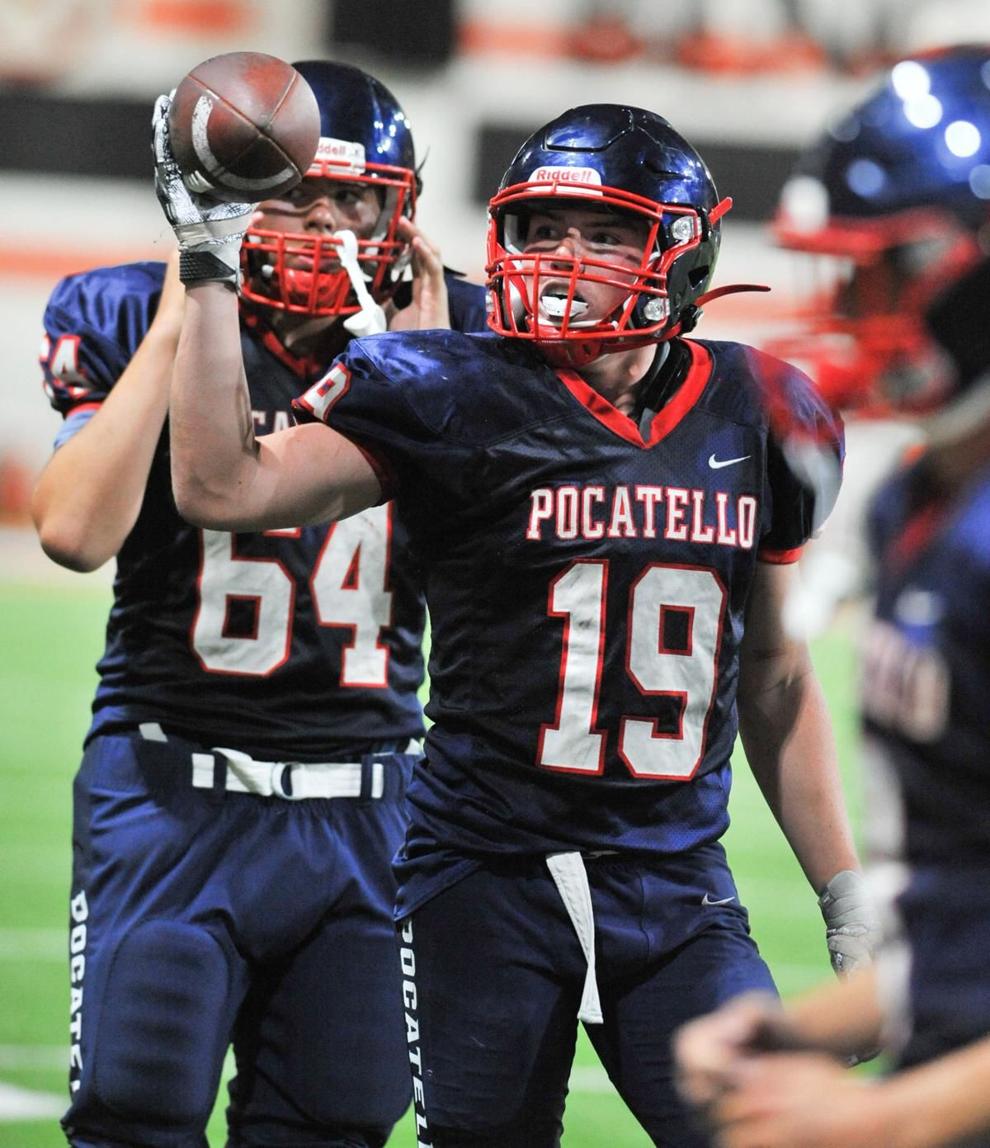 In the running for top linebacker in the state, Killian was a monster in the Thunder's seven-point win over Twin Falls. The sturdy senior racked up 13 tackles, including two for a loss, then made a handful of catches and crucial blocks as a tight end.
"Hunter is absolutely everywhere on defense and had a couple of hits that could qualify for hits of the year," Spillett said.
WR/DB Payton Howe, Sr. (Marsh Valley)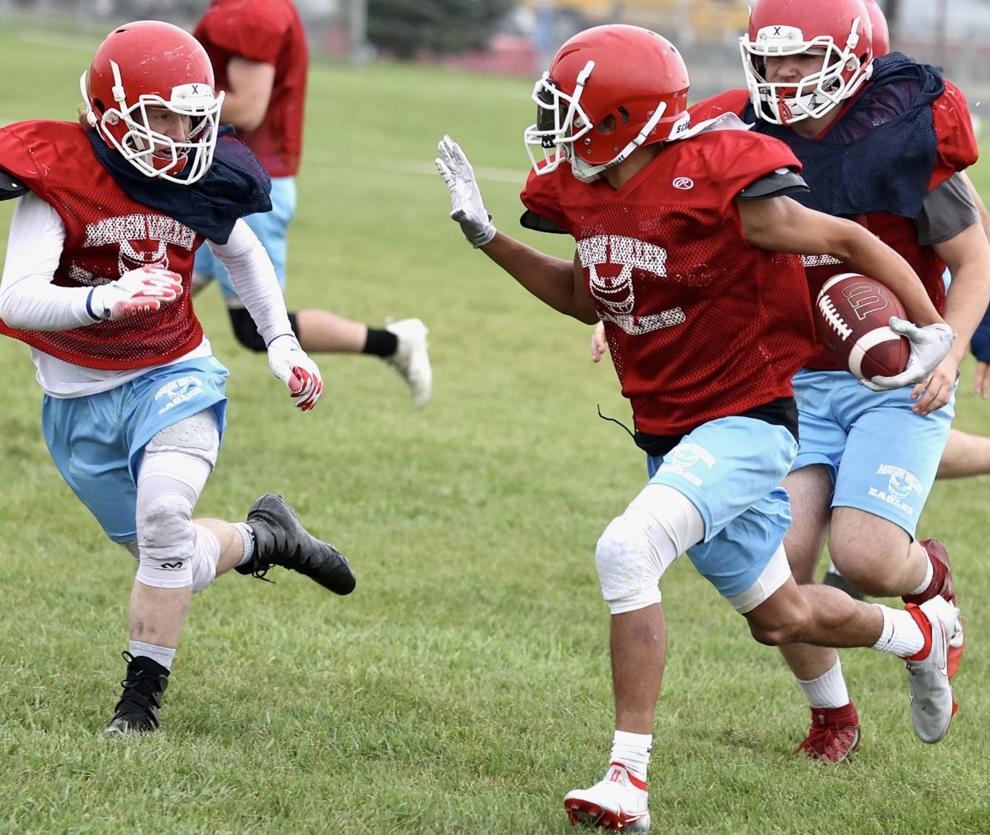 Payton Howe looked at the rules of football and decided he wanted to find every way to score on Friday. He got close. The versatile senior notched a pick-six on defense, a 75-yard punt return into the end zone, a receiving touchdown and a 54-yard rushing score on his only carry of the day.
"Payton was all over the field making play after play," said Eagles coach Doug Armstrong.
RB/LB Michael Belnap, Sr. (Marsh Valley)
In Marsh Valley's 42-6 win over Teton – the Eagles first win of the year — Howe and Belnap were the most explosive playmakers. Belnap rushed 11 times for 80 yards and a score. He caught four passes for 96 yards and a touchdown. Plus, the senior made eight tackles.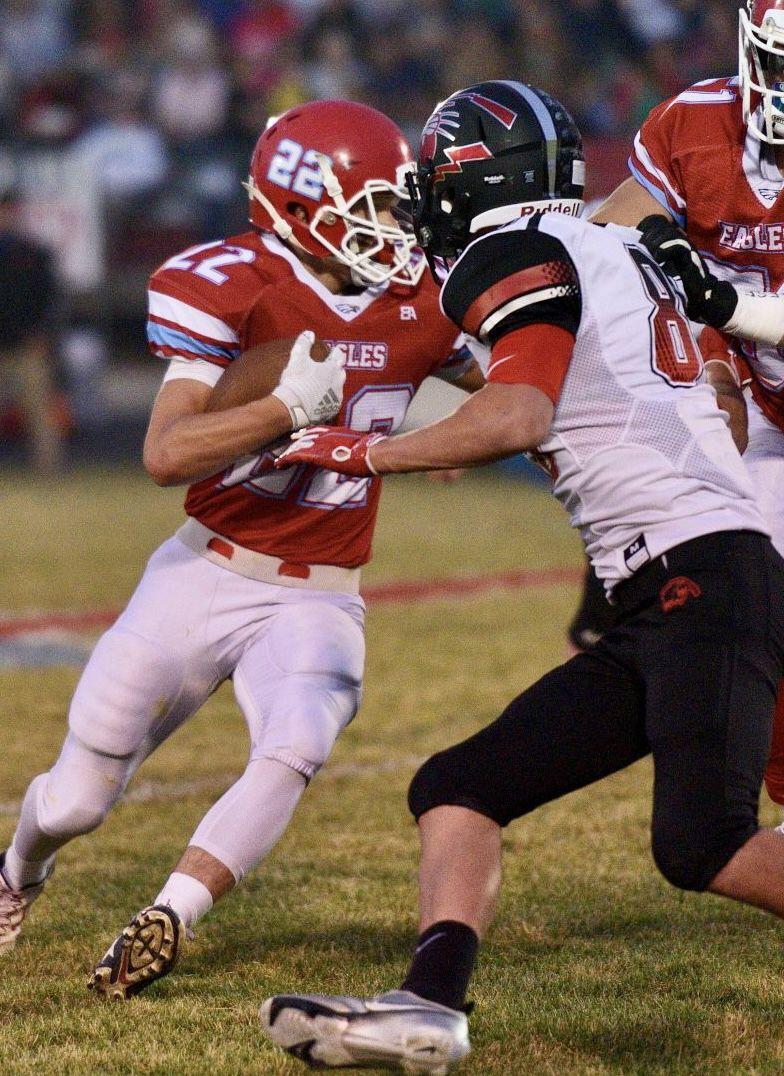 "Michael brings us consistency and he is well-balanced in his game," Armstrong said.
WR/DB Bryler Shurtliff, Sr. (West Side)
It's hard to take your eyes off Bryler Shurtliff on the football field. He plays like he's 8-foot tall and is a mismatch every Friday night. In West Side's win over Snake River, Shurtliff picked off a pair of passes and caught three of his own. The most impressive was a one-handed 30-yard touchdown grab.
"He's a big target," West Side coach Tyson Moser said, "and I think the difference this year is our quarterback is trusting him and throwing him the ball and letting him go get it."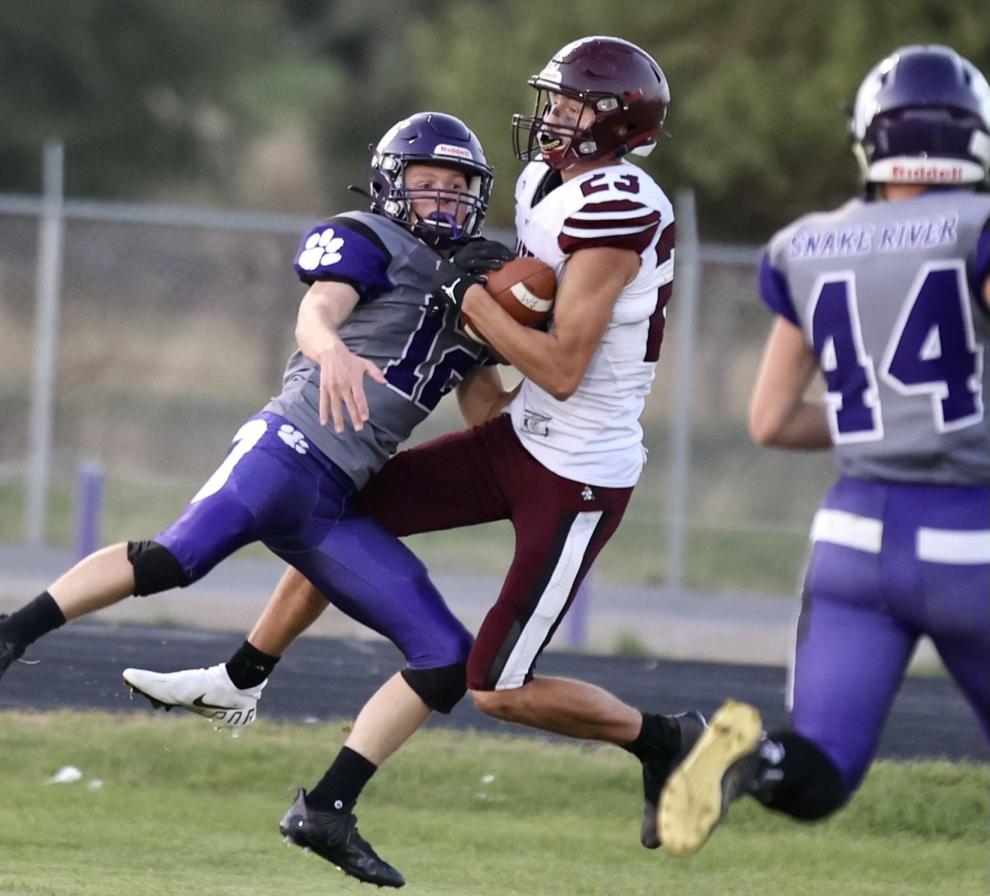 QB Gavin Permann, Jr. (Rockland)
In helping Rockland to a 2-0 record, Permann has been phenomenal under center. On Friday, the junior quarterback completed 62% of his passes for 331 yards and five touchdowns. Helping his game is the ability to run, and Permann took off five times for 59 yards.
"He consistently found the open receiver and kept our offense on the move," Rockland coach Gerry Hunter said.
LB Cody Woodworth, So. (Rockland)
For just a sophomore, Woodworth has been fantastic for a Bulldogs team that has a scoring margin of 108-42. In Friday's win over Hansen, Woodworth racked up 18 tackles, four for a loss, four sacks and even snatched an interception.
"He fights off the block and gets to the ball carrier," Hunter said. "Always active around where the ball is."
QB Bridger Hatch, Sr. (North Gem)
Even in a loss to the top 1A DII team in the state, Carey, North Gem's quarterback showed how lethal his legs are. The long-haired senior scattered for over 300 yards and a quartet of scores on 28 rushes.
"Even against the No. 1-ranked Carey Panthers, Bridger still managed to run for 300 yards," Cowboys quarterback Corry Hatch said. "He's a dang good player that isn't afraid of the moment."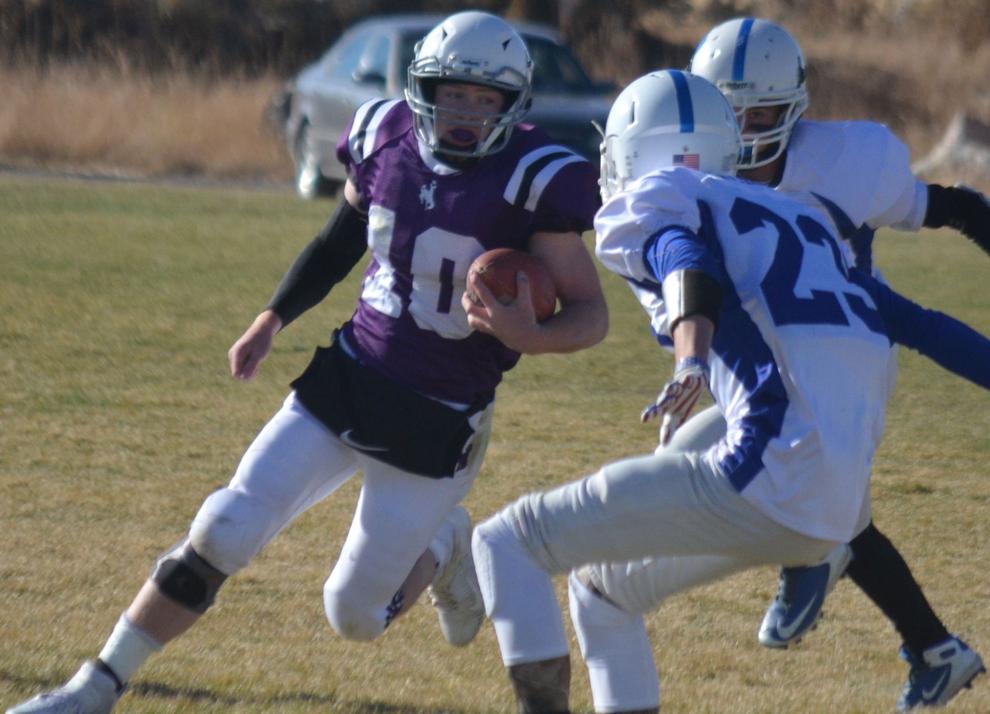 C Ransom Cooper, Sr. (North Gem)
There's a reason Bridger Hatch is able to run for so many yards every week. It's because of guys like Cooper leading the way. The 6-foot-3, 230-pound center led a North Gem offensive line that paved the way for a 505-yard rushing performance.
"Ransom led his guys to a great performance," Corry Hatch said. "Ransom is a good leader. Our team follows him."