POCATELLO — Pocatello is set to gain another Maverik convenience store after the owners of a local auction house on South Fifth Avenue sold a few acres of land where they were located to the regional fuel company.
Staci Hernandez, who co-owns Prime Time Auctions with her husband Tanner, told the Idaho State Journal she was briefly behind the controls Thursday when the jaws of an excavator pulled down their business's 3400 South Fifth Avenue home of about 15 years.
The auction house will be run from a few different local locations heading forward until a new Prime Time building is constructed on South Fifth Avenue, adjacent to the gas station.
"I'm a super sentimental person so I thought I would be pretty emotional and sad about seeing it go, but I actually felt excitement," Hernandez said.
"Big things are happening at Prime Time and I was just thankful to be the first person to take out a chunk of the building."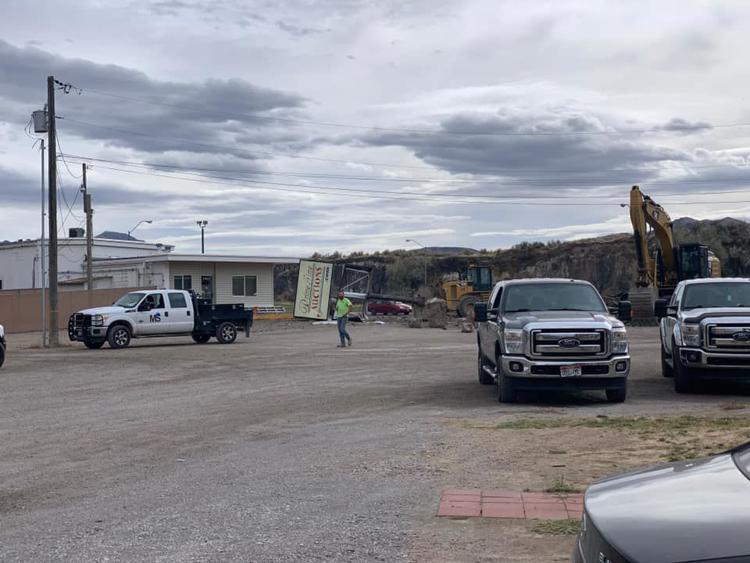 Prime Time Auctions has been a Pocatello business for over 35 years and was formerly located on U.S. Highway 30 near Alameda Road and Cowboy Oil Co. Hernandez said she and her husband acquired the business from his mother about a decade ago, five years after the move to South Fifth Avenue.
After recently selling about 4 acres to Maverik, which Hernandez says has already started preparing the land for construction, Prime Time Auctions has found themselves occupying several different spaces as they transition to hosting most of their auctions online.
In addition to a temporary office trailer in the northeast corner of the property on South Fifth Avenue, Hernandez said Prime Time is leasing four storefronts inside of the Pine Ridge Mall and has purchased 4 acres with some existing buildings on Avenue of the Chiefs near the Pocatello Animal Shelter.
"Every winter when we need additional space we would move into the Pine Ridge Mall, who have been really good to us over the years," Hernandez said. "We would typically lease the space where Herberger's was, but it's in use now, so to get the same square-footage we are leasing four lots this winter. It's been challenging but we're just grateful for the space."
Prime Time Auctions also retained about 6 acres next to the land sold to Maverik. When a new auction house building is constructed at that location, Hernandez said the new address will become 3300 S. Fifth Ave.
Vehicles, travel trailers, estates, antiques, heavy equipment, and benefit events make up the majority of the auctions Prime Time hosts, which before the COVID-19 pandemic occurred in person and online.
"COVID has changed our business a ton," Hernandez said. "We are hoping to do two big live events or benefits throughout the year, but all of our auctions have moved online for now."
Though online, the dates for the auctions — the second Saturday and fourth Wednesday of every month — remain unchanged. Hernandez said the plan is to keep all the auctions in the online format moving forward.
While it was difficult to see the old location go, Hernandez said the addition of a Maverik and a new building for Prime Time are the start of many positive additions for the South Pocatello area.
"It has been bittersweet," Hernandez said about seeing the old building torn down. "But this is amazing, it is such a positive thing. It's positive for us, south of town and for the entire community. I am excited for the next chapter."