KUNA – Soda Springs was disruptive defensively in its matchup zone, and an athletic Melba couldn't be held off the offensive glass, but ultimately free throws were the determining factor Friday in the 2A state semifinals at Kuna High School.
The Cardinals prevailed 49-41 to advance to their third consecutive state title game after having an eight-point advantage at the charity stripe – equal to their margin of victory.
They made 19 of 21 free throws, while Melba knocked down 11 of 23.
"Our game plan was to stay in front of them, keep them off the free-throw line because they don't miss free throws. None of them miss free throws," Melba coach Dave Lenz said. "We missed a lot of free throws. That was kind of the difference in the game."
Soda Springs made 10 consecutive free throws in the fourth quarter, the last six of which were by senior Sadie Gronning, who finished with a game-high 20 points by making 4 of 13 from the field and 10 of 11 at the charity stripe.
The Cardinals (24-2) are one win away from being the first 2A team to win three-straight state titles in the IHSAA era.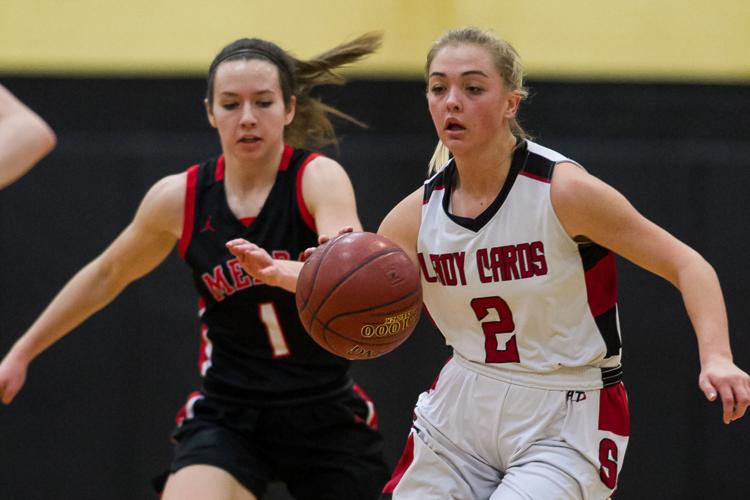 "It's just a culture, a tradition I guess," Soda coach Wade Schvaneveldt said of his program's success. "These girls have been here since they were probably in fourth grade. Come here watching their sisters, watch the teams, so they know what's going on."
In a rematch of the 2019 2A state title game, the Cardinals jumped ahead 10-2 and responded to every Melba counterpunch.
Senior forward Jorianne Balls fueled the Cardinals' strong start, scoring eight of her squad's first 10 points. Balls finished with 16 points, going 5 of 7 from the field and 6 of 6 at the free-throw line.
The Mustangs (20-4) bounced back from their slow start with a 7-0 run to cut their deficit to 14-13 in the second quarter. The Cardinals answered with a 7-0 run of their own and so began a succession of runs in a game that Soda's lead seesawed from zero to 10 points.
"Soda doesn't really have a weakness. You try to play Sadie as tough as you can and (Balls)," Lenz said. "Wade does a great job. He's hard to go against. That matchup zone is very tough."
Melba stayed in the game thanks to its 20 offensive rebounds, compared to nine from Soda.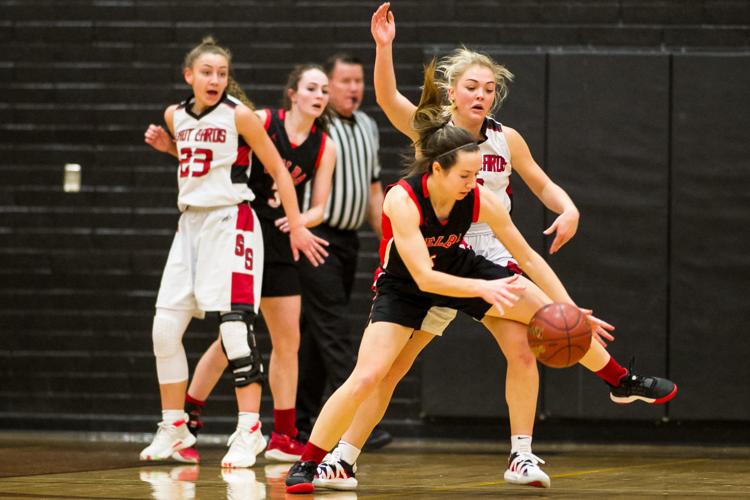 "They're fast and they're aggressive and they're strong," Schvaneveldt said. "That's a very good team out there. We were just fortunate enough to make a couple shots down at the end and have them miss some free throws."
The Cardinals, leading 33-31, opened the fourth quarter on a 6-0 run and Melba was never within one possession again.
The Mustangs, down 39-33, could have narrowed their deficit to two points on trips to the free-throw line on two consecutive possessions, but went 1 of 4 from there in the middle of the fourth quarter.
Despite the loss, they can still earn a state trophy for the fourth consecutive season Saturday in the third-place game.
"I was happy with the way our kids battled," Lenz said. "They jump up 10-2 and we come back. They jump up again, we come back. I mean, I'm playing three freshmen. They could've tanked easy and I'm just very proud of my team."
Up next:
Soda Springs faces Cole Valley in the 2A state title game Saturday at the Ford Idaho Center, while Melba plays Declo in the 2A third-place game Saturday at Kuna High School.
SODA SPRINGS 49, MELBA 41
Melba 6 12 13 10 — 41
Soda Springs 14 9 10 16 — 49
Melba — Trappett 9, Arnold 4, Ke. Clark 7, Ka. Clark 7, Wilson 8, Dayley 6.
Soda Springs — Gronning 20, Smith 5, Moldenhauer 4, Thompson 2, Naef 2, Balls 16.