POCATELLO — A local tattooed model has outlasted thousands of other competitors to become one of the final few dozen women vying to become the next cover girl of Inked, the world's No. 1 tattoo lifestyle magazine.
Krysten "Catastrophe" Bruderer is a 22-year old internationally published tattooed model who lives in Pocatello and manages Gypsy Tattoo Co. at 247 E Center St. Bruderer is one of 64 women who secured enough online votes in the Inked cover girl competition to advance to the semi-final round, of which she is currently in sixth place in her category.
"Honestly this has been one of the most positive and amazing things that I have done," Bruderer told the Idaho State Journal during a Tuesday interview. "This is something that I've never experienced before, and I'm really happy with the outcome so far. It is incredible to see the amount of people who have shown up to support me — people I've never even met from all around the world."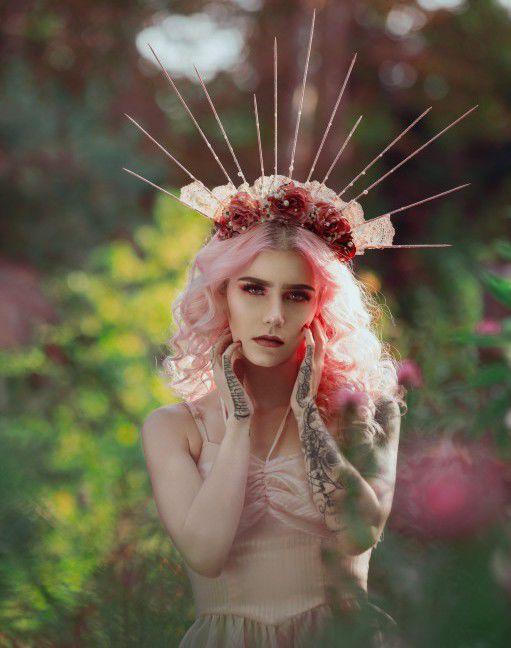 Listed on the Inked cover girl competition's website as Krysten Catastrophe, Bruderer said her reasoning for using the moniker was threefold — but her self-described "catastrophic lifestyle" (which she has tattooed along the outside edge of both hands) was the primary driver, she said.
In addition to operating a personal photography business called Catastrophe Arts and avoiding promoting herself so publicly with her current last name, which is from a previous marriage, Bruderer said she embraced the word "Catastrophe" following an upbringing that was less than idyllic.
"I grew up in a not so good of a situation," Bruderer said. "My mom went to prison when I was 6 because she tried to harm me and I never saw her again and my dad had to give me up when I was 11. I was in foster care and bounced around a lot before reuniting with my dad when I was about 16, which is when I moved out on my own, kind of like a catastrophe. Instead of just feeling bad and sorry for myself I wanted to just put a word to it to remind myself that's just how life is."
Bruderer married her high school sweetheart at age 17 and moved away from Pocatello to Louisiana where her military husband was stationed. Bruderer moved back to Pocatello in 2015 and finalized her divorce in 2016. 
"I was also homeless for a little while after I got divorced and so I embraced the word catastrophe to sort of remember the person that I used to be and who I am now," Bruderer said.
One of Bruderer's most treasured tattoos is also the first ink she received. At age 16, Bruderer approached her dad with a question: "If you could tell me one thing every single day for the rest of your life, what would it be?"
"At first he wrote down something silly like, 'I make every day a stressful adventure for a dad,' and I so I asked him to be serious and told him I was using it for school," Bruderer said. "I came back the next day with what he wrote down tattooed to my wrist in his handwriting and he started crying. It says, "I love my punkin pie — from Daddy."
Bruderer said that piece is especially important to her because her dad died when she was 19 and just last year her mother passed away, too.
But since her first bit of ink, Bruderer has spent at least 200 hours in a chair, accumulating a total of 22 tattoos across her torso and every limb. Artists at Gypsy Tattoo Co. have completed all but three of Bruderer's tattoos, with Cherese Farmer and Todd "Toadman" Shipley doing most of her work. 
Some of Bruderer's other noteworthy tattoos include an black and gray "Edward Scissorhands" theme with a portrait of Johnny Depp on her left arm, a colored portrait of David Bowie as Jareth the Goblin King from the movie "Labyrinth" on her right thigh, and a portrait of the camera owned by her best friend, Stormy Anderson, a 22-year-old wife and mother who died unexpectedly in February 2018 after developing pneumonia and bacterial meningitis.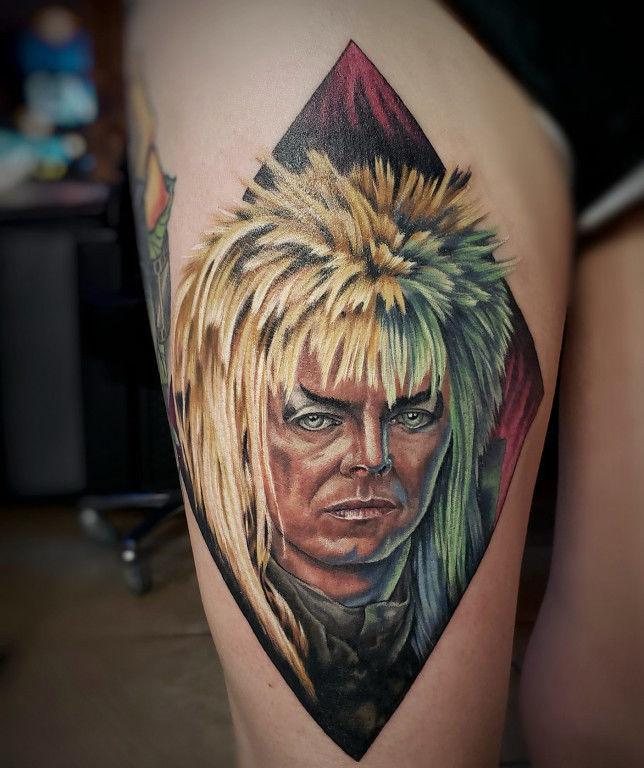 "I really love black and gray pieces and predominantly most of my pieces are in that style," Bruderer said. "I also really love neo-traditional and blackwork, but I have tattoos in almost every style."
A common stigma surrounding tattoos is that each piece must have a story behind it, and while Bruderer believed such was the case when she first started getting inked, she said she has somewhat stepped away from the notion. 
"I used to have the mindset that every tattoo needs a story, but I don't necessarily think that way anymore," she said. "I think you can look at your body and want to see something beautiful there. It doesn't have to have a story; it just needs to mean something to you by looking in the mirror and loving what you see." 
Moreover, Bruderer says gone are the days where she is constantly fielding questions or comments from people about what a tattoo might look like when she is old and wrinkly or people wondering if she'll ever regret the permanent artwork adorned to her body.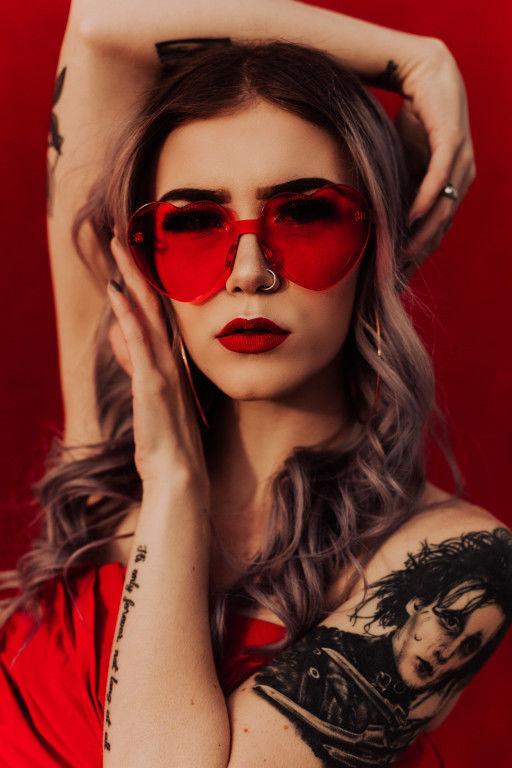 "I think the stigma surrounding tattoos is changing rapidly all the time," Bruderer said. "Over the last five years, the outlook on people with any visible tattoos has changed significantly. I don't think everyone is always open-minded about everything, but I don't think people who decide to cover their bodies in tattoos will ever regret the decision."
Though Thursday could spell the end for Bruderer's time competing in the Inked cover girl competition and her chance at taking home $25,000, she said she's mostly just grateful for the opportunity to compete and to showcase her work. No matter what lies in store for Bruderer, she wants other young girls to know that you don't have to let your childhood or upbringing define your adult life.
"I want people to understand that you can come from nothing — from a catastrophe if you will — but ultimately you decide who you are going to become," Bruderer said. "I had nothing growing up, and now both my biological parents have passed away in the last few years, but I have memories, I have an incredible job and I just bought a brand new home."
She added," Life is truly what you make it."