The Bannock County Board of Equalization found itself in the untenable position of having to hear over 2,000 property assessment appeals with Friday being the last day to rule on those appeals.
So the board opted to apply a 10 percent blanket assessment reduction to each of those appealed assessments.
The board, which consists of Bannock County commissioners Terrel "Ned" Tovey, Steve Brown and Ernie Moser, also applied a 10 percent market reduction to every property assessment in the Downey market area as well as a 5 percent blanket reduction to assessments in areas of Chubbuck, Lava Hot Springs, McCammon, Tyhee and non-metropolitan areas south of Pocatello — regardless of whether property owners in those areas appealed their new assessments or not.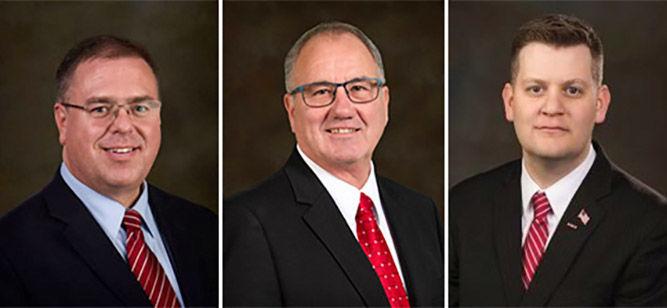 Nonetheless, many Bannock County residents are saying the adjustments are not enough and are backing recall petitions for not just the Bannock County assessor, Sheri Davies, but also for each of the three county commissioners.
"I have been feeling like my head is about to explode," said Pocatello resident Claudia Ortega about the controversial countywide reassessment conducted by the Bannock County Assessor's Office earlier this year and the upheaval it's created.
Ortega, who initiated the recall petition against Davies earlier this month and started the process to recall the three commissioners on Friday, said, "There has been zero acceptance of any personal responsibility in this debacle on the part of the commissioners or the assessor to date. They have pawned it off on the State Tax Commission, blamed a software glitch, said they were shut down and blamed it on a compliance issue. Everything has been about passing the buck. It's the most absurd thing I can think of."
At the end of the Bannock County Board of Equalization process on Friday, board members Tovey and Moser hosted a press conference to explain the blanket adjustments the board made and to provide feedback about what went wrong with the countywide reassessment and its aftermath.
"We took all of the appeals that were not heard and based upon issues we've seen in other appeals, the Board of Equalization felt that those needed to be addressed in a formal manner," Tovey said about Friday's blanket appeals. "We took their assessed values for this year and we reduced them by 10 percent across the board on all of the unheard appeals. If they still have issues with that they can appeal to the state."
Tovey said the 2,000-plus appealed property assessments to see the 10 percent blanket reduction were located throughout the entire county, adding that the board came up with the figure after noticing about a 3 to 7 percent improper assessment increase in the appeals that had been heard by the Board of Equalization thus far.
Tovey also said 110 property assessments in the county had so many issues that appraisers in the Bannock County Assessor's Office reassessed them again as a result of appeals following the countywide property reassessment. There were still so many issues with those 110 assessments that the Board of Equalization then decided to revert each of those properties back to their 2018 assessed values, Tovey added.
In the market areas that received a 5 percent blanket reduction to property assessments, Tovey said any property owners who live in those areas and appealed their assessment but didn't get a hearing on their appeal before the Board of Equalization will actually receive a 10 percent assessment reduction instead.
Though none of the appealed property assessments resulted in assessments being increased by the Board of Equalization, there were several market areas throughout the county that did not see any assessment changes at all via the appeals process, the board said. Most of those areas were located within the city limits of Pocatello and Chubbuck, Tovey said.
"There were some market areas that the trend (of recent home sales) supported the (assessment) increase," Tovey said. "We understand that Bannock County is growing.... You cannot have a property stay stagnant and not at least be reflective of the rates of inflation. A property that is assessed for 10 years cannot stay the same in value."
There were several market areas of Bannock County that saw property assessments that increased by large percentages as a result of the countywide reassessment. Tovey said these properties that experienced large assessment increases had not been assessed correctly in a decade.
"A lot of people whose property hasn't been reassessed for the last 10 years should really be thanking their neighbors for paying their taxes for them," Tovey said.
When asked to explain what factors played the most significant role in the county's reassessment fiasco, which resulted in over 3,000 total assessment appeals, Tovey said it was due to a lack of communication from the county to its constituents, coupled with the notices notifying county property owners of the new assessments being mailed out two weeks late.
A lack of understanding among taxpayers about how the property assessment process works played a minor role in the situation as well, Tovey added.
"There are always lessons to be learned," Tovey said. "People have said this is some kind of a conspiracy, but I don't think any elected official sat around a table and thought about how we could get people to yell and scream at us. I also don't think anybody fully understands or comprehends the size of problem and issue that occurred. Our county is not built to hear 3,000 appeals. It just shouldn't happen that way."
Within the next 10 business days the Board of Equalization will send notices to all Bannock County property owners who appealed their assessments explaining how they can appeal to the next level, either in district court or via the Idaho Board of Tax Appeals.
Any person who wishes to file one of these supplementary appeals must do so within 30 days of the postmarked date of the Board of Equalization's letter. The Idaho Board of Tax Appeals will hear each supplemental appeal locally, probably at the Bannock County Courthouse in Pocatello.
"As we came down to (Friday's) deadline, we were looking at what we could do for each and every citizen so that if they had appealed their voice may not have came to us but we still wanted to represent them," Moser said. "They have the option to go to the next stage of the appeal. It's not a guarantee that everything we've done will stick and the assessor still has the option to appeal every one of these appeals also."
In response, Ortega said she thinks the process enacted by the Board of Equalization is not only ludicrous, but also unfair to those who didn't realize that filing an appeal would have likely netted them a 10 percent reduction in their property assessment had they never received a hearing.
"It seems so arbitrary," Ortega said about the Board of Equalization's Friday blanket assessment reductions. "For a government process it should be the same for everyone. It shouldn't be that 600 people got hearings and more than 2,000 others get a 10 percent reduction without a hearing. It doesn't make any sense. I can't wait to see what they are going to come up with next. It seems like they are just pulling things out of a hat. This certainly can't be the best we can get as voters."
Ortega said the county needs new leadership.
She said she has already gained enough signatures to start distributing the recall petitions for Davies and all three county commissioners.
To get the recall initiatives for Davies and the commissioners added to the November election ballot, Ortega has until Sept. 16 to submit just over 9,100 signatures from Bannock County registered voters to the county clerk.
If Ortega can't meet the Sept. 16 deadline, the recall initiatives would show up on the March 2020 presidential primary election ballot as long as she turns in the necessary signatures for the Davies recall to the county clerk by Oct. 2 and for the county commissioners recall by Oct. 9.
If and when the recall initiatives are added to an election ballot, in order to recall any official, a majority of the votes cast must be in favor of such recall, and additionally, the number of votes cast in favor of the recall must equal or exceed the votes cast during the last general election for that official.
"Originally, I thought recalling the assessor would send a message to the commissioners that people are serious and something needed to happen," Ortega said. "But clearly, it hasn't. So I guess I have to send a direct message directly to each of the commissioners as well. Maybe then they'll listen to us taxpayers."
Davies did not return multiple phone calls for comment for this article.