POCATELLO — Local artists for the next 10 days will work to turn an Old Town Pocatello alley into a bohemian masterpiece consisting of an amalgam of graffiti-style street art pieces.
The Old Town Alley Outdoor Gallery is back again this year with the theme, "Impressions of 2020." Dozens of local artists will adorn the wall of the alley between Clark and Center streets and Main Street and Arthur Avenue in Old Town Pocatello with their artistic impression of what has been quite a tumultuous year.
"Our theme this year leaves the door wide open for artists to relay their feelings about what has been a pretty crazy year," said the project's director, Heidi Turner. "We want the artists to feel free to express themselves in art form, so long as it is family friendly."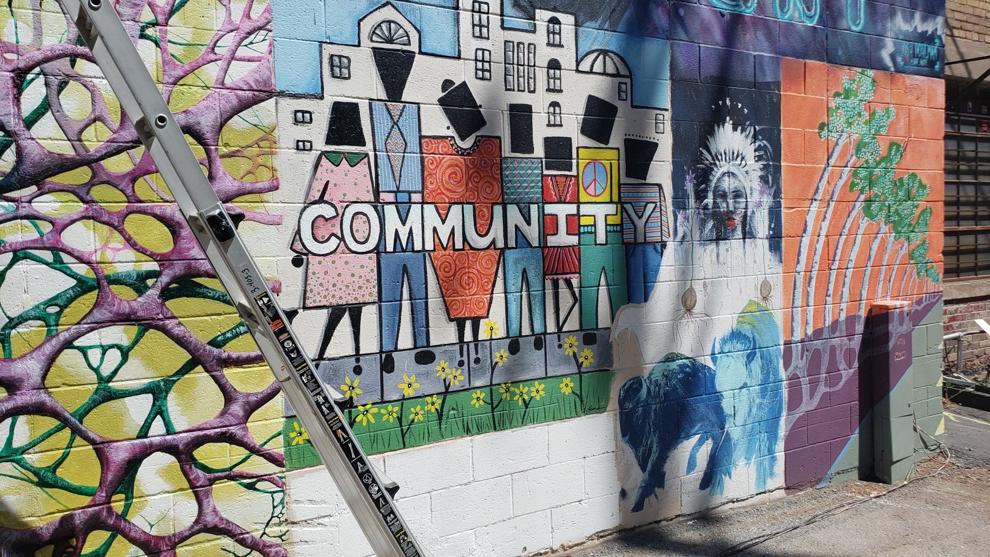 From now until Aug. 22, Turner said at least 20 artists will paint their own impression of 2020 in the blank space on the rear exterior wall of Cottonwood Junction, 141 N. Main St., to create a large mural of interlocking, but independent pieces. Additionally, the artists will also work together on a large naturescape piece, with each artist adding their own personal touch.
"This project allows local artists to express their art for free public viewing," Turner said. "The artists garner exposure and attention and some land various jobs from showcasing their skills and talents. We have some that have started here and moved on to becoming graphic artists. We have newbies and seasoned artists as well."
Turner said the project is still accepting applications from those who would like to participate and anyone who is interested in applying can contact Turner on the group's Facebook page.
After the artists complete the project, a public viewing is currently scheduled from 5 to 8 p.m Aug. 22. The event is open to the public and will include free refreshments, live entertainment and an opportunity to meet the artists and talk about their work.
"We're fun, upstanding, creative, wild and crazy folks," said Turner, adding, "and we would love to see as many people from within the community to come out and support us."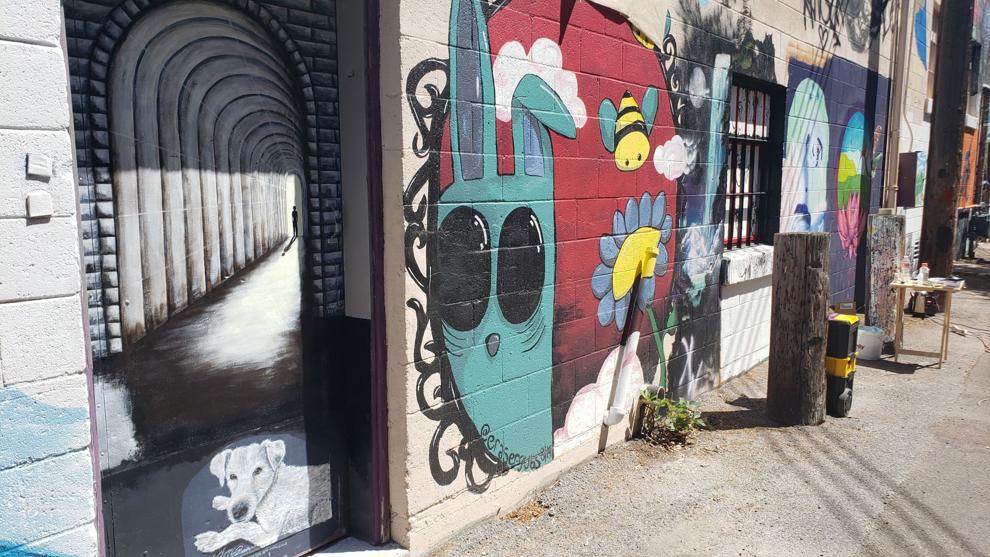 In addition to newly created pieces, Turner said some of the artwork this year will cover-up graffiti that was painted onto the building previously without permission. It's this element of creating street art, first obtaining permission, that separates actual art and vandalism, according to Turner.
"The public hasn't learned to appreciate the artistic abilities of these people because the art isn't sanctioned, or approved," Turner said. "I love graffiti tags, even though I can't always read them, and what we are doing is still graffiti street art, it's just that we have permission. There are murals all over the world that have been acceptable in many countries for a long time, but that's not the case here."
The project's spokesperson, Paige Weber, who is also a contributing artist added, "With street art, there is a fine line between graffiti and vandalism and prior permission plays a huge part in that."
The Old Town Alley Outdoor Gallery not only enhances the visual aesthetics of the downtown area, but also presents the artists with a significant opportunity to showcase their skills and network with other local artists, Weber said.
"What's cool about this event is it allows all of these different artists to work around each other and get to know one another, " Weber said. "This provides us with a community within a community and serves as a great networking opportunity for us."
Moreover, the experience allows many artists to test their skills on a medium they don't typically work with, said Turner, adding that watching the artists hone their craft is one of her favorite aspects of the project.
"Many of our artists are novices that have never painted on a building before," Turner said. "They come in not really understanding what that brush or spray can is going to do but as they get a better understanding of the medium they begin to realize how unforgiving a cinder block can be. It's a ton of fun to watch people grow."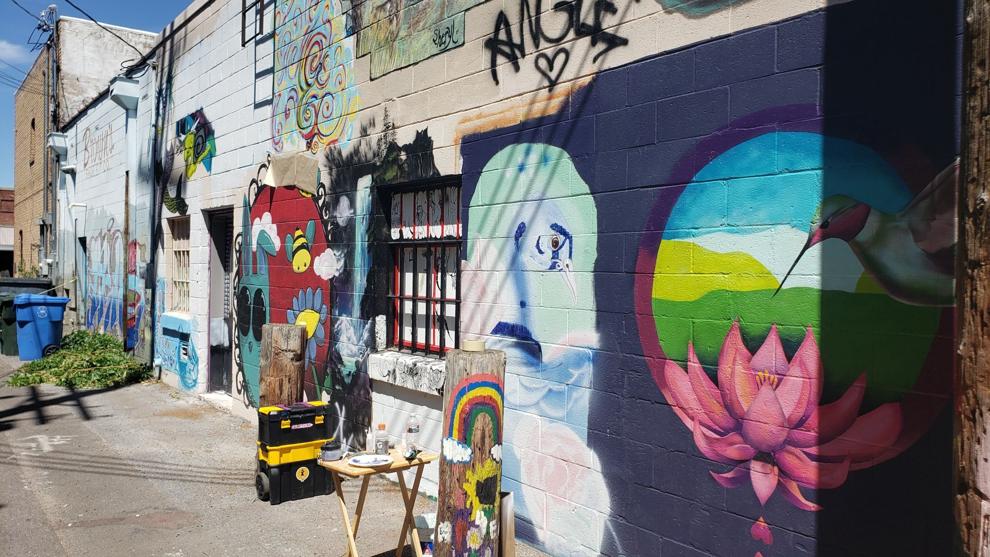 Take for instance the work Weber did last year in comparison to what she's putting together for 2020. Weber's piece last year incorporated a hummingbird flying above a pink lotus and green rolling hills, all of which sit atop a solid indigo background. This year, Weber is working on a white peacock that she modeled after the white peacock at Zoo Idaho in Pocatello.
"Last year I used spray paint exclusively except for the background," Weber said. "I used a projector to put it up on the wall and did a ton of masking. This year, I am operating differently and have been using latex paint and paintbrushes. Also, I have been using an airbrush gun to soften some edges and I free-handed the peacock instead of using the projector like I did last year."
Weber's white peacock fits within the impression of 2020 theme by way of encouraging Gate City area residents to get outside and enjoy what hasn't been closed due to the health measures put in place during the COVID-19 pandemic.
"I want to encourage people to get outdoors while we're stuck in quarantine," Weber said. "Lord knows we have all been cooped up inside for far too long."
As artists continue to add their work to the wall, Turner wants to encourage the community to help contribute in the form of donations, both monetary and those that will help provide the artists with a bit of relief from the hot summer heat.
"We want folks to know that we would love their support and are still accepting monetary donations to procure paint for the artists," Turner said. "We would also love it if folks could donate some ice waters or other refreshments and bags of ice. We will be here for the next two weeks almost and in the late and early afternoon it's getting hot out here, so anything that can help our artists cool down would be a huge help. And those who come and donate can also watch the artists work, which is a pretty neat experience."
Turner said most artists will be out working up until the early afternoon and will usually return around 6 or 7 p.m., once the temperature drops.