The Portneuf Valley Farmers Market in Pocatello is officially open for the season, but on Saturdays in May but there was something noticeably missing: the crafters.
In the past, local artisans have been staples of the market, along with the vendors selling plants, produce, warm food, honey and baked goods. But because of the coronavirus outbreak and Gov. Brad Little's stay-home order classifying them as "non-essential," those artists can't be there until the market can fully open later in June. Right now, the scheduled date for reopening is June 13, but the situation is fluid and market officials are hoping it could be as soon as June 6.
As a result of the market not being open to them, as well as other craft fairs in the region being postponed or outright canceled, the crafters have all taken a financial hit and have started coming up with unique ways to sell their wares.
ADAPTING TO THE NEW NORMAL
Businesses of every type have had to change their practices since the coronavirus outbreak began. Even those allowed to stay open have had to adapt to some big changes. For self-employed artisans, dealing with the fall-out of not being able to sell their products in person has led to some unique ways of coping.
"Just like everyone else, we've had to adapt our business drastically in order to exist in this new world," said Luke Bunzow, who owns Bunzow Glass Co. with his wife, Nikki, and is regularly at the Pocatello farmers market. "Connecting with people at markets, art shows and festivals has always been an enjoyable part of running our small business, but now we must consider the health and safety of our community and ourselves. Several annual events that we participate in have been postponed or canceled altogether, and at this time, we're unsure whether we would even consider going to any crowded venues this summer even if we were 'allowed' because of the possible risks involved."
The Bunzows recently set up an online Etsy shop and, so far, sales have been better than they anticipated.
"With all of the uncertainty, we've decided to refocus our efforts and explore new opportunities for selling our products," Bunzow said. "Both of us are 'non-essential' workers, so we decided to make the best of our situation by using our extra time to rebuild our online store."
Ashley Delonas — who owns Mountain Girl Studios, another staple of the Portneuf Valley Farmers Market — said that before the coronavirus outbreak hit, she was already in the process of making an online shop, which she was able to launch a few weeks ago.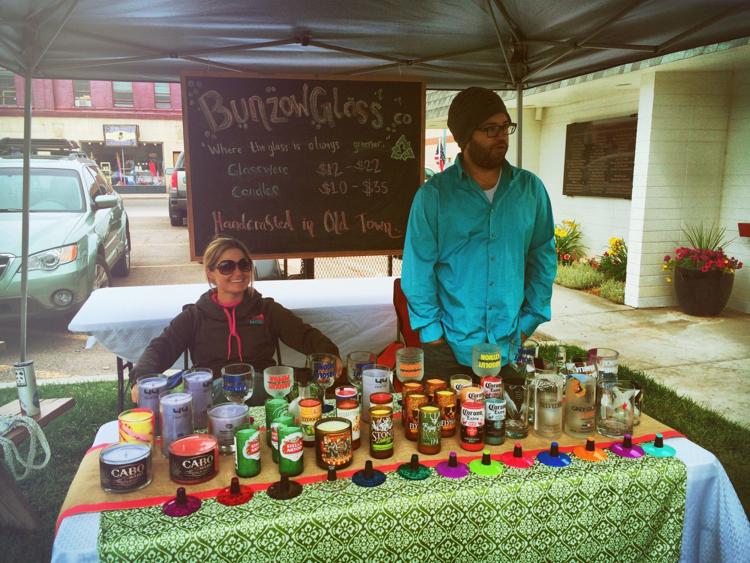 She said the site has seen some success, and "I am learning a lot about how to market my work online and get the word out to my customers."
Catherine Giesbrecht, who owns Darling Atelier Design and sells her handmade Darling Dolls at the market, said she came up with another idea to get her dolls into people's hands.
"In an effort to recover some sales, I chose to contract for space at the Poky Dot Boutique in Old Town a couple of weeks ago, and I now have a selection of dolls for sale there," she said.
Giesbrecht also has an Etsy shop and a website where customers can buy her dolls, and she says she's getting about the same number of word-of-mouth sales she usually does this time of year.
But, she says, she yearns to be back at the market.
"I miss not only the sales at the farmers market, but I also miss being at the farmers market as a vendor," Giesbrecht said. "I really enjoy selling in person, and it's sad to be missing out on the spring season of the market."
Shy Friedley, the owner of Car Part Art, said that since she can't be at the market, she's "trying to stock up inventory, try new ideas and just keep busy."
She's also trying to ramp up online sales and get more business via word-of-mouth.
Paige Weber — who runs Gumption, a design studio that specializes in prints and stickers that usually has a booth at the market — said the pandemic has forced businesses like hers to be creative.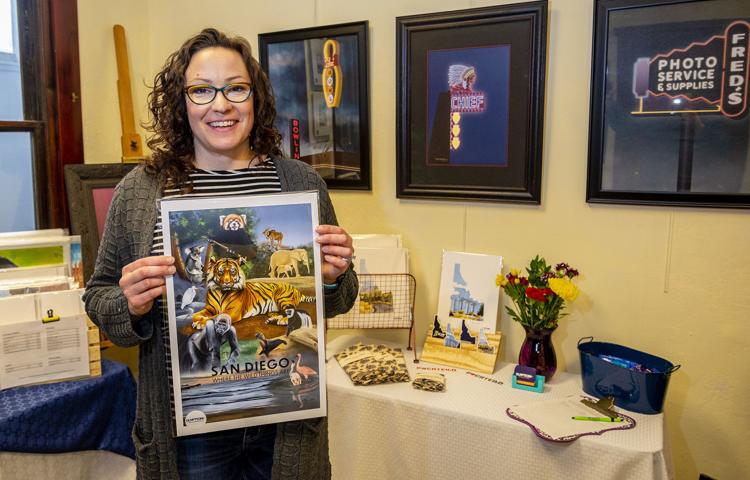 "I think this pandemic has forced some of us to pivot and focus a bit," she said. "I have an online store that customers can visit. I also have merchandise in the Poky Dot (Boutique). It will force me to push marketing those avenues this year."
Bunzow Glass makes all sorts of glass products out of upcycled bottles. For now, the Bunzows have decided to only sell their jewelry products, including earrings, necklaces and bracelets, in their Etsy shop because of shipping costs, but "we're looking into finding eco-friendly packaging to safely ship our upcycled glassware, wind chimes, candles and lights efficiently," Bunzow said.
The Bunzows also brainstormed — and acted on — several other ideas in addition to just selling their products online.
For one, they offered same-day delivery to local Etsy shoppers over Mother's Day weekend, complete with a complimentary rose.
"We made sure to sanitize our products thoroughly and wear protective masks and gloves so that people were able to receive their gifts safely," Bunzow said. "We had a great time surprising people with their deliveries, and people seemed to really enjoy the new service we were offering."
Bunzow Glass will also offer occasional same-day delivery locally throughout the summer, and they're considering doing free same-day delivery over Father's Day weekend as well: If you order a glassware product, dad will get a complimentary beer instead of a rose.
VIRUS TAKING ITS TOLL
For artisans locally and across the country, farmers markets closing and craft fairs canceling have led to significant financial losses.
"As a self-employed artist, I primarily sell my art through live events and face-to-face interactions," said Delonas, who uses stained glass and copper as well as natural items like rocks, gemstones, feathers and antlers to create works of art. "Some of those events and venues include local farmers markets and art shows held throughout the spring and summer months at a variety of locations. The two local farmers markets that I attend during the spring and summer months have been my primary source for selling my artwork and, therefore, my primary source of income."
She said she has essentially lost her job and is unable to collect unemployment benefits. She's tried other ways of collecting funds but has so far been unsuccessful.
"While I have worked hard to live within my means, the loss of income has taken its toll on my financial stability," Delonas said. "I have found a few ways to alleviate some of the economic hardship such as, selling a few personal belongings and taking out small loans, but those are temporary solutions. I have applied for business and artist relief grants but have had no luck in getting those funds."
Friedley said the pandemic has been a struggle for her, but she's optimistic she'll be able to recover.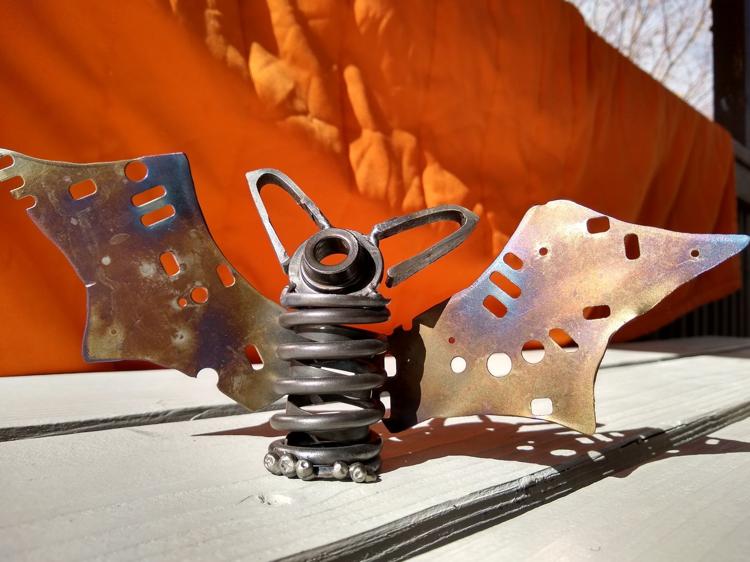 "It's been hard for sure, especially when you have all these ideas for new projects, but no cash flow coming in for needed supplies," she said. "So I'm a little in the hole. But it doesn't take much for things to balance out again."
Weber said not being able to sell her wares at the farmers market and other shows has "hugely affected" her business, though she also thinks she'll be OK in the long-term.
"Shows and the market are a big part of my income and getting my artwork out there," she said. "... I think I will survive this year, but it is going to be a trying one."
Giesbrecht said Darling Atelier Design is a side gig for her, so she will be able to withstand the toll the outbreak is taking on her business. However, she had been anticipating a good year for her and not being at the market is definitely a setback.
"My dolls sell well at the farmers market, so not being able to have a booth there until the latter part of June will represent a significant loss of revenue for this year," she said. "My sales in 2019 had been 50 percent more than in 2018, and I was anticipating continued growth in 2020. Given the outright loss of selling opportunity in May and June, and the uncertainty of the economy after all the closures, I don't know what to expect or what efforts on my part will make a difference going forward."
Delonas also had big goals for the summer — goals she says she's not sure she'll be able to meet now.
"This summer, I had set bigger goals than usual for myself as I am celebrating my 10th year as a self-employed artist," she said. "This is no small feat and I am extremely proud of this accomplishment. However, as this pandemic progresses, I find it increasingly difficult to feel confident in my decisions. I am certainly not meeting my new business goals, and for the first time in 10 years, I'm unsure if my ability to support myself as an artist will continue."
Despite the financial hit they're taken, some of these artists say the coronavirus outbreak has led to at least one positive outcome: more time for more extensive projects.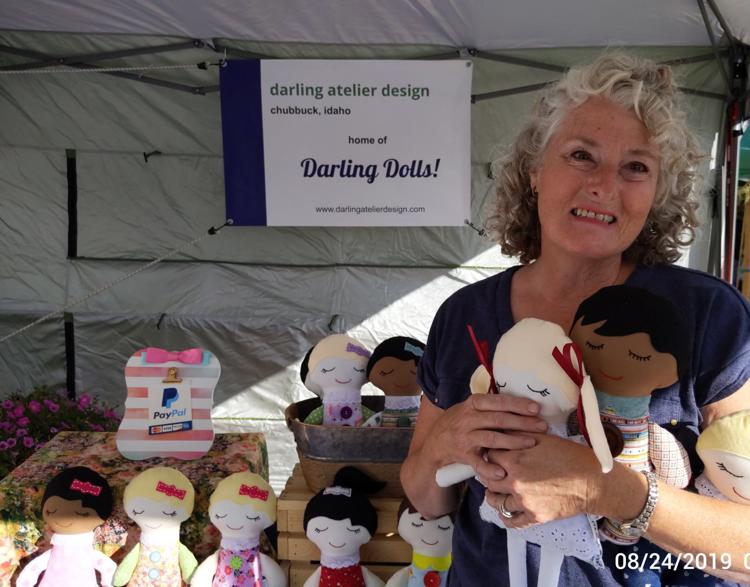 "I have been able to pick up some client work that I would not otherwise have time to do, and I feel lucky about that," Weber said.
Delonas echoed that sentiment.
"On the bright side, I have had more time to explore and create new works of art," she said. "I have capitalized on the time in quarantine to build some large antler chandeliers that I may not have otherwise had time for. These pieces have been visions only in my head until recently, and being able to actualize them has been exciting and therapeutic."
Bunzow said that during the stay-home order, they've been taking on more custom work for customers, which is an essential part of their business.
"Collaborating with people to create custom jewelry, lighting projects, glassware and candles has been a key component to the success of our brand," he said.
'UNPRECEDENTED TIMES'
While the local crafters interviewed for this article were supportive of the governor's stay-home order, some were a bit disgruntled with how it has been phased out.
"I do agree that the reopening needs to be done in stages, and I'm completely OK with that concept," Giesbrecht said. "But I also think that Idaho has penalized the open air farmers markets unnecessarily. We are classified as an 'event' for the rollout, and that's why the crafters cannot return until (later in) June. Logically, though, there is no more of a health risk for shoppers at an outdoor farmers market than there is for shoppers at, say, the indoor (grocery stores) — which, incidentally, (have) been allowed to sell home decor, kitchenware, toys, clothing, etc., this whole time, while we crafters cannot."
Giesbrecht said shopping outside presents less of a risk to consumers.
"Farmers markets can take steps to control the flow of people through the market, just as the stores do," she said. "And we are outdoors where sunlight and fresh air work to mitigate the spread of the virus naturally. It's ridiculous to penalize the outdoor markets as they have been; even the smaller stores have reopened."
Friedley also thinks the stay-home order could have been handled differently.
"I think if this situation was addressed sooner, and dealt with more thoughtfully instead of in panic, it wouldn't have been so hard on so many small businesses," she said.
However, the general sentiment is that the situation is being handled as well as could be expected.
"The roll-out is hard, especially for non-essential services," Weber said. "These are unprecedented times, though, and I think our leaders are doing the best they can. I am hopeful we can get back to work as soon as wisely possible."
Delonas said she's been struggling with her business being classified as "non-essential."
"I will admit there have been days when it has been hard to accept that my contribution to society is considered 'non-essential,'" she said. "I believe that art is essential and important. But I also understand and respect the efforts of our leaders to take precautions in order to help slow down and better manage the virus and its current and potential impact."
She added, "I don't have the answers to this problem and I am not resentful because I can only imagine how difficult it is to try to meet the needs of literally millions of people."
Bunzow said the pandemic and the stay-home order have definitely had a negative effect on his and his wife's business, but they'd rather be safe than sorry.
"We would rather err on the side of caution instead of conducting business as usual," he said. "Being unable to sell our products in person has been challenging, but in order for us to be successful, we must learn to adapt to our new reality. Doing so may present us with many unexpected obstacles, but we've always been a great team and we're confident that our small business will survive in the long-run."
HOPING FOR 'A BOOMING SUMMER'
For now, the Portneuf Valley Farmers Market looks a bit different than it has in years past. Only the "essential" vendors are there, and booths are placed 10 feet apart. Additionally, the market has been set up so that people can only walk in one direction around the parking lot, which is across Union Pacific Avenue from the market's typical spot on the grassy area at the Old Town Pocatello Pavilion off Main Street.
Giesbrecht, who is on the Board of Directors for the Pocatello market, said that despite her frustrations, she's been impressed by the moves the market has made to make sure it was able to open in May this year, even in a limited capacity.
"Maybe I'm a bit biased, but I applaud our board for its commitment to keeping the market open in the current situation, especially when we've heard reports of markets in other areas that are simply staying closed until June," she said. "I was impressed at the layout for the first market, which was carefully researched and planned by our managers."
But, she added, "I'll be very, very glad when we're all back in our usual spot on the green in June, and I hope the Pocatello/Chubbuck community will resume supporting us as they have been for so many years now."
That sentiment was echoed by the other vendors who are all expecting to be at the market as soon as they're allowed to be.
"I look forward to seeing my fellow community members and customers and to interacting with them in this 'new normal' way of life," Delonas said.
Though a few things will be different — hand sanitizer, signs promoting keeping a safe distance from others and vendors wearing masks — "it will look much the same as it always does," Giesbrecht said.
Friedley said she will likely have a "Look with your eyes, not with your hands" sign at her booth and also said she was hoping to have more of a selection this year when she finally gets to open.
Weber said she will be encouraging people to pay via Venmo and Apple Pay to prevent contamination with credit cards and cash, and she will be handling all her items personally instead of encouraging people to pick them up for themselves.
"For me, it is important for customers to feel safe and that we are abiding by health regulations," she said. "I want to have a booming summer when all of us can attend the farmers market."