A former local athlete will be honored for her inspirational work as a coach in Indiana.
RaNae Isaak, who prepped at American Falls High School and golfed at Idaho State University, is this year's recipient of the Point Guard College Transformational Coach Award from the Indiana Basketball Coaches Association.
The honor recognizes coaches who have impacted the lives of their players and fellow coaches at their school and within their community, according to a press release. The recipients are coaches who are respected by their players and fellow coaches for their dedication, positive approach and integrity on and off the court.
Isaak recently completed her 14th season as a girls basketball assistant coach at Columbus North High School in Columbus, Indiana. Before that, she helped the American Falls girls basketball team win the program's lone state title in 2000 and played golf at ISU from 2001-05.
The fact that Isaak was able to coach at all during the 2019-2020 season, however, in many ways was a miracle.
In the spring of 2019, Isaak suffered from repeated muscle-tensing episodes in her left arm and leg that ultimately were diagnosed to be the result of a brain tumor. She continued to work with the Columbus North program through summer workouts before having surgery to remove the tumor on July 12 in Indianapolis
The surgery left Isaak with no ability to move her left side and an initial prognosis that she may be unable to walk for an extended period. However, thanks to her perseverance in a rehab program at the Rehabilitation Hospital of Indiana, Isaak walked out of the facility on Aug. 3 and returned to her life as an engineer at Cummins, Inc., a basketball coach at Columbus North, an MBA student at Indiana University, a wife and a stepmother to two college-aged women.
She was honored by the Indiana Pacers for her recovery on Jan. 17 at halftime of the Pacers' 116-114 home victory against the Minnesota Timberwolves.
"When you learn you have a brain tumor, it's quite amazing what goes through your head," Isaak said during an interview on WRTV-Channel 6 at the Pacers game. "You don't know if things are ever going to be back to normal or how long it's going to last. I mean, everything is so dependent on the situation. Having the trust in the people (working with you) helps you make it through."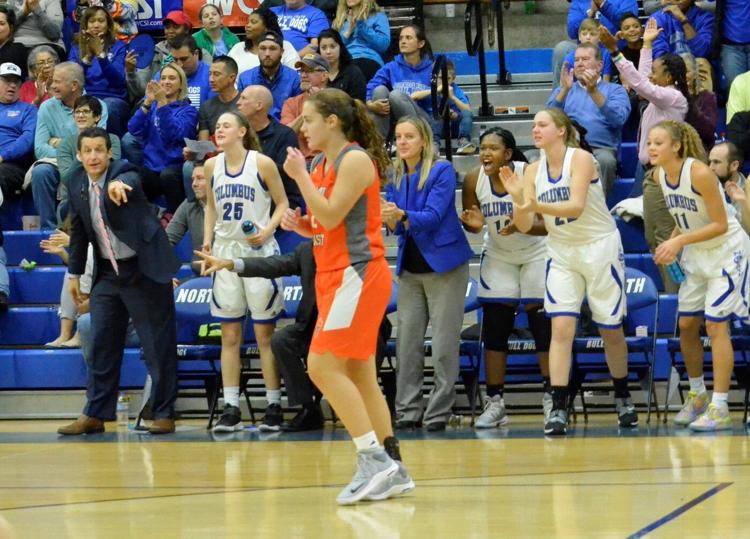 Dr. Charles Kulwin, a neurosurgeon with Goodwin Campbell Brain and Spine, described Isaak's recovery as remarkable.
"When RaNae woke up and was having trouble as expected (after surgery), she believed in us when we told her it's all going to get better," Kulwin said. "Most importantly, the strength and will she had from Day 1 when she woke up, to say, 'I'm going to get all of this back,' it's just been amazing."
Isaak, 38, has been a coach in the Columbus North girls program since 2006, when she moved to Indiana after earning bachelor's and master's degrees in mechanical engineering at ISU.
Columbus North has posted a 274-78 record during Isaak's 14 seasons on staff. In the past 10 seasons, the Bull Dogs have gone 217-50 with seven Conference Indiana championships, six sectional titles, four regional crowns, three semi-state trophies and the 2015 class 4A state championship. The Bull Dogs also were class 4A state runners-up in 2012 and 2016 as well as a final-four team in 2017.
Columbus North head coach Pat McKee knew quickly that Isaak was someone he wanted to retain in the Columbus North program when he was reforming the Bull Dogs' coaching staff in April 2010. Isaak is the lone holdover from the previous staff.
"RaNae brings a passion and focused intensity to everything she does," McKee said. "I felt that instantly when I met her, and I knew we not only wanted to have her stay in the CNHS program, we want her to have an expanded role. Ever since, I have seen the energy and perspective she brings to our players virtually every day. We have had many successes over the past decade, and RaNae has been an integral contributor to all them."
Emily Kim has known Isaak throughout her tenure at Columbus North, dating to when Kim's sister Betsy also was a Bull Dogs' player.
"I have watched RaNae coach and been coached by her at many levels," Emily Kim said. "Although her coaching roles have changed over the years, one thing has remained constant: her ability to push players toward the greatness she knew each of us had. RaNae set high expectations for us as players and even higher expectations for us as young women. RaNae's coaching helped me accomplish great things on the court. More importantly, her coaching made me a better person off the court."