POCATELLO — When Brandon Stephens was growing up, his grandparents would let him watch the Terminator movies when he visited.
A young Stephens was fascinated with the series' buff frontman, Arnold Schwarzenegger, so one day his grandmother introduced him to the German star's bodybuilding career.
You think he's cool in the movies? Well, this is what he does in real life.
It was a conversation that ultimately helped determine Stephens' career path.
"I got to see all his bodybuilding photos, so that intrigued me," Stephens said.
"I was just fascinated with how big he was, and muscular. I was like, well, if anyone can attain that, then why not?"
Stephens was named Idaho State's assistant strength and conditioning coach on March 3 after two years of working as the head strength coach at Western Colorado.
The hiring, which was funded by a $100,000 gift from Bingham Healthcare, announced in November, helps address one of the biggest shortcomings in ISU's athletic department.
Prior to Stephens' hiring, Dan Ryan served as the university's lone strength coach, training every athlete across every sport by himself.
"Obviously, it's a benefit to me and my work schedule, but I think it's really going to benefit our athletes," Ryan said. "I think once he gets in the swing of it and our athletes are actually able to spend some time with him, I think they're really going to like having an extra person in there, and I think we're going to see some great results."
In a twist of fate, getting hired by ISU wasn't Stephens' first brush with the Bengals.
As a freshman football player at Western Colorado (then called Western State College of Colorado), he recorded the first solo tackle of his career at Holt Arena in a 44-7 loss to ISU on Sept. 10, 2011.
Stephens blew out his shoulder later that year, which ended his college football career but jumpstarted his next one as a coach.
Western Colorado head coach Jas Bains allowed Stephens to stay with the team to do some position coaching and help out in the weight room. When he graduated in 2015, the football team offered him a graduate assistant coaching position, but he knew he would have to choose between position coaching and strength training.
"I've always been in love with the weight room," Stephens said. "Ultimately, the injury (that I had), I just didn't want that to happen with other athletes. My biggest goal was to be a strength coach so they can fulfill their collegiate career healthy and hopefully go to the next level, which was ultimately what I wanted to do as a player."
With that settled, Stephens worked as a graduate assistant coach in Western Colorado's weight room from 2015 to 2017, although his duties were more akin to those of a full-time head strength coach.
The university made that official in 2017, promoting him to a full-time position. Because of the limited budget at Western Colorado, he worked as much as Ryan has in the past, serving as the only coach in the weight room for all of Western's athletic teams.
That experience made him stand out to Ryan once Bingham's gift became official and ISU's strength coach could begin looking at candidates.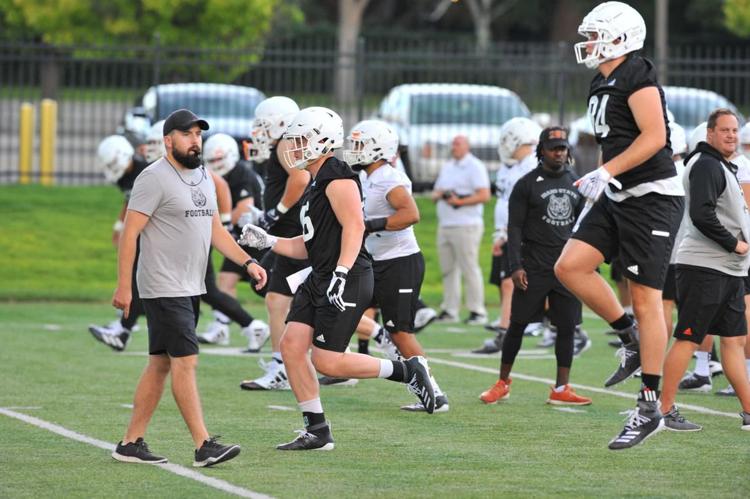 "His experience working as head strength coach was very enticing, (especially) at a Division II school, knowing that they're probably financially in a pretty similar situation to where we are," Ryan said. "He was running the show. ... In the interview process, he just had a lot of very tangible goals and visions and things like that for how he wanted to come in and help grow our department."
Ryan also pointed to some areas where Stephens' experience differed from his. Stephens has a master's degree in high altitude training, which is different from Ryan's background, and also played college sports, which Ryan didn't.
"When I was trying to hire someone, I wanted someone who was going to complement me, not just be the same with me," Ryan said. "I did not have a collegiate playing career, he did as a collegiate athlete. That gives us another viewpoint, because he's been in the athlete's position, so it's just another person to bounce ideas off. ... It just makes our staff more diverse and hopefully more approachable and better for our athletes, because he has that other view of it."
Stephens, for his part, was ready for something new after spending most of his life in Gunnison, Colorado. After accepting the job, he had about a week to get acquainted with Idaho State — including a few days running the weight room as Ryan accompanied the Bengals' basketball teams to the Big Sky Conference tournaments in Boise — before the coronavirus pandemic shut everything down.
That was long enough to know he made the right decision.
"I was kind of bought in from the start," Stephens said. "Being from a small community with even more limited resources, the idea of the challenge to help grow and help build something pretty much from the ground up just really appealed to me. Coach Ryan's vision aligned with what I was looking for for my next stop in life.
"I'm excited to be a Bengal, and I'm hoping this situation settles down here soon so I can continue the relationship-building process with our student-athletes and coaches and administration, just keep growing."