POCATELLO — Malik Porter's missed alley-oop dunk drew groans from the crowd and was the green light for some fans to head for the exits as a symbolic moment of Idaho State's second half.
The Bengals shot 27.6% in the frame, while Southern Utah went 63.6%, and the visiting Thunderbirds gassed their four-point halftime lead to a 16-point win Thursday night at Reed Gym, 71-55.
"We challenged them a little bit at the half, because we thought we didn't finish the first 20 minutes particularly well," SUU coach Todd Simon said in an SUU-issued release. "We got shots we liked, we just didn't hit them, and we thought we were giving up a little too much on the other end of the floor. They stepped up to the challenge in the second half."
The T-Birds (10-5, 3-1 Big Sky Conference) put the game out of ISU's reach with a 14-5 run that increased their lead from 42-37 to 56-42 with 7 minutes, 43 seconds to go in the game. SUU made six shots in a row during that stretch, including a pair of deep 3-pointers by Dwayne Morgan that audibly dulled the spirits of the home crowd.
SUU's streak of made shots eventually grew to eight in a row. The Thunderbirds shot 49.1% for the game with 34 points in the paint. Cameron Oluyitan scored a game-high 20 points, with John Knight III adding 15 and Morgan 13.
"Credit to Southern Utah, I thought they were fantastic tonight," Bengals coach Ryan Looney said. "We knew going in they'd be an extremely talented, and big, offensive team. We obviously had some troubles with that. I think moving forward, they have a chance to have a fantastic conference season."
ISU (5-8, 2-2 Big Sky) trailed by 14 points in the first half after Southern Utah marched on an 11-0 run. The Bengals' offense got crisper and manufactured more looks inside after that, and runs of 8-0 and 6-0 helped ISU cut it to three by the 3:56 mark of the first.
ISU was within 33-29 at halftime and made its first shot of the second. That bucket, a layup by Austin Smellie, was the last field goal ISU made until the 12:41 mark.
The Bengals missed their next 13 shots from the floor, but were still in the game when Smellie's corner 3 snapped the drought and cut SUU's lead to 39-35.
But ISU didn't get any closer. SUU caught fire after the under-12 media stoppage and the Bengals didn't make a field goal over the final 4:05 of the game.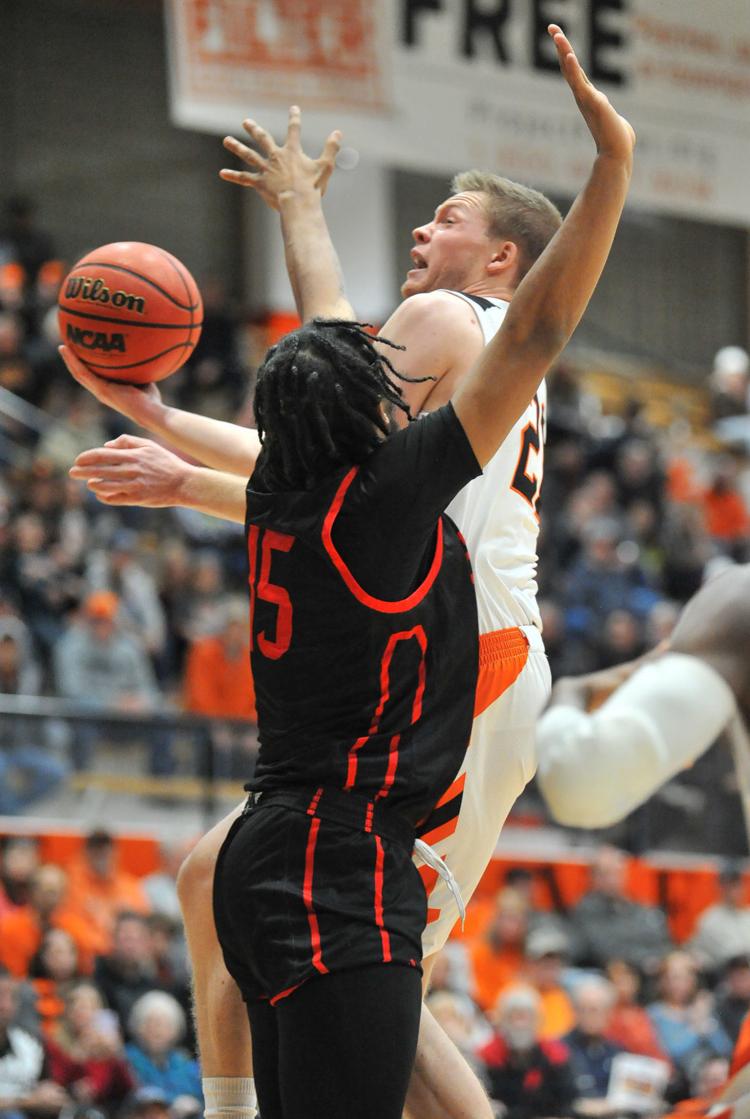 The Bengals shot 32.7% overall and 22.2% from 3 on Thursday, both their second-lowest marks of the season and their worst since the season-opener at Wyoming.
Southern Utah is one of the top defensive teams in the Big Sky and frustrated Idaho State.
"We always say defense travels, and we were pretty happy with ours today," Simon said.
Chier Maker led ISU with 15 points and five rebounds. Lyle Sutton added a career-high 10 points in a career-high 19 minutes off the bench.
Sutton, who entered Thursday's game with 23 minutes played all season, gave ISU a much-needed spark Thursday, scoring eight of the team's final 11 points of the first half.
"We obviously got ourselves down, needed to try something different, gave him a shot and he definitely gave us a spark tonight," Looney said.
ISU outrebounded the T-Birds 38-31, a small moral victory against the best rebounding team in the Big Sky.
But the loss is ISU's second in a row by 10 points or more, its first such streak since falling to Washington State and Santa Clara by 11 and 13 in November.
"It's tough. No one likes losing," Looney said. "We've got a locker room full of guys who are down right now. We've got to find a way, quickly here, to rally. We're right back here at 6:30 a.m. to get on a bus to drive to Salt Lake and fly all the way to Flagstaff for another game."
Idaho State plays Saturday at Northern Arizona.
SOUTHERN UTAH 71, IDAHO STATE 55
SUU — Fausett 5, Ndiaye 2, Long 6, Marin 2, Oluyitan 20, Knight III 15, Butler 8, Morgan 13.
ISU — Maker 15, Smellie 5, Cool 5, Udengwu 6, Stutzman 8, Porter 2, Rushin 4, Sutton 10.