POCATELLO — One touchdown wasn't enough for Idaho State.
No, after going two weeks without touching the end zone, the Bengals took out their frustration by gashing Portland State for seven touchdowns — six in the first half — in a rollicking, rip-roaring rout of the Vikings on Saturday in Holt Arena, winning 51-24.
"It was nice to score a touchdown," head coach Rob Phenicie said. "We're 1-0 in the Big Sky (Conference). That's where we wanted to be at the end of the game today."
The stats told the story.
After being held to six combined points in losses at Utah and Northern Iowa the last two weeks, the 41 points Idaho State scored in the first half were the most the Bengals have scored in the first half against a Division I opponent since at least 2002, according to ISU sports information.
That run was fueled by a white-hot stretch in the first quarter when Idaho State scored three touchdowns in 2 minutes, 47 seconds to take a 20-0 lead.
Quarterback Matt Struck, making his return from a concussion that kept him out of last week's loss at Northern Iowa, was 14 of 23 for 332 yards and six touchdowns, joining a short list of FCS quarterbacks to throw at least six TDs in a game this season.
"It was due to the offensive line, the receivers made plays," said Struck, who wasn't sacked Saturday. "Our coaches, throughout the week, put a really good game plan in place that set us up for success."
It was a statement win for Idaho State in its Big Sky Conference opener. Both the Bengals (2-2, 1-0) and Vikings (2-3, 0-1) came into the game stranded somewhere in the Big Sky's large middle class after going through nonconference play without a Division I win.
Both teams had shown flashes — Portland State against Arkansas and ISU last week against Northern Iowa — but both still faced questions.
On Saturday, only the Bengals answered theirs — emphatically.
Struck's first touchdown throw, midway through the first quarter, went 45 yards to Michael Dean as the slot receiver sprinted by two Portland State defensive backs before hauling in the ball as he crossed the goal line.
His second came not even two minutes later, after a Portland State punt, and went for 66 yards to Tanner Conner. The receiver, who finished with four catches for 117 yards and three touchdowns, caught a slant and showed off his track-star speed, accelerating through the PSU secondary.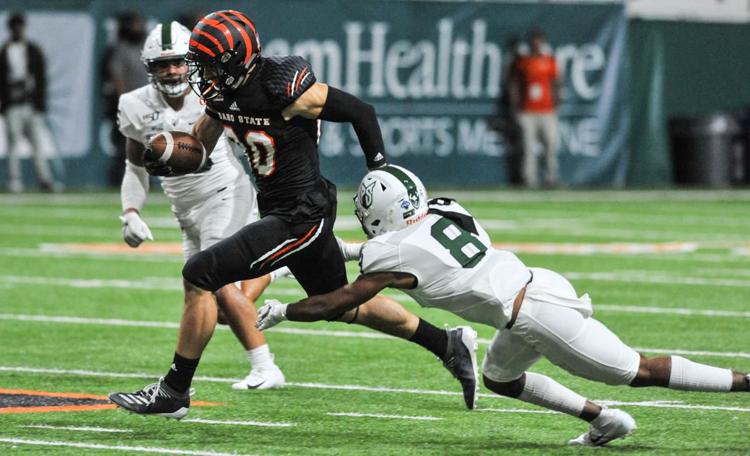 "We ran the same play earlier, and I was like, OK, the bang's open," Conner said. "I told (offensive assistant) Hagen (Graves) that, I told Struck that, we should try and hit it. … He threw it to me, and one thing led to another, I just took off. I'm pretty confident in my ability to run after the catch, especially in an open field."
On the second play of the ensuing Portland State drive, Vikings quarterback Davis Alexander's throw over the middle deflected off his receiver's fingers.
Senior ISU safety Christian McFarland was there waiting for it, and immediately broke to the right sideline, returning the interception all the way to the end zone for a 64-yard pick-six and a 20-0 lead as the announced crowd of 6,398 at Holt Arena erupted.
"I was just in the right place at the right time, and followed my teammates to the end zone," McFarland said. "When I caught the ball, I didn't see anything but the end zone. I was just trying to score, help my team build a lead."
Portland State stopped the bleeding with a field goal, but Struck answered with touchdown passes of 45 yards to Mitch Gueller and 15 yards to Dean for a 34-3 lead.
Every pass was vertically down the field for Struck and the ISU offense as the quarterback aired out the PSU defensive backs.
"The plays that we had for this defense, we knew there were going to be opportunities to go over the top," Struck said. "We got the run game going, opened up things deep, and just kept firing."
After Portland State scored its first touchdown with 3:06 left in the half, Struck put in the coup de grace, hitting Conner in the front left corner of the end zone as the receiver fell out of bounds for a 35-yard score and a 41-10 halftime lead.
Struck was 9 of 15 for 263 yards and five scores at the break, while Conner already had three catches for 113 yards and two touchdowns.
"I'm just glad, as an offense, we got back on track," Conner said. "I think last week was a good pride check for us. (It was good) to get our swagger back, I guess. It was good to put up that many points and get some confidence back."
Portland State got within 24 points twice in the second half, but ISU answered both times.
Struck hit Conner for a 4-yard score on a fade route the first time to make it 48-17.
After another PSU score, the Bengals defense forced two turnovers on downs, and Kevin Ryan, who missed an extra point after ISU's first touchdown, nailed a 35-yard field goal for the final margin.
Ty Flanagan ran the ball well for Idaho State, with 119 yards on 21 carries. It was the first 100-yard game of the season for the senior workhorse, although he left injured late.
An update on his condition was not available as of press time.
Kody Graves led the Idaho State defense with 10 tackles. Gilbert Varela finished with nine, plus 1 1/2 sacks.
Idaho State travels to Montana next week.
Senior Idaho State quarterback Gunnar Amos, who backed up Struck to begin the season and started last week's 13-6 loss at Northern Iowa (which Struck missed with a concussion), was not in uniform or on the sideline for Saturday's game.
Last week was Amos' first-career start. The senior transferred from Idaho and backed up Tanner Gueller for the last two years before losing a quarterback competition with Struck in fall camp this year.
Freshman Sagan Gronauer, from Las Vegas, was Struck's backup instead, although he didn't get into the game.
"I'll address that on Monday," Phenicie said quickly when asked about Amos' absence in the postgame press conference.