POCATELLO — Until recently, Marcus Jackson's Idaho State football legacy merely lived on through stories, a kiboshed tradition and a small plaque buried at the bottom row of the ISU Athletic Hall of Fame.
One of the most important figures in program history was all but forgotten, fading further with each passing year.
There are painted bricks in the hallways of Holt Arena commemorating significant games in ISU history, and five retired numbers, never to be worn again, to honor ISU legends. But nothing, really, for Jackson, whose importance extends beyond his on-field accomplishments.
Who is Marcus Jackson? From 1993-1996, he was a defensive back on the Bengals football team, earning all-Big Sky Conference honors in 1995 and '96. In 1999, he graduated from ISU with a business degree. In 2004, he founded the Only the Strong Foundation, which provides financial aid and educational support to at-risk and underserved minority students around Denver. Today, he still serves the youth in the communities that raised him.
He also lives in a wheelchair, a fact he accepts and wouldn't change, but a harsh result of playing football the only way he knew how: "aggressive, the way it should be played."
Jackson has been honored in multiple ways over the years, but only his induction into ISU's hall of fame has held permanence. There have been patches, plaques, awards and scholarships — all have fizzled out over time.
Idaho State hopes its newest homage becomes a longstanding tradition, helping Jackson's legacy endure on the field each Saturday.
***
Joe Martin's parting gift to teammate Kody Graves was a pair of worn football cleats.
Martin left the shoes in Graves' locker after the 2018 season — and Martin's career — came to an end. They were carefully placed in Graves' locker so their heels pointed outward, 2 penned on the inside of the left tongue, 5 on the right.
It was Graves' first hint as to what was coming, and the first installment of ISU's new tradition. From now on, a defensive player will wear 25, Jackson's number, every season, to be decided by the player who donned it the year prior.
Martin was the first ISU football player to earn the designation of wearing Jackson's number to honor his legacy, though he was picked somewhat by default, as he wore 25 each season from 2014-18.
But his passion for football and his fighting spirit to overcome a season-ending injury fit with the honor's requirements. He picked Graves to wear it in 2019, and Graves will bestow it upon another defensive player next season.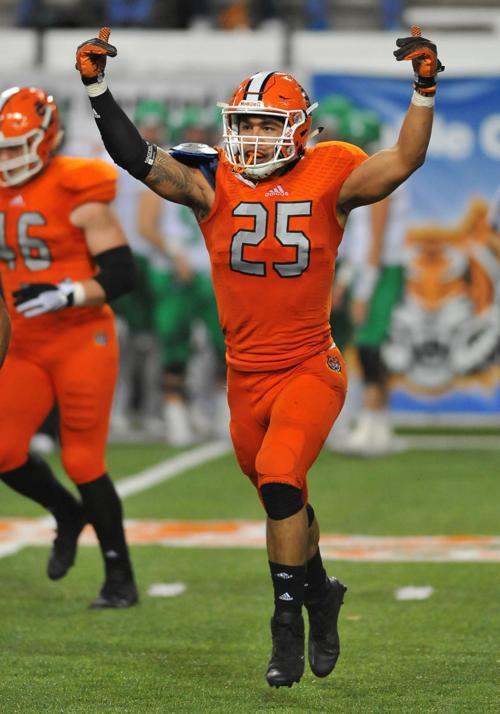 "It was a huge honor when (head coach Rob Phenicie) told me, I couldn't believe it," said Martin, a three-year starting linebacker who was honorable mention all-conference in 2016. "I'm thinking, you might as well wait 'til next year, I'm a senior, the number will be open and you can pick whoever you want. And he was just like, no, we really think you should be the one to start it off. You've been a great leader here for us, and we think you'd be a good first candidate. It was a huge deal. It was great for me."
At season's end, Martin had an important decision to make. He considered passing the number to a few of his defensive comrades, but decided on fellow linebacker Graves, who, with Martin, has been one of ISU's best defensive players in recent years. The lockered cleats confused Graves at first, but eventually he caught on, and Phenicie's official announcement sealed the deal.
Graves previously wore 38 and admitted he was, at first, averse to the change. But the honor, coming from someone he admired as much as Martin, carried prideful weight. Graves debuted his new number during ISU's spring practices.
"No one outworked Joe, no one loved football more than Joe," Graves said. "Even just him wanting me to wear it was an honor. That's now a standard I have to live up to and then pass it on."
Phenicie decided to start the tradition sometime after meeting Jackson at Pocatello's Hometown Heroes event in 2017. Then-ISU football player Alvin Delve was awarded a one-time scholarship at the event, as his journey of overcoming his family's financial struggles and brief homelessness and continuing his education mirrored Jackson's pursuits.
Before that, ISU's last tribute to Jackson was the annual Marcus Jackson Award, which was given from 1997-2010. ISU's players and coaches voted each spring to award one recipient who "best personifies the athletic ability that Jackson showed, as well as the courage he showed throughout his ordeal."
At first, the recipient wore Jackson's initials on their jersey. Over time, the honor was diluted to a plaque, which could quickly be misplaced or forgotten.
"It really affected me, meeting (Jackson)," Phenicie said. "It's one thing to hear about him, but when you meet him in person, it's like, we gotta do something for this guy. We want him to be recognized."
The new honor also gives Idaho State a sense of tradition, something Phenicie has made a priority since he took over as head coach in 2017.
"To hear they were going to continue with it, and the way they're going to do it, I thought that was awesome," said former ISU player Hunter Rodriguez, who won the award in 2006. "I thought it was great for everyone, and it was a great honor for Marcus Jackson for what he went through and ended up accomplishing.
"That was one of the few traditions we had for a long period of time."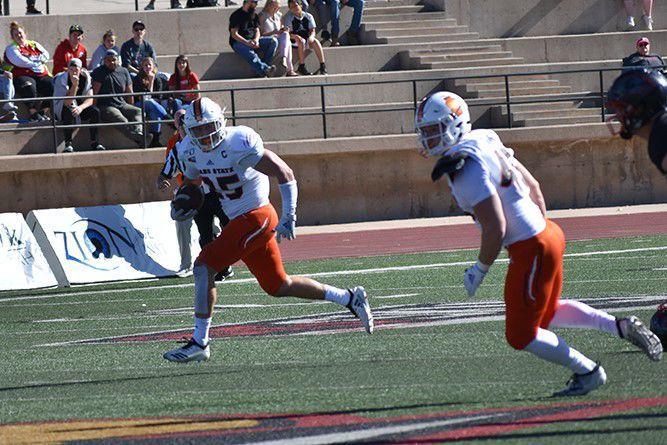 ***
Jackson spent the second half of his final football game at the Bannock Regional Medical Center. He pleaded with doctors to leave him in his Idaho State jersey as they tried to cut it off of his body, explaining that he needed it for the next game.
As the second quarter wound down in ISU's home game Sept. 21, 1996, against Western Montana, Jackson lunged at the legs of Western Montana's ballcarrier attempting to tackle him. Jackson's helmet collided with the ballcarrier's knee, snapping Jackson's head backward.
He was momentarily knocked unconscious and immobilized before medical staff removed him from the field on a stretcher. At the hospital, X-rays showed two of Jackson's cervical vertebrae were fractured.
ISU went on to win the game 47-0. The following Monday, then-Bengals coach Brian McNeely met with his players to tell them the news: Jackson was paralyzed from the neck down.
"The general morale, as you would expect, is low," McNeely told the Associated Press. "Most of our kids are in a state of shock."
Jackson's football career was suddenly over, but life carried on. He eventually returned to Idaho State and earned his bachelor's degree in 1999. In 2004, he founded the Only the Strong Foundation, which was inspired by Jackson's late mother, Catherine Jackson, who was an educator for nearly 40 years.
The foundation is still going strong 15 years later, providing scholarships, school supplies, financial aid workshops, tutoring, youth sports and other programs to Denver-area youths.
"Me getting my education was all (my mom) really wanted," Marcus Jackson said. "Starting this foundation and doing things with the kids, that was all my mom. She's the inspiration for it all."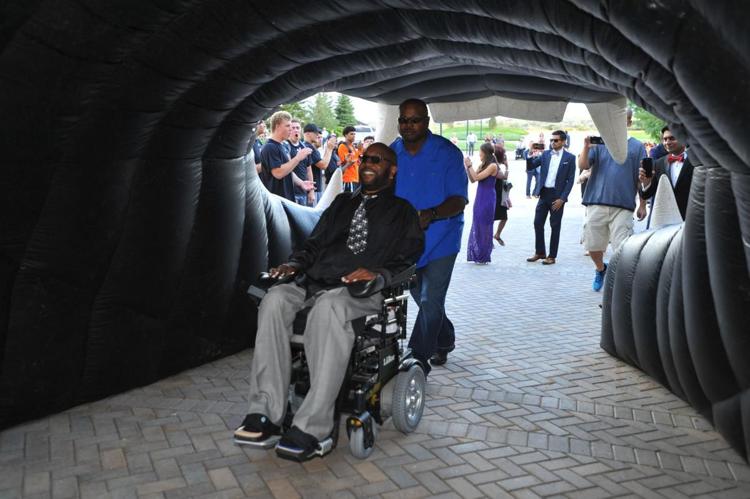 Jackson says he wouldn't do anything differently on his life-changing tackle. "I'd still play it the same smart, aggressive way," he said. He didn't know about ISU's new tradition until the week of ISU's senior-day game against Eastern Washington, but called it "humbling" and "an honor."
Because of him, No. 25 still roams ISU's defense at Holt Arena. Phenicie plans to keep it that way.
"He said that it's going to carry on, whether the staff gets fired here, God forbid, or they leave," Graves said. "It's something that they'll carry on."