With Idaho State's 2019-20 men's basketball season in the books, college basketball players across the country already on the move and recruits committing to colleges, it's time to look back on some facts and figures from the season, as well as who's joining the Bengals and who's playing next season elsewhere.
MOCSAN AMONG 5 IN TRANSFER PORTAL
Five ISU players entered their name in the transfer portal within days of the season ending, including Balint Mocsan, who was penciled in as a key returner for the Bengals next season.
Mocsan, who missed this past season while recovering from offseason shoulder surgery, was one of ISU's best all-around players as a junior in 2018-19, averaging 11.3 points, 2.1 rebounds and 2.1 assists per game while making 43.0% of his 3-pointers.
He was cleared to practice in full midway through this past season, but elected to use his redshirt and save his final year of eligibility for a full senior season.
In his 89-game Idaho State career (61 starts), the 6-foot-3 guard from Hungary averaged 9.0 points and 2.4 rebounds per game while shooting 42.6% on 3s — the second-best mark in ISU history.
Coreyoun Rushin, Lyle Sutton, Nico Aguirre and Landon Bowman also entered the transfer portal.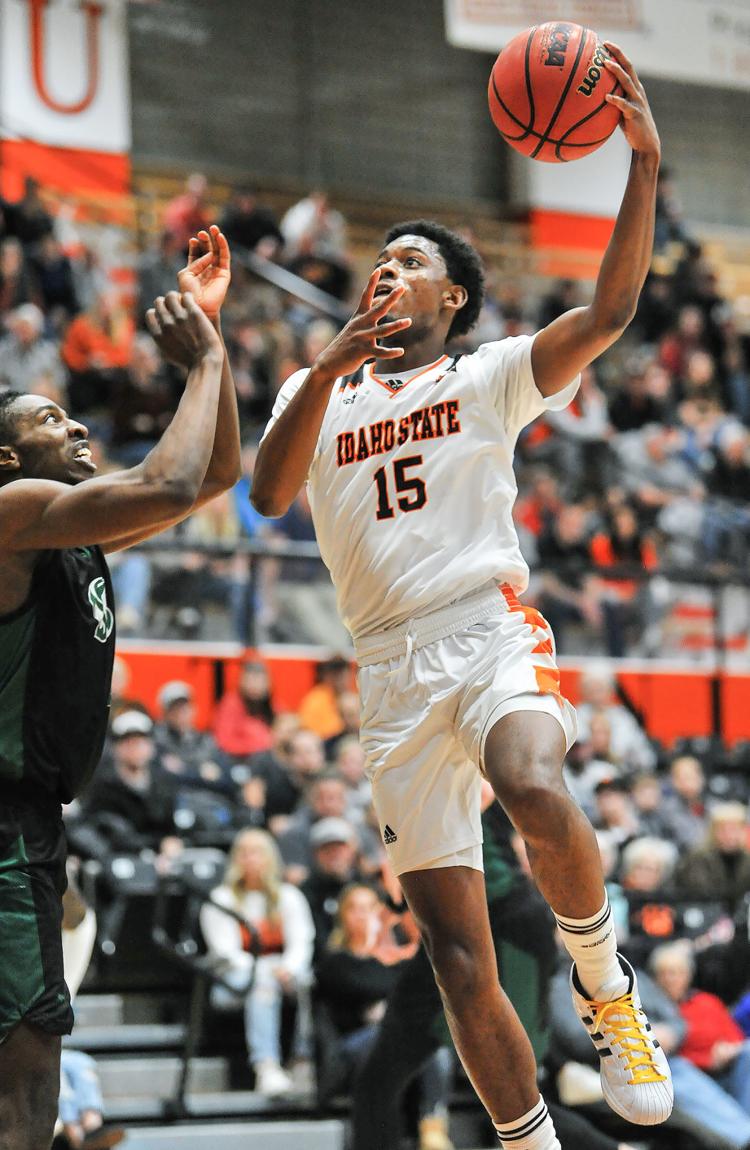 Rushin is the most significant loss of that group. The sophomore, who came to ISU this past season after playing his freshman year at the College of Southern Idaho, started eight games, averaging 3.9 points and 3.2 rebounds per night as a high-flying hustler and one of the team's best defenders. His most memorable game at ISU was the Jan. 16 overtime loss to Weber State at Reed Gym, when he scored eight of ISU's final 12 points in regulation, including the game-tying layup with 28.5 seconds left.
Sutton departs ISU after four seasons (one redshirt) at Idaho State. The 6-foot-2 Rexburg native scored 53 points in 40 games as a Bengal, and his best game was his last.
Sutton had a career-high 10 points and a career-high four rebounds in the Jan. 9 home loss to Southern Utah. He suffered a hand injury during that game and missed the rest of the season.
Aguirre, who also came to ISU from CSI, averaged 2.3 points and made 7 of 18 3-pointers (38.9%) in 18 appearances.
Bowman, who was an all-state high school player at Watersprings in Idaho Falls, did not play for the Bengals and heads to his next school as a redshirt freshman.
STUTZMAN LEAVES ISU AS ONE OF TOP 3-POINT SHOOTERS
Jared Stutzman splashed onto the scene as an elite 3-point shooter in 2017, and he ended his Idaho State career as one of the school's best marksmen.
The senior made 42.3% of his 3s at Idaho State, ranking fourth in ISU history. He also ranks sixth in 3-pointers made (159) and seventh in 3s attempted (376).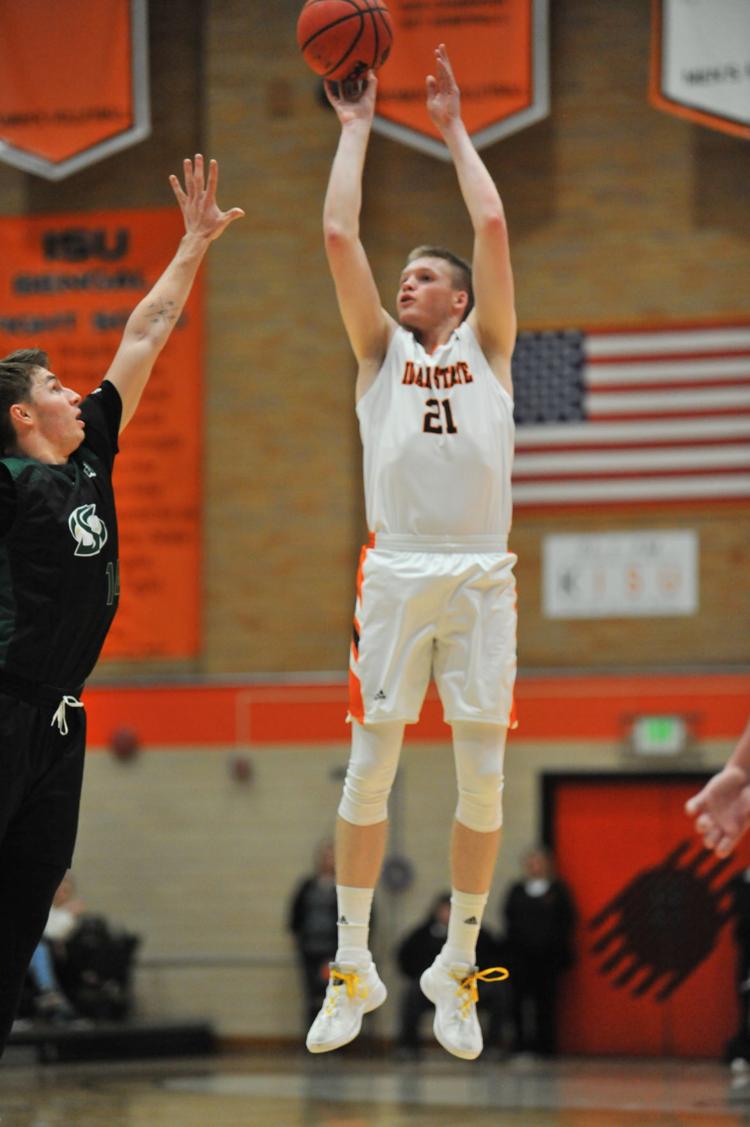 His 52.0% 3-point clip from the 2017-18 season still stands as the best in ISU history.
The Bengals had several statistical totals this season that are intriguing in the context of the program's recent history.
- Their average possession length (18.6 seconds) was their longest since the 2012-13 season — Bill Evans' first as ISU's head coach.
- Their 192 made 3-pointers were their fewest since the 2014-15 season. ISU set single-season school records for made 3s in 2017-18 and 18-19.
- Opponents made 48.3% of their shots, the most since the 1997-98 season.
- The Bengals' average rebounding margin was plus-0.8 per game, their best since 2013-14.
- Their average turnover margin of minus-2.2 per game was their worst since 2007-08.
- Their 65.6% free-throw shooting was their worst since 2014-15.
- ISU ranked in the top 100 in Division I in field-goal percentage (45.6, 75th), 3-point percentage (34.8, 97th) and personal fouls per game (15.3, 34th-fewest).
- Tarik Cool, Malik Porter, Chier Maker and Stutzman all averaged more than 10 ppg, while Porter, Maker and Chidi Udengwu all averaged more than five rebounds per game. ISU hadn't had four players average at least 10 points and three players average at least five rebounds in the same season since 2000-01.
- Cool (12.6 ppg) and Porter (11.9 ppg) were ISU's top two scorers as newcomers to the program. That hadn't happened since Scott Henry and David Schroeder led ISU in scoring as newcomers in 2002-03.
- ISU's 12-game losing streak was its longest in a single season since 1964-65. That team also lost 12 games in a row. No ISU team has ever lost more than 12 consecutive games in a season, according to ISU's online record book.
- All of the 12 losses during this year's slump were against Big Sky Conference opponents, setting a new program record for consecutive conference losses.
BENGALS GET THREE VERBAL COMMITMENTS
Three recruits recently announced their commitment to Idaho State via Twitter, joining the five who have signed National Letters of Intent to give the Bengals a prospective incoming class of eight players.
The first to announce was Gedeon Buzangu, a 6-foot-8 forward who just completed his sophomore season at Miles Community College in Miles City, Montana. Buzangu averaged 14.3 points and 10.0 rebounds per game this past season for the Pioneers, who lost to Dawson Community College in the Region XIII championship.
Next was James Carlson, a 6-foot-9 forward who just completed his sophomore season at North Idaho College. The Coeur d'Alene native averaged 10.2 points and 4.7 rebounds per game, while shooting 50.2% from the field.
The most recent commitment came from Agwa Nywesh, an incoming freshman from Austin, Minnesota. The 6-foot-2 guard was a Minnesota Mr. Basketball finalist, averaging 14.7 points, 4.4 assists, 4.1 steals and 3.8 rebounds per game, according to the Austin Daily Herald.