POCATELLO — Idaho State head coach Rob Phenicie talked all week about the need for the Bengals to defend their home field, particularly this week with North Dakota coming to Holt Arena for homecoming.
Saturday, his team did that — emphatically — stifling the Fighting Hawks' offense and slicing their defense to send a rabid homecoming crowd of 8,731 home happy with a 55-20 win.
"I thought the crowd was awesome," Phenicie said. "We want to protect this turf. This is our field. We had a couple of radio commentators on some podcast this week making fun of (Holt), calling it a barn. I told our team that. I said, 'You know what, but it's our barn.'"
Members of that crowd — the 10th-largest for a game at Holt since 2005 — saw the Bengals score 34 unanswered points over the first, second and third quarters, turning an early 7-0 deficit into a 34-7 lead and exorcising, with prejudice, the demons of last week, when Montana went on a 59-3 run to close a 59-20 win over ISU in Missoula.
On Saturday, it was the Bengals slowly gathering momentum, rolling downhill and crushing everything in their way as the crowd went crazy.
"We were extremely prepared coming into this, and I feel like in our home atmosphere, we all felt really comfortable," quarterback Matt Struck said. "Everything just clicked for us, and we were out there having fun. It was fun to put on a show for our fans."
Struck finished with 396 yards passing and five touchdowns, his third game in five starts with four or more passing scores. Idaho State nearly had three receivers go over 100 yards — Tanner Conner had 122, Mitch Gueller 115, and Michael Dean narrowly missed with 91.
All three had a touchdown — Struck's five TD passes went to five different receivers — but Gueller had the biggest moment. His 39-yard catch in the second quarter made him the all-time leading receiver in Idaho State history, with 2,901 yards to Rodrick Rumble's 2,863.
"It feels great to get a win, and it makes it a little better doing that," Gueller said. "Hearing it over the PA and everybody cheering, it's a cool feeling."
That came in the middle of Idaho State's incendiary run of six-straight scoring drives to start the game.
North Dakota (3-3) took the opening kickoff and drove 75 yards for a touchdown, with James Johannesson scoring on a 3-yard run.
At that point, it looked like a continuation of the previous week for Idaho State, when the Bengals crumpled at Washington-Grizzly Stadium.
This time, though, they had an immediate counterpunch.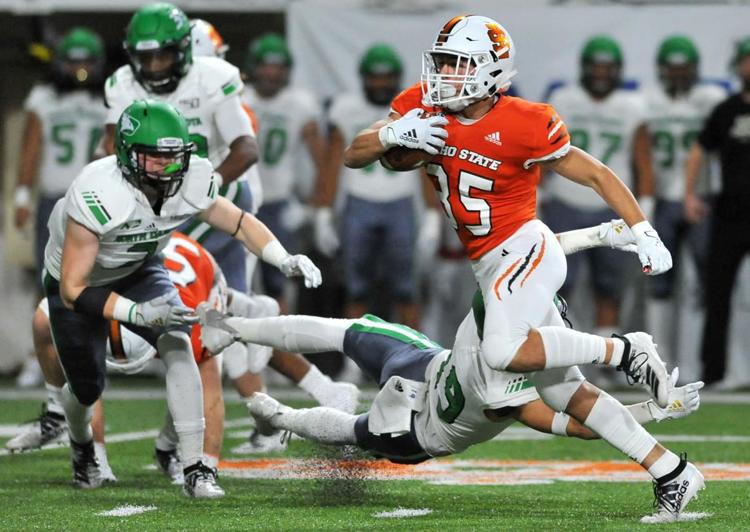 Freshman Malakai Rango took the ensuing kickoff inside the 5-yard line and found a crease up the middle. A few jukes and 74 yards later, he was finally brought down at the North Dakota 22.
The ISU offense couldn't capitalize, but Kevin Ryan knocked in a 39-yard field goal to get the Bengals on the board, and from that point it was all Idaho State.
Anthony Ricks came up with a big tackle to stop a UND receiver a yard short on fourth-and-11 in ISU territory, and Struck led a 16-play, 76-yard drive from there, hitting Gueller in the back of the end zone for a 6-yard touchdown.
North Dakota drove into ISU territory again, but went backwards, mostly on penalties, and ended up in a fourth-and-32.
A good punt was downed at the 1, but it took Idaho State just six plays to score anyway.
A play fake on a run-pass option brought the UND safety up, and Tanner Conner zoomed into the vacated space behind him for a quick slant and a 73-yard catch-and-run touchdown — the longest offensive play of the year for Idaho State.
"I feel like coach Phenicie and (offensive coordinator Mike) Ferriter are putting us in positions to make our jobs as simple as possible," Struck said. "We just have our reads and execute based off that."
Dean completed the trifecta of touchdowns for the starting receivers on the next drive, catching a 27-yard score.
After a quick three-and-out for the Fighting Hawks, Idaho State had time for one more score before halftime, and Struck floated the ball to tight end Austin Campbell for a 3-yard touchdown to make it 31-7 at the half.
Idaho State outscored North Dakota 28-0 in the second quarter, with 287 yards to the Fighting Hawks' 45.
"If we're playing well, I would hope we're hard to defend," Phenicie said. "We came back, after being embarrassed last week, we came back and wanted to show everybody who we were."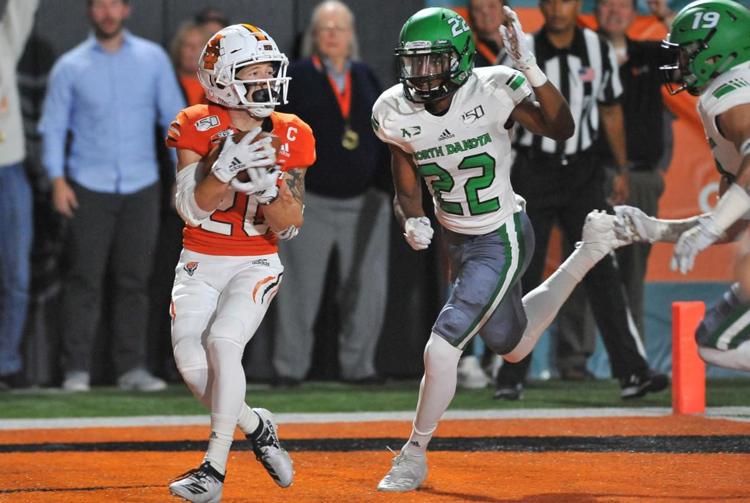 The second half was close to a formality after that.
Ryan made a 44-yarder, his career-long, on the opening drive to snap a streak of four-straight touchdown drives for Idaho State.
North Dakota finally got back on the board during a crazy sequence late in the third quarter.
On fourth-and-goal from the 6, Idaho State safety Adkin Aguirre, who had an interception earlier in the quarter, delivered a hard hit to force an incompletion in the end zone, but was penalized and ejected for targeting. Aguirre must sit out the first half of next week's game at Idaho, per NCAA rules.
With a new set of downs, North Dakota scored on a pass from Nate Ketteringham to Brock Boltmann. After the 2-point try failed, ISU's other starting safety Christian McFarland was also ejected, this time for an unsportsmanlike conduct penalty.
Idaho State finished the game with junior Hawaii transfer Manase Time and sophomore Zach Wright at safety.
"We just have to deal with it," Phenicie said. "Next guy up, the next guy picks up the flag and goes."
Boltmann's score made it 34-13, but Idaho State took under two minutes to score again, with Struck finding Rango for a 10-yard touchdown, the first of the freshman's career.
Idaho State's next response was even quicker. After Ketteringham hit Noah Wanzek for a 33-yard score, Ty Flanagan ran for a career-long 75-yard touchdown on ISU's first play.
Flanagan finished with 20 carries for 163 yards, another career-high.
Idaho State's defense capped the scoring on North Dakota's next drive when linebacker Oshea Trujillo stepped in front of a pass to the flat and returned the interception 27 yards for a touchdown. It was Idaho State's first game of the year with multiple takeaways.
"We just wanted to bounce back (after last week)," Trujillo said. "We knew that's not our style of play. ... I was just getting to the flat, got under it, and everything else happened from there. I trusted my speed after that."
Idaho State (3-3, 2-1 Big Sky Conference) travels to Moscow to take on rival Idaho.
- North Dakota ran for just 92 yards, of which more than half (54) were in the fourth quarter when the game was long-decided.
"One thing we say is, run the ball and stop the run," Phenicie said. "(Defensive coordinator) Roger Cooper put together a great plan, and forced them to be one-dimensional. If you do that to a team, that's a good thing."
- For the second week in a row, Idaho State went over 100 yards in penalties, with 10 for exactly 100 yards.
"That's disappointing," Phenicie said. "That's ridiculous, 10 penalties, and a couple of them were really not smart. We're going to address that and get it fixed."
- Freshman left tackle Jacob Angel, already filling in for the injured Jack Eli-Tufono, went down in the first half. Left guard Jacob Molenaar shifted to tackle and redshirt freshman Terron Carey, nominally the backup center, came in at guard. It was the fourth offensive line combination Idaho State has used for a significant amount of time in just six games this year. Carey's brother, Terrence Carey, also played at Idaho State, graduating in 2015.
"Terron Carey played more than he has all year, and he's going to be a fine offensive lineman here," Phenicie said. "He's very quick, very tough."
- Rango's kick return was the longest for Idaho State since 2010. The Bengals usually fair catch kickoffs and take the ball at the 25, but both Rango and Isaiah Walter had a return Saturday. Walter's went for 22 yards. Rango also took over for Dean on punt return duties in the second half, fair catching a few without incident.
- Conner's 73-yard touchdown was the longest offensive play of the year for Idaho State, and ninth-longest since 2011.
- Saturday's win was ISU's first against North Dakota in Pocatello. The Bengals were previously 0-4 at home head-to-head.