Idaho State takes on FBS No. 11 Utah on Saturday at Rice-Eccles Stadium in Salt Lake City. The Utes are coming off their first-ever uncontested Pac-12 South championship in 2018 and might be even better this year — their No. 11 ranking in the AP Top 25 is the highest they've been since Week 12 of 2016, when they also came in 11th. Here are three keys to the game for the Bengals, plus three players to watch for each team.
Per Pro Football Focus, senior Utah running back Zack Moss, listed at 5-foot-10, 222 pounds, has broken 26 tackles in two games, seven more than anyone else in the FBS. With the push that Utah's gigantic offensive line can provide, the Bengals will likely be giving up yards in the run game before they can even get hands on Moss, and if they gift him yards after the first hit, it will make their jobs even more difficult.
Giving up consistent yardage in the run game is one thing, but broken and missed tackles against runners as good as Moss and senior quarterback Tyler Huntley (6-foot-1, 205 pounds, 77 yards rushing through two games) means big-play touchdowns and the score getting out of hand.
"(We have to) stop his feet and fly to the ball," ISU linebacker Kody Graves said about Moss. "Everybody flying around, stopping his momentum."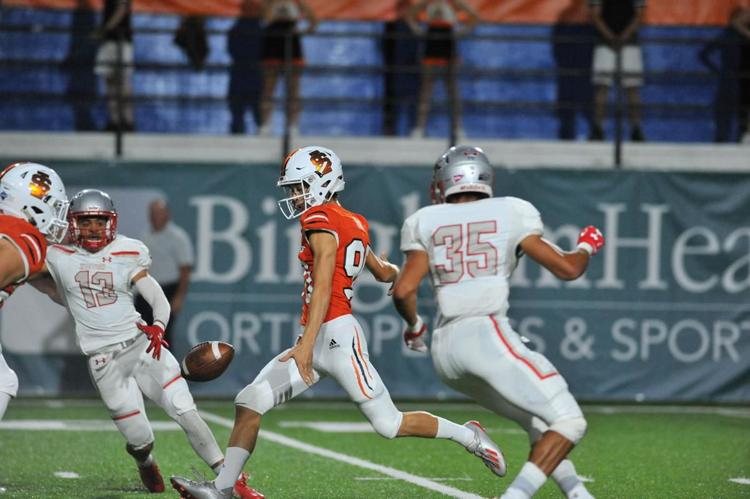 Special Teams Being Special
As Idaho State nearly found out to its detriment last week, big special teams plays are one way for a lower-division opponent to even the playing field. The Bengals gave up a big kickoff return and a blocked punt against Division II Western Colorado, and although neither play led to points in a 38-13 ISU win, they could have been big momentum-changers if the Mountaineers' offense had been just a bit sharper. This is one area that head coach Rob Phenicie wants sharpened up, even it doesn't lead to a big play Saturday, as the Bengals pride themselves on special teams. The so-called "third phase of the game" can sometimes come down to effort and hustle, rather than pure size and athleticism, and those are the areas that ISU might be able to match Utah in. With Michael Dean back returning punts — assuming ISU can force a couple — the high point of this game for the Bengals might just come on special teams.
No matter what happens on Saturday — and it's unlikely to be much of anything good for Idaho State — there will be a full 10 games left on the schedule for the Bengals. It's a rare opportunity for teams in the Big Sky Conference to go against the level of talent that Utah is putting on the field this year, and the Bengals can use that experience to make themselves better going forward. Gaining confidence from the good moments and learning from the bad ones could have a big impact down the road.
"I just want this game to be a stepping stone for us, not just as a defense, but especially for my D-linemen, to build confidence for the rest of the season," ISU defensive line coach Lei Talamaivao said. "So that's why I tell them, it's all about preparation and hard work each and every single day until the game, and then you put it on the field and whatever happens, happens. But I try to tell them, right, this game has to be a stepping stone, a confidence builder, to go into our Big Sky (schedule), and hopefully great things this year."
Tyler Huntley (Sr. QB) — Moss' hot start (267 yards in two games) has gotten a lot of headlines for Utah's offense, but Huntley is just as important. The senior from Dania, Florida, has had an up-and-down career at Utah, taking over the starting job as a sophomore in 2017 but missing three games that year and five more in 2018. He wasn't considered to be in the absolute top class of Pac-12 quarterbacks going into the year, but he's immensely talented and may be making people reconsider with his early-season performance. He's gone 27-of-35 passing for 320 yards and a touchdown in wins over BYU and Northern Illinois, adding 77 yards on 11 carries and a touchdown on the ground. Because of Utah's run-first offense, his passing stats don't jump off the page, but he's a weapon running the ball and can put up big lines through the air, like last year when he went 22 of 29 for 341 yards and four touchdowns in a 41-28 win over USC.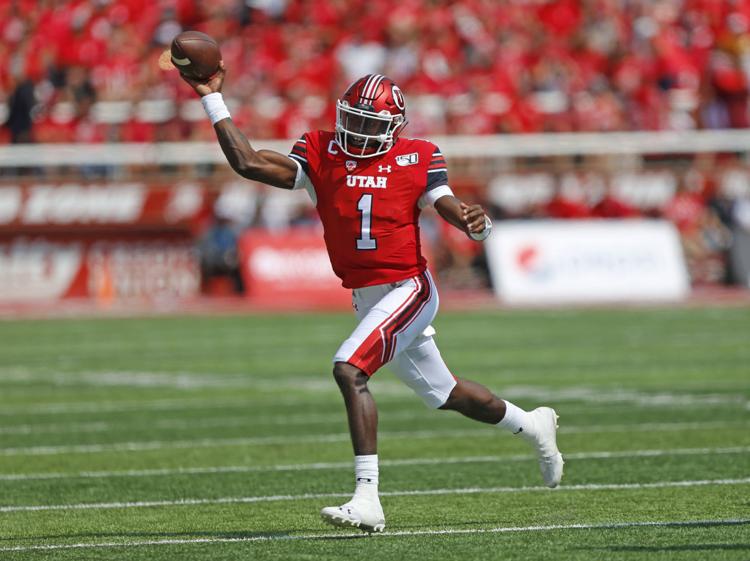 Bradlee Anae and Leki Fotu (Sr. DL) — The conversation starts with these two for the Utes. The most recent in a long line of terrifying defensive line stars at Utah, both were voted preseason first-team all-Pac-12. Anae, a hyper-athletic pass rusher at 6-foot-3, 265 pounds, had seven sacks in 2017 and eight in 2018, leading the Utes both years. His 17 career sacks coming into the year ranked fifth among returning FBS players, and he's already off to a blazing start, with three sacks last week against Northern Illinois. Fotu, at 6-foot-5, 335 pounds, is the immovable force in the middle of Utah's D-line. Even operating as a defensive tackle, he was nearly unblockable in 2018, with 5 1/2 tackles for loss, three sacks and a first-team all-Pac-12 nod. Like Anae, he's been off the blocks quickly in 2019, with two TFLs through two games.
Britain Covey (Jr. WR) — Covey, at 5-foot-8, 170 pounds, is one of the most electrifying players at any position in the Pac-12, a Swiss Army knife capable of big plays at a second's notice. As a freshman in 2015, he was named a first-team Freshman All-American by various publications at both wide receiver and punt returner after leading the Utes in receiving yards and breaking a 77-yard punt return touchdown against Fresno State. Following a two-year mission to Chile, he repeated the trick in 2018, leading Utah in receiving again with 60 catches for 637 yards while also being named an all-Pac-12 return man. To add to his resume, he was also 3-for-3 passing for 71 yards and two touchdowns. Who knows where Covey will turn up Saturday, but if he gets free for even a half-second, it'll be bad news for the Bengals.
Players to Watch — Idaho State
Jacob Molenaar (Sr. OL) — It's uncertain where Molenaar will be playing Saturday, but regardless, he'll have to lead the way for Idaho State's offensive line. If tackle Jack-Eli Tufono is still out with the injury he suffered against Western Colorado, Molenaar will likely be at left tackle, tasked with being the point person against Utah's devastating pass rush. If Tufono is back, Molenaar will slide back to his natural position at left guard, where he'll have to lead the way on moving Fotu and getting some kind of push for the Idaho State run game. Either way, at 6-foot-4, 327 pounds, he probably stands the best chance of anyone on ISU's offensive line of winning his matchup against the Utes and their size on the D-line.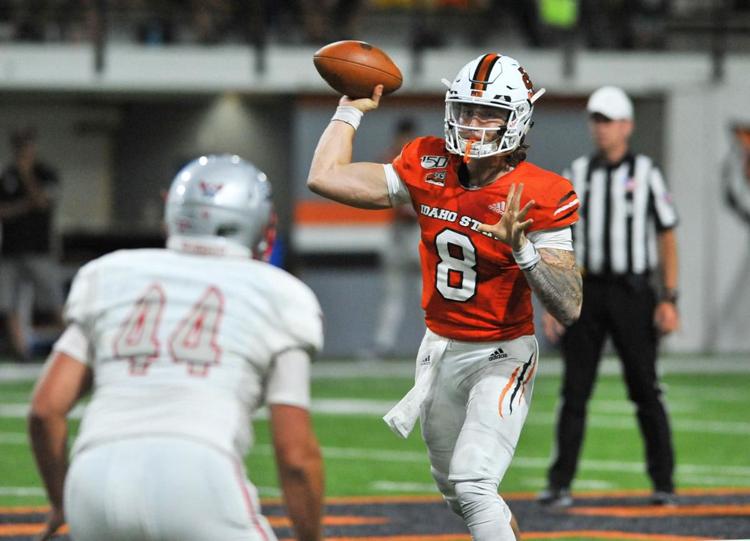 Matt Struck (Jr. QB) — Last week, the big question was answered — Struck was the starter for the Bengals. Now, how's this for your second-career start, rookie? Struck was up-and-down at times against Western Colorado but showed a knack for hitting the big play, finishing with 402 yards passing and five total touchdowns. Against Utah, he'll have to keep looking for that — although he'll likely get a great deal fewer chances — while eliminating the mistakes and inconsistency that he also showed at times against the Mountaineers. He missed some short and intermediate throws last week, struggling at times to keep the offense on schedule, and also turned the ball over twice. With Utah's pass rush, he'll be pressed for time, and with the Utes' secondary, he'll be facing better ballhawks than he ever has before. It'll be hard enough getting receivers open against Utah, and if Struck can't hit them, it'll mean a lot of quick three-and-outs and a lot of points on the other side of the scoreboard. On the other hand, it's a brilliant opportunity to show what he can really do, and even hitting a few big plays or leading a few long drives against Utah would be an impressive performance.
Kody Graves (Sr. LB) — On the plus side for Graves this week? The middle linebacker won't have to deal with much of a chess match between him and the offense. No, the Utes are lining up to run the ball right down Idaho State's throat, and they'd prefer to do it as simply as possible. Of course, that means that he'll be getting a lot of runs headed his way, and at 6-foot-1, 215 pounds, he's at a physical disadvantage against Moss. Betting against Graves is a very bad idea, but he'll have to be at the very top of his game Saturday, both as a physical runstopper in the middle of ISU's formation and as a leader on the defense. More than anyone else on the unit, Graves is smart, level-headed and always plays in control, things which could be in short supply for the Bengals Saturday in the middle of 40,000 screaming fans.