Idaho State football finishes its 2019 home schedule on Saturday, hosting the Eastern Washington Eagles at Holt Arena at 2:30 p.m. Here are three keys to victory for the Bengals, as well as three players to watch for each team.
Twenty seniors will play their last home game in Holt Arena on Saturday. It's a situation that naturally leads to a lot of emotion, which can tip the scales in either direction for Idaho State. Getting fired up and savoring the moment? Good. Getting too worried about going out on the right note? Could be bad, depending on how that pressure builds. Another complication is that whoever starts at quarterback, whether that's junior Matt Struck or freshman Sagan Gronauer, is probably better off in as low-pressure an environment as possible. Given that's the most important position on the field, it'll be interesting to see how QB1 manages the elevated stakes.
Eastern Washington junior quarterback Eric Barriere might be the most unique offensive threat in the Big Sky Conference. He leads the FCS in total offense with 353.3 yards per game, and has the tools to move the ball downfield basically any way he wants to — by airing it out, with shorter, precise throws, by scrambling or with designed quarterback runs. This year, he has five games with over 300 yards passing — including three of his last four — and two with over 100 yards rushing. He's thrown 24 touchdowns against four interceptions — including three five-touchdown games — but his best highlight of the season is a 92-yard touchdown run against Sacramento State. Idaho State cannot let Barriere loose.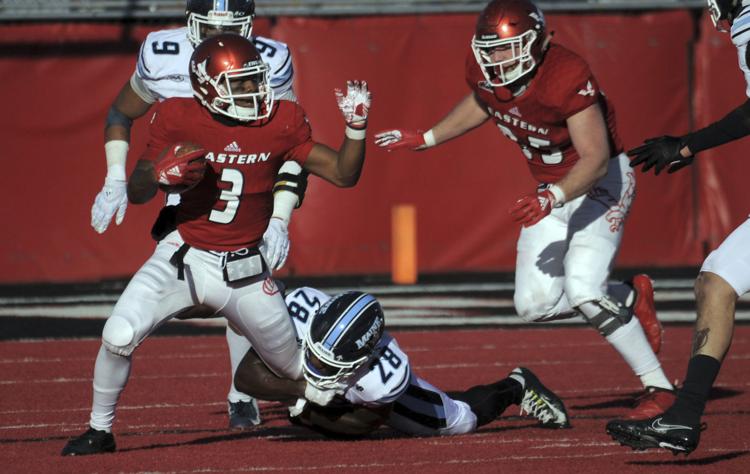 The best way to do that, of course, is to not let Barriere have the ball at all. Trying to match Eastern's quickstrike offense, as Northern Arizona found out last week in a 66-38 loss, is a recipe for getting 66 points scored on you, and nothing lets the Eagles put up points faster than a series of quick three-and-outs from the other team. In all three of EWU's losses to Big Sky teams (Idaho, Sac State, Montana), the other team has had more time with the ball. Idaho State relied on the running game to pretty good effect last week against Northern Colorado, particularly in the second half, and running backs Ty Flanagan and Malakai Rango, not to mention a physical offensive line, seemed to enjoy it. Expect the Bengals to try that again, and for the game to turn on whether the backs can grind out first downs.
Players to Watch - Eastern Washington
Antoine Custer Jr. (Sr. RB) — Custer made an appearance on the all-Big Sky list in each of the previous two seasons (second team in 2017 and honorable mention in 2018). He's been even better this year with nearly 85 yards per game, fifth in the conference. At 5-foot-9, 190 pounds, he's more of a big-play back than an every-down guy, which is reflected in his boom-or-bust performances this year. Custer has three games of over 130 yards, but has been under 70 in every other game, and two games with three touchdowns, but no other game with more than one. Idaho State has given up season-high performances in the previous two weeks to Southern Utah's Thomas Duckett (91 yards) and Northern Colorado's Milo Hall (118), and will be very interested in keeping Custer on the "bust" side of his personal ledger.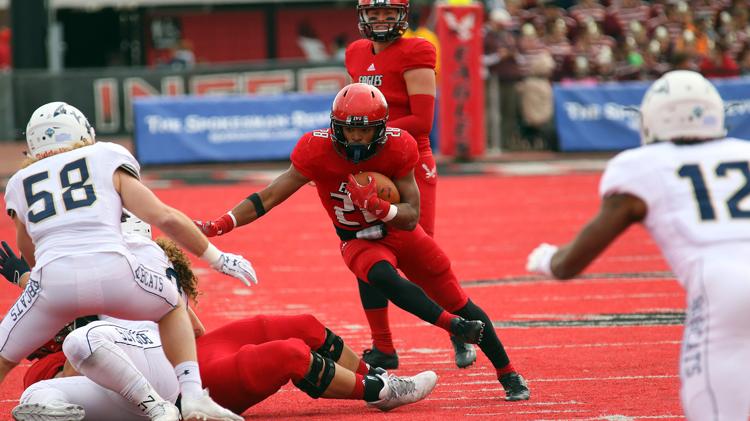 Talolo Limu-Jones (Jr. WR) — Eastern has a deep and experienced wide receiver group, and Andrew Boston, Jayson Williams, Dre'Sonte Dorton and Johnny Edwards IV could also get a nod here. But Limu-Jones has been the Eagles' big-play threat, leading the team with 22.9 yards per catch and six touchdowns. It's been a breakout year for the junior, who has nearly as many touchdowns as he had catches last year (seven). At 6-foot-5, 220 pounds, he's a former tight end and could physically overwhelm ISU's corners. After going without a catch in four of Eastern's first five games this season, he has 96, 97, and 147 yards in the Eagles' last three games, with four touchdowns total between those three contests.
Dehonta Hayes (Sr. S) — Hayes is one of the best stories in the Big Sky this season after, along with teammate Keith Moore, surviving a preseason shooting in downtown Spokane, Washington. It left Hayes with a 9-millimeter bullet in his neck that's too dangerous to remove, but the safety has bounced back to lead the Eagles in tackles with 94, a mark that's third overall in the conference and first among Big Sky defensive backs. He also has two tackles for loss, two interceptions and a forced fumble. As can be guessed from his stats, Hayes, at 5-foot-11, 195 pounds, likes to play in the box, but can also cover downfield.
Players to Watch - Idaho State
Ty Flanagan (Sr. RB) — If Idaho State does want to grind the clock by running the ball, that falls primarily on Flanagan (and, of course, the offensive line). There might not be a back in the Big Sky better suited to do so. Flanagan went over 100 yards on the ground for the fifth time in six games against Northern Colorado, regaining his spot over Weber State's Josh Davis and Cal Poly's Duy Tran-Sampson as the leading rusher in the conference in the process. He's now at 97.4 yards per game on 5.2 yards per carry. In conference play, he's been even better — 115.3 yards per game on an even 6.0 yards per carry. He'll need to have a big game for Idaho State to win on Saturday, but even more than that — what he's done this season is special, and this is the last chance for most Idaho State fans to watch it in person. Savor the opportunity.
Austin Campbell (Sr. TE) — Campbell was an efficient safety valve for Struck early in the season as the quarterback settled in, with multiple catches in the first three games Struck started. His role in the passing game has been lessened since then, but he could be due for a revival Saturday. If Struck starts, the embattled quarterback might be looking to go back to basics. If it's Gronauer, expect a lot of short throws baked in to the offense as the coaches try not to overburden the freshman. Either way, it could mean targets for the reliable tight end. As a great run-blocking tight end, he'll also have role if ISU goes run-heavy.
Kody Graves (Sr. LB) — Graves vs. Barriere is a tasty matchup on paper. The Idaho State linebacker will have his hands full trying to match wits with Eastern's signalcaller, and hopefully find a way to slow the Eagles' offense down. Graves has been quite good in recent weeks, with 14 tackles against Southern Utah and 11 more against Northern Colorado, two of his three double-digit tackle games this year. He also added an interception against the Thunderbirds. Eastern Washington, just by the nature of its offense, will scheme to put Graves in space more than those other two teams, and his tackling will need to be solid.