It's been an offseason of upheaval for the Idaho State football team, which lost, among other players, its leading rusher, two top receivers, four starting offensive linemen and the entire starting secondary. In a normal year, the depth chart would get its first chance to shake out with spring football, but the coronavirus has nixed those plans. That hasn't stopped speculation about what the Bengals will look like when they take the field again. Here, the Idaho State Journal takes a first look at ISU's potential depth chart, and the major players to fill vacant roles. Today, we're covering the offense, with a look at the defense coming early next week.
The biggest name — at any position — to join ISU's roster this offseason was former Wyoming quarterback Tyler Vander Waal, who the ISU coaching staff reached out to just minutes after he put his name in the transfer portal in mid-December. That's how desperate the Bengals were for a new quarterback after Matt Struck, who put up big numbers early in the season, threw a raft of interceptions down the stretch as ISU stumbled to an 0-6 finish. It would be a shocker if Vander Waal, who threw six touchdowns and eight interceptions in 18 games over two years at Wyoming, wasn't calling the shots in offensive coordinator Mike Ferriter's fast-paced offense come fall. Listed at 6-foot-4, 217 pounds, he has the size, arm strength and pedigree to make a top-tier FCS quarterback. The question is if he has the accuracy and sense of timing to make the short, on-time throws ISU's offense requires — something Struck also struggled with at times. Vander Waal completed 49.6% of his passes at Wyoming. Behind him, if Struck can shake off his dismal finish to the 2019 season — which included six pick-sixes thrown in the final six games amid multiple benchings — he has the arm and experience to be a better backup option than most Big Sky teams can boast. Redshirt freshmen Sagan Gronauer — who split time with Struck late last year — and Dayne Koch will also be in the mix for the No. 2 snaps, especially if Struck's confidence is shot. The coaching staff likes both youngsters.
Freshman Malakai Rango came out of nowhere for ISU last season, giving the Bengals a true 1-2 punch with senior Ty Flanagan, who's since exhausted his eligibility. Rango, although not a bruiser like Flanagan at 5-foot-10, 175 pounds, initially showed explosiveness and shiftiness in the return game before breaking into the running back rotation. He ran for 100 yards in two of the final four games of the season (and 96 in a third), including going for 142 yards and a touchdown at BYU. His emergence gives the ISU running backs something to build on with Flanagan gone, and his development will be crucial in 2020. Redshirt sophomore Soujah Gasu, initially expected to fill the Rango role a year ago before the freshman passed him, will get another chance to do so this year. At 187 pounds, he could get more carries in short-yardage situations. Raiden Hunter, who retained his redshirt as a freshman last year after playing in three games, is a name coaches have mentioned unprompted in conversations about players with potential.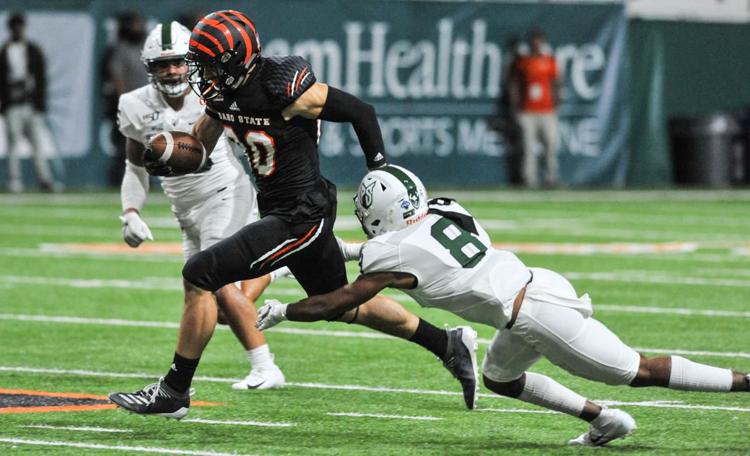 Idaho State lost two all-conference receivers from last year's roster — but the unit could still be one of the team's best, showing how the Bengals go from strength to strength with their passcatchers. Tanner Conner, newly-minted Big Sky Conference record-holder in the 60-meter hurdles, translated his top-level track speed to the football field last season, catching 47 passes for 792 yards and a team-high eight touchdowns. He can take the top off a defense, catch a quick slant and outrun everybody to the end zone or, with his muscled-up 6-foot-3 frame, out-jump corners on goal-line fades — a favorite play for Struck last season. Barring injury, Conner will be a first-team all-conference candidate as senior. DeMonte Horton, a rare freshman starter at wideout for ISU in 2018, returns from an injury that cost him the entire 2019 season, and is probably the leading option to start opposite Conner on the outside, although 6-foot-5 junior Isaiah Brimmer and senior Matt Peterson might also compete there. In the slot, 5-foot-10 senior Isaiah Walter didn't get many reps behind Michael Dean last season after moving back to the offensive side of the ball (he spent time as a defensive back), but coaches and players talk about him as a potential difference-maker. Idaho natives Josh Crane (Rexburg) and Caden Clark (Boise) could also be in the mix at inside wide receiver, while former 3-star recruit Xavier Guillory, who spent last year at Air Force Prep, could be an X-factor. But expect Conner, Horton and Walter to be the starters, and if Horton is fully recovered and Walter lives up to the hype, it'll once again be difficult to see many Big Sky schools having a better wideout trio than ISU.
With Austin Campbell graduating and Jake Johnson transferring, the Bengals return exactly one tight end who caught a pass last season — senior Nate Shubert, who had six receptions for 51 yards in 12 games. Shubert, at 6-foot-3, 235 pounds, fits what Idaho State wants in its tight ends, as he can catch and block, but he'll face tough competition from Oregon State transfer Isaiah Smalls, who committed to ISU on National Signing Day. Listed at 6-foot-4, 222 pounds, the former 3-star recruit from Los Angeles played in all 12 games as a freshman for Oregon State in 2018, finishing with eight catches for 118 yards. A freshman season like that could have set him up for future success in the Pac-12, but after playing in the 2019 season opener, Smalls missed the rest of the year with injuries and entered the transfer portal in December. He's potentially an impact player. Idaho State does like to rotate and show multiple looks at tight end more than at wide receiver, so playing time could be there for both Shubert and Smalls, as well as for sophomores Preston Helwege and Mike Davis if they're able to shoulder into the rotation.
Last year's injuries might be a blessing in disguise this year for Idaho State, as the Bengals should have both Jack Tufono and Jacob Angel healthy. Tufono was scheduled to be the starting left tackle in 2019, but went down hurt in the first game, which eventually led to the freshman Angel playing there for the majority of the season. Both have experience playing left tackle, Tufono in 2018 and Angel last year, but one could shift to right tackle. However, after losing four seniors — Dallen Collins, Jake Molenaar, Preston Holfeltz and Dakota Wilson — who each started all 12 games last year, the O-line is anything but settled. Redshirt sophomore Terron Carey, who played in seven games last year, has been groomed to take over for Collins at center. The guard spots are a complete guessing game. Sophomore John Perko and junior college transfer Tyler Clemons would be the picks right now, although any number of young guys who haven't played much — ISU has 10 offensive linemen listed as either sophomores or juniors — could also emerge. Clemons could also factor into the mix at tackle, as could massive junior college transfer Sam Tapia, who's listed at 6-foot-7, 315 pounds — ISU didn't bring in those two to sit. Expect a lot of combinations to be given a shot whenever practice resumes as ISU tries to find a group that has chemistry as well as talent.