The pass bounced off of Mitch Gueller and into the hands of Northern Iowa's Bryce Flater, taking with it Idaho State's chance at a historic upset.
Gunnar Amos' third interception of the day was the most costly as the Bengals (1-2) lost 13-6 to No. 9 Northern Iowa (2-1) in Cedar Falls, Iowa, Saturday.
It would have been the first-ever road win over an FCS top-10 team for Idaho State, which led 6-3 going to the fourth quarter in a titanic defensive struggle.
But the Panthers, who took then-ranked FBS team Iowa State to triple overtime in their season opener before blowing out Southern Utah, finally broke through with the game's only touchdown early in the fourth.
Amos, making his first-career start, threw two of his three interceptions down the stretch as Idaho State couldn't find another score. His last, with under five minutes left in the game, went through Gueller's hands and deflected right to Flater, leading to a Northern Iowa field goal to make it 13-6, and a final-minute Idaho State drive went nowhere.
"(It was) hard-fought," Idaho State head coach Rob Phenicie said. "The defense played extremely well. We held them out of the end zone when we needed to and gave our offense a chance to attempt a clock drive to get down the field to tie the game. (On offense), we have to have touchdowns. We can't have field goals."
It's safe to say that Idaho State's first non conference game against an FCS opponent in 11 years didn't go the way anyone expected.
The Bengals defense came out strong against ranked Northern Iowa and redshirt freshman quarterback sensation Will McElvain, forcing punts on UNI's first six possessions of the game while not letting the Panthers cross their own 40-yard line.
That gave Idaho State good field possession early in the game, and the Bengals cashed in with field goals on two of their first three drives, with Kevin Ryan hitting a 42-yarder and then a 35-yarder.
But Idaho State struggled to finish drives with Amos, a redshirt senior, making his first-career start in place of Matt Struck, who was in concussion protocol and not available Saturday.
The Bengals drove the ball into UNI territory on each of their first five possessions, but came out of it with just six points.
That came back to hurt them late in the first half when Amos made his first mistake. The quarterback lofted a deep ball too high and Omar Brown came down with the pick for Northern Iowa, returning it to the ISU 26.
Idaho State's defense stood strong after the turnover, but Matthew Cook kicked a 39-yard field goal for UNI to make it 6-3 at halftime.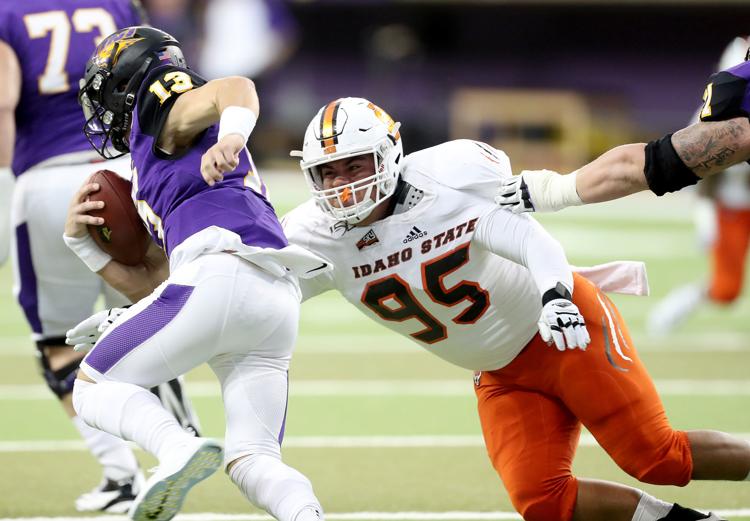 The third quarter was a stalemate, but Northern Iowa finally flipped field position on Idaho State, and it paid off for the Panthers in a big way with not even a minute gone in the fourth.
On third-and-8 from ISU's 17, McElvain was flushed right, scrambled back left, and finally found Isaiah Weston in the left corner of the end zone for a touchdown and a 10-6 lead.
Idaho State's offense, stalled out for most of the second and third quarters, made a game effort to come back.
Amos completed passes of 18 yards to Gueller and 14 yards to Michael Dean on the next drive, but with Idaho State inside the UNI 35, he stared down a slant too long and threw the ball right to Northern Iowa's Austin Wills for the interception.
After a UNI punt, Idaho State picked up two first downs on the next drive as well, but that ended with the deflected interception that led to Cook's second field goal.
ISU got the ball back one more time, down 13-6 with 2:11 left, but Amos was sacked on third down — one of five he took in the game — and his fourth-down throw was knocked down, ending the game.
Amos finished 13 for 26 for 134 yards and the three picks for Idaho State. Gueller had four catches for 53 yards, and Ty Flanagan ran for 43 on 18 carries.
Idaho State's defense held UNI to just 234 yards and 12 first downs. Connor Wills and Adkin Aguirre each had eight tackles, and Oshea Trujillo had seven, a sack and a pass breakup.
"We knew we had a good defense coming in," linebacker Kody Graves said. "This isn't surprising to us. ... I feel like our effort was good, but at the end, you have to credit Northern Iowa. They made enough adjustments on offense to win the game, and they got turnovers. We didn't get any turnovers, that's partly what we left out there. We could have gotten some turnovers to help out our offense."
Idaho State hosts Portland State at 3:05 p.m. next Saturday at Holt Arena to start Big Sky Conference play.