POCATELLO — Diaba Konate authored her most memorable performance of the season last week, scoring 32 points to drag the Idaho State Bengals back from a 24-point deficit in a 79-76 win at Northern Arizona.
In a blizzard of layups, pull-up jumpers, pinpoint passes out of ball screens and even a few 3-pointers, the redshirt freshman guard completely demolished the Lumberjacks, scoring 25 points in the second half alone.
"Usually, I overthink when I play because there's so many things I have to focus on," Konate said Tuesday. "Making good decisions, you know, passing the ball at the right moment. But in that moment I stopped overthinking and just played my basketball. ... I was really happy. I couldn't believe it." 
For some, it was a performance completely out of the blue — Konate doubled her previous career-high in points — but ISU head coach Seton Sobolewski saw it as the latest step in a long developmental progression for the talented youngster.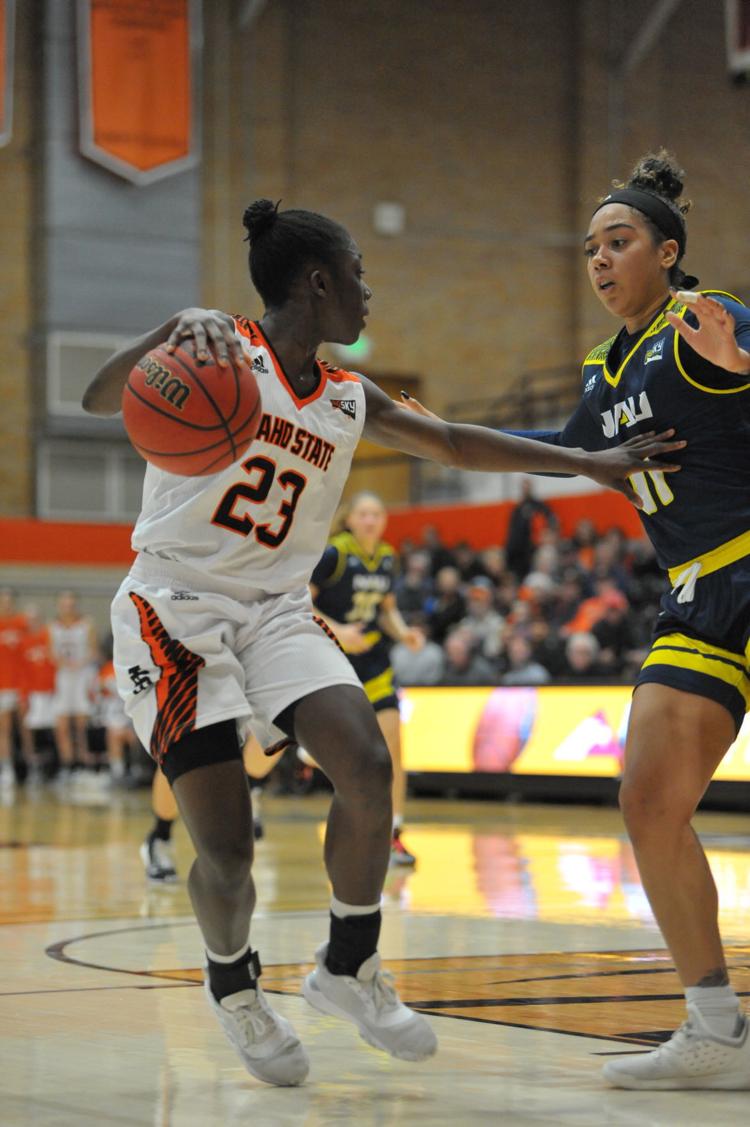 "It's kind of been up and down with her a little bit, but we just went for it," ISU head coach Seton Sobolewski said. "Her shooting's coming around, and her understanding is getting better. I don't think it's stuck yet, but her understanding of when to keep it, when to kick it, what decisions to make."
In her first year playing college basketball, Konate's growth has been rapid and fierce, a product of her athletic gifts and basketball instincts colliding with her relative inexperience.
The 5-foot-7 guard grew up in Paris, playing basketball in school there and for various French national teams, but came to Idaho State without much of a frame of reference for American Division I college ball.
Konate's athleticism has been jump-off-the-page good from the first page of the season — her first step is essentially unstoppable — but the challenge has been to moderate her go-fast instincts so that she can make the right play more often in Sobolewski's motion offense.
"Everything comes from practice," Konate said. "I make a lot of mistakes, but when it comes to the games, I'm just trying to focus more on the decisions I have to make. Then we do a lot of film too, so I can see myself. If I made a mistake, for example, and I see it on film, I know that I'm not going to do it again."
As such, the stats with which to judge her progress aren't attention-grabbing ones like points per game, but secondary measures like her turnovers, shooting percentage and defensive fouls.
Therefore, the Northern Arizona game wasn't impressive just because Konate scored 32 points. Because of her top-class ability to create her own shot, she could probably do that more often if her role was just to score as much as she could.
But against Northern Arizona, she did it on just 18 field-goal attempts, had four assists against two turnovers and committed one foul.
Konate's progress over the course of the season can be seen in those measures as well. She's shooting 46.5% in conference play compared to 36.1% in non-conference and pulled her assist-to-turnover ratio slightly over 1.0 in the same time frame — after having 23 assists to 28 turnovers in nine non-conference games, she's at 52 and 51, respectively, in 13 Big Sky Conference games.
"I just feel a lot more confident in myself," Konate said. "Then I have good feedback from the coaches and my teammates as well, so I feel comfortable. I think, from the beginning (of the season), I'm just playing better and better. I'm learning a lot more, and understanding what my role is. I can feel the improvement from the beginning to now."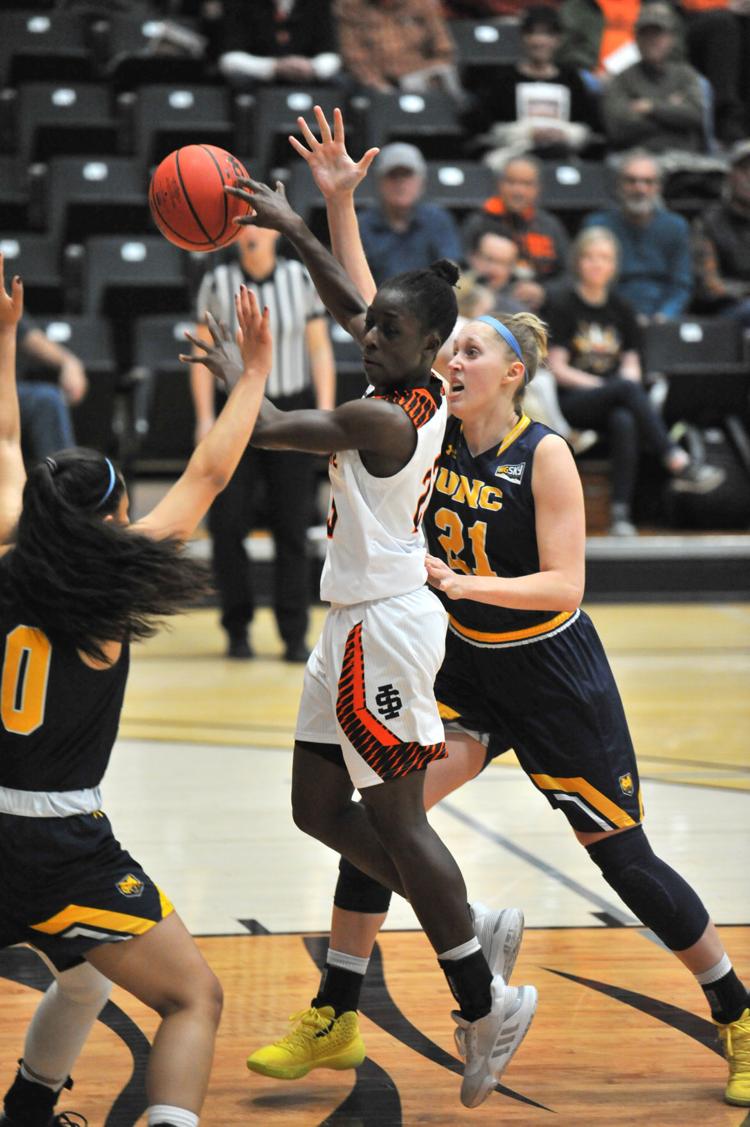 She's still fouling at the same rate, with exactly three fouls per game in both samples, but that's the one area in which she hasn't improved.
The Northern Arizona game was still a bit of an outlier — Tomekia Whitman's injury pushed Konate into a bigger role, and a stagnant half-court offense plus a big deficit forced ISU to speed up the game, allowing Konate to push off every rebound and run lots of pick-and-roll in the halfcourt, areas where she thrives — but it might have been a glimpse into the potential of one of the most electrifying players in the Big Sky.
"I think you're going to see a lot more of it next year, when Diaba's just a little bit more polished and a little bit more experienced," Sobolewski said. "She can beat a lot of people off the dribble, even without a screen, and it's just making that decision, do I shoot a layup, do I shoot a pull-up, do I kick it out? She's getting better at those decisions."
Scouting Montana State, Montana
After doing the Montana road trip earlier in the season, it's Idaho State's turn to host the Treasure State twosome as first league-leading Montana State, then Montana, comes to Reed Gym this weekend.
The Bengals host the Bobcats on Thursday at 7 p.m. and the Lady Griz on Saturday at 2 p.m.
Montana State (15-6, 11-1 Big Sky) has solidified itself as the class of the conference with a 2 1/2 game lead in the standings.
The Bobcats' one loss was to Idaho in double overtime. Meanwhile, they've won five conference games — nearly half — by at least 25 points, giving them a conference-best average point differential of plus-16.5 points per game.
According to herhoopstats.com, Montana State is leading the conference in several advanced stats, including offensive rating (points per 100 possessions), defensive rating, rebounding rate and assist-to-turnover ratio.
MSU also handed Idaho State its last loss, a 67-59 setback on Jan. 25 in Bozeman, Montana.
"We're trying to play better than the last time we played them," Sobolewski said. "Hopefully we can make some adjustments and make the game a little closer. ... I think you always want to see what you look like against good competition. It's always a good measuring stick to know where you're at."
Bobcats point guard Oliana Squires, who came off the bench and played 24 minutes against Idaho State in the first meeting as she recovered from an injury, should be fully back. She's started MSU's last three games and played over 30 minutes in two of those.
Montana, meanwhile, is one of ISU's main rivals for seeding in the conference tournament. Since Idaho State won in Missoula, Montana, on Jan. 23, the Lady Griz (13-9, 8-5) have won four of five — with the only loss in that stretch coming against Montana State in overtime — and are tied with ISU for fourth in the conference standings.
The Grizzlies do just about everything well, but don't shoot 3s very often. In the first matchup, Idaho State successfully adjusted at halftime to front the post and stop Montana from going inside. The Lady Griz then shot 4 for 23 in the second half as ISU won going away, 67-53.
"I know we better not take them lightly," Sobolewski said. "They're playing a lot better since we played them. ... I'm sure they're going to come in here with the attitude of wanting some revenge. We'd better be sharp and play hard."
Freshman guard Whitman hasn't played in ISU's last two games, and according to Sobolewski, that will be the case for a while.
The head coach officially classified her injury as a right foot ailment, and said that she'll likely be out for the season.
There is some hope that her recovery will progress quicker than expected and she'll be ready for the conference tournament, which starts March 9 in Boise.
"She's going to be in a boot for a while," Sobolewski said. "She may not be back the rest of the season. We might get lucky and we'll get her back for the conference tournament, but right now I kind of anticipate that she's going to be done for the rest of the year."
Whitman, from Spokane Valley, Washington, entered the starting lineup when Estefania Ors went down with a season-ending knee injury in non-conference play, and was averaging 8.5 points and 3.7 rebounds per game at the time of her injury.
Sobolewski has tinkered with the lineup in Whitman's absence, starting Delaney Moore in her place against Northern Arizona and Montana Oltrogge there against Sacramento State.