The Big Sky Conference and prep basketball (and wrestling) seasons were in full swing when the calendar flipped to 2020.
It was the middle of the season, and storylines, as they always do, were steadily building, gaining intrigue with each game — would Preston boys basketball, going for four state titles in five years, continue its dynasty? What about the Soda Springs girls, going for a three-peat? Where did the Idaho State women fit in at the crowded top of the Big Sky Conference? Could the men take a few steps forward in Ryan Looney's first year as head coach?
Nobody could have imagined that the sports world would grind to a halt barely two months later, and even though we got the answers to those particular narrative questions — yes, yes, third and well, maybe — we were robbed of so many others.
The coronavirus pandemic took away spring seasons from athletes at Idaho State and, more painfully, local high schools, cruelly ending many careers and leading to an anxious, paranoid summer. Even as some sports haltingly made their way back onto the field, there were questions being asked, data being crunched, decisions being wrestled with — what would it look like when the fall came again, how could things be done safely?
For some, like Idaho State and the Big Sky Conference, the answer was not at all, leading to an unprecedented upheaval of the college sports calendar. The high schools forged ahead, determined to force as much normality as they could, to seize control back from the virus.
There were hiccups, of course, positive tests and quarantines and cancellations, just as everybody knew there would be, but there were also plenty of games played without a hitch, championships won and lost, names etched into the record books. What's less certain are the secondary impacts that starting up sports again and letting fans in the stands may have had, and it's still unknown how many lives may have been affected in that dogged pursuit of normality.
But through it all — the early spring, no different from any other, the shocking, shuddering stop, the summer with its terrifying uncertainties and the fall with its unending controversies — there were the stories. Always, even in a year unlike any other, sports marked the passage of the seasons with its stories, wild and unpredictable, uplifting and tragic.
Basketball dynasties were crowned in the winter, and a cross country dynasty was toppled in the fall. When sports resumed in the summer, two local teams welcomed them with championship runs, stealing back as much as they could of what had been taken from them in the spring. Pocatello's native son found himself on one of the biggest stages in sports.
These are the top Idaho State Journal sports stories of the year, as chosen by our readers, starting with No. 10 and counting down to the top story of 2020. This is the story of Southeast Idaho sports in 2020.
10. Altercation cuts short girls soccer game between American Falls and Sugar-Salem
"You don't want it to end like this," American Falls girls soccer coach Brett Reed said apologetically after his team's season ended with an outburst and a shoving match in a state play-in game against Sugar-Salem.
What started as a unfortunate but relatively normal argument between Reed and the refs spiraled after he was ejected, eventually drawing in a Sugar-Salem player, parents from both sides and administrators from host school Blackfoot, who were forced to break up the altercation.
The game was suspended and eventually abandoned with Sugar-Salem holding a 4-1 lead, sending the Diggers to the state tournament.
Reed was suspended for one year by the IHSAA for his role in the incident.
9. SNOW STORM: Century's Snow scores 3 TDs as D-backs beat Pocatello for district title
The rivalry football game between Pocatello and Century, always intense, came in with even a bit more heat in 2020.
The Indians beat 5A Madison in their season opener and eventually ran their record to 6-1, grabbing headlines away from Century, the recent 4A power in town. The Diamondbacks, meanwhile, had dropped two of their first three and were only a game removed from a 48-28 beatdown loss against Thunder Ridge.
But on a cold late-October night at Highland's Iron Horse Stadium, Century flipped the script on the upstart, and, fittingly, it was a player who had connections to both schools who played the biggest role in writing the new story.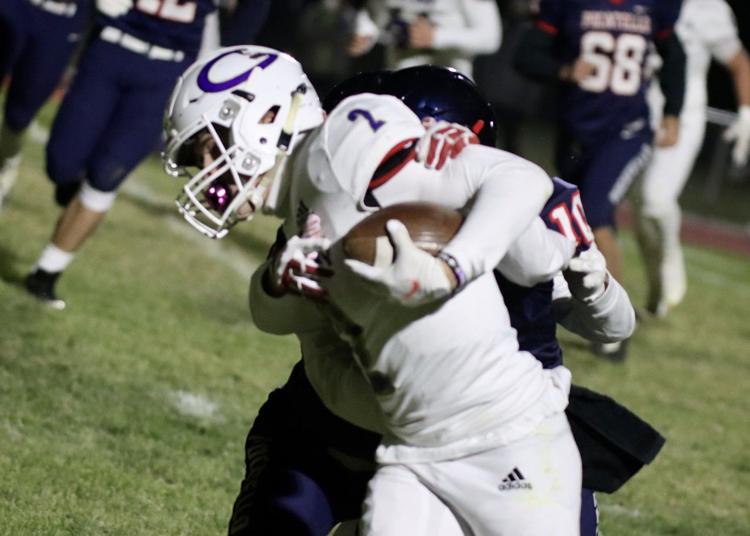 D-backs senior Zac Snow, who had transferred from Pocatello to Century and sat out his junior season, scored three first-half touchdowns — a 67-yard rush, 4-yard reception, 54-yard reception — and Century held on for a 28-14 win.
"It felt great to win that," Snow said. "Especially against a team I came from, it felt good.... It gave me motivation, honestly, going against a team that I've been on, and I think it gave me a boost."
The consequences of the game — and the district title that came with it — were profound. Pocatello, in line for a top-three seed in the state playoffs before the loss, fell all the way to No. 11 and was rewarded with a first-round trip to Boise power Bishop Kelly. The ensuing 35-0 loss was the second straight first-round exit for Poky, preventing the Indians from taking another step forward as coach Dave Spillett tries to rebuild the program.
Century, meanwhile, got that top-three seed and won two home games in the first two rounds before bowing out in a semifinal thriller at No. 2 Emmett.
8. Runnin' Rebels bring Double-A American Legion championship back to Pocatello after 1-0 win
With spring sports canceled across the country, American Legion baseball in the summer was one of the first opportunities many states had to bring sports back, and Idaho was one of the first states to try.
The season was a chance at redemption for high school baseball players, who had seen their seasons — for many, their final season — wiped out by the pandemic.
Although Treasure Valley teams weren't able to play and North Idaho teams opted out of the state tournament, teams in the southeast part of the state were able to cobble together a relatively normal schedule.
For the Double-A Pocatello Runnin' Rebels, that culminated in a classic state championship game against the Twin Falls Cowboys at Minico, as untested starter Caden McCurdy made a single first-inning run stand up in a complete game shutout.
The tension built as McCurdy danced out of one jam after another, and when it was done, the suspense finally broken, the Runnin' Rebels dogpiled on the mound, the final euphoric note of a season that was itself a high-wire act.
After months of absence, it was a reminder of all that sports could bring to the table.
"It feels good for all the seniors to end on this, to know that we left it exactly how we wanted to," Pocatello third baseman Seth Nate said. "No one can take this from us."
As the Runnin' Rebels were closing out their title, the Marsh Valley Eagles were holding off a late comeback by the Pocatello Razorbacks in the Single-A title game, eventually giving local teams both state championships.
7. ISU won't play football in fall; high schools not allowed to use Holt
A summer of speculation ended in early August, when Idaho State officially announced on Aug. 7 that football wouldn't be played in Holt Arena in the fall for the first time in the building's 50-year history.
The news came shortly after the Big Sky Conference announced that there would be no conference football games in the fall, which itself came after a wild day of reports about the conference's plans.
"The conference ADs have been meeting at least twice a week evaluating this," ISU Athletic Director Pauline Thiros said. "We want to do our best to preserve opportunities for our student-athletes.... A couple of things just became evident, that with football, the inordinate size of the crowds that attend the games is a public health risk in our states right now. Crowds are really not feasible (at this time) and that was a major determining factor."
The decision, along with similar ones by other FCS conferences to push their seasons to the spring, completely upended the college football schedule, as well as preseason preparations for an Idaho State team that had already seen its non-conference schedule edited and re-edited throughout the summer.
Although the FBS — and several FCS teams — ended up playing in the fall, the Big Sky held the line, and none of the teams in the conference took the field.
ISU's season is now scheduled to start in February, and it's anyone's guess as to what a spring Big Sky schedule and FCS playoffs will look like, as well as what the impacts of missing an entire year of non-conference money games will be.
Idaho State also made the decision to not allow local high school teams to play at Holt, forcing Pocatello, Century and Highland to find a new home stadium.
6. American Falls volleyball knocks off Snake River, wins first district title in school history
The smiles in the team picture are tentative, almost as if the girls are afraid that someone could still take away their historic accomplishment.
After all, they had just achieved something — a volleyball district title — that had never been done before in their school's history.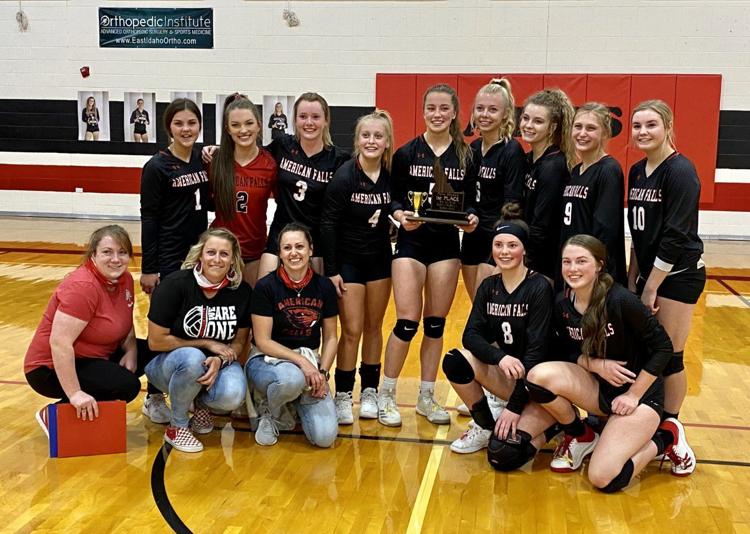 "Nope, not a typo.... This is the first time American Falls has been district champs," Beavers coach Jami Adair said. "It's huge. It's unheard of. And it's all because of the hard work of these girls."
A.F.'s four-set win over Snake River in the 3A District 5 championship snapped another streak that was almost as jawdropping. According to Panthers coach Shaunee Martin, it had been almost 20 years since the last time Snake River didn't represent District 5 at the state tournament.
American Falls' historic win was keyed by high-flying hitter Emma Barclay, who "jumps like she's on the moon," ISJ reporter Jordan Kaye wrote.
Although the Beavers went two-and-out at the state tournament, Barclay was named the district player of the year, and the things she and her teammates achieved won't soon be forgotten at American Falls.
5. 'It's a sad day': High school spring sports officially canceled in Idaho
"There will be no late-game heroics or photo finishes. Just fields, tracks and courts cloaked in silence," the ISJ's Madison Guernsey wrote after the IHSAA canceled spring sports seasons across the state in mid-April, and it's difficult to more accurately and poignantly convey the disappointment that came with that agonizing but necessary decision.
The official announcement made Idaho the 27th state in the country to cancel its spring seasons in the face of the coronavirus pandemic.
It meant the end of the season for baseball and softball teams, many of whom had played just a few games, and brought to an end the speculation and deliberation of the early spring as state athletics officials, determined to exhaust all opportunities to play in the spring, finally came to the sad realization that it wouldn't be possible.
The final blow came in April, when Gov. Brad Little extended the statewide stay-at-home order through the end of the month.
"I'd be lying if I said there wasn't a tear or two shed," IHSAA Executive Director Ty Jones said. "It was an extremely difficult decision for our board to make, because that's the business that they're in. They work with kids and they're telling kids, 'You don't get to do these things now.' ... We had to cancel something that a lot of them had worked really, really hard to get to.
"It's a sad day. Sad day for them, sad day for us."
4. Gard wins individual title for Pocatello, Preston takes team title on first day of state cross country
The pandemic took away Shane Gard's junior track season in the spring, but it gave him a chance to win a hometown title in the fall.
The state cross country championships were moved from Boise's Eagle Island to Pocatello's Portneuf Wellness Complex due to COVID-19 restrictions, resulting in a two-day extravaganza of tough running and brilliant performances in the Gate City.
On the first day alone, Borah's Nathan Green — one of the most dominant athletes in Idaho history — ran 15:26 for his third straight 5A state title, and Boise's Samantha Smith, a week after starring for a state runner-up soccer team, led a spectacular performance for the Brave, who took the title with 18 points (a perfect score, for comparison, is 15).
The day culminated with a 4A boys race in which all the main players were from District 5 teams.
Gard, who had slipped to a disappointing 20th-place finish at state as a junior and then didn't have a chance at redemption on the track in the spring, ran 15:42 to take the individual title for Pocatello, with Century's Xander Thompson second and Pocatello's Brevin Vaughan third.
"It just kind of reminded me why I love running," Gard said. "You put in this hard work and you can see results come out of it."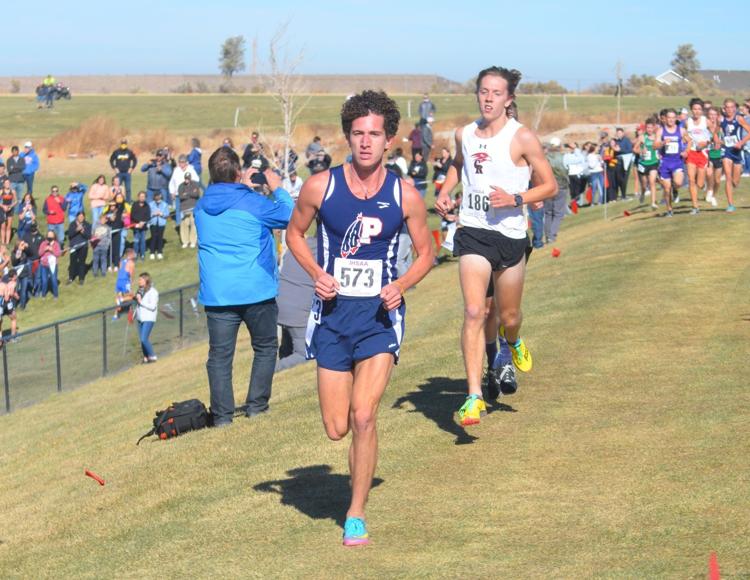 Team glory, however, went to the other Indians in District 5, as Sam Jeppsen gutted out a fifth-place finish on a day he wasn't feeling his best to lead Preston to the team title ahead of Poky and Blackfoot.
It was Preston's first state title since 2007.
"You could tell Sam didn't have it today, but he had a choice. He could have either really faded because he was hurting, or he could have dug deep," Preston coach Tyler Jones said. "The last two years, we've come in second. All year, that's been the boys' goal, to win a state championship."
3. UNFORGETTABLE: Rockland breaks through, beats Carey to win school's 1st-ever state title
Unbelievably, Rockland had never won a state title in a team sport before February, when a tough, senior-heavy Bulldogs girls basketball team broke through, beating Carey at the Ford Idaho Center for the 1A DII crown.
When it finally came, the historic title was surprisingly easy. Rockland won all three state tournament games by double digits, including a 45-30 win in the final.
Senior guard Madalyn Permann led the Bulldogs with 20 points in the title game, and Kiersley Boyer had 15 points and 10 rebounds.
"Words can't describe how I'm feeling. It's been a long journey for Rockland and my team and I think we've really earned this title," Permann said. "We worked really hard and our team has had great chemistry, we've had great posts, we've had great guards. We worked together to make this happen."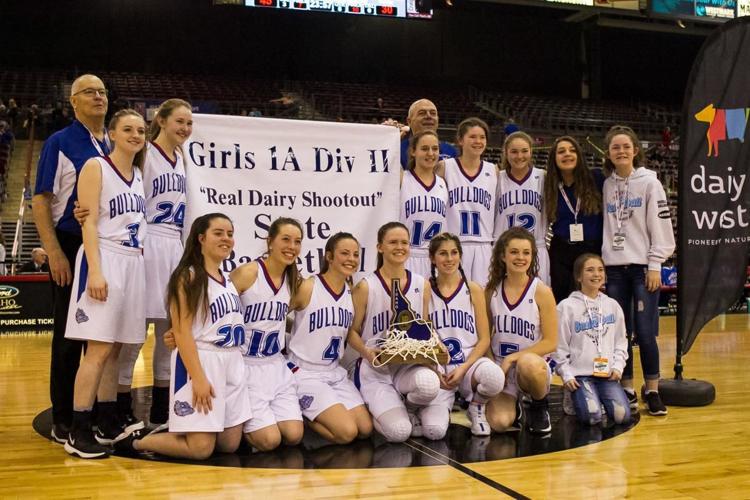 Not only was the championship the first for Rockland, it was an euphoric breakthrough for Bulldogs coach Vern Nelson, who, at 24 years, was (and still is) the longest-tenured hoops coach in the area.
"He's worked so hard to get this far," Permann said. "His whole heart is in this program and we wanted to give it to him. We wanted to make him proud and that's exactly what we did."
2. 'Best seat in the house for 36 years': Longtime ISU broadcaster Brad Bugger steps away from the mic
For nearly four decades, Brad Bugger's voice was one of the constants in the Pocatello sports scene, first as a broadcaster for local high school games and then as one of the radio voices of the ISU Bengals.
That ended abruptly in the spring when the Big Sky basketball tournaments were cancelled. Bugger, who was planning to retire at the end of the year anyway, called the ISU women's semifinal loss to Idaho, which was one of the last college basketball games to be played in the country.
The next morning, he went for a walk, preparing to call the ISU men's game against Montana later that day. By the time he returned to his hotel, the tournament had been canceled, and his career was over.
"That was very disappointing, but I'm sure it was much more disappointing for the athletes who didn't get a chance to finish their careers and finish their seasons. It was very sad," Bugger said.
"ISU honored me the last home game that I broadcast, and I was very, very grateful for that. It was very kind and generous on their part. I just really felt appreciated."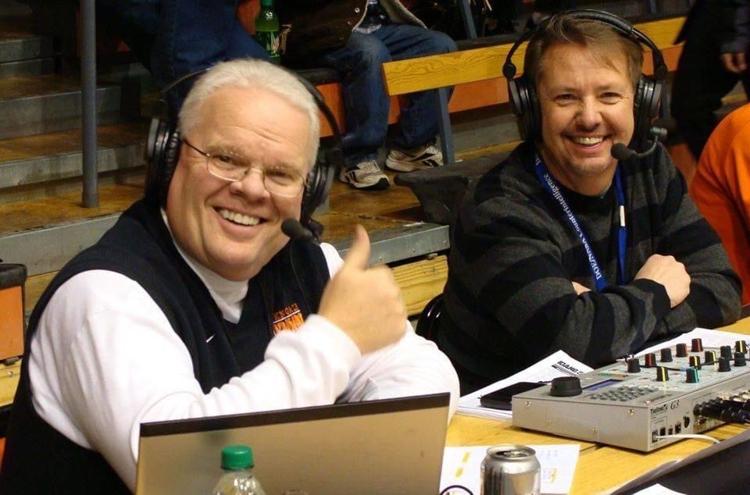 Bugger, originally a newspaper reporter, had initially planned to come to Pocatello for a year or two to jumpstart his writing career at the Idaho State Journal. By the time his tenure on the local sports scene was over, he'd been in the Gate City for 41 years and etched his voice into the consciousness of generations of Pocatello sports fans.
"I've never worked with a better analyst, and I've done a lot of games with a lot of people," said Mark Liptak, who called ISU women's basketball with Bugger for over a decade. "Brad was always prepared."
1. Taysom Hill to start at quarterback for New Orleans Saints on Sunday
It seems unfair to call Taysom Hill a gadget player, even before the events of Nov. 20.
The Pocatello native had clawed his way from undrafted free agency to a steady job in the NFL. He'd scored touchdowns, garnered headlines for his versatility and plaudits for his toughness. He'd even signed a $21 million contract extension.
But, fairly or not, gadget player was still the prevailing national opinion of the former Highland star when New Orleans Saints head coach Sean Payton confirmed in a Friday press conference that Hill, not Jameis Winston, would start at quarterback for the Saints that week against the Atlanta Falcons. It was Hill's first NFL start at quarterback, the position he'd played at both Highland and BYU.
"We were thrilled, and we're just excited for him and for this opportunity," Taysom's mother Natalie Hill said. "This is what he's been wanting, to play and to be a quarterback, so he's excited to have a chance."
With Drew Brees out with cracked ribs and a collapsed lung, the decision matched what the Saints had always said about Hill — over the years, Payton has been zealous in his public belief that Hill was a quarterback first, and everything else after — but it still elicited an almost audible nationwide gasp from NFL pundits.
The year before, Payton had turned to Teddy Bridgewater, not Hill, with Brees out. This time, the stage was Taysom's, and Pocatello's hero took advantage with quality play over a rollicking four-game run.
With viewers in Pocatello hanging on every snap, Hill threw for over 200 yards in three of the four games, winning the first three before a shocking loss against the Philadelphia Eagles. He threw for four touchdowns, including his first in the NFL, and ran for four more.
Brees' recovery and return signaled the end of Hill's run as the starter, but in just four games, he proved his doubters wrong — and the people in Pocatello, who had always believed, right. All he needed was a chance.
"Everybody's saying he can't throw and everything, but he understands how to play quarterback," Highland coach Gino Mariani said. "Give him an opportunity and he can throw the football."