It's hard to believe, but Charlotte Wilson's schedule may clear up a bit once she starts her next chapter as a two-sport college athlete.
After winning 14 varsity letters — 18 if you include cheerleading — in high school, the narrowed focus will be new for the Rockland High senior.
"She's a very hard worker," said Kip Wilson, Charlotte's father and Rockland's track coach. "That's what sticks out to me."
Wilson signed to join the track and cheer squads at the College of Idaho during a ceremony on Tuesday. It capped an emotion-packed past few months for Wilson, who helped the Bulldogs' girls basketball team win a state title — the school's first in any team sport — in late February, and then had her senior track season wiped out by the coronavirus pandemic.
Fortunately, Wilson's marks from her junior-year track season were good enough to secure her a scholarship.
In some ways, that's equally hard to believe.
"I'm just excited to run on a real track," she said, "and not a road."
There's no track in Rockland, population 295, so the school's track athletes run on the street east of the high school. Kip Wilson marks distances with utility paint, and the team splits up into groups to complete the day's training, shin splints and all.
"Sometimes we're dodging cars and waiting for cars," Kip Wilson said. "You live in a place like this, you just figure out how to make do."
It hasn't hindered Charlotte, who won 1A state titles in the 100-meter dash, 200-meter dash and triple jump at the 2019 state track meet. She owned the top marks in the 1A classification in all three events, as well as the long jump. She finished third in the long jump at state.
With enhanced coaching and full-fledged training facilities, her performance could greatly improve in college.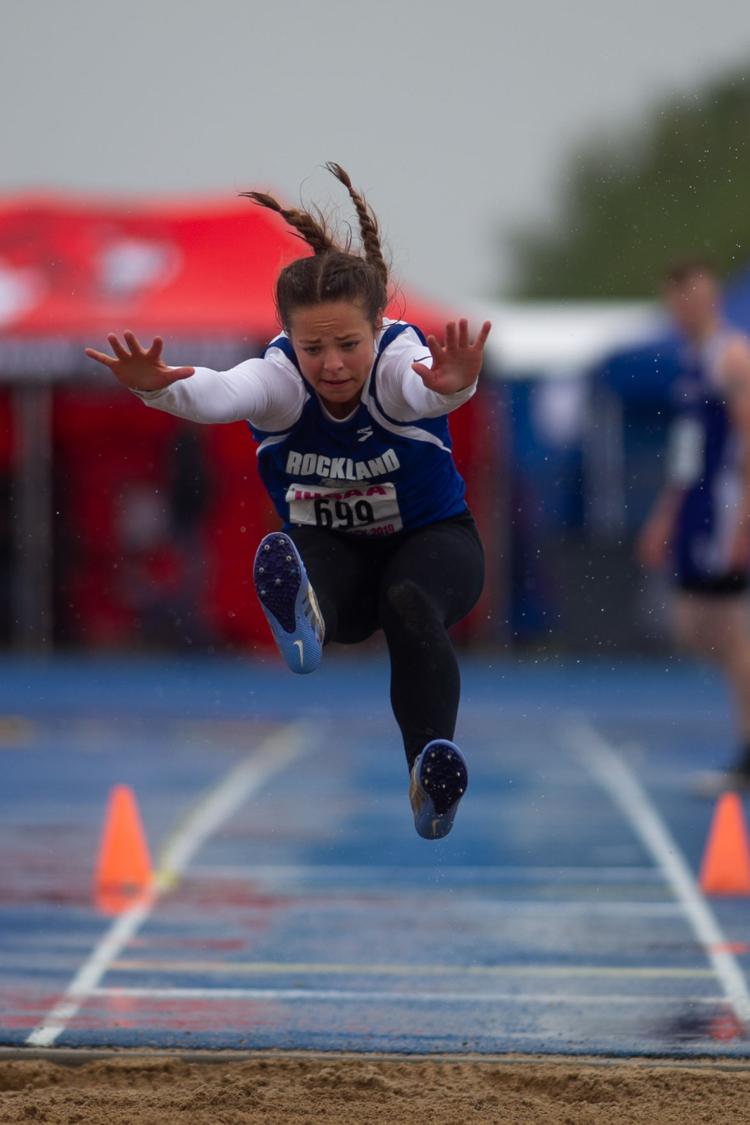 The Yotes track team is coached by Austin Basterrechea, a two-time Cascade Collegiate Conference Women's Track & Field Coach of the Year who earned multiple All-America honors in the heptathlon and decathlon as a student-athlete at C of I. Two athletes have won NAIA national championships under his tutelage, including Pocatello High alumna Molly Vitale-Sullivan.
"There's no question that she's going to have access to facilities and coaching that is going to be far beyond what she's had and will allow her to improve significantly," Kip Wilson said.
While Charlotte is giving up volleyball and basketball at the next level — she also did cross country for two years at Rockland — she gets to continue cheerleading, a requirement she had for her college of choice. Lots of schools reached out to her for track opportunities, but not all offered cheerleading.
She started gymnastics at age 9 and joined the middle school cheer squad in seventh grade. By the time she was a junior in high school, Charlotte was determined to cheer in college, so she re-enrolled in tumbling classes to refine her movements.
When she's not on the track next year, she'll be on the sidelines during Yotes football and basketball games.
"The cheer and track programs work well together (at C of I)," she said. "There's a lot of girls over there who already do cheer and track together anyway, so if you're going to do two sports, those are probably the two sports to do at College of Idaho."
In addition to her track and cheer scholarships, Charlotte also earned academic scholarship money — she missed Rockland's only track meet of this season to compete at the Business Professionals of America state leadership conference, where she placed first for her presentation on economic research.
She plans to study physical therapy at C of I, which has an undergraduate-graduate articulation agreement with Idaho State.
"That was also a great opportunity, if I can work hard enough these four years to get into that," Charlotte said. "(C of I) was just best for me schooling and sports-wise."