When Kawehi Beck started wrestling, she was scared to even step on the mat.
She was the only girl in the wrestling program at Aberdeen High School, so she wasn't sure how she'd fare against her male counterparts, or how her peers would react to the uncommon sight of a girl competing in a traditional boy's sport.
Over the years and multiple matches against boys — and some against girls — Beck vanquished her fears. On Sunday, she signed to wrestle at Colorado Mesa University.
"It's just pretty crazy to think I've come this far from starting only two years ago," Beck said Monday. "To have this opportunity, it's just a dream come true for me and I'm so excited for this opportunity and for the story that's ahead of me."
Beck grew up in a wrestling household — she has five brothers who wrestle, she said — and was involved in Aberdeen's wrestling program from her first year on campus.
As a freshman, Beck was the team's statistician. She traveled with the squad to matches and tournaments, immersing herself in the program. She eventually started working out and sparring at practices, and by her junior year was wrestling in competitive matches.
"That's where we kind of started seeing her real natural ability and talent for it," Aberdeen wrestling coach Jordan Johns said. "I think she's developed quite a passion for it. It seemed to be something that was hers and kind of made her level-headed and she worked hard."
As a senior, Beck excelled at multiple tournaments. She finished sixth at the Rollie Lane Invitational — Idaho's largest wrestling tournament — which this year featured an 85-competitor all-girls bracket for the first time. She won the girls bracket of the Tiger Brawl tournament and won again a week later at the Jaybird Invitational all-girls tournament.
To cap her season, the 113-pound wrestler finished third at the Idaho Girls Wrestling Championships, an unofficial all-girls state championship tournament hosted by Pocatello High School.
"When that was done, I remember she came to me and she goes, 'I don't want this to be done. This isn't good enough,'" Johns said. "And I said well, don't let it be done then."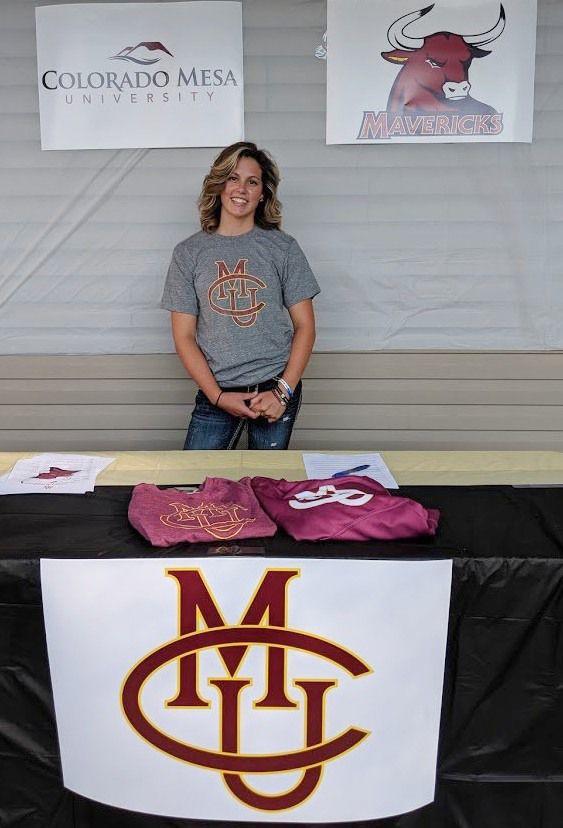 Beck said Johns helped her connect with Colorado Mesa women's wrestling coach Travis Mercado, and after taking a campus visit, Beck decided the school in Grand Junction, Colorado, is where she wants to take her athletic and academic careers.
"I really loved it there," Beck said. "I'm just really excited to be with the team."
CMU finished 21st at last season's Women's Collegiate Wrestling Association national championships, with one All-American performer. In June, the program won the inaugural NCAA Women's Scholar All-American team title with a 3.32 GPA.
Johns said Beck's college signing is a major step in the process of getting girls high school wrestling sanctioned as an official prep sport in Idaho. Johns is among the spokespeople at the forefront of pushing the Idaho High School Activities Association toward the end goal.
"Kawehi signing with a college is a big stepping stone helping pave the way for other girls below her," Johns said. "I've had a couple girls come to me and want to wrestle now. ... To have somebody that will have the courage to make that step, and do that, I think sends a positive message to a lot of girls out there that are kind of maybe looking through the window and want to get involved in it, but aren't quite sure."
Just like Beck herself once was.