Highland (5A at-large) at Madison (District 5-6 seed B)
Friday, 7 p.m.
Highland gets an all-east Idaho showdown — and rivalry rematch — to open the 5A state playoffs.
The Rams (6-3) enter the playoffs on a two-game losing streak, their first since losing three straight in 2016. An 18-15 loss Oct. 18 at Madison started the skid, and it continued last week with a 32-13 slipup at Rigby.
The good news for the Rams? They rarely lose to the same team twice in one season. In last happened in 2010, when Highland went 0-2 versus Centennial.
The bad news for the Rams? They're mediocre on the road in the playoffs, going 3-4 in such games this decade. Highland won't play at Holt Arena again this season, unless it meets a non-north Idaho team in the state title game.
Highland's once-vaunted combination of rushing and defense hasn't been so invincible during its losing streak. The Rams have played from behind in both games, forcing increased pass attempts and leading to three interceptions.
Madison previews the first round of high school football playoff action.
Playing without running back Dalton Jones hasn't helped. The quick-twitch Jones complemented bruiser Kaleb Demuzio, and the rotation kept both players fresh, giving the Rams a dominant 1-2 punch in the backfield. Jones hasn't played since leaving Highland's win over Century on Oct. 11.
Madison (3-6) also leans on the run, but hits its big plays through the air. Quarterback Easton Cordero averages 14.7 yards per completion and a team-best 4.2 yards per carry, with 21 combined touchdowns.
Defensively, the Bobcats are led by Brigham Carter's 113 tackles, 5.0 tackles for loss and 1.0 sack. No team has scored fewer points against Madison than Highland's 15.
Highland and Madison have never met in the playoffs, per Highland records.
Nampa (District 3 seed E) at Century (District 4-5 seed A)
Friday, 8:15 p.m., Holt Arena
Century won't overlook its first-round opponent. Lesson learned after last year.
The Diamondbacks (6-3) are in the same position they were a season ago — district champions hosting the fifth-place team from District 3. Last time, the opponent was Columbia, a five-win team without a playoff win in its history. That changed with a 27-26 victory over the D-backs at Holt Arena.
This time, it's Nampa (6-3), which was ranked in the statewide media poll for much of the season before sputtering to a 1-2 finish.
The Bulldogs return many skills players from last season's team that went to the state semifinals, but have a rebuilt offensive line. They're quarterbacked by senior Donnie Estrada, who was an all-conference wide receiver last season, and all-state defensive back Jace Mann leads the defense.
Nampa is 1-3 against 4A playoff teams this season. Its other five victories are against teams with a combined record of 9-36.
Century is 3-1 against 4A playoff squads. The D-backs offense, led by quarterback Nathan Manning and wide receivers Jovan Sowell and Drew Gunter, ranks fifth in 4A with 36.3 points per game — Nampa is fourth at 38.7 ppg.
Pocatello (District 4-5 seed E) at Kuna (District 3 seed A)
Friday, 7 p.m.
Pocatello's season has been rich with drama, and last week's regular-season finale was the climax that Indians fans have been waiting for.
Poky (5-4) came from behind to beat Burley 23-22 and clinch its first state tournament bid since 2011. It was the Indians' fifth game decided by six points or fewer this season and capped the team's improbable run to the playoffs. Pocatello started the year 1-3 before going 4-1 down the stretch.
The Indians can keep their magical run alive with an upset victory against unbeaten Kuna in the first round of the playoffs. The Kavemen (9-0) have been ranked No. 1 in the statewide media poll for much of the season and are one of nine undefeated teams across Idaho's six classifications.
Kuna ranks second in 4A with an average point differential of plus-25.4. The Kavemen haven't been in the playoffs since 2016, when they were in 5A, and haven't won a playoff game since 2015.
They're tasked with solving Pocatello's do-it-all quarterback Jadyn Downs. The senior has passed for 19 touchdowns and rushed for seven, while also playing defensive back and filling multiple roles on special teams, including kicker and holder.
Sandpoint (District 1-2 seed B) at Blackfoot (District 6 seed A)
Friday, 6 p.m.
Blackfoot keeps finding ways to win and is back in the playoffs, where it hopes to rise back to the top of 4A.
The Broncos (8-1) haven't lost to an Idaho opponent this season. They've overcome injuries to quarterback Craig Young and running back Teegan Thomas and are taking games to the wire, winning by an average margin of 10.8 points, including four one-possession victories.
Blackfoot is a district champion for the first time since the 2014 season, which ended with a loss in the state title game. The Broncos haven't allowed more than 20 points since Week 2 and enter the playoffs ranked fourth in 4A with 17.8 ppg given up.
Sandpoint (6-3) makes the eight-hour drive to Blackfoot for the teams' first meeting since the 2014 quarterfinals. The Bulldogs have only played two 4A Idaho teams this season, but do offer Blackfoot one common opponent — Lakeland. Blackfoot beat Lakeland 47-32 to open the season, and Sandpoint beat the Hawks 48-20 on Oct. 18.
Sandpoint defensive end Brandon Casey is a two-star recruit who has been offered by Idaho.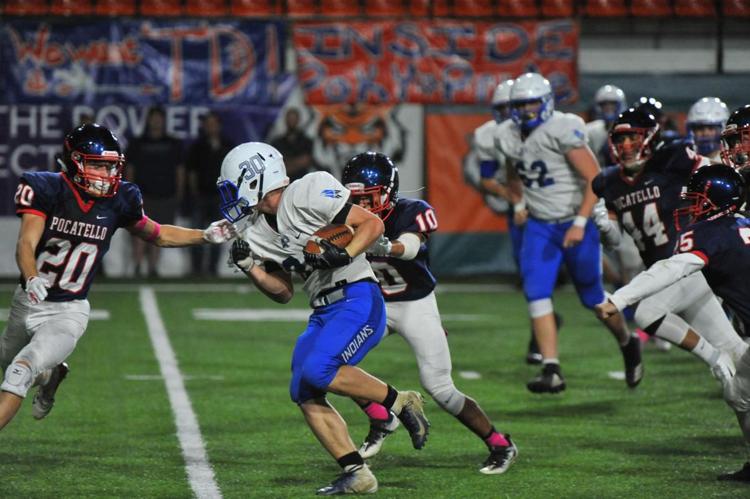 Preston (4A at-large) at Minico (District 4-5 seed C)
Friday, 7 p.m.
Preston limps into the playoffs to face a familiar foe.
The Indians (5-4) have lost two games in a row and three of their last four — a stretch that started Oct. 4 with a 27-25 loss at Minico, Preston's first-round opponent.
Preston's injuries have piled up over the last few weeks. Quarterback Ty Hyde left with an injury during the Oct. 18 loss to Pocatello and did not play in last week's loss at Snake River.
Preston's early-season success helped it earn an at-large berth to the playoffs. The Indians started 4-1, beating 4A playoff teams Jerome, Canyon Ridge and Century in the process.
Minico (7-2) leads 4A District 4-5 in scoring defense (18 ppg) and average point differential (plus-15.3). The Spartans have given up more than 25 points to one Idaho team — Century — and run the ball behind two-star center recruit Greyson Harwood.
Weiser (District 3 seed B) at Marsh Valley (District 5 seed B)
Friday, 6 p.m.
Marsh Valley's quest for consistent success remains on track, as the Eagles are in the 3A playoffs for the third consecutive season.
The District 5 runner-up (4-4) has been up and down this season after losing many key pieces off of last year's conference championship squad. Tate Barker rushed for three touchdowns and the defense forced five turnovers in last week's playoff-clinching win over American Falls.
Weiser (7-1) suffered its first loss last week at Homedale — the undefeated District 3 champion. The Wolverines are coached by Tom Harrison, who rose to prominence by building Snake River into a 3A dynasty in the 1990s and early 2000s.
Aberdeen (District 5 seed C) at North Fremont (District 6 seed A)
Friday, 7 p.m.
By Aberdeen's standards, 2019 has been a disappointment so far.
That can change Friday with a win over top-ranked North Fremont.
The Huskies (8-0) enter the playoffs ranked third in 2A in scoring defense (7.8 ppg) and haven't allowed more than 14 points in a game. They reached the state championship game last year — the school's first appearance since 1989 — and return three all-state players, including two-way honorees Riggen Cordingley and Paul Wynn.
Aberdeen (4-4) enters the playoffs on a three-game winning streak after starting the year 1-4. The Tigers scored 14 points during their four-game losing skid — including a 44-8 loss to North Fremont — but have since righted the ship, scoring 68, 28 and 56 points over the last three weeks.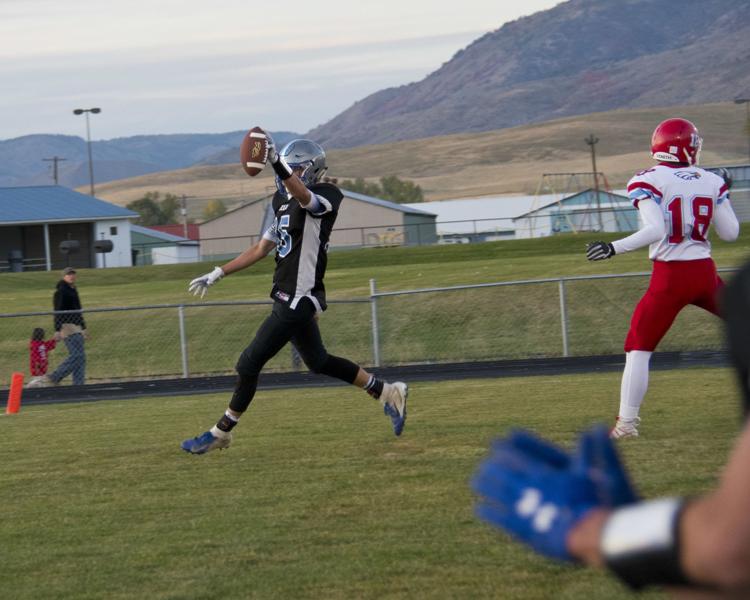 Firth (District 6 seed B) vs. Bear Lake (District 5 seed B)
Thursday, 7 p.m., Holt Arena
Bear Lake enters the postseason fresh, coming off last week's bye.
The Bears' first-round opponent is Firth (4-4), which has an average margin of defeat of 9.0 ppg this season. The Cougars have lost in the first round of the playoffs in four of the last five years.
Bear Lake (6-2) makes its return to the postseason after a one-year absence. The Bears hold opponents to 8.6 ppg and have tallied three shutouts this season. West Side is the only squad to score more than 14 points on the Bears.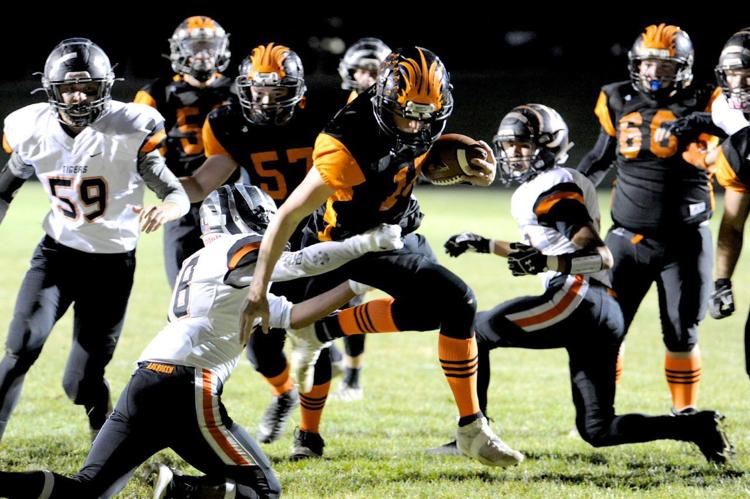 Malad (2A at-large) at McCall-Donnelly (District 3 seed A)
Friday, 1 p.m.
Malad is in the playoffs for the second year in a row, marking the Dragons' first back-to-back playoff berths since 2011-12.
The Dragons (3-5) have a tall task ahead of them in District 3 champion McCall-Donnelly (8-0). The Vandals win games by an average of 43 points, and it was more before last week's 29-6 win over Cole Valley Christian.
Ririe (District 6 seed C) at West Side (District 5 seed A)
Friday, 6 p.m.
West Side is out to prove it's the best team in the state.
The District 5 champion Pirates (7-1) have only played one non-playoff team this season, and their only loss is a 7-6 Week 2 defeat at Snake River — the 3A District 5 champion.
West Side has the best scoring defense in 2A (5.8 ppg) and hasn't allowed more than eight points since Week 1.
Ririe (5-3) has already seen West Side once this season — an 18-0 Pirates win Sept. 20. The 18-point win is West Side's second-smallest margin of victory this season.
North Gem (District 5-6 seed C) at Carey (District 4 seed B)
Thursday, 4 p.m.
A somewhat disappointing season for North Gem has another challenge on the horizon.
The Cowboys (3-5) haven't won since Oct. 4, are 1-4 in their last five outings and face two-time defending state champion Carey in the first round of the playoffs.
The Panthers (7-1) average a 1A DII-best 55.8 ppg. They return six all-state players from last year's undefeated state title team, including two-way honoree Carson Simpson and three-way honoree Brigham Parke.
Dietrich (District 4 seed C) at Rockland (District 5-6 seed B)
Thursday, 3 p.m.
Dietrich handed Rockland its worst loss of the season, 42-0, back on Sept. 27.
The Bulldogs (3-5) are steady on offense, but their defense has let them down. Rockland has given up at least 40 points five times this season.
Dietrich (6-2) has scored at least 42 points in all six of its wins.