GIRLS SOCCER
CENTURY 2, JEROME 1
Allison McKinlay scored in the final seconds Wednesday, giving Century a 2-1 home victory over Jerome.
McKinlay's game-winner came off a rebounded penalty kick that was saved by Jerome's goalkeeper. Century took a 1-0 lead in the first half on Kyleigh Gardea's penalty kick. The score was 1-1 at halftime.
Diamondbacks coach Matt Shutes said his team performed admirably despite being without four injured players.
"It really took away our ability to sub and do some other things," Shutes said of the injuries. "At the end of the day, they found a way to win."
Before the game, Century held a ceremony honoring emergency responders and military personnel. Wednesday was the 18th anniversary of the 9/11 attacks.
Century's players also wore camouflage jerseys from the National Guard, the Pocatello Fire Department brought one of its fire trucks, the Department of Veterans Affairs provided American flags, the Century band performed The Star-Spangled Banner, and plaques were presented to honor Century High graduates Nick Gummersall and Blake Stephens, who were killed in action after the 9/11 attacks.
Century (3-3-1, 3-2-1 4A District 4-5) plays Monday at Preston.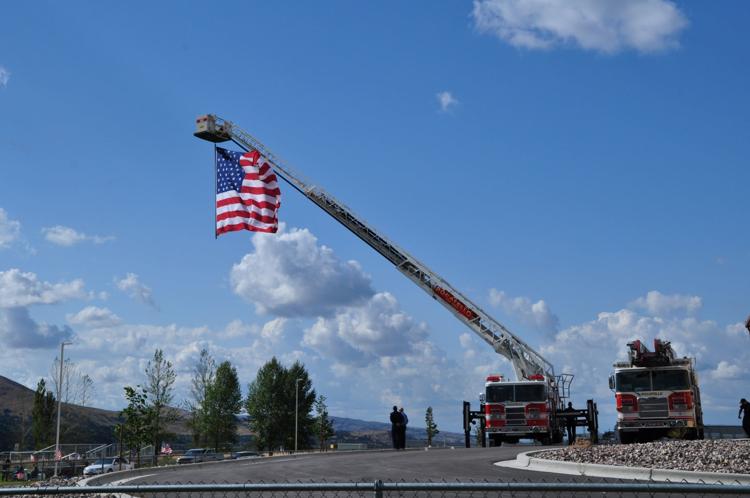 POCATELLO 3, WOOD RIVER 1
Pocatello stayed unbeaten this season with a 3-1 win Wednesday at Wood River.
Alexis Hubbard scored twice and Adi Spillett added one goal for the Indians (5-0-1, 5-0-1 4A District 4-5), who host Minico on Monday.
PRESTON 4, CANYON RIDGE 0
Preston turned a 1-0 halftime lead into a 4-0 home win Wednesday over Canyon Ridge.
Alexis Harris, Addison Moser, Millie Chatterton and Cassee Pugmire each scored once for the Indians.
"We really did a good job in the first half creating opportunities, we just didn't finish them," Preston coach Brandon Lyon said. "In the second half, we did a better job — with possession and ball movement — of putting ourselves in a good spot to finish, and we capitalized."
Preston (4-2-1, 4-1-1 4A District 4-5) hosts Century on Monday.
HILLCREST 4, BLACKFOOT 1
Blackfoot lost 4-1 Wednesday at Hillcrest. No further information was available.
Blackfoot (0-5, 0-4 4A District 6) plays Saturday at Thunder Ridge.
BOYS SOCCER
CENTURY 1, JEROME 1
Century tied Jerome 1-1 on the road Wednesday. Dallin Burke scored Century's goal on an assist from Kam Murdock.
"Two talented teams that like to get out and attack," Century coach Rocky Rhoads said. "I thought we were able to get our foot on the ball a lot more in the second half and create some opportunities."
The Diamondbacks (5-0-2, 5-0-1 4A District 4-5) have not given up more than one goal in seven games this season. They host Preston on Monday.
WOOD RIVER 5, POCATELLO 0
Pocatello was shut out for the third game in a row Wednesday, 5-0 against Wood River at home.
It was the Indians' third game since Saturday.
"We just never got out of the gate," Poky coach George Asboe said. "We're way young, and I think our leadership lacked a little bit today."
Pocatello (0-7, 0-6 4A District 4-5) plays Monday at Minico.
PRESTON 2, CANYON RIDGE 1
Ramon Rodriguez's second-half goal was the difference Wednesday in Preston's 2-1 win at Canyon Ridge.
Kadin Reese got Preston on the board in the first half, before Canyon Ridge tied it 1-1 before halftime.
"We played a decent first half," Indians coach Kira Matthews said. "And then the second half, we started to find our rhythm. We worked our guts out for everything we got today and it paid off."
Preston (4-1-1, 4-1-1 4A District 4-5) plays Monday at Century.
Hillcrest at Blackfoot
Hillcrest's game Wednesday at Blackfoot was postponed because of weather conditions. It has "tentatively" rescheduled for Friday, according to Blackfoot coach Liam Pope.
VOLLEYBALL
MADISON 3, HIGHLAND 0
Highland was swept by defending 5A state champion Madison, 25-15, 25-8, 25-19, on Wednesday at home.
Saige Thomas led Highland's offense with six kills. Kaylee Neilsen added 16 digs.
"We expected a tough game, and (Madison) definitely brought a tough game," Rams coach Kelsey Bystrom said. "The first and third sets, the scores don't show how hard my team fought against Madison. We had some really long rallies where we were digging up a lot of their stuff."
Highland (5-4, 0-1 5A District 5-6) plays Thursday at Century.
KIMBERLY 3, SNAKE RIVER 2
Kimberly rallied to beat Snake River 3-2 at home Wednesday. The Panthers led 2-1 before dropping the next two sets 23-25 and 7-15.
"I'm really proud of how they played tonight," Snake River coach Shuanee Martin said. "It was Kimberly's first home game and they had an amazing crowd. It was so loud in there, I couldn't even hear. ... Our defense was really great tonight."
Tatum Cherry piled up 37 assists and six aces, while Olivia Kracl added eight kills and five blocks for Snake River (1-2), which plays Tuesday at Teton.
SODA SPRINGS 3, GRACE 0
Soda Springs improved to 3-0 in regular-season play Wednesday, sweeping Grace 25-19, 25-22, 25-19.
Jorianne Balls (14 kills) and Cedar Hopkins (eight kills) led the Cardinals' attack, while Cooper Evans dished out 25 assists and Bayli Hayes chipped in 11 digs.
"We served well," Soda Springs coach Shawnae Somsen said. "We played smart volleyball, (made) few mistakes and that was the difference."
Soda Springs (3-0) plays Thursday at Marsh Valley.