A few weeks ago, there was a young kid riding his bike down a local street. His face looked youthful enough to peg him as a middle-schooler and his little legs tried to pedal a few liters of soda home, plastic grocery bags clinging to his handlebars and whipping with every motion.
Julian Bowie was sitting in the passenger seat as his mom, Amy, drove the pair home. Amy's eyes were on the road. Julian's were on the boy. Just as their black Honda CRV passed the boy, Julian stared out the window as the soda dropped through the thin plastic bags and sprayed across the asphalt.
Julian made his mom stop the car. They asked him what soda he had lost and told him to wait there. A few minutes later, Julian stepped out of the vehicle and handed the boy his replacement cola — double-bagged this time.
"The little boy was like, 'Thank you so much. You're so nice,'" Amy Bowie said. "You could just tell Julian was very — it's things like that. He watches out for people. He's observant."
Gray area doesn't mean much to Julian Bowie. He's a 14-year old who's developed his own line separating right and wrong and is willing to leap out of his comfort zone to repair even the smallest injustices he sees.
The maturity in some of Bowie's actions — attending this summer's Black Lives Matter march in Pocatello, speaking at a packed school board meeting in support of the Pocatello Indians mascot change, helping a small boy recoup his groceries — sparks the same question as seeing Bowie on the basketball court this year for Pocatello.
He's a freshman!?
Freshmen aren't supposed to speak in front of a room full of strangers about something that fails to impact them. Just as freshmen aren't supposed to score 29 points against Canyon Ridge, followed by 35 against Bonneville, followed by 22 in crosstown matchup against Highland. Freshmen are supposed to be idle bystanders or works-in-progress, a few years of aging and maturation away from impressing anybody.
Bowie is different.
"He's a mature kid on the court for a freshman," Pocatello basketball coach Joe Green said. "He's always pretty laid-back and reserved. But he's always been a little bit bigger the last couple years and I think people just expect him to be older, so I don't know if he just acts older."
****
Julian Bowie will likely never talk your ear off. He's quiet, a calming presence to those who interact with him. Perhaps that's why he's most comfortable on the basketball court.
There's no small talk. No irrational conversations. No uncomfortable interactions. Bowie looks at peace when he's bouncing the orange leather on the hardwood. He seems to be in his own head, thoughts probably spinning with imaginative ideas for an impossible shot or a fancy maneuver that will take him to the hoop.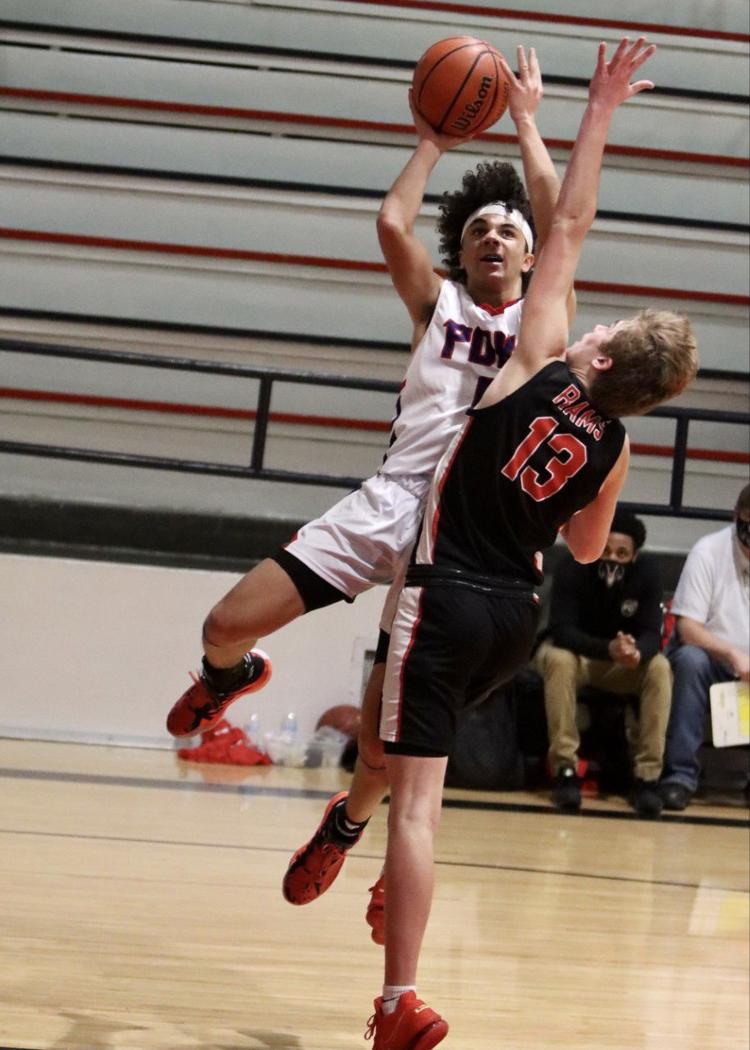 He's 6-foot and growing. He has point guard skills that can stifle most opponents in the area. He has the range to chuck up 25-foot 3-pointers that leave teammates surprised if the ball doesn't zip through the net. And he has the unselfishness to dish passes to his teammates if they're open, never afraid to throw a dime when defenders start double-teaming him.
"He was always one of those kids who got obsessed with basketball and loved it," Green said. "So he's always been a guy who can think the game and understand it, but he really started to develop with his club ball stuff in middle school and realized he was getting pretty good. You never know, though, how they're going to respond to high school basketball."
So far, Bowie has responded remarkably well. He's taken the throne as the Indians' top scoring threat after just one month, a sentiment that feels even more locked-in with each new scoring outburst. His skills are a level above most kids in Southeastern Idaho. The shooting prowess. The ability to finish through contact. The understanding of spacing. It's all uncanny for a freshman.
A lot of that is a credit to his family. His father, Bo, played basketball at a community college in Oregon. Both he and Amy have coached the Highland girls basketball team. Julian's sister, Timmie, was a standout for the Rams and, a decade younger, he was always off to the side as she practiced. Soon enough, it became a mimicking routine. Timmie would do a drill and young Julian would follow.
He started playing travel ball in Pocatello and, recently, Utah, his talent and work ethic growing with each level he was advancing. Amy remembers him wasting away hours taking shots on the hoop that sat outside their old house. Or begging his parents to chauffeur him to the gym multiple times a day.
Amy and Bo didn't perceive his basketball mania as work. He liked to shoot hoops, and so he tried to fill his day doing what he enjoyed. But they had always left his future plans up to him, open to seeing where he wanted to take his hardwood skillset.
"I think he decided a couple of years ago that he wanted to play at the collegiate level," Amy said.
****
Amy Bowie was in her backyard. There was smoke in the air and meat on the grill when Julian and a trio of friends busted through the door, out of breath and shaken, last summer. She was a little angry. The boys were supposed to be celebrating their recent Bill Parrish Family 3-on-3 Basketball Tournament victory and, instead, they were doing what? Playing tricks on someone?
Julian began to explain.
He described how he and his three other buddies were walking down the street. How a truck full of older kids stopped alongside them and started berating the group — a biracial kid, an African-American and two white kids — with racial slurs. How they told the kids to run or they'd shoot them. It was probably the first time any one of them had heard the N-word spoken with such vitriol.
"As a person of color, I carry my experiences with me," Julian said in his speech to the school board. "I don't want someone to tell me I am being overly sensitive. I want them to care about how I feel."
"It was a really hard, hard day. That was the first angry or hateful experience he'd had with racism, I think," Amy Bowie added. "We spent some time talking over some things that night. That was pretty eye-opening to him that that can happen and how helpless he felt. I just think he doesn't want other people to feel helpless or marginalized."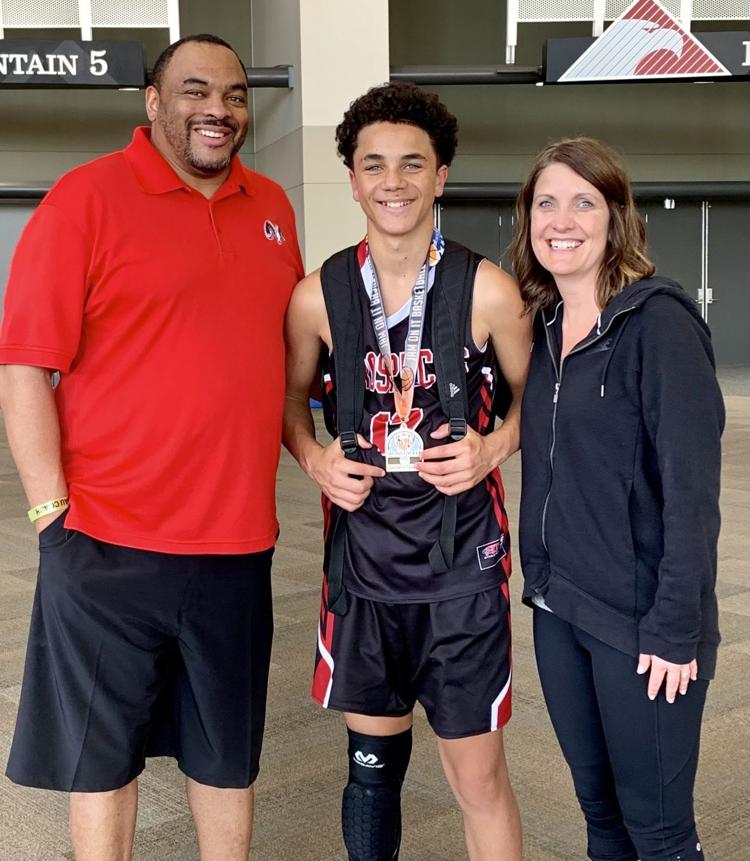 Almost a year later, George Floyd was murdered in Minnesota, an act that brought racial tensions and injustices, always simmering below the surface, back to the forefront of the American experience. Protests and marches broke out in cities across the country — Black and white people standing together in solidarity.
In Pocatello, that's a tough dynamic to grasp. Less than 1% of the Gate City is African-American, which served as an impediment for many residents as they formed their own thoughts on the Black Lives Matter Movement. Diversity creates openness towards foreign ideas. Pocatello isn't very diverse, which essentially makes the city limits like bullet-proof glass for outside opinions or causes to break into.
All that made the local Black Lives Matter protests that much more poignant.
On a sunny Thursday in June, the Bowies marched alongside a few hundred other people from the fairgrounds to the Portneuf Wellness Complex. Masks and signs filled the route as members of the community showed themselves as allies to the Black population of Pocatello.
But as Julian walked that day, he didn't exactly see it that way. For him, marching was important because, "if some people don't want to talk, then I can be the voice for them." Even when hundreds of people were trying to show their support for him, he wanted to show his support for those who weren't out that day.
The march concluded in the picnic area of the wellness complex. The images are striking not because of the gargantuan size of the crowd but rather the colossal size of those at the front, the organizers — Idaho State University football players Garrett Crane and Raemo Trevino, ISU basketball player Daxton Carr and Ohio State football player Tommy Togiai.
"Some of those kids (Julian) looked up to through sports," Amy said. "That meant a lot to him to see people who were like him taking a stand."
That's what Julian wants to give to others.
****
Bowie had no reason to stand behind the dais that day.
The School District 25 board meeting on Sept. 15 was held in a polarizing room. There was one side filled with a contingent of local folks who thought removing the Indians nickname from Poky High would erase some essential part of the school's history and tradition. Others, whether it be local Native Americans or alums or Poky faculty, arrived in hopes of advocating for change, to make sure no student ever felt ostracized because of a mascot.
Bowie had been at Pocatello for all of a month. None of his family members went there. And he wasn't Native American. Some were surprised that he wanted to talk, to address a testy room about a topic that had no real bearing on his life.
"So was I," Amy Bowie said with a laugh. "He called and was like, 'Hey, I want to go speak at the school board meeting.' He just told me. I was like, 'OK?'"
That night, Amy and Julian began a dialogue about the contents of his speech. A few days later, Julian delivered a gutting 585-word speech. It wasn't haphazardly thrown together. He shared his own experiences of being discriminated against as a biracial kid from Pocatello. He questioned the morality of adults who weren't also mad about the exclusion of certain students. He cited Native American voices admitting the basketball court or football field probably isn't the best place to get educated on an entire culture. And he told those who felt marginalized that he stood with them.
Those stories were enough.
"I wanted to (speak) so I could speak for some of the people who were kind of shy and didn't want to speak out," Bowie said. "It just made my heart hurt."
"Those are the moments that mean the most," Amy Bowie said. "I think it's hard to teach a kid — whether they're really good at basketball or really good at music — when they have a passion or something they excel in, sometimes that becomes their identity. And it's hard to teach them it's not, that there's more to them, that their character is more important than how they play basketball.
"I'm proud of the way he sees the world and the way he's learning to see the world — which is with empathy."
Pocatello High will enter a new era this summer when the school becomes the Thunder. And in freshman like Bowie and Ryken Echo Hawk, a member of the Pawnee Tribe who was Poky's starting running back and leading rusher last season, the school has newfound optimism — and the promise of a future that doesn't include being the city-wide athletic punching bag for Highland and Century.
"I think it would be really cool that when we're older, we can tell our kids that we made a big change in our world," Bowie said.