Before Morgan Hall and Paige Moser, uncharted territory remained for Preston High School girls soccer.
The team, just like the Preston boys, did not have a state championship trophy or a player go on to compete in NCAA Division I soccer.
But the Indians have both now, thanks to the two 2017 Preston graduates.
After Moser and Hall helped guide Preston to the 2015 4A girls state soccer championship, they became the first former Indians to earn roster spots on D-I teams following two successful seasons apiece at community colleges.
"I'm excited for them and their families and just the validation it gives them for all the time and money and effort that they've put in," Preston coach Brandon Lyon said. "With as much as they've put into becoming great athletes and great young ladies, this is exactly what they deserve."
Hall signed her National Letter of Intent this month to play soccer for Idaho State University, while Moser joined the Utah State University soccer program this winter after signing in November. Both received partial athletic scholarships and echoed each other by saying it was a dream achieved.
"I just really didn't want to be done playing soccer. I love the sport. I love what it brings into my life and the people I meet and coaches and the experience," Hall said.
Moser added, "I always wanted to be an Aggie and when the opportunity came, I took it as quick as I could."
While they have diverted paths since high school, the players were best friends at Preston, listening to music together, goofing off and — of course — guiding the Indians to unprecedented heights.
There are photos of them together in their soccer jerseys going back to when they were around 7 years old. Both had similar athletic trajectories as multisport athletes who didn't play club soccer during high school.
"I knew she had the potential to go D-I," Hall said of Moser. "She's always been a great athlete and she works hard for what she wants. So I'm proud of her and she has big things in store for her."
"This has always been our dream, so to see her live her dream as well was just as exciting," Moser said. "She's always just excelled on the field. She's always been a star, so I think that Idaho State's getting a good player and somebody that's going to help them out a lot."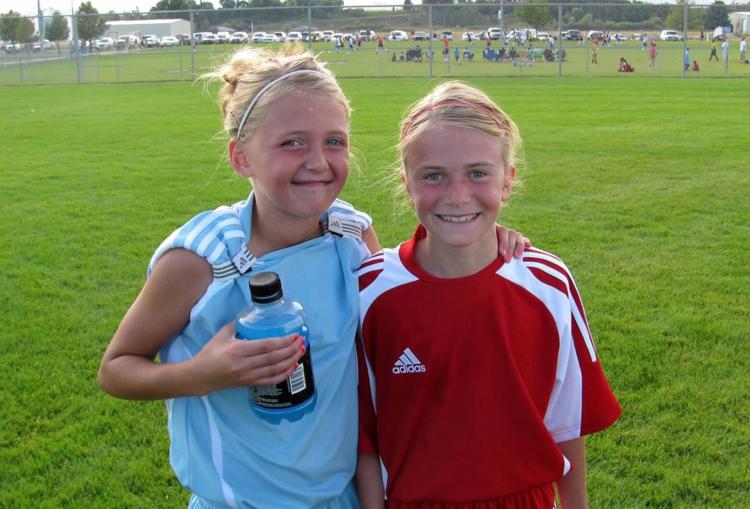 After finishing their high school soccer careers in 2016, Moser signed with Iowa Western Community College and Hall decided on Utah State University Eastern.
Hall, a two-time Idaho State Journal All-Area Player of the Year, tallied 10 goals and nine assists for 29 points over her USU Eastern career. She had a team-leading eight goals and 18 points in her sophomore season. Her team was 17-16-2 during her tenure.
Moser, a 2016 Journal All-Area first-team selection, compiled 11 goals and two assists over her Iowa Western career, including six scores and one assist in her sophomore season. Her squad went 28-9-2 in her two seasons.
Now, the former Preston teammates are onto the next level, with D-I seasons ahead of them.
Idaho State has gone through an unsuccessful stretch, without a winning record since 2014, but the program is going in a new direction with Debs Brereton taking over as head coach for next season. Hall hopes she can help Brereton turn things around.
"I want to get ISU on the map again," Hall said. "I want me, my team and my coaches to just give it all we have to make people scared to play us and be aware of us, instead of just walking all over us."
Moser joined a well-established program under 16-year Utah State coach Heather Cairns, who has been named Western Athletic Conference Coach of the Year twice. The Aggies are coming off a 3-13-2 season, but that was their first losing record of this decade. Moser has witnessed the previous success, attending multiple games when she was a kid.
"I'd heard fantastic things about the coaching staff," Moser said. "I think that was something I was impressed with and also seeing their success in the past years in the Mountain West (Conference) and how well they've done, how successful the players have been, was a big draw for me."
When Moser and Hall kick off the 2019 season with their new teams, it will mark three years since they played for Preston, where their careers launched. Both are thankful to the Indians' coaching staff for helping them reach the level they are at now.
"They're amazing. They know what they're doing. They know how to make a player great and to make us work hard." Hall said, and Moser added, "Preston is what really developed my love for soccer. I think coach Lyon did a great job of helping me to love the game, but also to understand the game. … Preston is where it all started."
While the Indians' coaches helped lay the foundation of the players' soccer careers, the two former Preston players showed the coaching staff's current and future players what is now attainable – reaching the Division I level.
"We've got some extremely talented girls in the program right now that see that and know it's a real possibility now that they've seen it happen," Lyon said. "These are girls that they've played with and looked up to and so yeah, it's a great example to them."