REXBURG – Madison School District plans to celebrate the opening of its new Bobcat Stadium this month during Madison High School's football team's first home game of the season.
The free event takes place Aug. 30 at 6:30 p.m. at the stadium. Idaho Central Credit Union is sponsoring the event and is providing free hot dogs, chips and water. Tickets are not required to attend.
A short program will be held prior to the game against Coeur d'Alene's Lake City High School, said Madison School District's Communications Coordinator Jessica Goudy.
"It's going to be a really big night. It's an opportunity for us, just as a very small token, to thank the community that made this possible," Goudy said. "It's for people who aren't sports fans and don't have kids in school to come out for a night and appreciate something they are proud of."
The stadium required $8.8 million of the $27 million bond that Madison County residents passed in 2017. The new stadium seats 4,500 people on the Madison side and another 1,500 on the visitors' side, said School District Superintendent Geoffrey Thomas.
"After reviewing many stadium designs throughout Idaho, Wyoming, Washington and Utah, in cooperation with Brent McFarland and JRW and Associates and Headwaters Construction, we designed Bobcat Stadium to a very high standard that reflects the pride we have in our school district and in our community," Thomas said.
The new stadium comes with programmable LED lights, said the district's construction liaison Jordan Busby. Those lights caught the attention of University of Utah officials who are looking to provide something similar in their football stadium, he said.
"It's a model showcase for a lot of different things — so is the scoreboard and the sound system," Busby said.
Madison High School Athletic Director Shane Proctor agreed the upgrades set the stadium apart.
"We won't have any dark areas. The lights really illuminate the entire field," Proctor said. "The sound system is great. The stadium has a state-of-the art scoreboard. We're thankful that Idaho Central Credit Union was able to help out with that."
The stadium facility may be used for many different activities, Proctor said.
"It's great for this side of the state to have a stadium like that. It's an event stadium. We're going to use it as much as possible for all our games — soccer and football. Bands are going to have competitions there. It's going to be utilized by all of our programs," he said.
Proctor says he'll be glad to keep Madison High School's sports at the high school's campus. He has served as the high school's athletic director for three years, during which time all football games have been held at the Madison Jr. High School fields. Prior to 2010, Madison High School students attended class at the current junior high school building.
Goudy said the new stadium will help fuel the economy.(tncms-asset)b2f6e844-c5fa-11e9-ac2d-00163ec2aa77[1](/tncms-asset)
"It opens up our community to so many more tournament options. There are so many different options to pull in thousands and thousands of people to eat at the restaurants, sleep in the hotels and shop at the stores and gas stations," she said. "We're excited about the possibilities and what it can do, not just for our athletes, but for the community overall."
Currently, contractors are putting the finishing touches on the stadium, Goudy said.
"They're still finishing up little things just to ensure it's safe. OSHA (Occupational Safety and Health Administration) has lots of different regulations, and our contractor is making sure every 'i' is dotted and every 't' is crossed before we open up for that big night," she said.
Thomas said the school district plans to use every bit of the stadium and its surrounding area.
MORE PHOTOS:
"We have provided for additional parking, multiple entrances and wide berths for easy handicap accessibility," he said. "There is a great picnic area adjacent to the concessions area. We are utilizing the space underneath the stadium for team rooms, bathrooms, an upstairs practice area and storage. Our goal was to maximize every square inch possible."
Busby said plans call for a batting cage and a golf simulator inside the stadium. He also announced that the stadium comes with a four-room press box.
"We'll have our announcers in one room, the opposing team in one room and our coaches in one room. We'll have one up there for the press. It's a wonderful crow's nest," Busby said.
He also reported that the home team's locker room has been adjusted slightly to provide what he calls a "tunnel effect" similar to that created by college and NFL football teams as they run onto the field.
"It's just a different configuration. It's a bigger entrance. They like that college/NFL feel," Busby said.
The Hellas Company installed the turf at the stadium. The company does similar work for professional football teams like the Dallas Cowboys.
"There's yearly maintenance to make sure the turf is in good standing. Our people have been trained on how to keep it clean and to be able to spread out the necessary filament to keep it clean," Busby said.
The school district is currently selling signage at the stadium to help cover the cost of professional cleaning services that could be as much as $8,000 per year.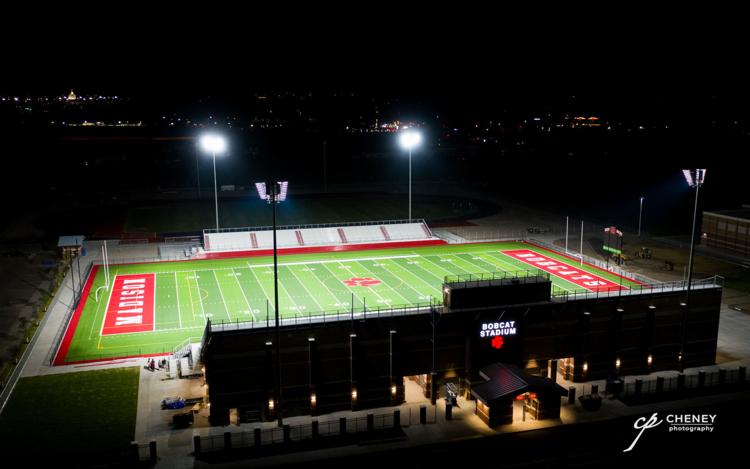 Adjacent to the new stadium is a new nine-lane track complex. Busby also noted that at the main high school facility, the district has added 10 new classrooms and two science labs.
"We fulfilled what the voters wanted. It's quality work, and it's great," Busby said. "Our school is 10 years old, and it looks brand new. That's thanks to a great custodial staff and the great student body that takes part of the education experience every day."
Goudy says that improvements are conducive to learning.
"It sets the tone. That's where it starts – having proper facilities and having them well cared for," she said. "We do feel lucky that we have a community that agrees with that and invests in them via levies and bonds."
All the upgrades have generated a lot of anticipation, Busby said.
"It's rejuvenated a lot of people. People are just excited about sports," he said.
Proctor also noted that excitement.
"The atmosphere is just going to be electric. We hope everybody from the community comes out and supports us," he said.
Thomas said that the upcoming game against Lake City is a way for the school district to acknowledge Madison County residents for voting for the bond to fund the stadium.
"It is our way of saying 'thank you' to our amazing, supportive community," Thomas said. "It is because of you that we were able to build these incredible facilities. We are profoundly grateful to you for your continuing support."
Busby said that all the renovations at the high school make Madison County a wonderful place to live.
"It's a great day to be a Bobcat. Put that in the paper," he said.
For more information on the upcoming football game, call 208-359-3305.