POCATELLO — One after the other, Bear Lake's Kelsey sisters crossed the finish line at the Bob Conley Invitational, giving the Bears the top three spots in the girls Varsity B race and the Kelseys a family sweep of the podium Thursday at the Portneuf Wellness Complex.
"We like being up in front together, it's fun," senior Josi Kelsey said. "The three of us love running against each other, it's the best kind of competition. ... We're always looking at each other's backs to try and go get them."
"It always scares me when my parents cheer me on and then I hear them cheer on Josi right behind me," sophomore Elise Kelsey added.
On a beautifully sunny day in Pocatello, sophomore Elli Kelsey won with a time of 18 minutes, 49.3 seconds, Elise was second in 19:24.7, and Josi finished third in 19:31.5.
"I felt super good," Elli Kelsey said. "It's a really fast course. There's not really that many long stretches. It's just nice turns and good hills that push you."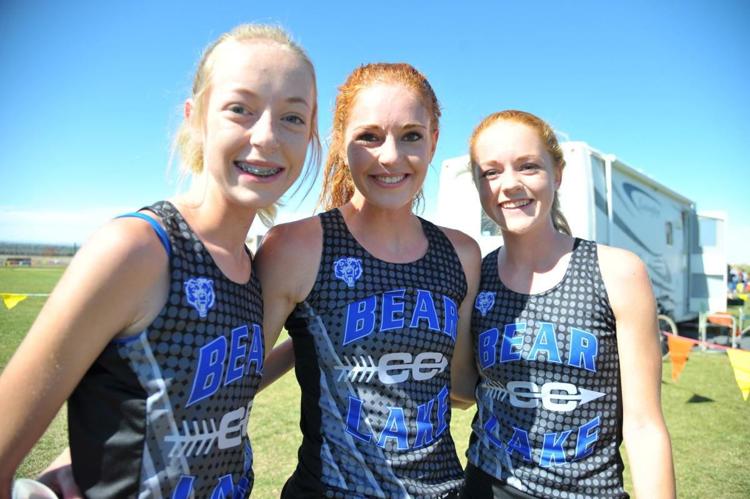 Bear Lake finished second in the Varsity B team standings with 142 points.
Sugar-Salem, which placed just one runner in the top 10 but six in the top 30, won with 96.
Soda Springs, led by sophomore Brynlee Simmons, who finished ninth in 20:09.6, nearly outpointed the Bears for third with 146 points.
West Side also made itself a factor in that duel, as junior Ashlyn Willis ran 20:03.1 to finish sixth and lead the Pirates to a fourth-place finish, just nine points behind Soda Springs.
Snake River finished 10th and Rockland 14th out of 19 schools in the girls Varsity B race.
Here's Elli Kelsey crossing first for Bear Lake to win the girls Varsity B race pic.twitter.com/0IsXDAk8Zi

— Andrew Houghton (@AndrewH202) October 3, 2019
The large-school Varsity A girls race was less successful for local teams.
Pocatello finished ninth. Freshman Bailey Bird ran 19:56.0, finishing 19th to lead the Indians.
Behind them came Preston in 11th, Highland in 13th, Century in 14th and Blackfoot in 17th.
In the boys Varsity A race, Idaho Falls, Pocatello and Preston continued a three-headed rivalry that's been raging for most of the fall. Idaho Falls took the team title with 83 points to Pocatello's 107.
Preston finished fourth with 149 points, one point behind Rocky Mountain.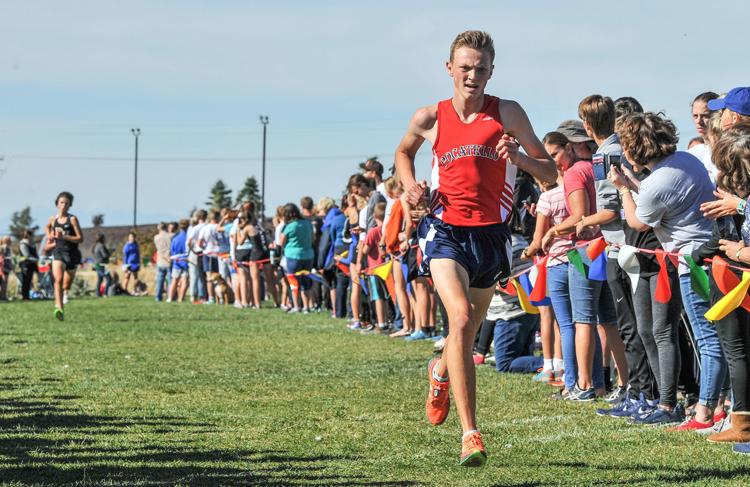 "We've all been close, between us, Idaho Falls and Preston," Pocatello coach Shannon Whitmer said. "We're some of the better teams in the state right now, which is pretty awesome for southeast Idaho. So our kids know each other, they've raced each other. It's kind of fun, and today was a good day for us."
Idaho Falls' Mitchell Athay pulled away from Pocatello's Dallin Bird on the back half of the course, winning with a time of 15:32.7.
Bird, a senior, finished second in 15:55.9.
"I kind of like this course, it's really nice," Bird said. "It's really fast. My coaches said that it's a pretty good one to try and go out there and do really well. ... I just wanted to go out there and run as hard as I could. That's really all I thought about."
Pocatello junior Shane Gard finished sixth in 16:10.5, winning a photo finish with Highland junior Jared Harden, who officially finished in 16:10.6.
Leaders of the boys Varsity A race about a third of the way though, with Pocatello's Dallin Bird in second pic.twitter.com/E3Zdwz7oUp

— Andrew Houghton (@AndrewH202) October 3, 2019
In the team standings, Blackfoot finished seventh, Century 13th and Highland 14th.
Snake River senior Lorenzo High ran 16:24.0 to lead local runners in the boys Varsity B race. He finished fifth.
Soda Springs, led by senior Kelson Arellano's 15th-place finish, was the top local team in the Varsity B, finishing fourth.
West Side was sixth, Snake River 12th, Malad 17th, Bear Lake 19th, Grace 20th, Rockland 25th and American Falls 26th.
Highland, which hosted the race, honored longtime area cross country figure Terry Jensen with a plaque at the awards ceremony. Jensen helped found the annual Tiger/Grizz cross country and track meets in Idaho Falls.
"I've known Terry for several years now," Highland coach Doug Hopster said. "I've had the honor of starting meets with him and spending some time with him. It's always nice to be able to honor a pioneer of this sport. It was really an honor to do that."