It's barely an exaggeration to say Jadyn Downs had a role in every one of Pocatello's plays last football season.
As the team's quarterback, No. 1 cornerback and jack-of-all-trades on special teams, Downs rarely left the field, guiding the Indians to the 4A state playoffs for the first time since 2011.
His versatility and iron-man toughness paid off, and on Monday he signed to join the Montana Tech football team.
"It's been a lifelong dream for me," Downs said.
Downs was used to playing multiple positions for Pocatello. He was all-conference as a wide receiver and defensive back as a junior. But taking snaps and running the offense as the team's quarterback was new territory. He hadn't played the position since he was in eighth grade.
The move proved wise for him and the Indians. Downs completed 61.7% of his passes, with 21 touchdowns against five interceptions, and was also effective with his feet, adding eight rushing touchdowns.
He had a hand in all three of Pocatello's touchdowns during the regular-season finale, when the Indians rallied from a 16-0 deficit to beat Burley 23-22 and snap their postseason drought.
He also snagged a one-handed interception when that game was tied in the fourth quarter, completing the microcosmic display of the value and abilities he exhibited all season long.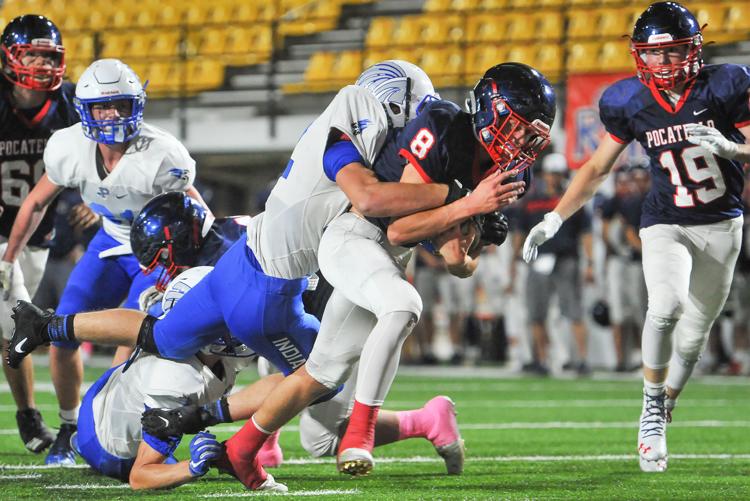 "Jadyn is one of those guys that has truly transformed Poky football and where it's headed, with his leadership, with the style of play, and just his pure grit and toughness," Pocatello coach Dave Spillett said. "He's one of the biggest factors of why we were so successful."
Downs plans to play wide receiver or defensive back at Montana Tech, an NAIA school in Butte, Montana. The Orediggers went 6-4 in 2019 and have made nine appearances in the NAIA playoffs, most recently in 2016.
Montana Tech led the Frontier Conference in scoring defense and total defense in 2019, ending the season as one of 14 NAIA teams to hold opponents under 300 yards per game.
That's a situation Downs could thrive in. Pocatello ranked third in the 10-team 4A District 4-5 in scoring defense last season (26.2 points per game), and held conference opponents to 23.5 ppg.
"There's no doubt that he will be extremely successful at the next level," Spillett said.
But Downs' value extended beyond the field for Pocatello, Spillett said. As a senior on a team that relied on several underclassmen, Downs' ability to lead his teammates was just as important.
"He was the vocal leader, led by example," Spillett said. "We couldn't be more proud of Jadyn."