THURSDAY
American Falls at Gooding, 7 p.m.
Cory Hollingsworth and American Falls open the 3A state playoffs Thursday at Gooding, the fifth-ranked squad in 3A. The Beavers earned a playoff spot with a win over Snake River on Oct. 12 before a blowout loss to Marsh Valley last Friday. American Falls (3-5) struggled in its season-finale against the Eagles, tallying 79 yards on 45 offensive plays. The Beavers had four first downs in the 69-0 loss. American Falls last played Gooding on Sept. 26, 2014, a 49-12 Senators win. American Falls hasn't won a playoff game this decade.
Gooding, the second-seeded squad from District 4, brings an explosive offense into Thursday's matchup. The Senators (7-2) are led by quarterback Shane Jennings and wide receiver Cayden Loveland. Jennings has completed 124 of 195 passes for 2,245 yards, 28 touchdowns and one interception, according to MaxPreps. He's added 132 carries for 828 yards and 13 scores. Loveland has caught 61 passes for 1,267 yards and 19 touchdowns, according to MaxPreps. Gooding is averaging 526.1 yards per game and has scored 42.1 points per game.
Gooding 47, American Falls 12
Soda Springs vs. North Fremont, 8:30 p.m., Holt Arena
Soda Springs gets a matchup Thursday with No. 4 North Fremont at Holt Arena in the first round of the 2A state playoffs. According to the RPI-based playoff system, the Cardinals have the 15th-best RPI (.436) of the 16 playoff teams and secured the third playoff spot from District 5. The Cardinals (2-6) faced North Fremont on Sept. 14 and lost 57-14. The Cardinals' two wins came against Bear Lake (1-7) and Malad (2-6), but two of their six losses came by a combined 10 points. Soda Springs hasn't won a playoff game this decade.
North Fremont (8-0) has outscored its opponents 352-68 this season, including five wins by 30 points or more. The Huskies beat Firth on Oct. 12 to win the 2A District 6 title and secure their seventh consecutive playoff appearance. North Fremont has not advanced past the quarterfinal round since winning the 2A state crown in 1989, according to the Post Register.
North Fremont 50, Soda Springs 13
Rockland at Lighthouse Christian, 6 p.m.
Rockland faces No. 3 Lighthouse Christian on Thursday in the opening round of the 1A DII state playoffs. The Bulldogs secured the third playoff spot from District 5-6 after a win against Watersprings last Friday. In the win, Zach Hunter had 15 rushes for 108 yards and one TD and Braden Permann had 325 yards passing and four TDs. Rockland's last playoff win was in 2014. 
Lighthouse Christian (7-1) enters Thursday on a six-game winning streak and its only loss of the season came Aug. 31 to top-ranked Carey. Lighthouse Christian, the second-seeded squad from District 4, is averaging 41 points per game and has five state tournament trophies since 2011. The Lions are also surrendering 13.3 points per game, the second-best total in 1A DII. Rockland is scoring 34.3 points per game this season.
Lighthouse Christian 40, Rockland 14
FRIDAY
Columbia vs. Century, 8:15 p.m., Holt Arena
Fresh off its first district title since 2009, No. 5 Century opens the 4A state playoffs at Holt Arena on Friday against Columbia, the fifth-seeded team from District 3. The Diamondbacks enter state with an undefeated mark against 4A Idaho teams. Their only losses were to Orem (Utah) and 5A Highland. Running back Jackson Yearsley comes in hot, tallying 39 carries for 283 yards and seven touchdowns in his last two games. In the last two seasons, Century is 10-1 at Holt Arena against 4A Idaho competition. Century (7-2) made it to the state quarterfinals a season ago.
Columbia (5-4) is coached by former Boise State running back John Helmandollar. The Wildcats are on a two-game winning streak, including a victory last Friday over then-No. 2 Middleton. Columbia is a run-heavy team paced by Allamar Alexander, who has 231 carries for 1,731 yards and 28 touchdowns, according to the Idaho Statesman. He is averaging 25.6 carries per game. Quarterback Austin Collett has completed 130 of 197 passes for 1,053 yards, seven touchdowns and seven interceptions, according to the Statesman. Columbia last made the playoffs in 2011.
Century 31, Columbia 22
Blackfoot at Middleton, 7 p.m.
Blackfoot is back in the 4A state playoffs after missing state last season for the fourth time in Stan Buck's 27 years as coach. The Broncos play Friday at No. 4 Middleton, the third-seeded squad from District 3. The Broncos (4-5) do not have a win this season over a team that made the playoffs in Idaho, but have won at least one game at state in their last seven appearances. The Broncos made the playoffs with an at-large berth after a win over Shelley in the regular-season finale and a better MaxPreps National Ranking than Jerome and Burley.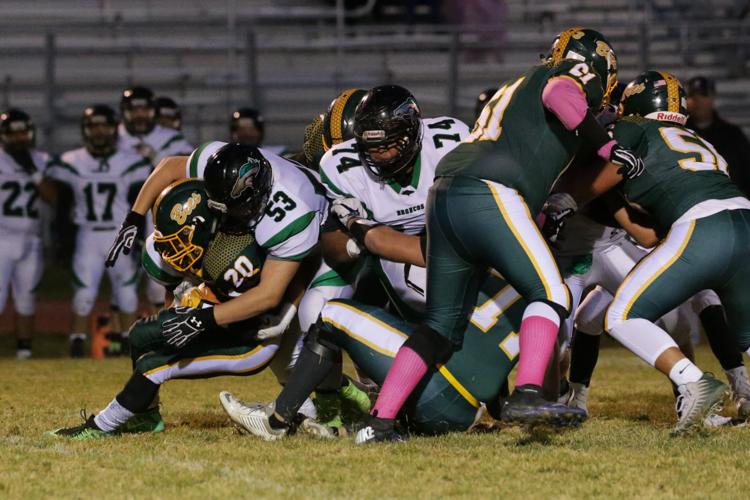 Middleton (7-2) brings a high-octane offense that is averaging 43.4 points per game, the second-best total in 4A, bolstered by a defense surrendering 20.8 points per matchup. Quarterback Dallas Hager has completed 124 of 215 passes for 2,058 yards, 28 touchdowns and 11 interceptions, and wide receiver Carson Smith has caught 65 passes for 1,107 yards and 16 touchdowns, according to the Idaho Statesman. The Vikings have scored at least 28 points in every game this season. Blackfoot has scored 28 points or more twice this season.
Middleton 44, Blackfoot 19
Preston at Bishop Kelly, 7 p.m.
Preston's first playoff game since 2011 is Friday at Bishop Kelly, 4A District 3's champion. The Indians (4-5) secured the fifth seed from District 4-5 with a win over Pocatello on Oct. 12. Preston's four regular-season wins were one fewer than the team had during the 2014-17 seasons combined. Preston coach Eric Thorson is in his first season leading the squad, which does not have a win over a playoff team this season.
No. 2 Bishop Kelly (7-1) is scoring 39.8 points per game this season, the third-best output in 4A. The Knights rely on their running game, tallying 273 yards rushing per game, according to the Idaho Statesman. Ian Arellano is leading the team in rushing with 1,059 yards and 13 TDs on 152 totes, according to the Idaho Statesman. Bishop Kelly's team defense of 15.9 points per game is tied for the third-best total in 4A.
Bishop Kelly 36, Preston 10
Firth at West Side, 6 p.m.
Firth and West Side face off for the second time this season Friday in the opening round of the 2A state playoffs. The Pirates beat the Cougars 36-6 in the first week of the season on their way to an undefeated regular season. Firth, the third-seeded team from District 6, lost to Declo in the state championship game a season ago. The Cougars (3-4) are on a two-game losing streak headed into state, but still secured their ninth consecutive playoff bid.
No. 2 West Side (8-0) secured its first district crown since 2014 and District 5's top seed to state after a win over Soda Springs last Thursday. The Pirates are outscoring their opponents by an average score of 40.1-4.6. The Pirates have surrendered six touchdowns in 32 quarters, and no team has scored more than 12 points this season. The Pirates' smash-mouth run offense is led by Enoch Ward and Jake Moser. Ward has 914 yards of offense and 20 total touchdowns, a school record.
West Side 42, Firth 9
West Jefferson at Aberdeen, 7 p.m.
West Jefferson gets a chance for revenge Friday at Aberdeen in the first round of the 2A state playoffs. The Panthers (6-2) lost to Aberdeen in the first round of the playoffs last season and fell to the Tigers in the 2016 state quarterfinals. Fifth-ranked West Jefferson, which earned the second bid from District 6, is on a two-game winning streak.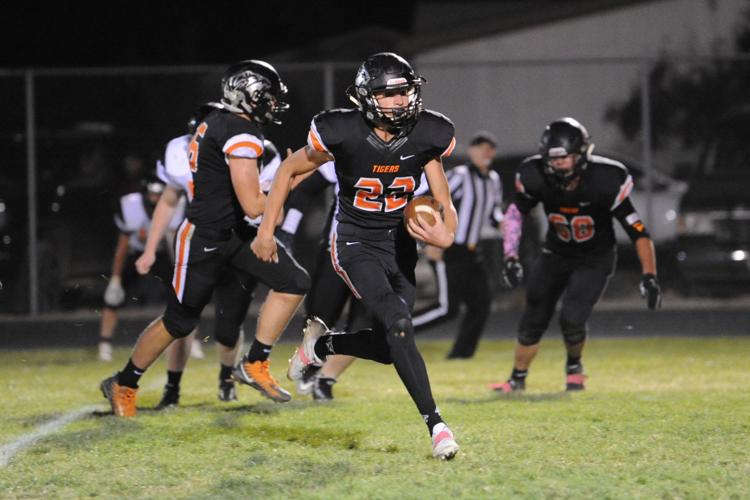 Aberdeen (5-3) is on a three-game winning streak, led by quarterback Matthew Klassen and running back Hulizes Ortiz. Klassen has 1,133 yards rushing and 16 rushing scores this season, while Ortiz has tallied 100 yards rushing or more in three consecutive games. Aberdeen is 0-3 against teams ranked in the final 2A media poll this season, losing by combined scores of 93-20. Aberdeen, the second-seeded team from District 5, has won its last four opening-round games at state.
Aberdeen 28, West Jefferson 27
Dietrich at North Gem, 3 p.m.
Dietrich travels to Bancroft on Friday for 1A DII playoff action. The Blue Devils (6-3) are the fourth-seeded team from District 4 and face North Gem for the first time since eliminating the Cowboys in the first round of state last season. Dietrich is averaging 35.8 points per game and surrendering 30.6 points per matchup.
North Gem (4-3) beat Rockland on Oct. 12 to win its first 1A DII District 5-6 title since 2014, securing the conference's top seed at state. The Cowboys have a diverse group of offensive weapons, including Bronx Holbrook and Chance Williams. North Gem is on a three-game winning streak, its longest winning streak since 2016. North Gem last won a playoff game in 2015, a victory over Dietrich in the first round. 
Dietrich 35, North Gem 33
Grace at Valley, 7 p.m.
Grace closes its regular season Friday at No. 2 Valley. The Grizzlies are eliminated from postseason contention and will miss the playoffs for the third consecutive season. Grace (4-3, 2-3 1A DI District 4-5-6) beat Shoshone last Friday.
Second-ranked Valley (7-1, 4-1 1A DI District 4-5-6) is vying for a district title. The Vikings are averaging 51.8 points per game this season behind explosive quarterback Jason Hardy.
Valley 40, Grace 19
SATURDAY
Malad at Grangeville, 1 p.m.
Malad travels to Grangeville for its first 2A state playoff game since 2012. The Dragons earned a playoff bid after Nampa Christian turned down a playoff spot despite qualifying, first reported by IdahoSports.com. The Dragons took Nampa Christian's spot, which is an at-large berth in the RPI-based system featuring 16 teams. Malad (2-6) ended its 24-game losing streak earlier this season with a win over Wendell. Coach Kory Kay notched the Dragons' most regular-season wins since the team won five in 2014.
Third-ranked Grangeville (8-0) earned a playoff bid from District 1-2 after finishing first. The Bulldogs opened the season with a win over 4A Moscow and cruised to an undefeated regular season. Grangeville is allowing 14.25 points per game this season.
Grangeville 36, Malad 16