MIDDLETON — Elli Kelsey was nervous.
The Bear Lake runner felt sick and couldn't stand still Friday morning at Middleton High School. When the freshman stepped on the blue track to run the girls 3,200-meter race at the 2A state championships, all her distress went away.
Kelsey nearly led from start to finish to claim the gold medal after clocking in a personal-best time of 11 minutes, 18.56 seconds and beating the field by more than nine seconds.
"It was awesome," Kelsey said. "I felt really happy. My time was good. It all went well."
Kelsey — whose previous top mark in the event was 11:41.42 — ran sub-12-minute 3,200s in her final three meets of the season. She had one sub-12-minute 3,200 in the first eight meets of the season.
"I was happy with the way I ran," Kelsey said. "I progressed a lot during the season."
Kelsey fended off her sisters Friday to finish first as Elise Kelsey and Josi Kelsey finished second and fourth, respectively. Elise used a strong kick to place second with a time of 11:27.70. The Bears' freshman held off McCall-Donnelly's Sophie McManus — who crossed the line third at 11:28.3 — to finish with a personal-best 3,200 time.
Friday was also Elise's third time competing in the 3,200 this season. Her previous best time was 12:02.75 at the 2A District 5 meet.
"I wanted to get a good time, and my mom was cheering me on, so I didn't want to get caught," Elise said.
Josi rounded out the Kelsey sisters with a fourth-place finish and a personal-best time of 11:44.69. The junior was the event's defending state champion. 
"I ran the best I did all season," Josi said. "I pushed myself. I convinced myself I could be up top."
The sisters closed Friday morning at the track when they stood on the podium to receive their medals from race officials. The significance of the moment was not lost on the family.
"It makes me so happy," Josi said. "I love it. That is the biggest motivation. I want to be up there with my sisters."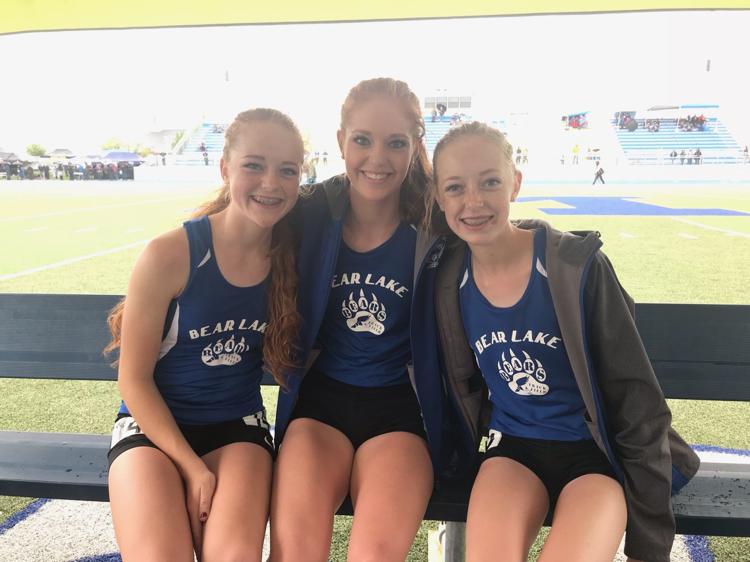 Bear Lake's Chelsea Gundersen also took home gold Friday in the 2A girls shot put, reaching a mark of 36 feet, 3.5 inches. The junior outlasted Orofino's Cooper Thomas, who finished second with a distance of 35 feet, 0.25 inches. Soda Springs' Jori Balls placed fifth with a mark of 32 feet, 6.5 inches. Balls was also eighth in the discus.
Gundersen finished seventh at state in the event last season, but broke through in 2019 with a personal-best mark. 
Aberdeen's Courtney Phillips took sixth in the 2A girls high jump after clearing 4 feet, 10 inches. Soda Springs' Alexa Horsley finished seventh in the girls triple jump.
WINNING WILSON
Charlotte Wilson's participation in the triple jump started a friendly competition with her father.
Wilson started triple jumping this season for the first time, dropping the 4x400-meter relay. Wilson's father wanted his daughter to be in a 400-meter event, but let her try the triple jump, on the condition she excelled. 
The Rockland junior continued her progress Friday at Middleton High School, taking gold in the girls triple jump at the 1A state championships.
Wilson leaped 35 feet, 0.50 inches to win the crown.
"I was pretty confident," Wilson said. "I knew all I had to do was keep my head and perform. I was really excited."
Wilson's ascent to the top of 1A girls triple jump started March 21 at the Jennifer Crystal Invitational, where she hit a mark of 32 feet, 10 inches. Wilson's top marks increased all season as she jumped at least 33 feet in five of the final seven meets.
The Bulldog said she dropped the 4x400 for the triple jump because the field event is easier. That decision led to Wilson winning her first state gold medal.
"It is really an accomplished feeling," Wilson said of winning gold. "It gives you confidence in everything else you do. Anything worth having requires consistent and discipline. That is what it took to get here."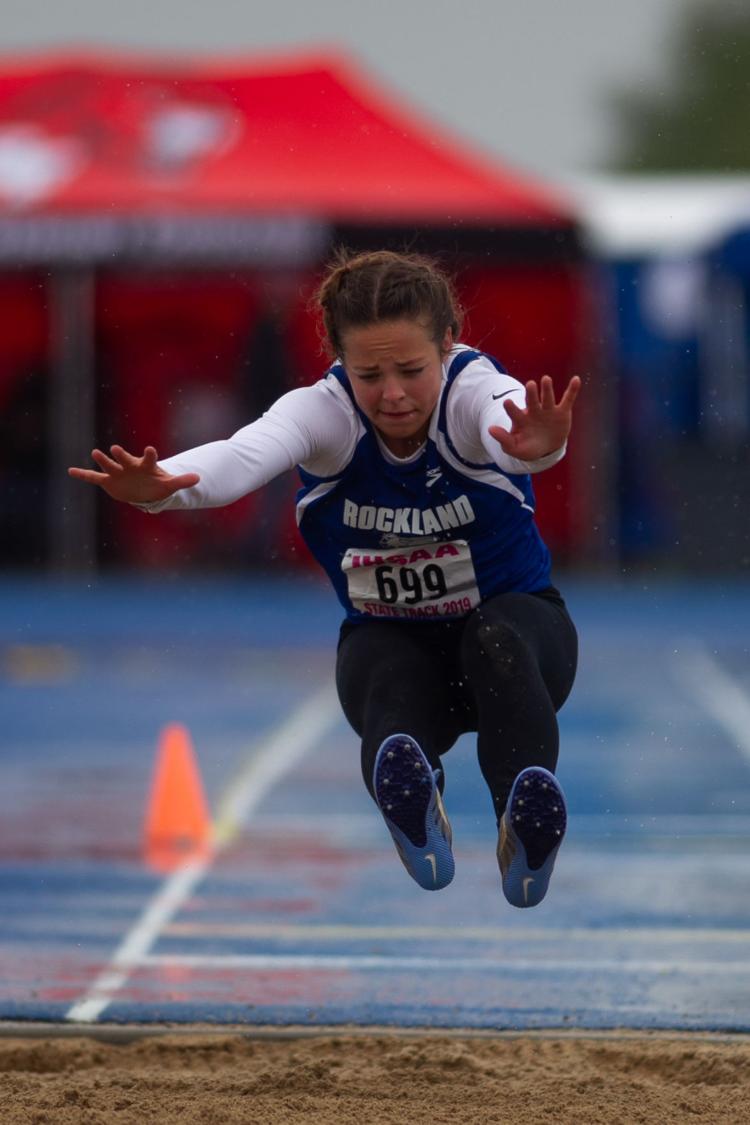 Wilson's teammate Levi Farr placed fourth in the 1A boys high jump, clearing 5 feet, 8 inches. It is Farr's second consecutive fourth-place state finish in the event. Teammate Caleb Norwood tied for sixth in the high jump.
Rockland junior Madalyn Permann placed seventh in the 1A girls high jump with a leap of 4 feet, 8 inches.
In the girls 1A meet, North Gem's sprint medley relay team finished eighth with a time of 2:10.25. In 1A boys, Grace finished seventh in the sprint medley relay.
BARRERA BULLDOZES THE FIELD
Eduardo Barrera's monster discus throw easily set a new personal best.
It ultimately won the Aberdeen senior a state championship.
Barrera's heave of 135 feet, 6 inches Friday won the 2A boys discus state championship at Middleton High School. Barrera's previous personal record was 129-4, and he easily cleared that on his way to a title.
The only competitor to sniff Barrera's gold-medal mark was New Plymouth's Nick Woods, who took second with a throw of 126-03.
West Side's Jack Moser placed sixth with a mark of 120-11. Aberdeen's Jack Behrend finished seventh at 120-11, and West Side's Isaac Frankman was eighth with a distance of 115-09.
LARSEN LEAPS TO PODIUM
Davis Larsen spent his free time building a house last year.
The Malad Dragon did not have the free time necessary to join the track and field team in 2018 because he was helping his father build their new home. Larsen was on the squad as a freshman, but took a year off before rejoining the squad as a junior.
Larsen left his mark Friday with a third-place finish in the boys high jump at the 2A state championships at Middleton High School. The junior cleared 6 feet to take home a bronze medal.
"I was going for second," Larsen said. "I almost got it. Third place is cool. I still got a medal."
In his first season competing in the high jump since his freshman campaign, Larsen cleared at least 6 feet in four of six meets, including a personal-best mark of 6 feet, 1 inch at May 3's Grace Invitational.
Larsen started the year with a mark of 5 feet, 6 inches and found his stride after hitting 6 feet for the first time at April's Aberdeen Invitational.
"Today was my last chance until next year," Davis said. "I'm going to come out strong next year."
West Side's Dillon Robinson and Bryler Shurtliff placed fourth and fifth, respectively, in the boys high jump, which North Fremont's Garrett Hawkes won after clearing 6 feet, 6 inches.
Soda Springs' Issac Cunningham took second in the 2A boys triple jump Friday. The senior earned his first-career state medal in the event with a mark of 42 feet, 7.50 inches. Bear Lake's Mathew Hammond was fifth in the event, followed by West Side's Eastern Henderson in seventh and West Side's Ryan Beckstead in eighth.
Payton Foster (Aberdeen) and Enoch Ward (West Side) earned medals Friday in the 2A boys pole vault. Foster placed third with a mark of 12 feet, 6 inches, while Ward took sixth after clearing 12 feet. Soda Springs' Scott Hunsaker was eighth.
The Tigers' Mitchell Spence took fifth in the 2A boys shot put with a throw of 42 feet, 10 inches. Teammate Carson Wynn was seventh, and West Side's Jaxon Moser was eighth.
In the 2A boys sprint medley relay, West Side took third in 3:40.88. Soda Springs was sixth in 3:47.64. West Side's Jacob Moffat finished third in the 3,200. Soda Springs finished third in the 2A girls medley relay.
LOCAL ATHLETES LEAVE MARK ON 3A
Marsh Valley's Elizabeth Michaelson continued her standout freshman season Friday at the 3A state championships at Middleton High School.
Michaelson placed fourth in the 3A girls discus after a toss of 103 feet, 0.50 inches. Kimberly's Madison Alexander won with a mark of 111 feet, 9 inches.
Snake River's Sage Stimpson finished fifth in the 3A girls high jump, clearing 4 feet, 10 inches. Teammate Kassidee Campbell finished fifth in the long jump, hitting 15 feet, 11.75 inches. Snake River's Ashlyn Leavitt cleared 8 feet to finish eighth in the pole vault. The Panthers' boys sprint medley relay team finished seventh in 3:50.39. Snake's Reagan Van Orden took eighth in the girls 3,200, teammate Lorenzo High finished fifth in the boys 3,200, and Pedro Rodriguez finished tied for seventh in the pole vault.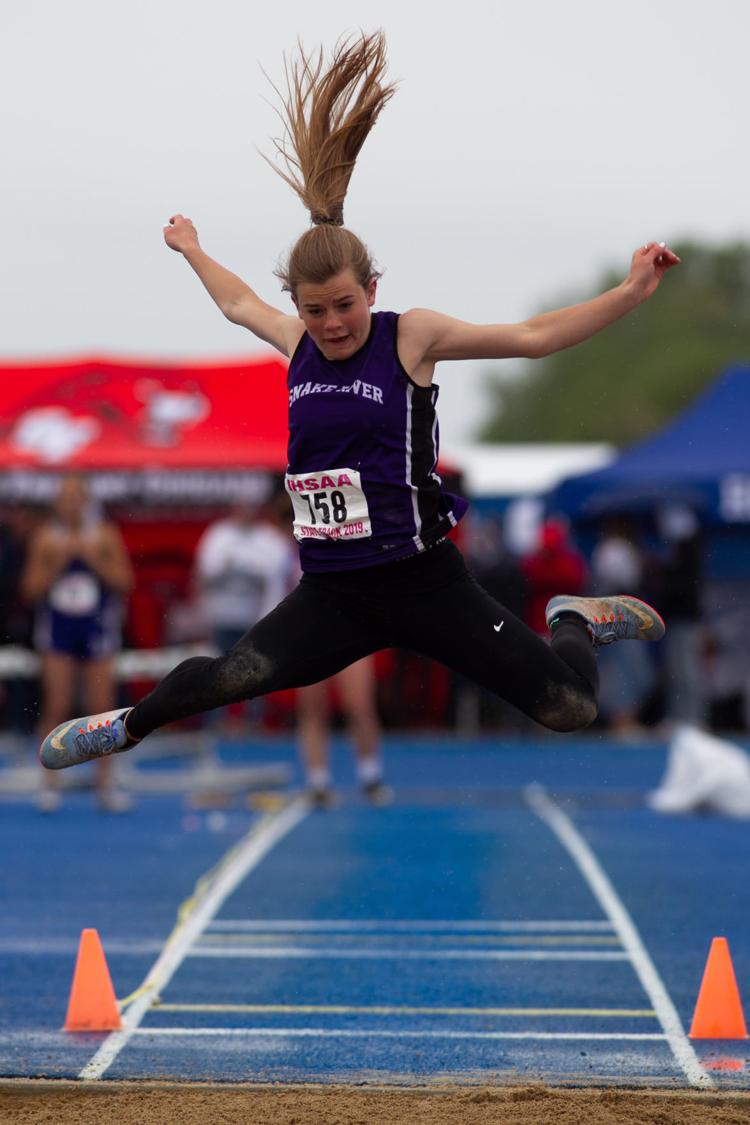 For Marsh Valley, Jerico Frailey was eighth in the boys 3,200. Teammate Troy Wissenbach was seventh in the long jump, and the Eagles' girls sprint medley relay team finished fifth.
American Falls' Wyatt Kearn was eighth in the discus.
PIRATES, BEARS CLIMB TEAM STANDINGS
The West Side boys and Bear Lake girls are the highest local squads in the team standings at second apiece in 2A. The Pirates have 32 points, trailing first-place Salmon with 43. Bear Lake's girls have 33 points, just behind Melba's 36.
Aberdeen's boys (24 points) and Rockland's girls (12 points) are both in fourth place.