Kaitlyn Shelley and Coleman Sandy say they'll never swim competitively ever again.
If that's true, their final two races were good ones to go out on.
Each Century senior won two state titles Saturday at the 4A swimming state championships at Boise City Aquatics Center.
Shelley defended her title in the 50-yard freestyle and added a crown in the 100-yard butterfly, while Sandy repeated as the 100-yard freestyle champ and also won the 50-yard freestyle.
The swimmers set new 4A state meet records, too, adding accolades and emotion to a day already filled with both.
"That's my last meet ever," Shelley said. "I'm completely done swimming now. I went out with a bang."
"I've been swimming since I was 5 or 6 years old," Sandy added. "It's my 13th season and I closed out, I would say, a pretty good run."
Shelley broke her own 4A state meet record in the 50-yard free, completing the swim in 24.36 seconds — 0.69 ticks faster than last year's state-winning time, and 0.66 seconds faster than Saturday's second-place finisher. She was the top-seeded swimmer in the event and expected to finish as such.
But her emotions really kicked in after winning the 100-yard fly.
Shelley was seeded second in the event, behind Canyon Ridge's Olivia Hall, and had been trying to break the 1-minute mark for years.
Shelley touched the pad at 58.23 seconds, achieving a new personal best, winning state gold and setting a new 4A state meet record, all in one.
"My dad ran up to me after the race and we were both just bawling," Shelley said. "My mom was bawling with us. It was just a really cute moment."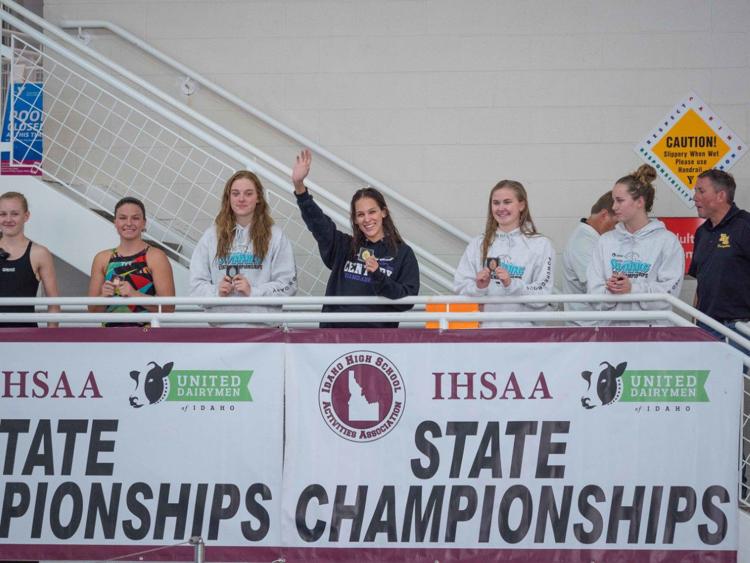 Sandy also broke his own 4A state meet record, winning the 100 free in 49.56 seconds — 0.53 seconds faster than his previous record.
"After my 100, I went and saw my mom and she started tearing up, and I was tearing up," Sandy said. "It's just a long time coming."
Sandy added a championship in the 50-yard free, clocking a 22.41 to outpace Burley's Jackson Rasmussen by over a second.
Teammate Gage Fouse tailed Sandy in the 100 free, finishing second in 50.26 seconds. Fouse also took the silver in the 100-yard backstroke, finishing in 57.68 seconds.
Century's boys finished second in the 200-yard medley relay (1:45.59) and third in the 400-yard freestyle relay (3:40.26) to follow last year's team state championship with a second-place finish (175 points). Bishop Kelly won the team title with 181 points.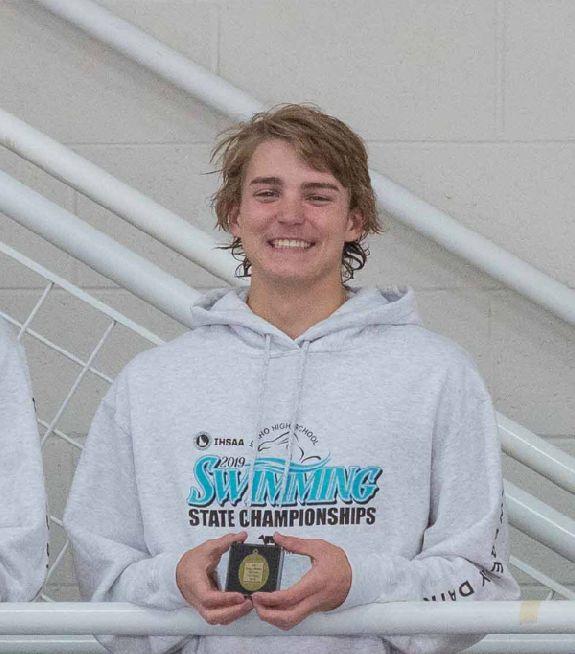 "I wish things overall happened a little different, but we've still got a good group of boys for next year and for years to come," Sandy said. "You've definitely got to keep your eyes out for those boys."
The Century girls finished third in the 200-yard freestyle relay and finished seventh in the team standings with 81 points. Sandpoint won the team title with 217 points.
Shelley doesn't know exactly what life after swimming will bring. She hasn't been able to celebrate her recent victories long enough to think that far ahead.
"Right now, I don't think it's hit me that I'm done forever," she said.
And for Sandy, who helped Century win Idaho's first-ever sanctioned 4A boys swimming state title? That legacy is one he'll carry with him long after his days in the pool.
"The legacy is everything for me," he said. "Every school assembly, that's the first thing I look at going into my gym is that (championship) banner. ... I just go in there and I'm like, it happened, we did that. I'm going to be coming back in like 20 years, and the same names are going to be right there."
HIGHLAND BOYS FINISH 11TH, GIRLS 13TH AT 5A STATE SWIM MEET
Highland's boys swim team scored 39 points to finish 11th at Saturday's 5A swimming state meet at Boise City Aquatics Center.
Benjamin Long was the Rams' top performer, finishing fourth in the 500-yard freestyle (5:00.26) and fifth in the 50-yard freestyle (22.79).
Highland's girls finished 13th and were led by their 200-yard medley relay team, which finished ninth in 2:08.28.
Boise swept the boys and girls team titles.