PRESTON — Sadie Gronning pump-faked and watched the Bear Lake defender fly by her.
Left all alone in the corner, Gronning dribbled to her left once and, falling out of bounds, hoisted a long 3-pointer.
A second later, she was skipping happily back to the Soda Springs bench after putting the final capper on yet another district championship for the Cardinals — their 15th in 18 years — in a 72-38 win over Bear Lake at Preston High on Wednesday night in the 2A District 5 tournament.
"I honestly don't know what's going through my mind sometimes, I just see something and do it," Gronning said about her final shot. "It was cool though. ... We came out in the first quarter, we knew what we had to do. We executed everything that we talked about and everyone was hitting shots."
Gronning and the rest of the Soda Springs seniors made it a perfect 4 for 4 on 2A District 5 titles in overwhelming fashion, shooting and running Bear Lake (16-8) out of the gym in a dominating performance.
Gronning finished with 22 points, 10 rebounds, eight assists and six steals. Her fellow senior Dani Smith added 21 points, making six 3-pointers.
Altogether, the Cardinals (22-2) made 13 3s — six by Smith, three each by Lexa Horsley and Gronning, and one by Jorianne Balls.
"It's impossible to take away Gronning and Smith, but we did our best. They shot the lights out," Bear Lake coach Brenda Messerly said. "At the end of the first quarter and into the second, everybody started hitting. ... (Soda Springs) is a great team."
Gronning made two long-distance bombs as Soda Springs took a 13-6 lead after the first quarter, but the Cardinals really got it going in the second quarter.
Bear Lake's Chelsea Gundersen made one of two free throws to open the quarter and close the gap to 13-7, but with Soda burying them under a wave of 3s, that was as close as the Bears got.
Smith made three 3s in the quarter, Horsley made two, and Balls, normally stuck down in the post for the Cardinals, stepped out and hit one herself.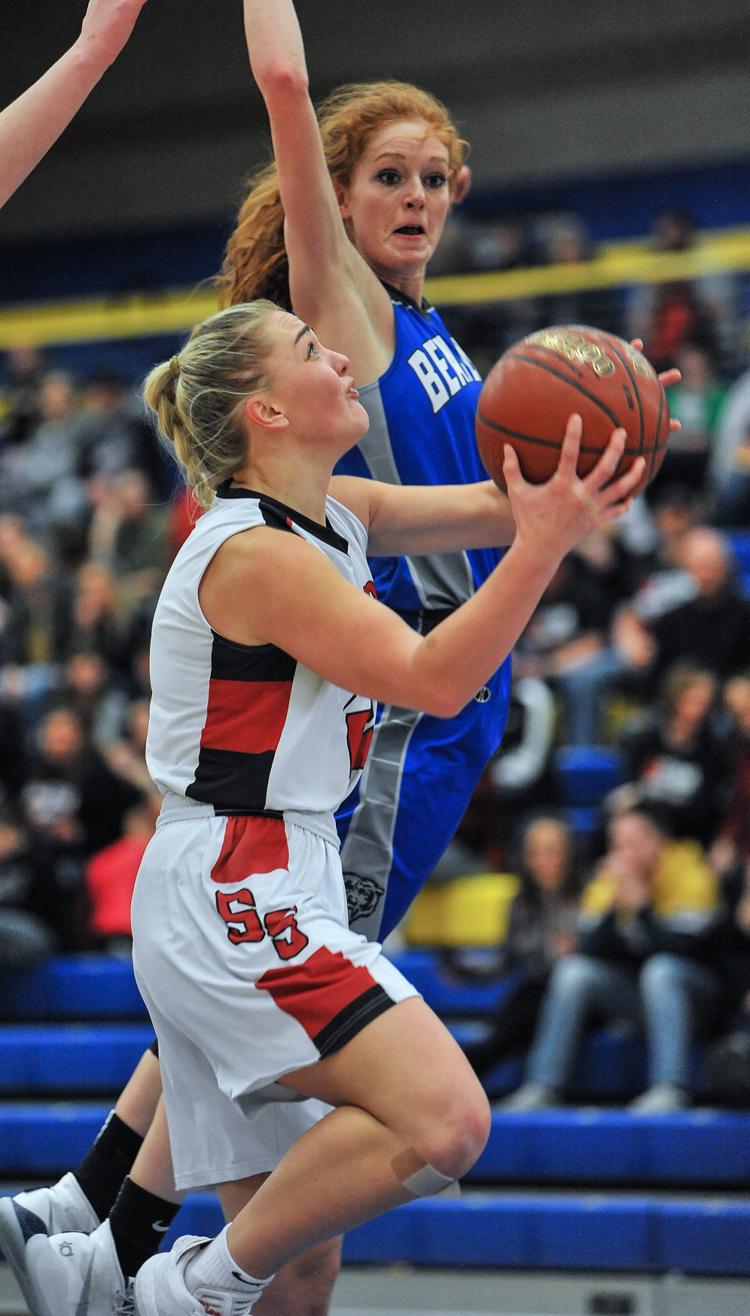 Meanwhile, after Gundersen's free throw, Bear Lake didn't score again until a Gundersen layup with 1 minute, 38 seconds until halftime made it 26-9. But Soda Springs made three more 3s from there, including an immediate Smith answer to an Elisabeth McDowell 3 for Bear Lake, and the Cardinals went into halftime leading 35-12.
"At times we've shot it well, at times not, but we've been shooting pretty well the last four or five games," Soda Springs coach Wade Schvaneveldt said.
Bear Lake didn't have much hope from there, although a Hailey Humpherys 3-pointer to beat the third-quarter buzzer made it 49-28.
But Soda Springs pulled away again, with Smith (an old-fashioned three-point play on a fast-break layup) and Gronning (the aforementioned fadeaway from the corner) putting their own exclamation points on the win to get the Cardinals back into the state tournament with a chance to go for their third-straight state title.
"It's the first of our goals, so hopefully we can go to Boise and continue to play well, give our best effort," Schvaneveldt said. "This is just the first part of it this year."
Gundersen scored 13 points for Bear Lake, and Humpherys added nine.
The Bears are still alive for a state tournament bid, but they'll have to beat Firth on Saturday at American Falls High in a play-in game to make it to the big dance.
"To even be in that (play-in) game is an honor," Messerly said. "We're going to give it everything we have. Don't change anything and take it one possession at a time and hopefully we can make it to state."
Gronning made sure that Soda Springs doesn't have to worry about that.
"Sadie, you know, we tried our (power forward) on her, we tried our (point guard) on her, and she's just so good," Messerly said. "She's hard to stop. She's a great girl."
Soda Springs plays either Nampa Christian or New Plymouth in the first round of the state tournament on Feb. 20 at Kuna High School.
SODA SPRINGS 72, BEAR LAKE 38
Bear Lake 6 6 16 10 — 38
Soda Springs 13 22 14 23 — 72
Bear Lake — Humpherys 9, J. Kelsey 3, Lloyd 5, McDowell 6, Gundersen 13, Parker 2.
Soda Springs — Gronning 22, Smith 21, Moldenhauer 4, Kimball 1, Thompson 2, Horsley 10, Balls 8, Somsen 4.