POCATELLO — For a while, Madilyn Zink questioned. She doubted. She wondered if she'd have to accept her failures as permanent shortcomings.
It was summer 2018, and Zink had just completed her sophomore track and field season at Century High School. She was supposed to basking in post-state championship glory. Instead, she was starting to accept that perhaps she peaked early.
Zink had worked toward a state championship for years at that point. Before high school, she qualified twice for the USA Track and Field National Junior Olympic Championships. As a freshman, she claimed two silver medals at the 4A state track meet. Two months later, she was back at the Junior Olympics.
If she progressed naturally, sophomore year was Zink's to best those second-place state finishes. Instead, she regressed. She failed to surpass her freshman year times in her primary events — the 100-meter hurdles and 300-meter hurdles — and came up short at state once again. She brought home another second-place medal in the 100 hurdles, but fell to eighth in the 300 hurdles.
Is this as far as I get? Zink thought. Am I as good as I thought I was or could be?
She answered both questions the following season.
Zink transferred to Pocatello High School across town and dedicated herself to rigorous workout routines. She joined Poky's cross country team in the fall to get a head start on her fitness and worked out upwards of four times per day.
Zink could see her hard work paying off in her improved times. She set PRs in both hurdles events during her third track meet of the season, and rewrote those PRs two weeks later.
By the time state rolled around, Zink was nearly unbeatable. She won her first state championship in the 100 hurdles and followed it later that day by winning state gold in the 300 hurdles. Her state-winning times in both events stand atop Idaho's all-classification rankings this season.
Zink is the Journal's 2019 All-Area Girls Track and Field Athlete of the Year.
"It still really hasn't hit me. I don't think it ever will," Zink said of her state championships. "I just knew instantly when I crossed the line, it was more relief than anything. I have a lot of silver medals in my room and I didn't want another one."
Zink's path to redemption started the same summer she doubted herself.
She was on her way to an ordinary offseason workout when she made a decision: her routine was too average.
So Zink pushed her body further than ever before. If that didn't work, Zink reasoned, nothing would. This was her chance to prove to herself — prove to the sport — that she belonged at track's elite level.
"I made a decision right there that I'm just going to work harder than anyone's probably ever seen," Zink said. "It can either work out really well, or that tells me right there if I put everything into it and it doesn't work out, that lets me know this won't be for me."
Zink woke up at 5 a.m. every day to start her new process. First was either swimming, weight lifting or running. Next was fifth-hour weights during school. Then she worked out at track practice and finished the day with a swim or a lift — whatever she didn't do in the morning.
"It was insane," Zink said. "People thought I was crazy. I thought I was crazy."
She also trained differently on the track. Zink compared her regimen to that of a 400-meter runner, not a hurdler, saying she'd only jump over hurdles once a week. She ran 400s to work on her speed and stamina and being a well-rounded athlete.
But Zink's progress wasn't overly evident or satisfactory right off the bat.
The sprinter tried cross country for the first time that fall. Her fastest 5,000-meter time was 24 minutes, 50.4 seconds, and she finished 59th at the 4A District 4-5 championship meet — 36 spots and over 2 1/2 minutes behind the final state qualifier.
"She ran a couple really good races and then kind of plateaued, which we kind of expected for someone who had never done it before," said Poky cross country coach Shannon Whitmer, who's also an assistant coach on Poky's track team. "I think there was some frustration there."
Zink's indoor track season during the winter was more encouraging. She competed at four sizable meets, including the Simplot Games and BYU High School Indoor Invitational. She won the 60-meter hurdles at BYU and at Idaho State University's Stacy Dragila Invitational, while running her fastest time in the event (8.91 seconds) at the Simplot Games.
Zink also ran the 60- and 200-meter dashes and did the long jump during the indoor season.
The indoor meets, combined with Zink's continued training, were bordering on physical overload. Zink was encouraged to dial everything back as the spring outdoor season approached.
"She's just a true competitor and she wants to PR every single time," Whitmer said. "It's important for kids to understand that you can't do that."
The outdoor season finally rolled in, and Zink was in prime physical shape. One of her major goals was to run the 100 hurdles in 14.75 seconds by the end of the season. She did it a month ahead of that, during her fifth meet of the season.
During the season, Zink also started to dabble in the heptathlon, finishing with the second-highest event score at April's BYU High School Multi Steeple meet. She entered the 4A District 4-5 championship meet undefeated on the season in both hurdle events.
A surprising loss in the 100 hurdles at districts was Zink's wake-up call. She ran the race in 14.45 seconds — her fastest time ever — but didn't finish in front. It was her first loss of the season, but with state eight days away, helped her refocus on winning a state title.
"It made me realize this is not going to be easy at all," Zink said. "It gave me more motivation to come back. … It made me realize all right, time to get back into gear."
At the state meet, Zink's lane 4 assignment was two away from lane 6 and Brylie Adams — the Burley High runner who beat Zink at districts. Zink knew Adams was faster out of the starting blocks, so Zink would have to rely on building her speed through the hurdles.
She was right. Adams had a clear lead on Zink through six hurdles. Zink finally hit her stride around hurdle No. 7 and surged to the end, edging Adams for her first state championship.
"Even though it took me a long time to get up to speed, the whole time I didn't doubt winning," Zink said.
Zink's state-winning time of 14.16 — had it been wind legal — would have set a new 4A state meet record. She already has something to chase next season.
Later that day, Zink won the 300-meter hurdle state title in a personal-record 43.66 seconds to wrap up an undefeated season in the event.
Zink also qualified for state in the long jump, but she isn't proud of how that went. She finished in ninth place, one spot out of scoring position.
Not that anyone will remember Zink's 2019 state meet for the long jump. It was her long-awaited hurdling titles that will live on, the gold medals serving as concrete reminders that her exhausting work paid off.
"She's always been competitive, but she really saw that shot this year," Pocatello head track coach Rick Call said. "She just trained as hard as she could."
Zink credits Call, Whitmer and the rest of Poky's coaching staff for helping her get over the hump. She regularly calls the collective the best coaching staff in the state.
But her coaches agree that Zink's drive and work ethic were the biggest difference makers.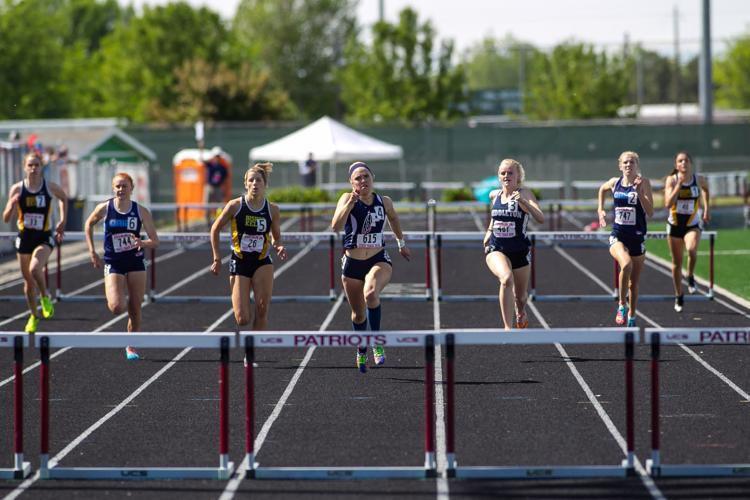 "It takes a village for us to get people doing what they need to do. There was a lot of people involved," Whitmer said. "The most important person doing the most important work was herself."
In her future, Zink eyes a Division I track scholarship. She'll keep competing in heptathlons, which means refining her technique in the field events. She did the heptathlon at June's New Balance Nationals Outdoor meet in North Carolina, fishing 16th out of 24 entrants while setting PRs in the 800 meters (2:28.11) and event points (4,311). She believes she's better suited to make an impact at a college program as a heptathlete, not a hurdler.
As for her senior high school season? Zink can chase sub-14-second times in the 100 hurdles and sub-42s in the 300 hurdles. She wants to wow herself and the world around her some more.
She now knows she didn't peak early, that her training works. That's enough motivation to work even harder.
"I don't want to have the same year running the same times. I want to have another insane year, another jaw-dropping year," Zink said. "Every day it's going to be crazier, but I'm excited for it."