POCATELLO — Before the season, Adi Spillett was feeling good about pulling off something that hadn't happened in over a decade.
"I was actually pretty confident," Spillett said. "We've worked hard the last four years and built this team, so I was pretty confident going into the season that we were going to make it to state."
Then Spillett went out and made it happen, leading the Pocatello Indians girls soccer team to the state tournament for the first time since 2007.
With 27 goals, seven assists, and that streak-snapping resume point, Spillett is the 2019 Idaho State Journal All-Area Girls Soccer Player of the Year.
"I just have always grown up around sports, so when I got to high school and I hadn't really made it to state in a team sport, I knew I had to do it this year," said Spillett, who has also played basketball and ran track and cross country at Pocatello. "That's something I've always wanted, for as long as I can remember."
According to coaches from around the area, it was an accomplishment that had plenty to do with Spillett.
"Of all the teams in our area, she's the most complete player," Century coach Matt Shutes said. "If you were to take her away from Poky, I don't think there's any way they go to state."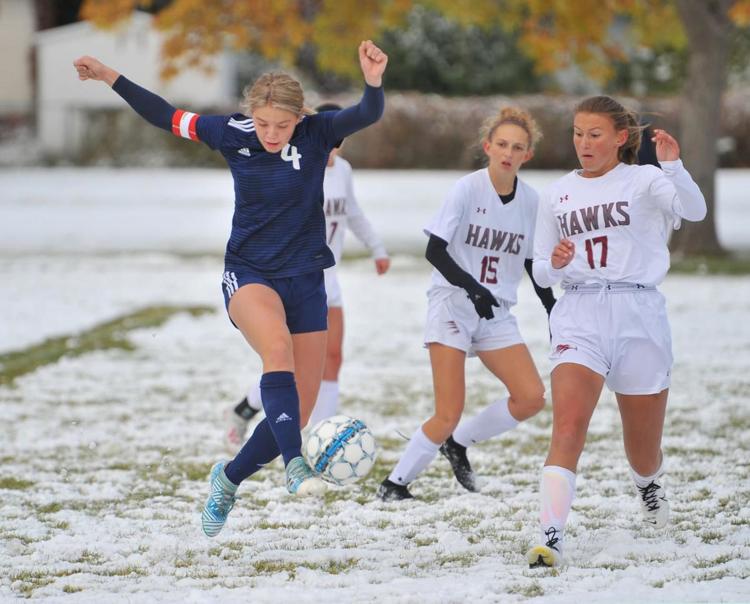 The dynamic forward lined up all over the field for Pocatello, seeing time at striker, on the wing and at attacking midfield.
Wherever she was, her speed was a weapon, as she often beat defenders just by running past them.
After scoring 15 goals last season as a junior, she improved her finishing enough to nearly double that mark. Long shots, composed finishes one-on-one, headers on set pieces — they all ended up in the back of the net.
"We moved her around a lot because she would bring speed and energy to every part of the field," Pocatello assistant coach Savannah Rose said. "It affects other teams when she's running down their sideline over and over again. If we needed a little more presence in midfield, we could drop her back."
There are a lot of talented goalscorers in the area, but aside from her on-field talent, Spillett's mindset stood out.
Area coaches described her as a leader, a perfect teammate with relentless energy and drive on the field.
"She really stepped up and was a great leader for the team, pulling them together and helping them play their best, especially in hard times," Pocatello head coach Eric Davis said. "When no one else believed we could do it, she did, and convinced them to make it happen."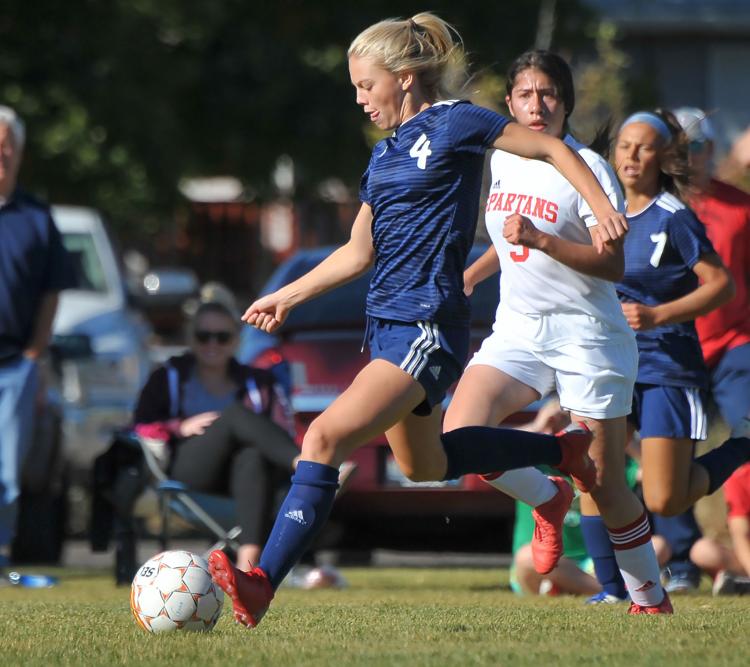 That was a mindset Spillett developed growing up in an athletic family. Spillett's older sister, Alysa, was another fast, high-scoring forward who overlapped with her for one year at Poky before signing with Utah State Eastern after her high school soccer career was over.
Her father, Dave Spillett, is Pocatello High's head football coach.
"It's pushed in my family a lot, by my dad always talking about leadership skills and stuff," Adi said. "I have a lot of really great role models in my life, coaches and teachers. I just know that's what I want to be like, and so I look up to them a lot."
Although Pocatello lost both of its games at the state tournament — both by one goal — Spillett led the Indians to other milestones as well, including two wins over Preston, the program's first since 2012, and a win over Highland for the first time in at least a decade.
"I think that beating Highland was probably my main moment," Spillett said. "We were all sprinting onto the field and celebrating as a team right there. We couldn't even hold our excitement."
Add it all up — the goals, the wins, the state tournament — and it was a perfect career finale for Spillett, who is currently rehabbing an ACL tear she suffered early in the basketball season.
She hopes to play both basketball and soccer in college, and has received interest from several schools, although she hasn't announced a decision yet.
Regardless of where her career takes her, she'll leave Pocatello with an accomplishment that hasn't been matched there in a long time.
"Our first game against Preston, when we beat them at Preston, that was the first time that I've ever played a sport and we've beaten them at Preston, so it was kind of a big deal to us," Spillett remembered. "And at that moment, I was kind of like, 'Yeah, we're going to state.'"