On a wall inside the wrestling room at Blackfoot High School, each wrestler's goals are written on index cards and tacked to a bulletin board.
Nathan Sargent's aren't all measurable. But after his triumphs this past season, it's safe to check off each one.
His top goal: state champion. A dream a decade in the making — finally — earns a check. The next two were easy: win districts and place top three at every tournament. Below those are the intangibles: have fun, work hard and, finally, at the bottom of the list, above his cursive signature, Sargent's most defining accomplishment:
"Kick some ass."
Sargent's historic senior season exceeded each goal, as he won all 48 of his bouts to earn the noble title of undefeated state champion. Soon, his name will join the 40 that precede him on the Bronco wall of champions, which proudly displays each of Blackfoot's individual state champs, from Bob Stone, Clayton Price and Domanic Cerino in 1958 to Lane Hunt in 2015 and 2016.
Sargent has been eyeing a spot on that wall since his older brother, Kyle, won back-to-back titles in 2007 and 2008. The final six-minute match of Nathan's high school career etched his greatness into permanence. His unblemished record: a bonus to boast for family bragging rights.
Nathan is the Idaho State Journal All-Area Wrestler of the Year.
"I wanted to do something unique," Nathan said, "so I could stand out from the rest of the people on the wall."
IN HIS BLOOD
The youngest of six boys, Nathan surpassed his brothers in size. At 6-foot-2 with a bodybuilder's physique, his mere shadow is striking.
His determination and toughness match his makeup. He has his brothers to thank for that.
The Sargent boys all wrestled at Blackfoot, and their sparring sessions weren't limited to the school's wrestling room.
"I got beat up a lot," Nathan said. "It made me a lot tougher."
Many of the Sargent brothers came close to winning state, but until this year, only Kyle finished the job. Nathan was 8 years old in 2008, when Kyle won his repeat title as a senior. Nathan watched from the Ford Idaho Center seats that day and set his sights on the same glory, idolizing his brother's achievement.
As the years passed and Nathan developed into a championship-caliber grappler, self-motivated pressure grew to shed his label of a state champion's brother.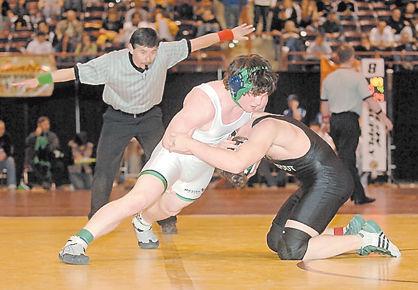 "I wanted to make my name great," Nathan said. "I didn't want to live in his shadow. I wanted to make a name for myself."
Nathan's brothers passed down their wrestling wisdom over the years. The childhood beatdowns: early education. With his siblings' guidance, Nathan started training in mixed martial arts, bodybuilding, powerlifting and CrossFit before he hit high school.
Present day, he can power clean 300 pounds, deadlift 500, squat 525 and bench press 315.
His immense strength, combined with technique and endurance, gives Nathan a trifecta of superior physical attributes.
"There's no substitute for strength," Blackfoot wrestling coach Thain Cashmore said. "If you don't have technique to go along with it, you're not going to win them all."
When Nathan beat Caldwell's Travis Mitchell 6-1 to claim the 4A 220-pound crown in February, all five of Nathan's brothers were on hand at Holt Arena. A celebratory photo was snapped of them surrounding Nathan as he topped the podium, each brother flexing in unison.
Nathan had made his own name, but the Sargent legacy lived.
"I told them through their hard work, a piece of them won state too," Nathan said.
THE JOURNEY
Nathan's trek to a state title started at the wrestling podium's bottom step – sixth place at the state tournament his freshman year.
His ascent was fast after that.
The 145-pound freshman swelled to a 182-pound sophomore. He placed third at state that year, right below his brother Jared, who took home second place in the 170-pound class.
As a junior, Nathan was one of the top 195-pounders in 4A. His two pre-state losses were both to eventual state champions: Snake River's Payson Anderton and Lakeland's Jared Walker.
Nathan breezed through the first three rounds at state, pinning his opponents in a combined 3:53. In the finals, he had a rematch with Walker, who won the first meeting that year by an 8-6 decision.
Nathan came up two points short again in his shot at redemption. Walker won the state title with a 6-4 victory.
"It was a little disheartening at first," Nathan said. "But I had what a lot more seniors didn't have, which is another year."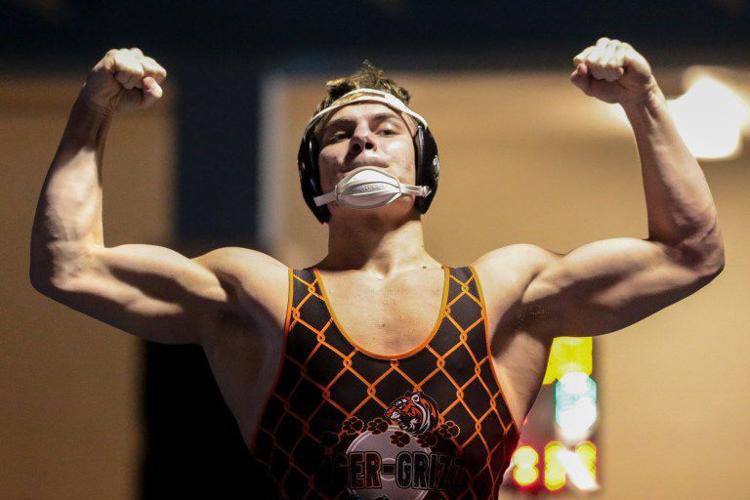 Nathan's shortcoming charged his senior-year preparation. He continued getting in extra lifts and cardio outside of practice. He trained with brothers Jared and Kyle, and got a boost from family friend and Blackfoot alum Alfonso Hernandez.
Hernandez matched Kyle Sargent with state titles in 2007 and 2008, helping Blackfoot claim consecutive team titles. He went on to star at the University of Wyoming, where his name is peppered through the program's record book, including as a two-time All-American. He also ranks eighth in school history with 120 career victories.
Hernandez wrestled at 197 pounds in college and was the 215-pound state champ his senior year of high school, giving Nathan someone comparable in size – and skill – to practice with.
"He was definitely one of the strongest kids I did wrestle with," Hernandez said. "That's even counting the college dudes I had wrestled with. … He did have some situations where he legitimately beat me."
Sargent's losses in the wrestling room were his only slip-ups, and even those pushed him.
"He does not like to lose, that's for sure," Cashmore said. "Even in the wrestling room when he had his brothers wrestling against him the past year, if he wasn't manhandling or getting what he wanted during practice, there were times when he would become upset with himself."
Nathan only had a couple close calls during the season. He said his toughest opponent was Teton's Chad LaRose, who he battled to a 16-10 win in December and beat again 9-5 in the Tiger-Grizz quarterfinals. LaRose went on to win the 3A 220-pound title. Nathan accounted for two of his five losses.
When Nathan wasn't pinning opponents – which he did 37 times, including 14 in under a minute – the duels weren't close. His two wins over LaRose and two wins over Caldwell's Mitchell were the only bouts that weren't decided by fall, major decision, or forfeit.
Nathan wrestled underweight for most of the season, hovering around 210 pounds in the 220-pound class. He even took on a few 285-pounders, whom he soundly dominated, pinning each one in less than a minute.
Going undefeated was never at the forefront for Nathan. As he points out, you can win a state title with a losing record. If that's what it took to get there, he'd take it.
But once he got to the midway point of the season, he knew a perfect record was attainable.
"No one could touch me," he said.
Nathan's swan song was the title bout against Mitchell. It was one of Nathan's few matches that went the full six minutes, as he used his clear size advantage to out-muscle his opponent one last time. Once it was over, catharsis swept over Nathan, as he gave an exhausted salute to his supporters in the stands before staggering over to a waiting Cashmore, slumping into his arms.
Blackfoot's Nathan Sargent finishes season undefeated, winning 4A 220-pound state title match. #idpreps pic.twitter.com/11T2RgcrYX

— Jeff Papworth (@JeffPapworth) February 25, 2018
"It was overwhelming," Nathan said. "Just crazy seeing all your hard work and all your determination, just everything that you put in the room paid off, even if it was to the point of you bleeding or crying, just pushing past your limit, making you do the extra rep, the extra run, the extra sprint, just making sure all that hard work is worth it.
"There's no feeling like winning a state title."
Though his success was nearly unmatched – four other Idaho wrestlers went unbeaten this year – Nathan's time on the mat is done, for now. He wants to pursue bodybuilding after pouring his life into wrestling over the past decade.
He steps away with no regrets. His ultimate goal had always been a state title. Everything that came with it: icing on a magnificent senior season.
"You want something no one can ever take away from you," Nathan said. "I can get stuff taken away or dreams unaccomplished, but one thing I always accomplished was a state title. No one can take that away from me. That'll always be on that wall, forever. My name will always be in the records."