Blake Stephens stood at attention and saluted the American flag.
The Pocatellan was 6 years old at an Independence Day Parade, but already showing his ever-present patriotism.
So being the mother of a soldier seemed inevitable for Kathleen Stephens, but she still never knew she would be a Gold Star mother nor did she want to be.
Her son Blake was deployed by the U.S. Army in Iraq, where the 25-year-old spent two months before dying May 2007 serving his country.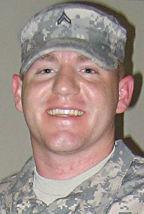 "He died in honor of doing what he wanted to do. He choose to do it," said Kathleen, whose son died when his Humvee was hit by four improvised explosive devices.
Asked how life is different after his death, Kathleen said she has tried to make it as similar as she can to what it was before. Although, she misses a family member who infused energy into his surroundings.
Sometimes, Blake would lovingly pick his mother up and "whirl" her around. He also loved telling stories, including one where he led to the shut down of the Salt Lake City Airport because he had a grenade-themed belt buckle in his suitcase, which authorities blew up.
"He would always laugh at his own stories," Kathleen said. "He called and said, 'Guess what happened to me today? You'll never guess.' We said, 'Probably not. What is it?'"
Kathleen discussed how much he was missed — when he was just a kid and out of town.
One time, she had to tell her son's childhood friend that Blake was in Seattle and the kid responded, "So what are we going to do then?"
Blake would play war games with his friends, pretending to be soldiers. He even made foxholes in his backyard.
Serving his country was his predestined path. In preschool, he did a class project in which he interviewed someone from each branch of the military.
The 2000 Century graduate was about six months into his Mormon Mission in Europe when 9/11 happened. A couple months later, he was back home to resume his service in the National Guard that he began at 17 years old.
"He was very patriotic and that was his destiny," Kathleen said. "He studied it, he knew it. He read a lot of about war."
He was a six-year member of the U.S. National Guard, one year of which he was an active-duty member guarding Hill Air Force Base in Utah. Then, he joined the U.S. Army and became a member of the 3rd Brigade Combat Team out of Fort Benning, Georgia.
Kathleen received a call past midnight during his Army days from a captain, who had a question about a well-known story told by Blake.
It was the one about the grenade belt buckle, which she confirmed.
One thing she said gives her comfort is that when she arrives in heaven, she will meet her son, who will have his familiar exuberant tone that he has before telling a story and will say, "You won't believe this."